Building your dream oak framed house - Part 1: What to expect during house design stage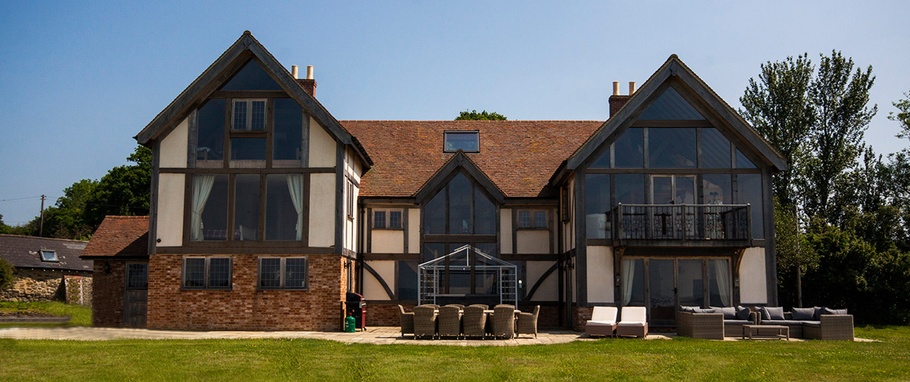 At Oakmasters, we assume that everyone is unique, has individual needs and likes different things. That's why, we take a completely flexible approach to house design. You may have your favourite architect, who knows you well and will draw exactly the house you want. Or you may prefer to talk to our design team, who are all experienced at listening to what you like and translating it into a set of oak framed house plans that will work for you.

Once your initial house design is complete, there will be a number of subsequent drawings, which will amend and enhance the final form your oak framed house will take:
Planning drawings for your self build
This set of house designs, including planning application can be done by your architect or indeed, us. However, not all architects are fluent in oak frames. The oak frame usually dictates the structure and form of the house, so it might be a good idea to run your architect's plans past us, before you apply for planning, just to make sure there will be no significant changes afterwards. It is at this stage you will decide on the final size and shape of your house, type of roof, positioning of the windows and doors and wall build up, including the exterior finish.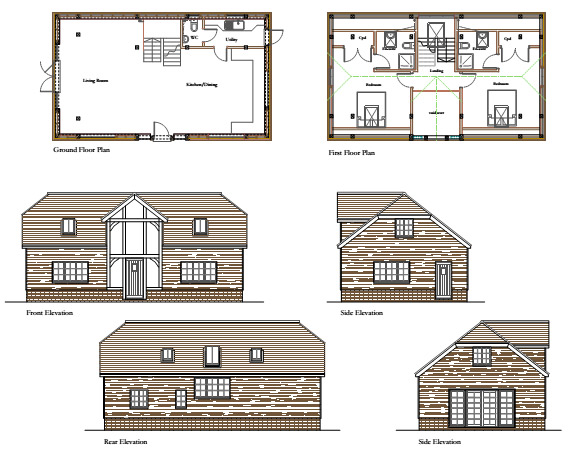 The planning application process takes a minimum of 6 weeks, once you are happy with the drawings, although the process may be delayed if there are any local objections, or you change your mind throughout the process. If you asked us to handle your planning application, we will consult with the planning department throughout the process to ensure a favourable outcome. Again, once the planning is granted and you change your mind about the building size, any external features or materials, it may be necessary to repeat the application process.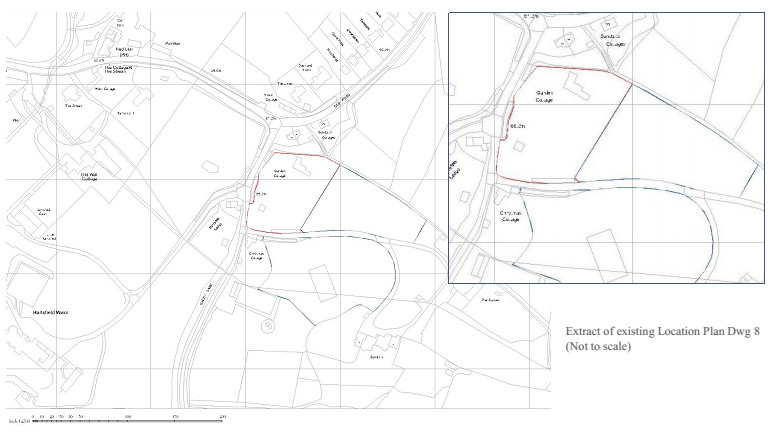 Once out of the planning process, we will finalise the drawings and adjust the quoted price accordingly and discuss it with you, before proceeding. This is the stage at which you place the order and place the first deposit.
Structural calculations for your building
The next stage in the process is making sure the oak frame is structurally sound. Again, you can choose to use your own structural engineer, or you can ask us to do this for you. The cost of this service is normally included in the quotation. We work with independent structural engineers, experienced in working with oak frames. Thanks to this symbiosis, we find that the oak frames we design are usually subject to only a few changes following structural engineering review. The changes may include increase or decrease in timber section sizes, jointing techniques, or use of steel and other fixings where necessary. Each house is unique, as engineers don't only look at the structure itself, but consider factors specific to your plot such as distance from the sea, soil type, altitude and wind loading.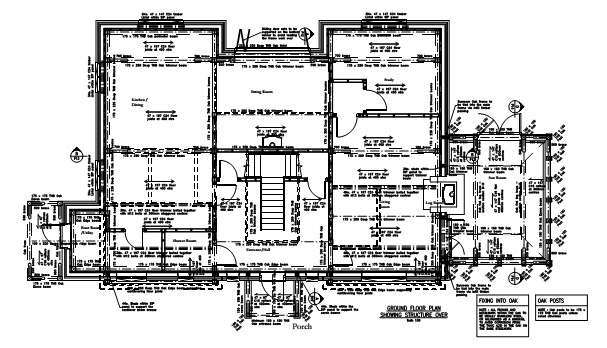 This stage usually takes a week or two to complete, depending on the complexity of the house design. Once it is complete, we adjust the quoted price to reflect any recommended changes, consult with you and obtain your approval before proceeding to the next stage.
Construction and building control drawings
Designs for building control as well as the following manufacturing drawing stage are all done by our in-house team, who are all experts in their fields. When preparing drawings for construction and building control, we specify finer details such as foundation setting out, wall structure, floor construction, insulation, types and sizes of windows and doors, types of locking mechanisms, glazing and other elements of the structure.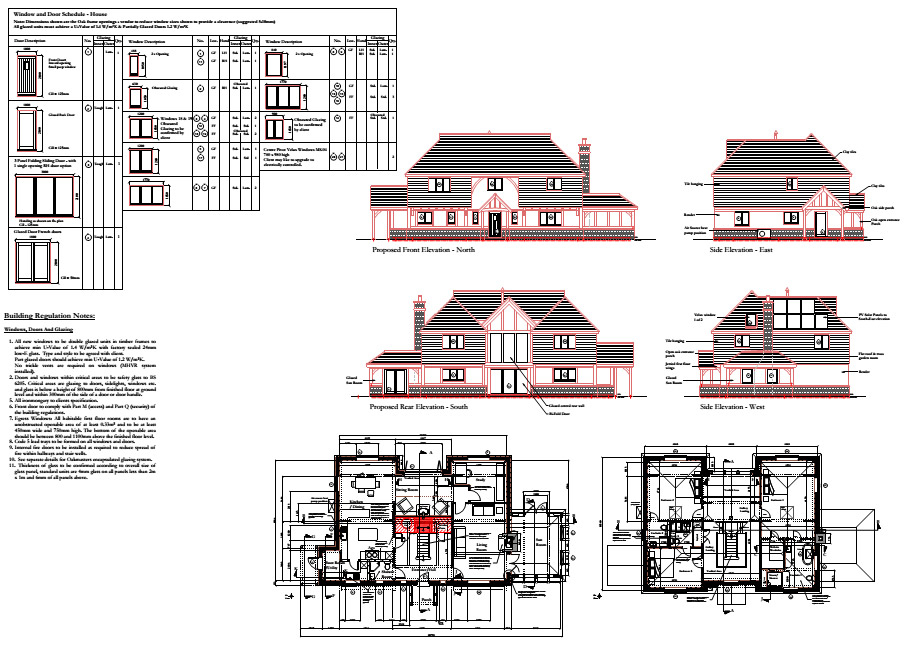 This process is consultative, and we will be in touch with you throughout to make sure everything is as you wish, and within the regulatory framework.
It is difficult to put a time estimate on this stage. Several factors need to be considered, as by this time, you will have probably started the ground works on your building site. We will need to work in conjunction with your builders on site, to confirm finished brickwork and other measurements, so that the oak frame sits snugly on the foundation. In terms of deciding on the details; some clients are rather decisive, others take a little longer, but we do think three sets of changes are reasonable, to avoid protracting the process and keeping design costs within the quoted price.
We do not anticipate any price changes at this stage, unless the joinery specification has changed dramatically from the original quote, or the finished brickwork does not match the original drawings we supplied. We will ask you to approve this set of drawings, before we proceed to the next stage.
This is in fact, the point of no return and no changes can be made to the designs from your side, once this stage is complete.
Production drawings for your house
The next set of drawings is for our internal purposes. We take final approved building control set of designs and convert these into a complex 3D model of your oak framed house. It is an exciting stage, as here we focus on engineering precision, defining every single detail of your oak frame, down to every joint and every screw.
We use these designs to produce cutting lists for our timber, ordering fixings and other construction materials. We also convert these drawings into CNC machine files, which are used in the automated manufacturing process. In this set of drawings, there is no margin for error, as once finished, there is no human intervention until our CNC machine has finished cutting every piece of oak to the right size, cutting out the joints and drilling holes. You can imagine what would happen, if the joints were not drawn in the correct place. If you are building a large two-storey house, well, that's a lot of joints to get right.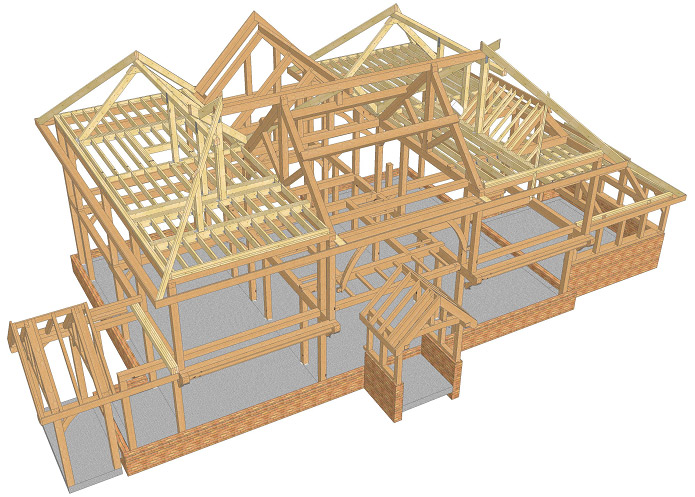 Normally, we don't anticipate many changes to the house design at this stage, but every so often, an engineering detail might crop up, forcing us to make adjustments that may impact the final house design or price. In this case, we will contact you to discuss and resolve the issue. We expect this stage to take between one and two weeks, depending on the complexity of the design. Once finalised, we will seek final approval of a 2D drawing from you, before proceeding with manufacture.
It is at this point, that the 12-week manufacturing clock starts ticking.
What happens next?
Read what happens next on the exciting journey of building your oak framed house, in our next blog.
Get inspired by our previously completed oak framed house projects. If you would like to chat, or ask questions, we are always on the other end of the line on 01444 455 455, or [email protected]. To find out more about each of the above stages, click on the picture in each section.


Tags:
building sustainably
case studies
encapsulated glazing system
garden rooms & conservatories
help & advice
oak extensions
oak framed houses
oak roofs & trusses
self build houses