About Oakmasters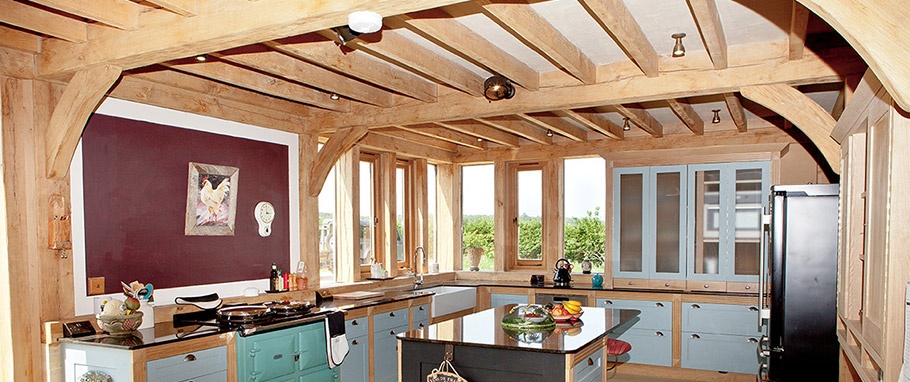 Why choose Oakmasters to build your Bespoke oak framed building?
Oakmasters are oak framing specialists
For over 30 years, we have been designing and building oak framed buildings all over the UK and abroad. We employ the finest craftsmen who love working with oak and know their trade. We have an in-house oak framing specialist design team, who work alone or with architects to engineer an oak frame building that is impressive and will last for years to come.
Oakmasters' quality is unparalleled
Quality of service, planning and finish shines through in everything we create. With over thirty years' experience, our clients tell us it's our attention to detail, fine craftsmanship and personal approach that sets us apart. It's our mission to bring your vision to life.
Oakmasters will give you a beautifully hand finished oak frame 
Our expert team of carpenters meticulously craft and hand finish all our oak frames. Great attention is spent on the detail of each exposed oak beam, enhancing the natural beauty of the wood. Creating a more refined and elegant environment for you to live in, to enjoy.
We can guide you through the process and help you design your dream oak framed house, oak extension or a luxury bespoke oak garage. We can provide full service including concept design, planning applications, building regulations and structural engineering. Alternatively, we can act as a consultancy for the oak frame design and work with your architect or builder on your oak frame project.
Oak frames supply and installation
Each oak framed building project is different. We will work with you as much or as little as you like. We can manufacture and ship the oak frame kit to your site, for your contractors to install, we can add oak frame assembly to our service, or we can indeed manage your complete oak framed house, oak extension or oak garage build to completion, working with our trusted building contractors in your area. We will also supply joinery and softwood for your oak framed building.
We use cutting edge technologies 
From most modern weather tight wall build up systems, through TRADA approved encapsulation glazing system, to augmented frames using glulam and steel, we are able to turn most designs into reality.
12-year guarantee 
We are so confident in the quality of our work, we offer a 12-year, no quibble guarantee for all our oak frames. Oak frames are pretty sturdy and reliable, but for your peace of mind, we guarantee to repair or replace any part of the oak frame building should anything go wrong; within reason of course. On request, we can also offer an insurance-backed guarantee for the same period of time.
FIND OUT MORE
Oakmasters Encapsulation System