About Oakmasters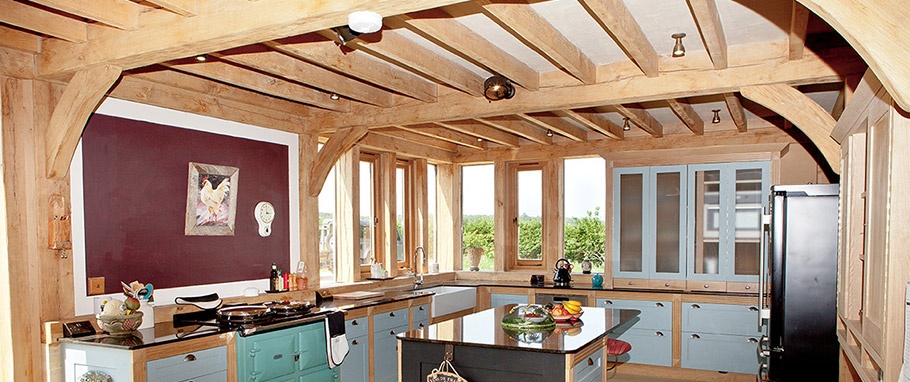 Oak frame manufacturing specialists
For over 30 years, we have been designing and building oak framed buildings all over the UK and abroad. We employ the finest craftsmen who love working with oak and know their trade. We have also evolved with time and introduced a state of the art CNC machine to our factory, which allows us to make oak frames with unparalleled speed and accuracy.
Recently, we have streamlined our operations to focus on what we do best: oak and timber frame manufacture. We focus or efforts on quality and speed of delivery, leaving the design and construction side of things to third parties. This doesn't mean we can't help by putting you in touch with specialist oak frame designers and installation teams directly, saving you money in the process, and giving you more control over your project.
Why buy an oak frame kit from Oakmasters?
Bespoke product manufacture
We manufacture all oak and timber frame kits exactly to your specifications, as designed by your architect. We buy and cut the oak specifically for your project, so there's no need to compromise on shape, size or style.
Great value
We run a lean operation, without the overheads of design studio and large installation teams. This means we are able to pass the savings onto our customers, quoting very competitive prices for all bespoke projects for trade as well and self builders.
Short  lead times
Our streamlined supply chain and manufacturing processes allow us to deliver most bespoke oak frame kits in under 12 weeks from the date of receiving the order.
Superior quality
Our CNC production line allows us to cut accurate, tightly fitting oak and other timber frames. Our carpenters can focus their energy and skills at specialist carpentry tasks requiring hand crafting, as well as ensuring that all oak frame kits leave our factory in top condition. Our TRADA approved encapsulated glazing system was developed specifically for green oak frames, and allows our customers to achieve leak-proof glazing. We can also produce augmented frames using glulam and steel - simply turning most designs into reality.
Sustainability
All our timber comes from certified sustainable sources in Europe and the UK. We source raw timber directly from the sawmills, not via intermediaries. This way we can ensure the quality and sustainable origin of all our raw materials.
12-year guarantee 
We are so confident in the quality of our work, we offer a 12-year, no quibble guarantee for all our oak frames. Oak frames are sturdy and reliable, but for your peace of mind, we guarantee to repair or replace any part of the oak frame kit, should anything go wrong; within reason of course.