Oak Roof Trusses … making the ordinary quite beautiful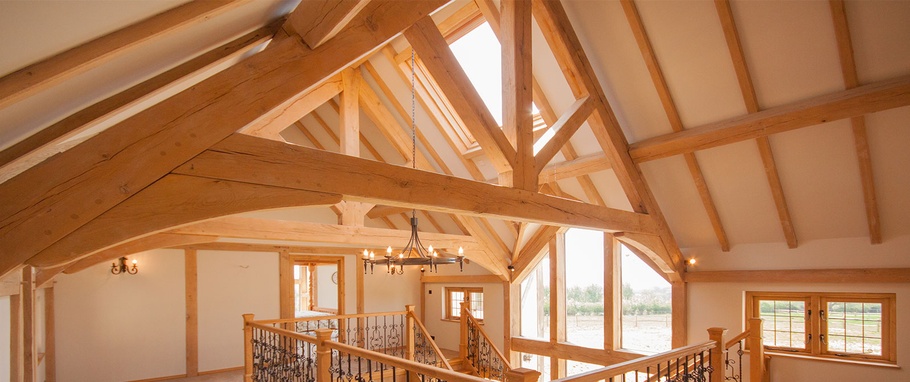 Single storey dwellings may sometimes be perceived as rather dull.  But have you ever considered removing those uninspiring ceilings and replacing them with stunning oak roof trusses or building your new project with an impressive vaulted oak roof? 
Here at Oakmasters we often get involved in renovation projects where the ceilings are simply too low and the light is diminished.  By replacing flat ceilings with a vaulted oak roof, we open up the space creating more head room and flooding the area with light. Oak trusses can either form part of the load-bearing roof structure, or can indeed be fitted retrospectively within an existing building to perform a cosmetic function.
Not only will this give you the sense of space, but you will have introduced a magnificent feature into what may have been a rather bland series of rooms.  And what's more, you've added value to your property.
There is also a misconception that oak roof trusses are only suited to barn like constructions, however this isn't the case.  We often install oak roof trusses to very modern designs, as oak is recognised as an excellent complimentary material to use alongside modern building materials.  Sometimes our clients want to see the beauty of a set of grand king post oak trusses spanning a room but don't necessarily want to see any other oak features in that room.
So how do you go about getting an oak roof feature?
Put simply, tell us what you would like, and we will design and make it for you and deliver it to site. 
Here at Oakmasters we have our own in-house design team, where we will create your oak roof truss vision using superior chunky oak section sizes, ensuring you have an oak roof which exudes luxury and beautiful craftsmanship. We can show you a 3D visualisation of your new oak roof structure, so that you get a real feel as to how this is going to transform your property.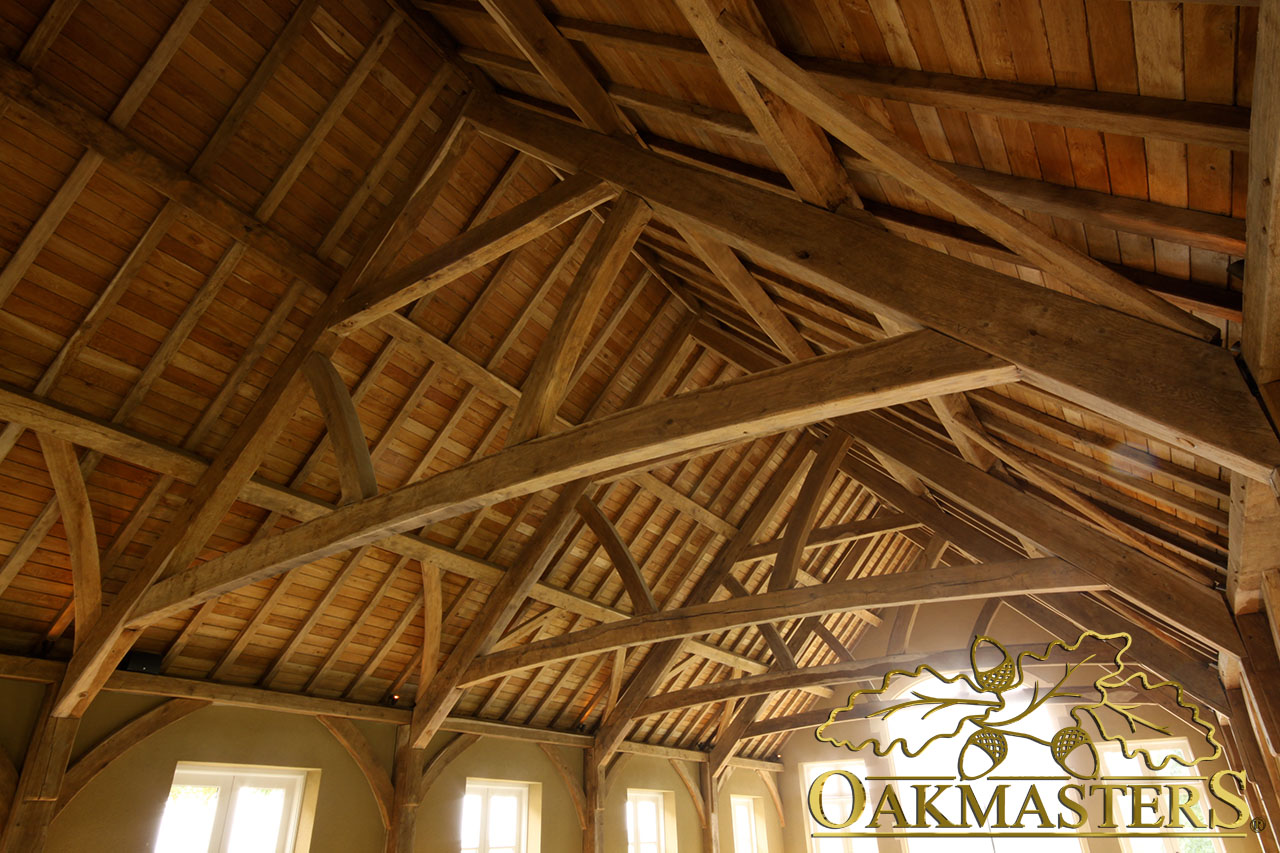 In our Mill, we will then make your trusses with expertly jointed sections and then hand finish them with what we refer to as a light adze finish.  This is the most popular finish and means we will remove any imperfections such as saw marks and so on, leaving the oak truss with smooth edges.   Your trusses will then be sent, as pre-constructed units, to site on one of our specialist lorries which has the facility to lift the trusses off the lorry and place them directly onto the floor. 
Your builder, who will have received detailed engineering drawings and calculations from us, will then be able to orchestrate the placing of your new oak roof trusses. In most cases, this involves hiring a specialist crane, as oak trusses can weigh up to 2 tonnes each. For larger, complicated projects, or complete house builds, our Oakmasters assembly teams will fit the oak trusses as part of the assembly. 
Kings, Queens, Ties or Collar?
These are all types of Trusses and here we'll explain what they're best suited for.
King post truss or Queen post truss are the classic and the most popular truss designs. They are most commonly used to create a sense of light and open space, like this stunning kitchen pictured below.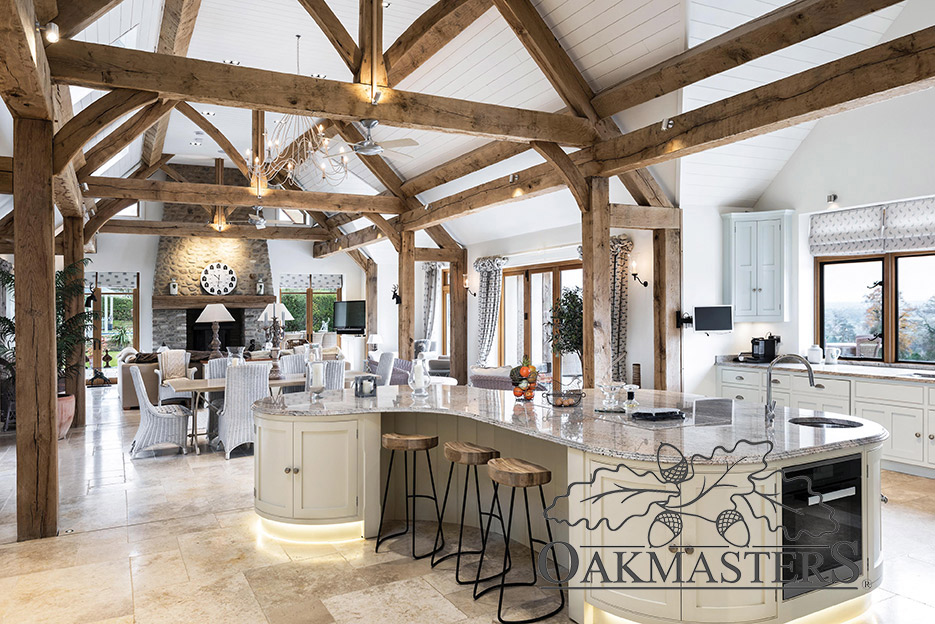 Raised tie truss or raised collar truss are what we use when we're are a little short of head room, or need to span an extra wide room.  The tie beam or collar beam is raised further up.  We often use them in lofts or attic rooms, like the one pictured below, which is in a lofted garage.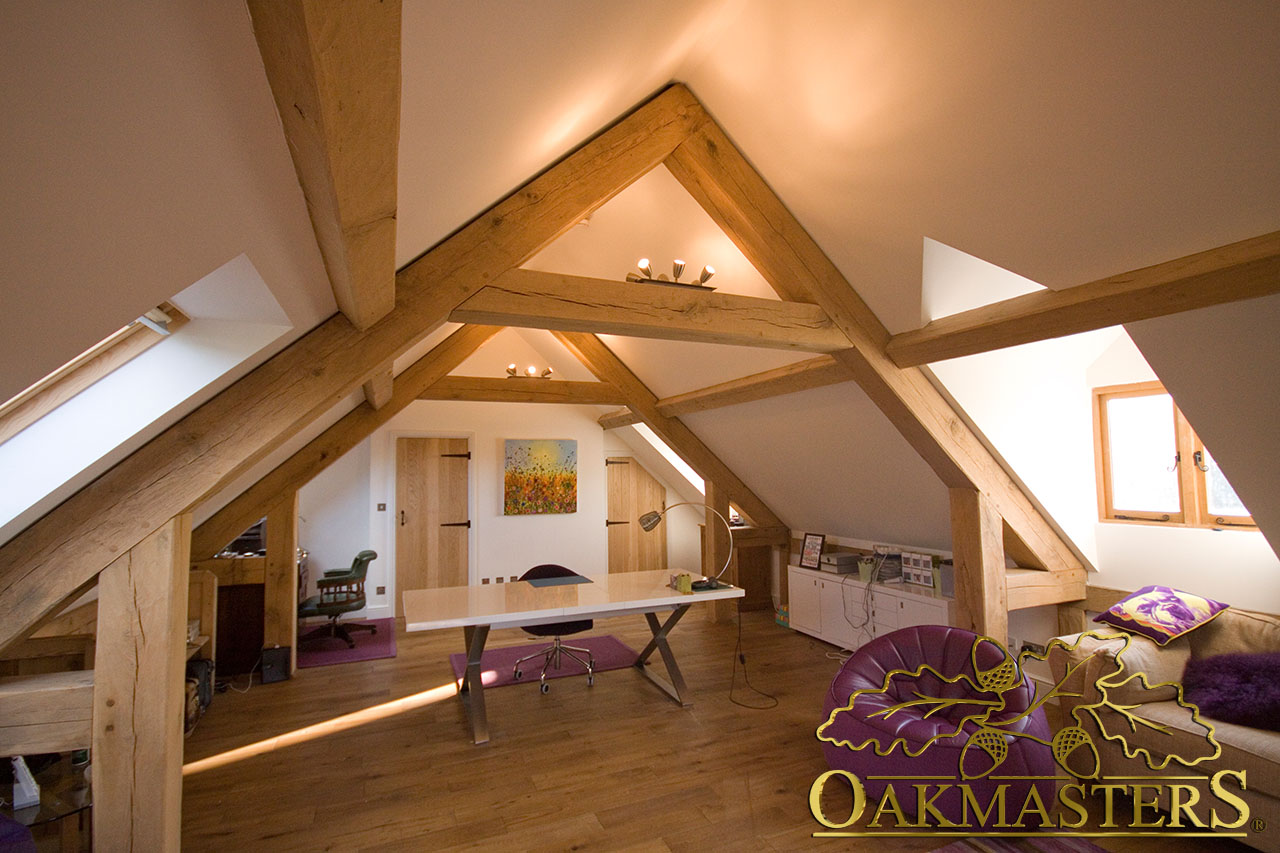 Flat top trusses are typically used in situations with restricted headroom. They often form part of orangery ceilings, where they are structural and support a roof lantern, much like the example below.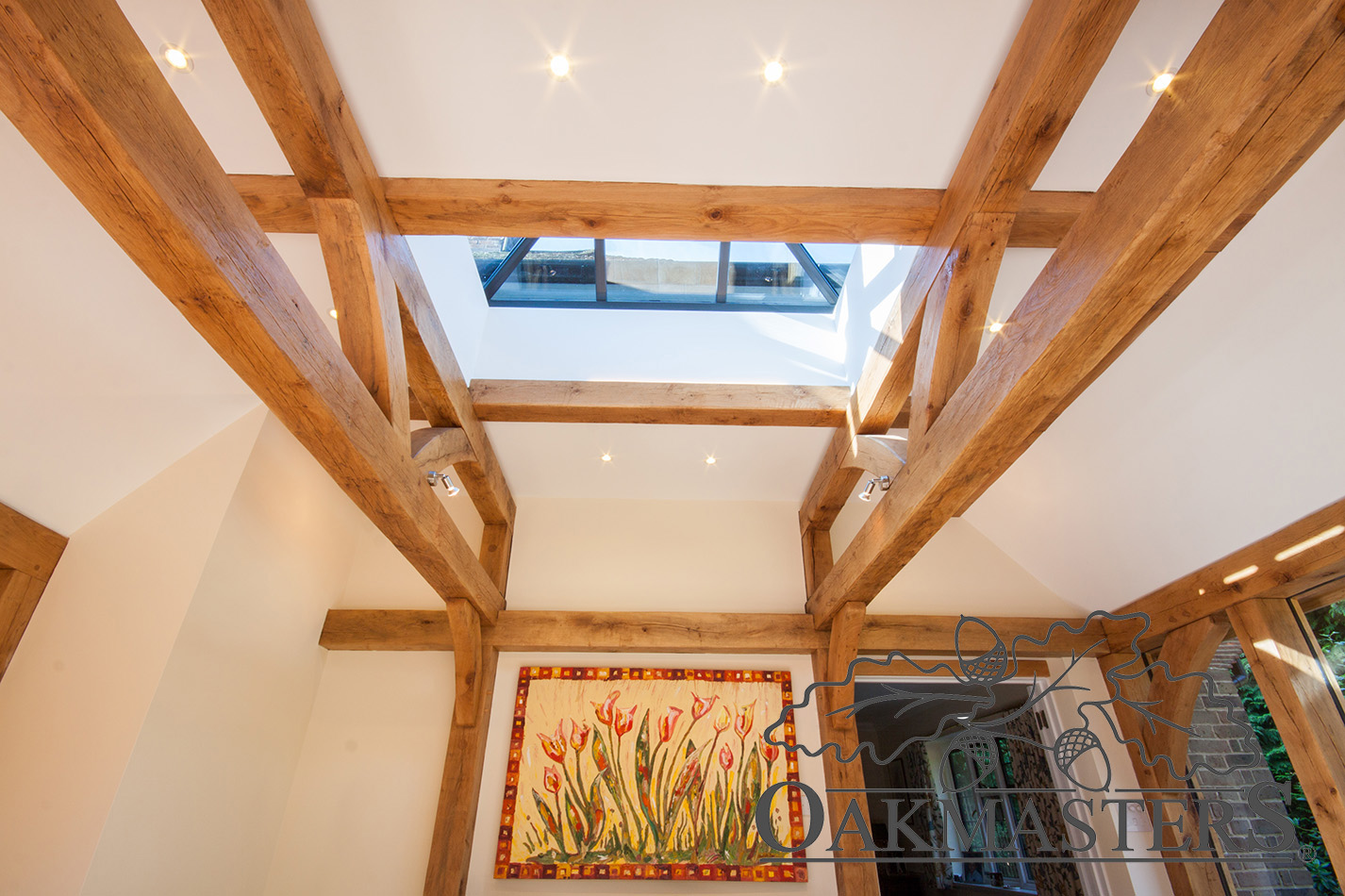 Oak trusses and roof features can represent an easy way of upgrading your property from plain to luxury. Whether it's a remodelling of your 1960's bungalow, a brand new modern build with a magnificent oak vaulted ceiling, or the conversion of your attic, oak roof trusses will introduce the "wow" factor to your property to allow you to create a beautiful and unique home. Just give us a call to chat about how you would like to improve your home with oak.


Tags:
case studies
help & advice
oak framed houses
oak roofs & trusses