At a fraction of the width and therefore cost of solid beams, oak cladding is an elegant alternative to a full oak frame. If you are looking for timber or wood cladding then make sure you choose oak. It gives the cosmetic appearance of supporting beams, without actually contributing to the structural elements of a building.
Our oak cladding services
Our expert craftsmen can produce oak cladding kits from plans or photographs. These can quickly and easily be fitted to the interior or exterior walls of a property as a distinctive period feature, blending seamlessly with existing or newly installed oakwork.

From plans or photographs we can design and produce an authentic oak cladding kit, which can be swiftly and easily fitted to any development, both externally and internally.

Example: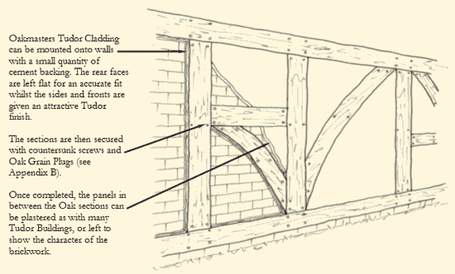 Supply only
Our oak cladding is designed to be treated as a run of material, left over-length, ready for your your local contractor to install. If your project is more complicated or your contractor needs specialist advice or even help then we are happy to discuss your options.
Oak feather edge cladding
We also offer oak feather edge cladding as a supply only item. We use a great deal of it on our own oak framed buildings, but can supply the cladding on its own.
Cut as wedge sectioned pairs from 38mm x 200mm boards the our oak cladding is very robust, and long lasting. It will mature nicely in the open as it dries out, providing a wonderfully characterful exterior, with undulating lines. A silver colour will develop over the first couple of years as it is exposed to the elements. Being oak, if you leave it to age without treatment it will give you many years of life with virtually no maintenance required.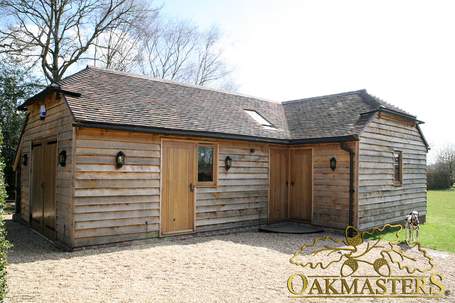 For more images of buildings with oak cladding click here.
Find out more