Elevation and vertical space are luxuries associated not only with traditional architecture. Modern oak framed buildings use traditional designs combined with cutting edge methods to complement modern architecture and provide a sense of expanse and status. Oak roof trusses and oak roof rafters can add enormous long term value to building developments. Oak vaulted ceilings with oak roof trusses and roof rafters create a striking visual effect and a sense of height, space and luxury, making your home a stunning place to live, whilst adding value to your property.
Why build with oak trusses from Oakmasters?
Superior oak roof truss quality – our oak trusses are specified with chunky section sizes as standard, making them more spectacular and luxurious, as well as more resilient. Each roof truss is hand finished, to take off the unsightly saw marks and smooth the edges. The roof trusses are then hand assembled and shipped to your site as finished units, ready for installation by your builder.
Bespoke oak roof service – our in-house design team with create an oak roof concept for you and provide full detailing as well as engineering drawings and calculations for your oak roof trusses and oak roof rafters. This may include a 3D visualisation of your oak trusses. We will also provide advice on the timber engineering such as appropriate location of roof trusses, sections sizes, stylistics and layout. Where appropriate, we will provide CAD section drawings to show the oak roof trusses and their relationship to other oak roof components.
Oak roof supply only or supply and fit - Most oak roofs are made as a kit and supplied for your local contractor to install with our help and advice. Oak trusses usually come as pre-constructed units, which can simply be lifted into place on site. Components slot together like giant Lego and can usually be fitted by your primary building contractor. For larger, complicated projects, or complete house builds, the fitting of the oak trusses and oak roof rafters will be done by our assembly teams and our quotation will include the cost of assembly.
Types of roof trusses
The variety of oak roof trusses is bewildering and there are countless variations on each theme. You could split the types of oak roof into three main categories from the point of view of their use:
General roof trusses for vaulted ceilings
For a beautiful vaulted ceiling without any specific restrictions, you have a wide choice of oak roof trusses. Your choice depends on your aesthetic preference, but these are the most common options:
King post truss – a classic, triangle shape with straight vertical post coming from the middle of the tie beam, with diagonal struts. King post trusses come in a number of variations, often with curved diagonal struts.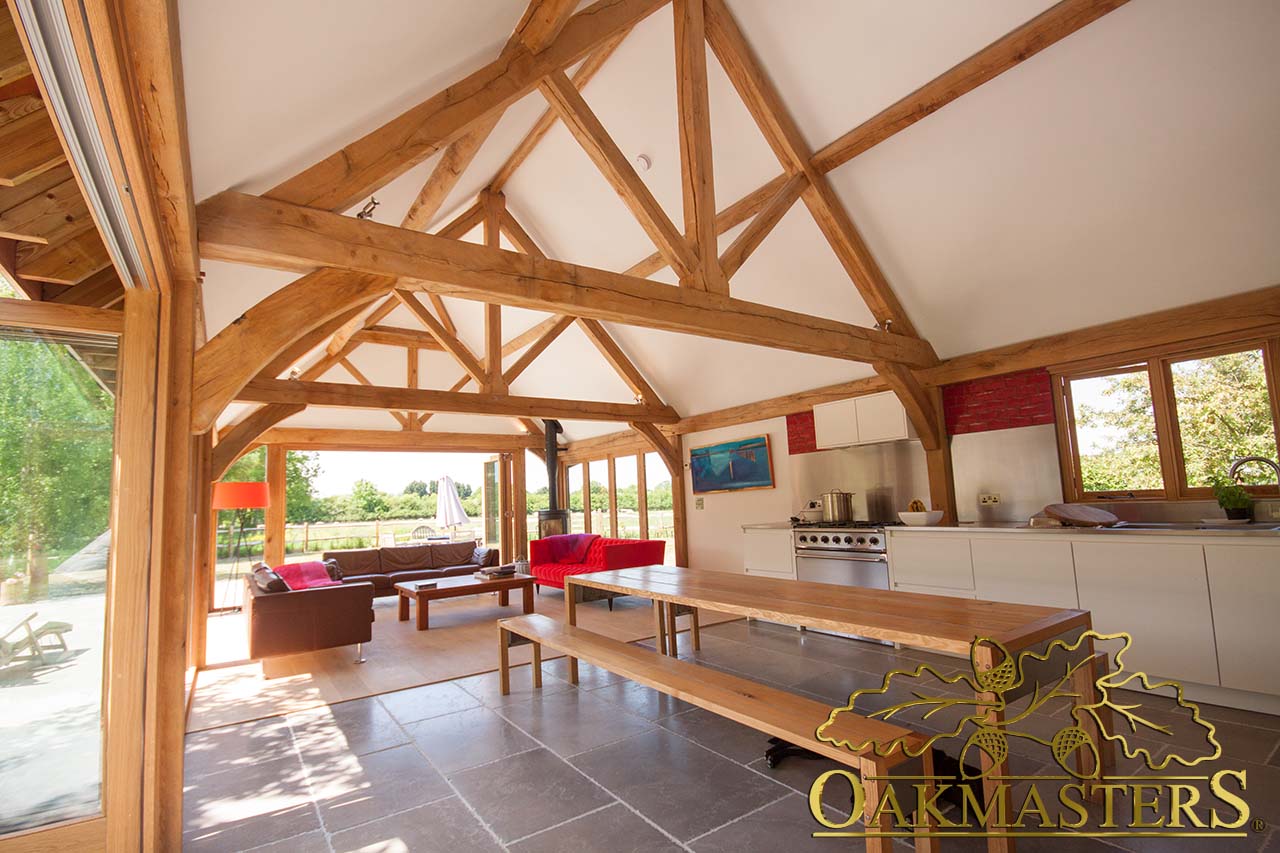 Queen post truss – two vertical posts and a collar form a square or rectangular shape inside the triangle. A variation of this oak truss is a curved, angled queen post truss, without the collar beam and with curved vertical posts.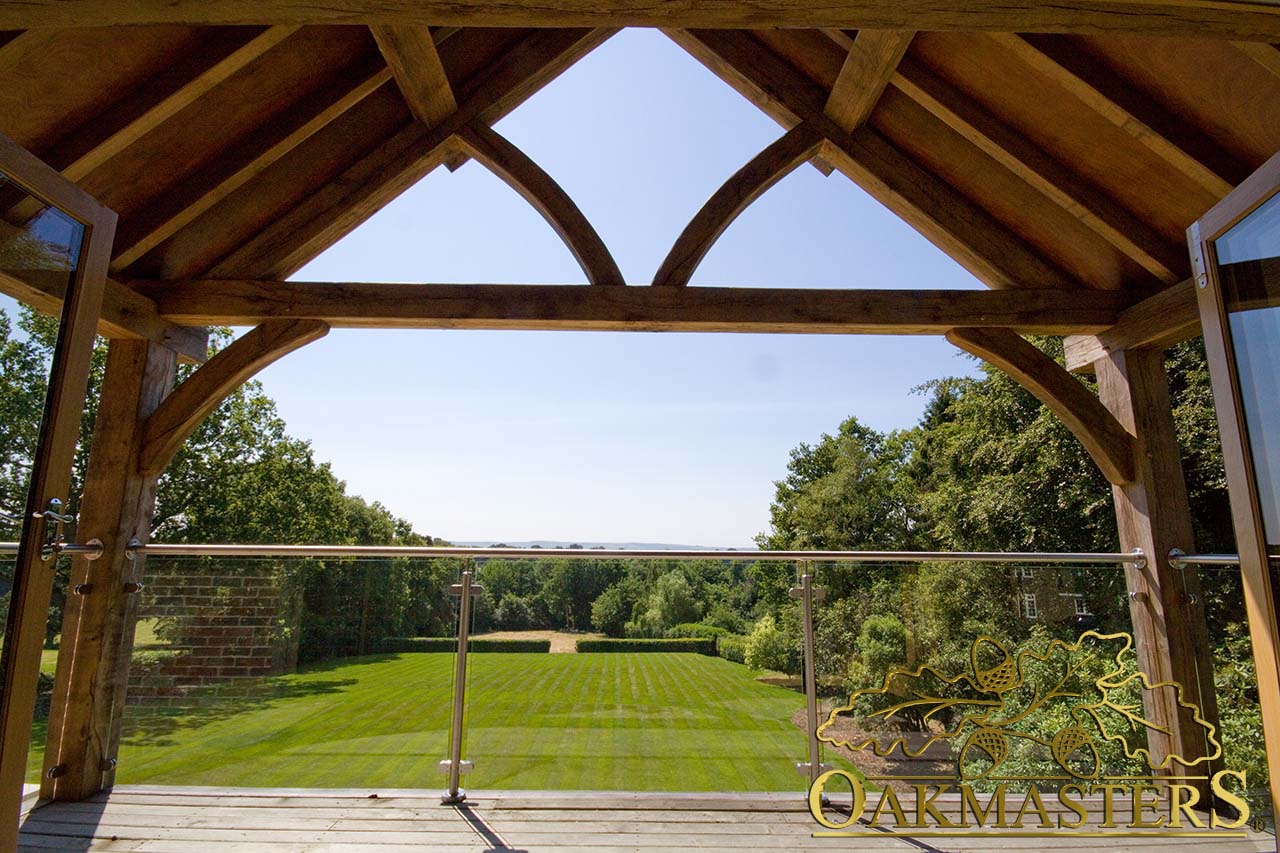 Click here for ideas of vaulted roofs and oak trusses.
Roof trusses for extra head room
Our clients often require enough head room for people to walk under trusses comfortably or to optically increase the space, without increasing the overall height of the roof. This is a common requirement, hence there are many elegant solutions for this type of roof.
Raised tie truss or raised collar truss – is a truss modified to create extra head room by raising the tie beam or the collar beam further up and redistributing the pressures using additional braces and other components. An alternative option to this would be a scissor truss, which creates additional head room in the centre of the truss rather than raising the entire tie or collar beam.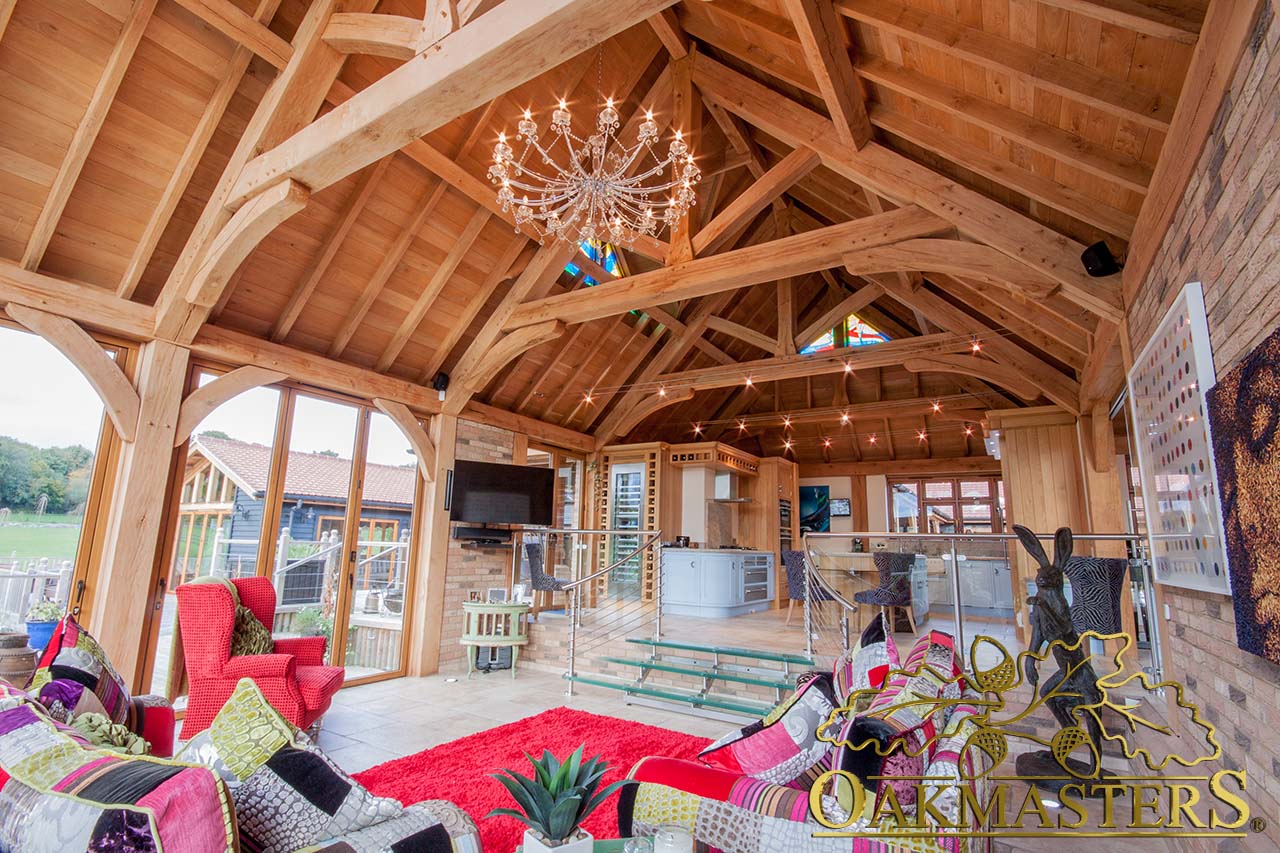 Click here for more examples of oak roof trusses for extra head room.
Roof trusses for lofts and attics
Raised tie and raised collar trusses are suitable for most lofts and attics, however, there are other options to make even more of your space.
Interrupted tie truss - if you want to create even more head room and widen the habitable space in your loft, then this truss is perfect. It allows to raise the eaves without raising the overall height of the building, creating a wider living space in your attic.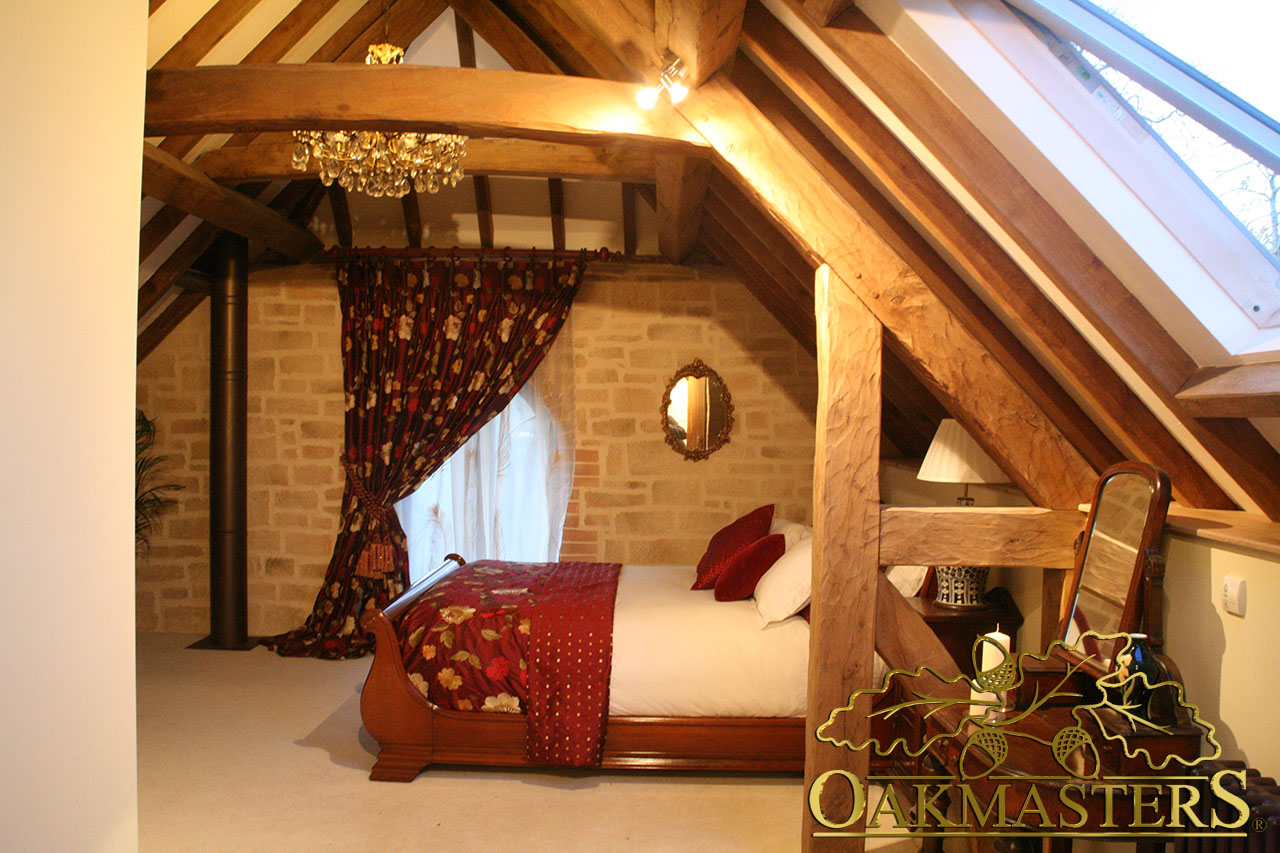 Click here for more ideas on roof trusses for lofts and attics.
Roof trusses for restricted height
If you have height restrictions in place, you don't need to compromise on your desire to have an oak roof. Our expert team can help you design the perfect oak roof for projects such as swimming pools, orangeries or extensions with a flat roof requirement.
Flat top truss - essentially a half truss, providing structural support for an orangery roof. Flat top oak trusses are designed to support lanterns – large glass domes or pyramids that fit on top of a flat roof to allow the natural light to flood in.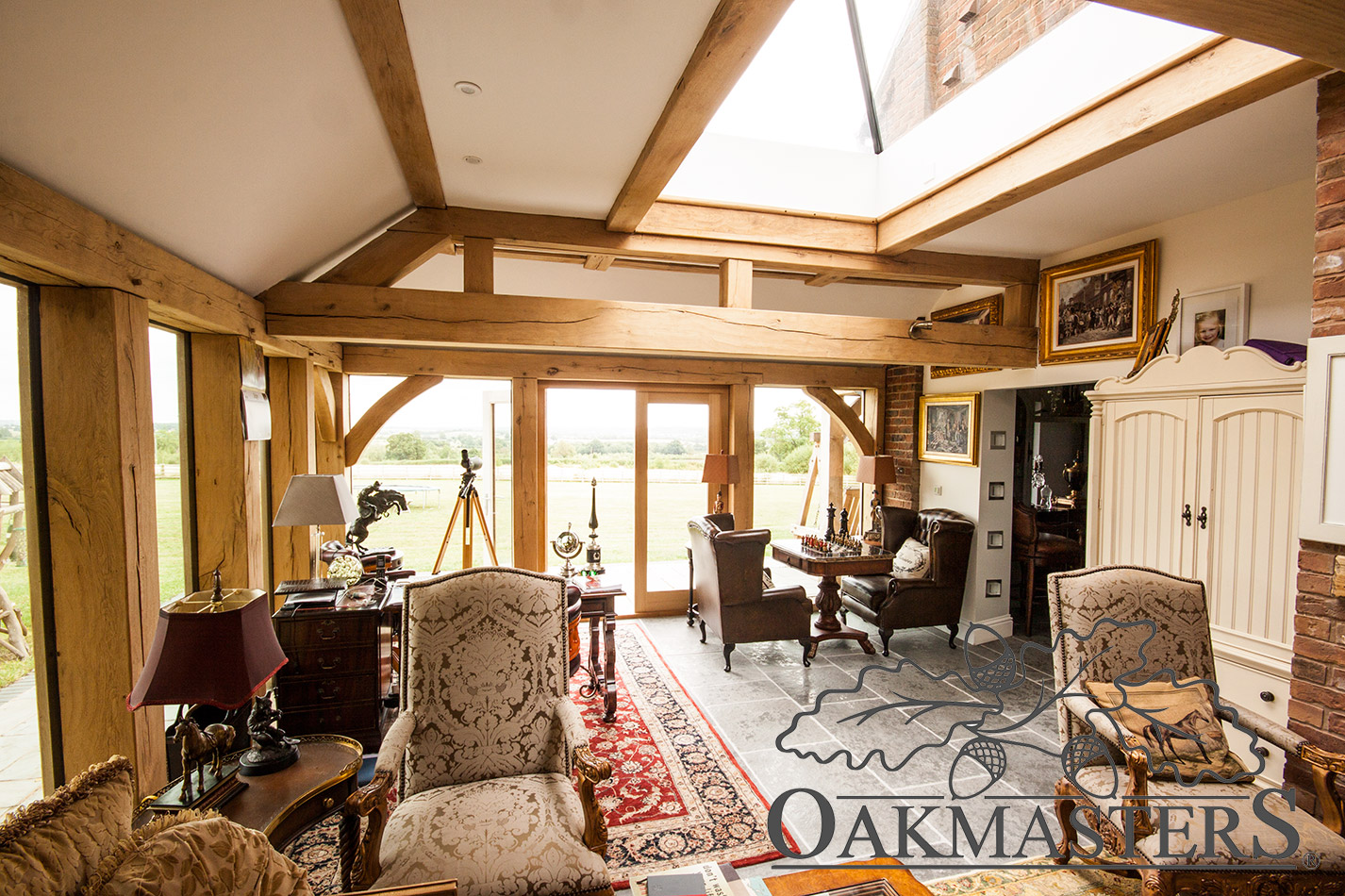 Click here to see examples of oak trusses and oak roofs with restricted height.
Other oak roof components
Our bespoke oak roofing components include various options for styles of oak trusses, oak wall plates, oak purlins and oak ridge beams. For a more period feel, opt for oak rafters, or oak sarking boards over the top instead of plasterboard.
More about oak roof trusses