Aiming high: How an oak roof can top off the perfect property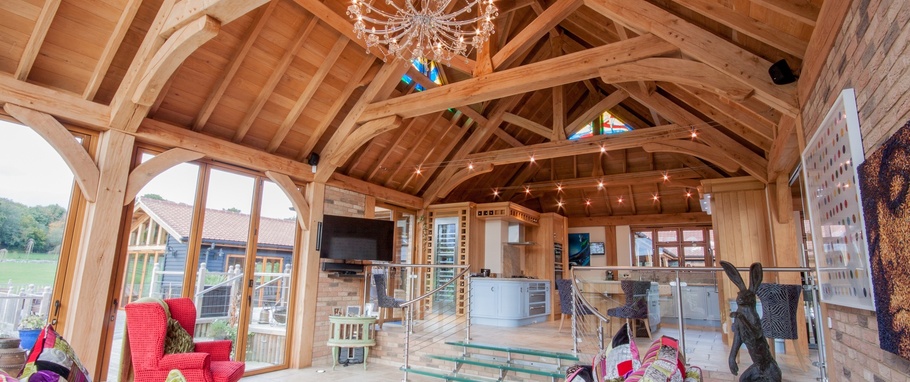 When building or renovating your dream home, using oak can ensure that all aspects of the property are not only strong in structure, but impressive and beautiful to look at as well. Thanks to its strength, sustainability and aesthetic beauty, oak is the natural choice for stunning ceiling features which really make an impact. At Oakmasters, we create a huge range of oak rooves and trusses for our clients, and here is our guide on how to get started, as well as some examples of the stunning results you can achieve.
Things to consider when building an oak roof or ceiling feature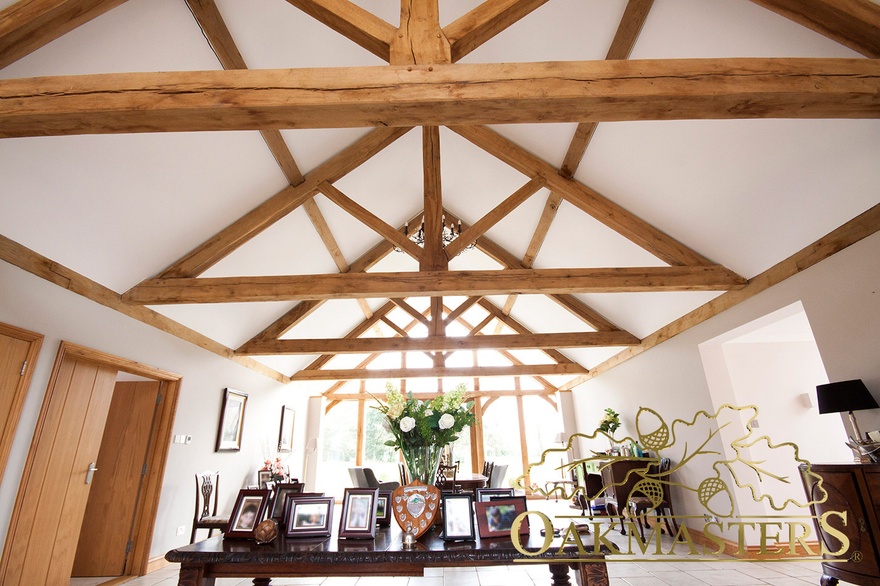 An oak roof really adds wow factor to any property, as well as adding considerable value. There are many options and routes to choose from, but it's important to get a few things straight before you start:
Structural work: decide whether you want to get involved with structural work, which you'll need to do if planning an extension or remodelling your home. If you'd rather not go down the structural route and work within your existing space, you can still use oak to create stunning ceiling features.
Planning permission: As with any building project, it's best to check with your local authority regarding planning permissions and what is required before you start. That said, adding cosmetic features to your home does not generally require consent unless your property is listed.
Strength: Customers often express concerns about whether oak is structurally sound. Although in some situations, steel structures will be required, the strength to weight ratio of oak is superior to steel and it's perfectly possible to build a vaulted oak ceiling spanning over ten metres without using any steel at all.
Once you've worked these details out and are ready to start, the world of oak is your oyster. Here are some great examples to get you inspired.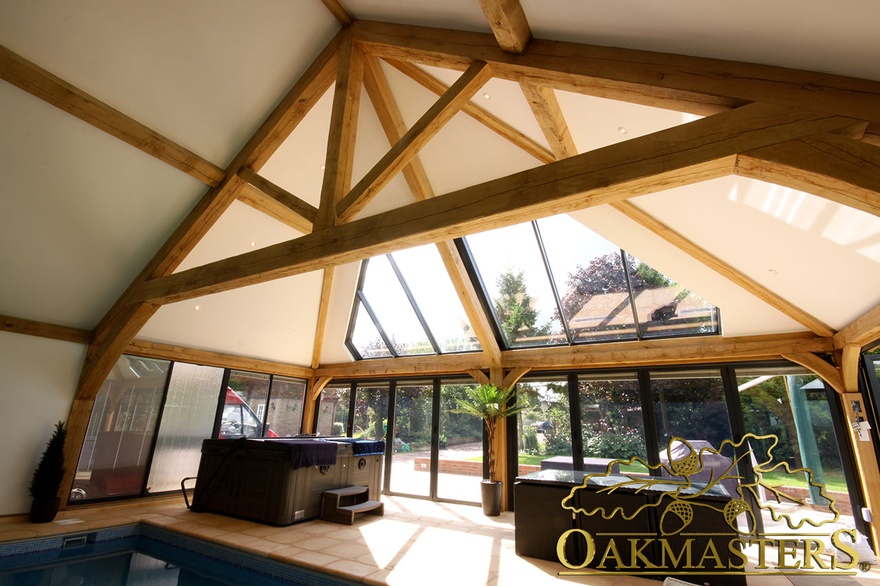 Whether you like high ceilings, are converting a loft space or other height restricted area or simply need a bit more head room, using raised oak tie trusses means you can create a gorgeous ceiling feature and also the space to walk comfortably underneath it. We've created numerous spaces using this approach for our customers, from large glazed sunrooms and pool houses, to bespoke oak kitchens and dining room extensions. Take a look at these examples for further information and ideas.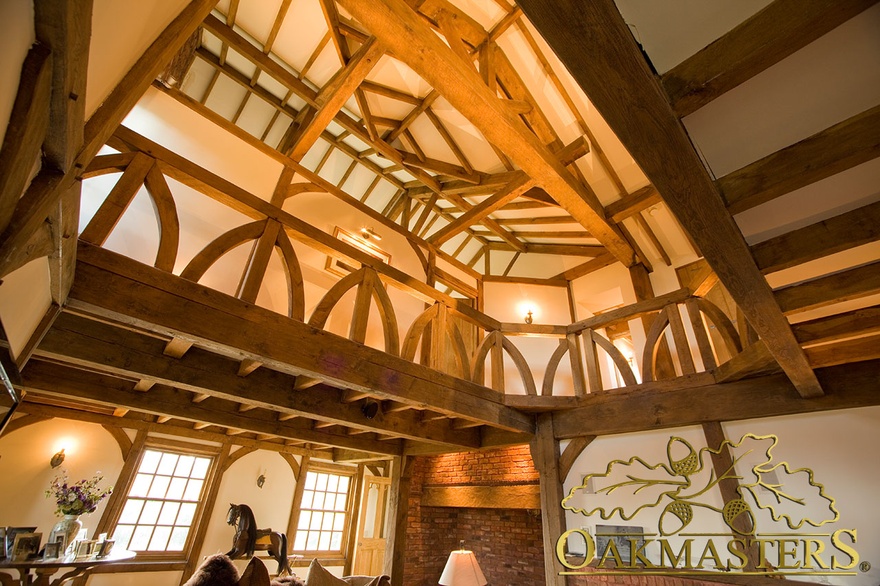 Complexity can be truly beautiful, and it's possible to really get lost in the complexities of an oak roof design. Whether it's a view up the stairs into a stunning vaulted roof space, or the beauty of an exposed roof structure, the results can be enchanting and really add to a property's value and appeal.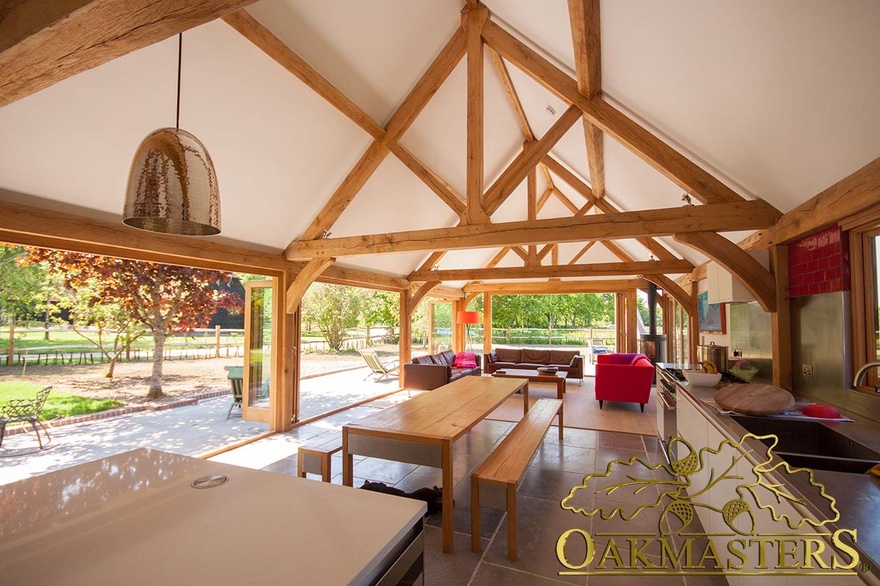 Introducing a vaulted oak ceiling not only adds a stunning visual effect but can also open up the space and make a room feel larger and lighter, which is ideal for busy family rooms such as kitchens or dining room extensions.  Combining vaulted oak ceilings with glazing can also introduce a welcome light and airy feeling to a room, creating a welcoming space for the family to enjoy.
You could also opt to part glaze the roof itself and expose only the main oak truss structure, meaning the oak is added as a minimalist feature for a modern, contemporary twist.  Have a look at these examples to give you further inspiration.
Take a look at our main gallery for further ideas on how using oak could transform your current home or your next project, or download our brochure on oak rooves and trusses. Please don't hesitate to get in touch with our friendly team on 01444 455 455 to discuss your specific project or requirement.
Tags:
oak framed houses
oak roofs & trusses