Oakmasters' unique oak beam covers, also known as beam casings are decorative beams designed to conceal unsightly structures, such as RSJs (steel joists) concrete lintels or pipework. Sometimes referred to as fake oak beams or false oak beams, Oakmasters oak beam covers are anything but fake.
Made from solid, kiln dried oak, Oakmasters' oak beam covers are skilfully hand crafted with meticulous attention to detail. The oak beam covers are shaped to cover your structure specifically and can be either two-sided, with an L-shape profile, three-sided, with a U-shape profile, or four-sided, with an O-shape profile. End capping is also available for exposed ends of oak beam casings. The surface is then hand finished with our trademark hand wrought finish, to make the oak beam covers indistinguishable from solid oak beams.
Example of a three-sided oak beam cover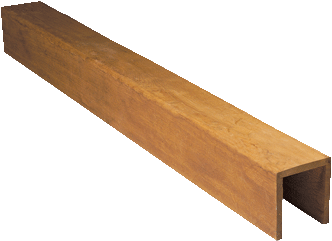 Using selected kiln dried timber, with small knots and splits, oak beam covers can work either as a distinctive, handcrafted standalone feature or be made to integrate with other oak components in your property.
Why buy an oak beam cover from Oakmasters?
Superior craftsmanship – all Oakmasters' oak beam covers are hand-made exactly to your specifications. Our skilled craftsmen construct each and every oak beam casing by hand, using a unique jointing technique to conceal the areas where individual oak beam cover sections meet. As a result, our oak beam casings are indistinguishable from solid oak beams.
Made to measure – Oakmasters' oak beam casings are always made to measure for your specific project. Unlike pre-moulded varieties, our bespoke designs will work with quirky details such as uneven lengths, tapered ends or odd openings that may need to be cut out to fit the oak beam cover in place. Oakmasters' oak beam covers also work perfectly with solid oak beams. For example, you can have a floor structure, where the main beam is an RSJ with an oak beam cover, with solid oak joists fitted into this beam, making the structure look like a genuine oak beam ceiling layout. Oak beam covers are also suitable where extra long beams are required (usually over 9m in length). In this case, two oak beam casings will be joined length-ways using a beautiful iron strap, hand made by our local blacksmith.
12-year guarantee – we are so confident in the quality of our work, that we offer a 12-year guarantee on all our oak beam casings. This means that should you have a quality problem with one of our oak beam covers, (not that we get many of those at all), we will fix or replace it free of charge.
How do I enquire about or order an oak beam cover?
Our oak beam covers are supply only. This means that we will make the oak beam covers in our workshops and ship them to you for your builder to fit. Fitting oak beam casings is a straightforward process, which can be easily handled by your local contractor. If your project is more complicated, or your contractor needs specialist advice or help, then we are happy to discuss your options.
First, measure the space you need to cover. In order for us to give you a price estimate, we will need to know from you or your building contractor the following:
Width, depth and length of the structure you are looking to cover. Don't worry about allowing extra room to breathe, we will work all of this out.
Information about the structure you are looking to cover, in order to establish if you require a two-sided, a three-sided or a four-sided oak beam casing. So do tell us what it is that you are looking to disguise – whether it is a vertical or horizontal feature.
Any unusual features such as cut outs, shorter or longer sides you may require for your oak beam cover, or indeed if you require an end cap.
Delivery address – this is an important consideration, as oak beam covers are very fragile and we need to organise specialist transport to get them over to your site. This may have an effect on the total cost, so the sooner we know the better.
Take a look at our price guide to see example costs for two-sided, three-sided and four-sided casings and the additional features available.
Why is it not a fake oak beam or a false oak beam?
The terms fake oak beams or false oak beams would suggest that the oak beam covers are made from veneered MDF or other materials, such as polymer and resin compounds. There are indeed fake oak beams moulded from polymer and resin available on the market. However, Oakmasters' oak beam casings are hand crafted from solid oak.
Find out more about our oak beam covers
Frequently asked questions about oak beam casings or oak beam covers
Will oak beam covers shrink or crack once fitted?
Our oak beam covers are crafted from kiln dried oak, the same quality of oak used for furniture making. The joints are glued and then surface treated to make sure they are almost invisible. You can fit our oak beam cover confidently and plaster around them without worrying about gaps appearing between the oak beam casing and the plaster or indeed the oak beam casing twisting or cracking.
Is an oak beam cover cheaper than a solid oak beam?
Kiln dried oak is more expensive that green oak per cubic metre due to the amount of processing and storage required to produce the planks. In addition, you need to consider that it takes a lot of skill to craft an oak beam casing and it takes a considerable amount of time to make it. It's a little bit like cabinet making. Therefore oak beam covers are not cheaper than solid oak beams.
Could you supply hollowed out oak beams made from green or air-dried oak?
Hollowing out green or air dried oak beams would be an extremely laborious process. So not only would the cost of it include the cost of the oak that was thrown away from the middle, but it would also include hours of labour that would go into producing a hollowed out oak beam by hand. In addition, both green and air dried oak continue to shrink and crack once fitted, which would be further accentuated by the fact that the walls are now thinner, making the hollowed out oak beam more prone to twisting and warping. This has the potential to cause you a lot of headache in the future.