Professional Advice - Using oak structurally: aesthetics vs practicality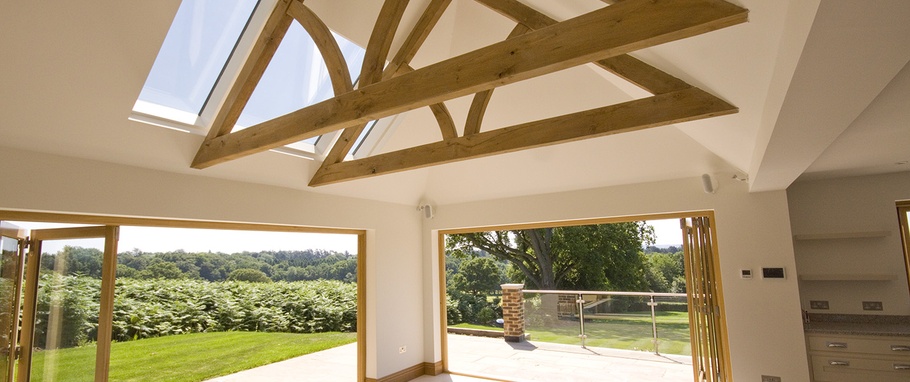 Some architects may find the idea of timber frame construction daunting. No one can argue with the fact that an oak finish is beautiful, but in today's modern building design is there a place for oak framed construction? The misconception is that a solid timber frame simply could not support a structure in the same way as its steel counterpart. This article will explore the reasons why green oak is not just construction eye candy, but also a practical structural support option for a modern home.
Oak has superior strength to weight ratio
In stress tests it becomes obvious that steel is over 3 times stronger than green oak, but what also needs to be remembered is that steel is 10 times heavier, and as such the strength / weight ratio of clear dry oak is superior to steel (Ross et. al, Green Oak in Construction, 2007). One of the key advantages this provides is a lighter building; especially beneficial to foundations that feature poor ground conditions.
How is the strength of oak graded?
Grading can be carried out either visually by a certified organisation or via machine (TRADA). Every tree is different, so how does one class a piece of timber? The properties that determine a grade are strength, stiffness and density, and these properties are derived from the wood's knots, grain (e.g. ring width) species and origin (Napier, Introduction to timber grading, 2011).
Important note: The grade is calculated based on an average of the timber population the given piece comes from. This is the case with any building materials, and is the reason we have material partial safety factors in the design.
Oak is ideal for open plan living
Strong and stable by design, an oak frame carries its load effortlessly, without the need for many load-bearing walls. This allows for wide, open plan spaces, often with high or vaulted ceilings. Whilst oak framing is a centuries old construction method, it is extremely adaptable and lends itself to modern designs and is an ideal method for sustainable and energy efficient options. With an oak frame, you can show off the natural beauty of the wood, whilst creating an opportunity for energy efficient construction.
Oak has energy efficient design by default
Compared with alternative construction methods, the open structure of an oak frame pairs up perfectly with roof and wall panel insulation systems. Once the oak frame has been constructed, one method of encapsulation is to apply thermal insulation panels (such as SIPS) which fit on the outside of the frame, creating an extremely energy-efficient, uninterrupted envelope. On top of this layer is a water proof membrane and external cladding, whereas on the inside the oak frame is exposed whilst incorporating a service void and interior wall covering. This high level of insulation is excellent at allowing a building to retain heat, thus requiring less energy to run. This encapsulation can easily be increased in specifications towards Passive House standard, making the oak frame a perfect complimentary material to this high performance building envelope.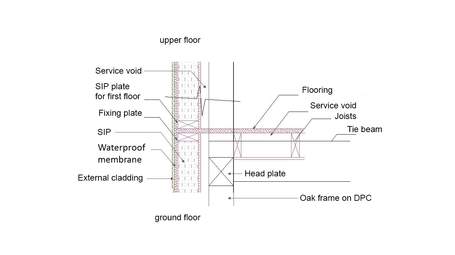 Image: Oakmasters encapsulation system
Here are 2 more practical benefits to building with oak…
Timber frame is one of the fastest methods of construction, and typically our frames take only 2-3 weeks to erect.
Another practical benefit for designers and architects is the environmental impact (or lack thereof) – timber frame construction is effectively carbon neutral and a sustainable material, which is a great offering for your clients. For a comparison, steel uses 6 times more energy to produce than timber.
If you are in need of more information on how to add value to your projects with oak framed building solutions, then Oakmasters are able to help. We offer a fully supporting service to architects and developers to ensure you can offer an amazing value build that looks great and lasts for hundreds of years. Get started designing your oak framed timber project with us today.
Tags:
building sustainably
building with oak