Oakmasters guide to garden rooms and sunrooms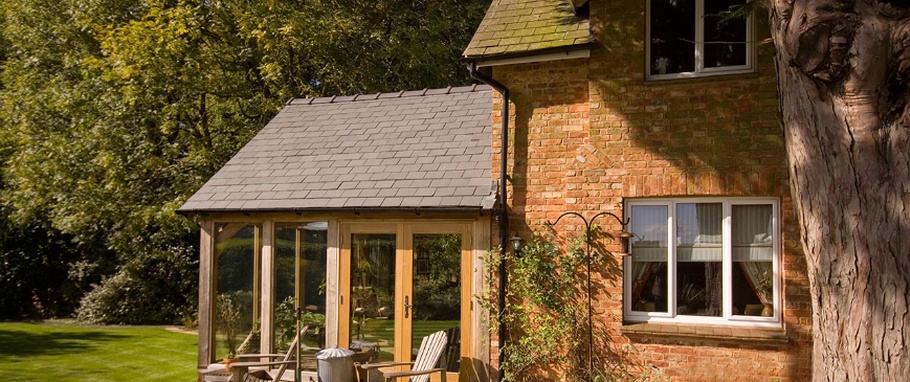 Summer is almost here, but with the great British weather, us Britons have to employ good lateral thinking in order to enjoy our beautiful gardens. One way you can make the most of your outdoor space, come rain or shine, is with a beautiful garden room or sunroom.
Garden rooms have become increasingly popular over the past few years. Not only do they add space and bring more light into your house, they can also create a seamless connection between your home and your outdoor areas. They can also be extremely versatile, whether you're looking for an extra living or dining room, a space to entertain guests, or a relaxing area to unwind.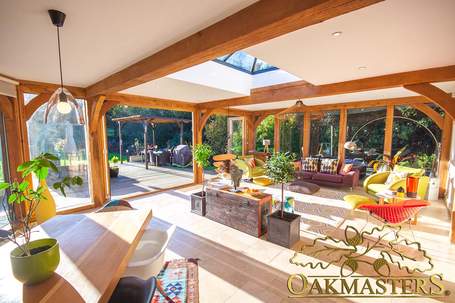 Our customers who are keen to build a garden room often come to us with questions that may be worrying them, or preventing them from taking the next steps. We therefore decided to create a simple guide, to help you get started, by answering some of the most common queries:
What are some of the most important things to consider when building a garden room?
It is imperative that planning regulations are checked, to ensure that any sunroom is legal.
Consider how you will actually use this new room. For instance, if it is going to be a family space used for watching TV, don't forget to plan in a little wall space as well as the glass.
Take into account the style of your original home. Chunky oak posts at fairly large intervals work well for contemporary homes. If your house is more traditional, add slightly smaller section sizes, with more frequent vertical posts.
Think about the ventilation. Sliding, folding doors are very popular, but it also makes sense to have something that can provide ventilation throughout the year, such as a vent in the lantern, an opening skylight, or even a simple window.
Do you need planning permission to add a garden room onto your home?
You may be surprised that planning permission is not always needed. If your proposal falls within the permitted development guidelines, you will be able to build without planning permission. However, it's worth checking with your local authority and applying for a Certificate of Lawfulness. Permitted development also does not mean that your building is exempt from Building Regulations, such as strict guidelines regarding roof heights. At Oakmasters, our 'flat top truss' design will often ensure that the garden room falls within these requirements.
For more information on planning permission take a look at Planning Portal's guide.
Why should I consider a garden room instead of a conservatory?
The difference between a garden room and a conservatory is in the roof. Conservatories typically have glass roofs and so it can often be more difficult to regulate heat and sunlight within these structures. A conservatory will also need to be thermally separated from the main building, by exterior grade doors.
A garden room on the other hand, can be used throughout the year and opened up to the rest of the dwelling, subject to SAP (energy efficiency) calculations. The flexibility and general robustness of a garden room (particularly an oak one) would also be seen to add more value to a home than a UPVC style conservatory.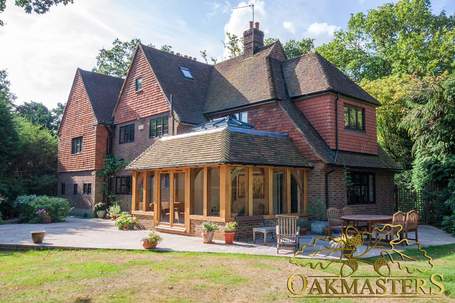 What are the most important things to consider for ensuring your garden room is usable all year round?
If your sunroom is integral to the dwelling, you could add heating of the same standard, as well as roof and wall insulation where applicable.
Many customers like to install sliding/folding doors so the room can be opened up to the garden in the summer. When choosing doors and windows, it's important to consider colder months too. Doors with 3 or 5 units usually work well, as this allows 1 door to be opened for access, instead of the whole unit. Double glazed units and Oakmasters encapsulated glazing system will also help to keep your space warm and dry.
Ceiling lanterns are popular in sunrooms and are perfect for letting in natural light. Consider also adding down lights and ambient lighting, such as floor and table lamps. These work well for darker days and nights.
For more tips, take a look at our previous blog - "Bespoke sun rooms: perfect all year round, not just for BBQ season".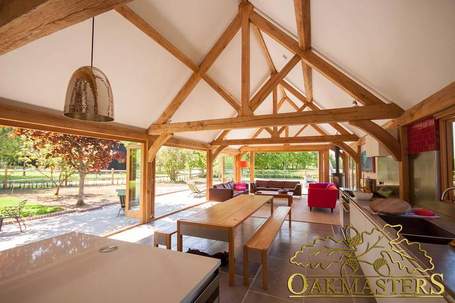 How can Oakmasters help with your garden room project?
With over 30 years of experience, Oakmasters offer the finest crafted oak framed sunrooms and garden rooms available, with strict attention to detail, to offer products of a distinctly superior quality.
With the help of our partners in many regions, we are delighted to provide a full range of services in any combination, including initial design, planning and building regulation details, structural calculations, groundworks, manufacture and assembly of the timber frame, glazing and cladding, through to tiling of the roof, services and internals.
For more information, take a look at some of our latest case studies, from this oak framed orangery for a country home, to our stunning sunroom project in Surrey. For further help and advice, please get in touch with us on 01444 455 455.
Tags:
help & advice