Case study: Sunroom project in Surrey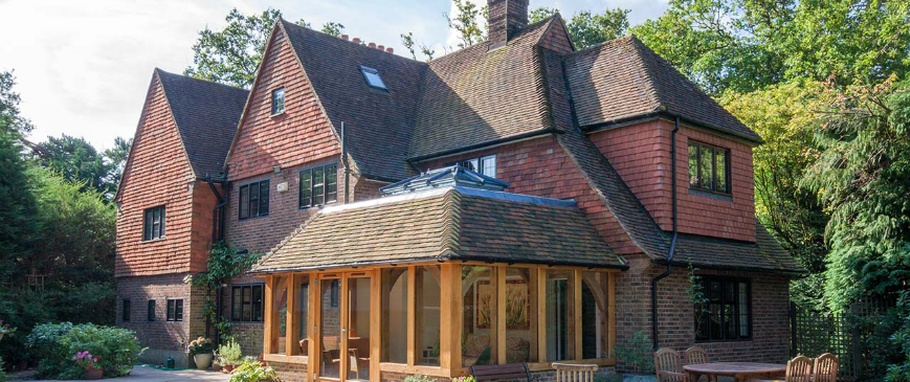 The addition of a stunning oak sunroom has transformed this beautiful 20th century home, not only by adding extra space, but also by changing the way the rest of the house is used.
We go back and speak with our customer, to find out exactly what they think of their completed project and we ask what it was like to work with us at Oakmasters.
Why did you choose Oakmasters for your project?
We had been thinking about changing the configuration of our house for a while, so we could enjoy our garden more, especially during spring, summer and autumn. We initially contacted a local architect to scope out some ideas, however we did not proceed because the concepts proposed did not seem practical.
Whilst having remedial work done on our windows, the company concerned recommended Oakmasters to us. The salesman had had good experience with Oakmasters in the past and based on that tip, we looked at their company website. Given the gallery of projects on display, we decided to book an appointment.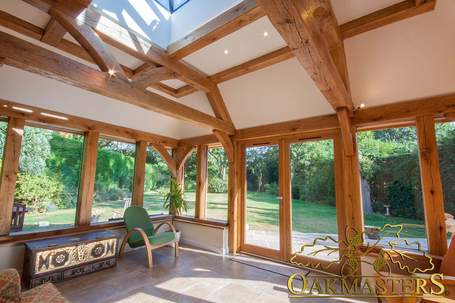 What was it like working with Oakmasters?
Meeting Ed from Oakmasters, we noticed that he listened to our objectives and understood our concept and what we were trying to achieve. He was not trying to 'reinvent the wheel' or propose unnecessary works.
The initial drawings submitted by Oakmasters met our objectives by providing a practical room with enhanced views of our garden. The proposed sunroom design was sympathetic to our existing house, which was built in 1928. We felt the new building would prove attractive with the oak beams giving a rustic feel. The plans also allowed the sunroom to dovetail perfectly with the existing house, so that the final product – house and sunroom – would appear 'seamless'.
We had previously worked with a lead contractor who had completed extensions of this kind before and Oakmasters were pleased to work with him and his team. Between Oakmasters and our contractor, we were kept fully abreast of regulatory issues, such as planning controls and building regulations, which we were able to address in a timely manner.
During the building process, there were a range of decisions to be made concerning aspects of the sunroom design. These were discussed and agreed through an on-going dialogue with both Oakmasters and our contractor.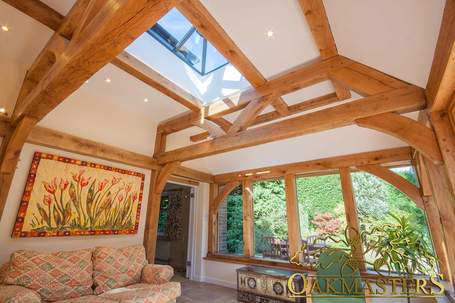 What was the most exciting part of your project?
Every stage of the project was exciting to behold. The start of the project involved preparations to the house in the region of the sunroom, beginning with laying the foundations. The sunroom timetable was then mainly dictated by the supply of the oak timber. 
It was wonderful to see the sunroom start to take shape, both with low-level walls and then the delivery and erection of the oak beams, which are the skeleton of the room. Thereafter, the roof and insulation were added, then windows and doors installed, making the assembly weather-proof, which was essential as Christmas approached. It was then a case of getting flooring, heating, electrics and lights fitted. The sunroom was then painted and finished off to our requirements.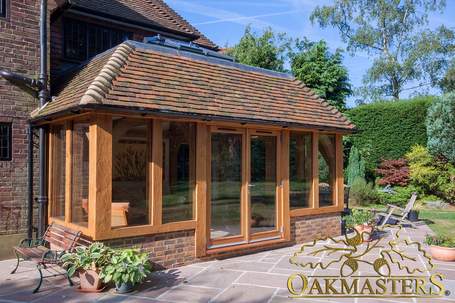 Would you recommend Oakmasters to your friends and family?
We would certainly use Oakmasters again and indeed would recommend the company to friends or family considering such a project. It is fair to say that our sunroom has provided another reception room and has transformed the use of our house.
If you have any questions about this oak project, or if you would like to talk to our team about building your own sunroom, please get in touch. Call us on 01444 455 455, or visit our website for more help and inspiration.
Tags:
case studies
garden rooms & conservatories
oak framed houses