Introducing Oakmasters encapsulated glazing system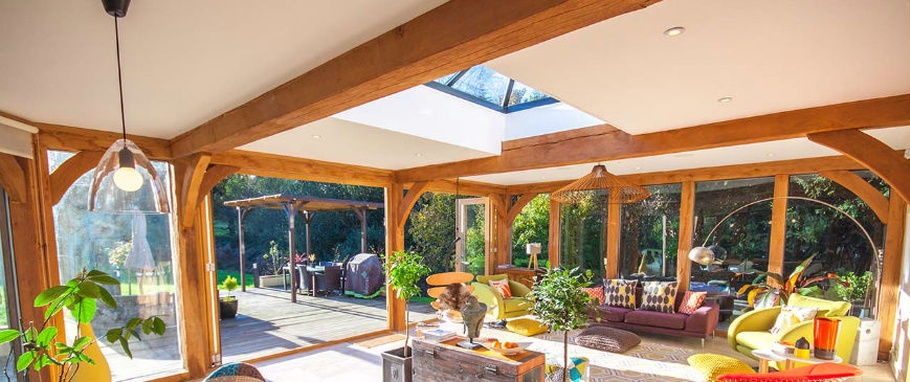 Why is it important to have the right glazing system within your home?
We can definitely feel the temperatures dropping, with frosty mornings starting to appear and it's reported to get even colder over the weekend. However, when you're relaxing at home, how do you shut out the winter weather? Don't just close your curtains and turn up your heating… Why not continue to enjoy your garden and outside space? Unlike old conservatories, a modern garden room or orangery from Oakmasters is just as warm as most other rooms in your house, even with lots of glass in the walls. Modern oak, glass and insulation technologies allow you to retain the heat, so you can enjoy the garden and stay warm, all without turning up the heating.
Relax inside, in peace and quiet, whilst still enjoying the outside world.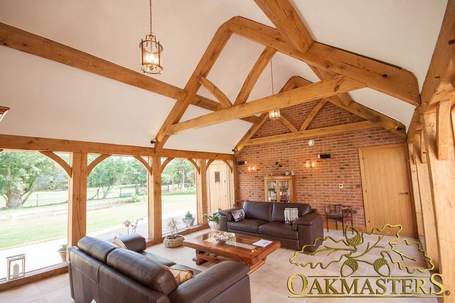 Oakmasters glazing system
Many homeowners still opt for conventional, run of the mill UPVC or aluminium double glazed systems, or characterless painted softwood or varnished hardwood solutions. However, at Oakmasters, we offer something completely different. A chunky, rustic, characterful, glazed oak frame.
The problem has been in the past, how do you glaze into it, as green oak is known to move and split as it ages, and this does not go well with glass and cold wet weather! Drafts, leaks and broken glass are often the result of a poorly engineered solution. Beware!
Oakmasters wanted a solution which worked in with our high quality, beautifully finished oak frames, and we also wanted something we could guarantee for 12 years, so we put our 30 years of experience and technical expertise to good use and developed our own robust system for glazing with green oak. We have called it Oakmasters' Encapsulated Glazing System (EGS).
EGS uses drip profiled, fully air dried oak capping, which is carefully conditioned for outside use. We use spacer bars, routered drainage channels, weather strips, high plasticity sealant, flashing and EPDM (Ethylene Propylene Diene Monomer) rubber seals. There is even a cavity for humidity venting and extra insulation, if required. This highly sophisticated system helps to eliminate the possibility of leakages either around the glass or through the oak frame itself. Further more, the insulation properties of this system are far superior to other systems, greatly reducing cold bridging, thermal resistance and keeping your house warm and dry.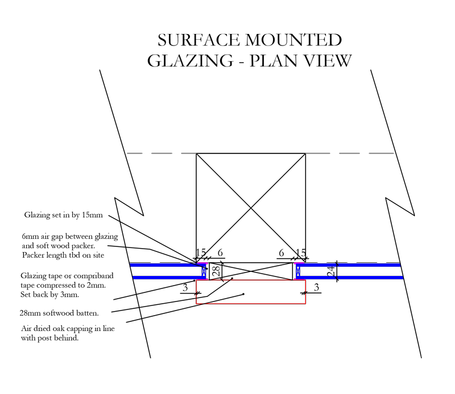 The method we use is our own development of a similar system which has become recognised by TRADA (the leading authority on wood) as the best way to glaze a green oak frame. This is because the system allows for fixed glazed units to effectively float on the outside of the green oak frame, whilst looking as if they are rebated into it.
There is a wide range of glass available on the market to fit your specific requirements, and our system can take any of them, including acoustic glass, triple glazing and various coating options, the choice is yours. We tend to normally work with toughened 28mm glass, which is filled with argon gas in the cavity, creating high levels of insulation. This is then bedded onto EPDM black rubber glazing tape. The whole system provides the necessary flexibility needed to accommodate the movement of the green oak frame.
To make sure everything is fitted correctly, we can provide a complete installation solution, for both your oak frame and glazing. We are also so confident with the effectiveness of our system, that we provide a 12 year guarantee as standard.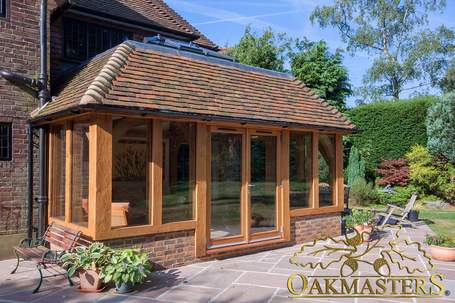 If you have any questions about our glazing system, or would like to find out more, please don't hesitate to get in touch with our team. Call us on 01444 455 455. You can also find out more about Oakmasters and our oak frames via our website.
Tags:
help & advice