Case Study: Oak porch and glazed oak frame extension on a townhouse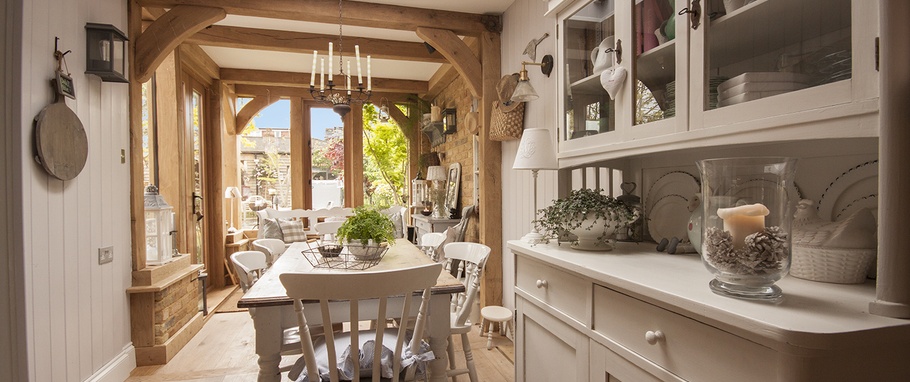 As someone involved in a homes and interiors business, Carol has an eye for detail. When she and her husband decided to add a modestly-sized extension to their semi-detached house in South East London, they decided to enhance the main entrance to their home, which was fairly plain, by adding a new oak porch. Delighted with the results and keen on using oak in the rest of their home, the couple opted to create a dining/garden room which would let in plenty of light and make generous use of oak for a warm and natural feel.
Featured in Good Homes magazine - read the article here.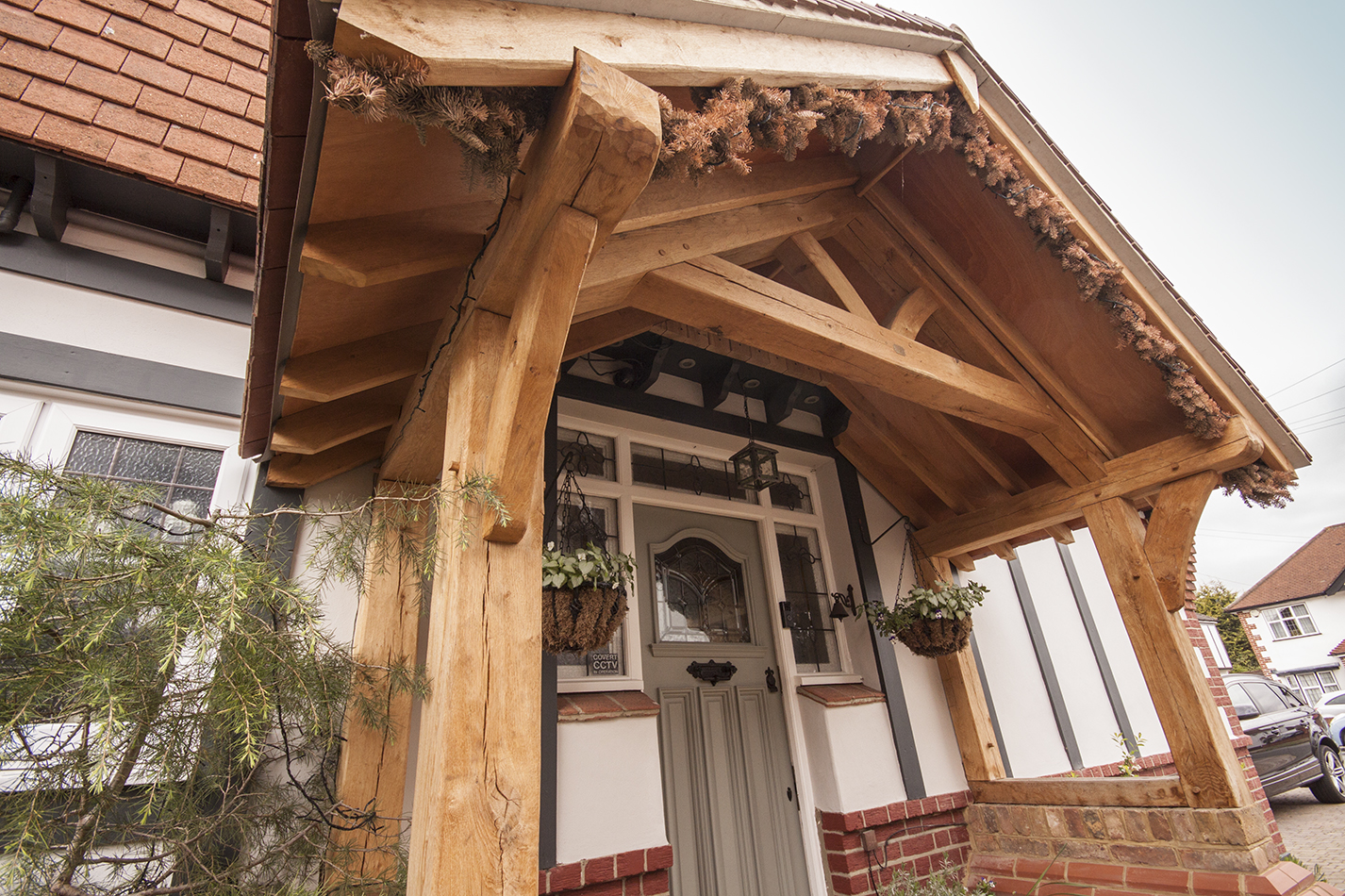 PROJECT BASICS
Addition of oak entrance porch to house
Glazed oak extension to serve as a dining/garden room
No planning permission required
KEY FEATURES
Open porch for main entry on the side of the house
7 sq m glazed extension to the rear of the house with roof lantern
Two French doors to the side, with tall oak-framed windows at rear
Characterful ceiling posts and beams throughout the extension
THE BACKGROUND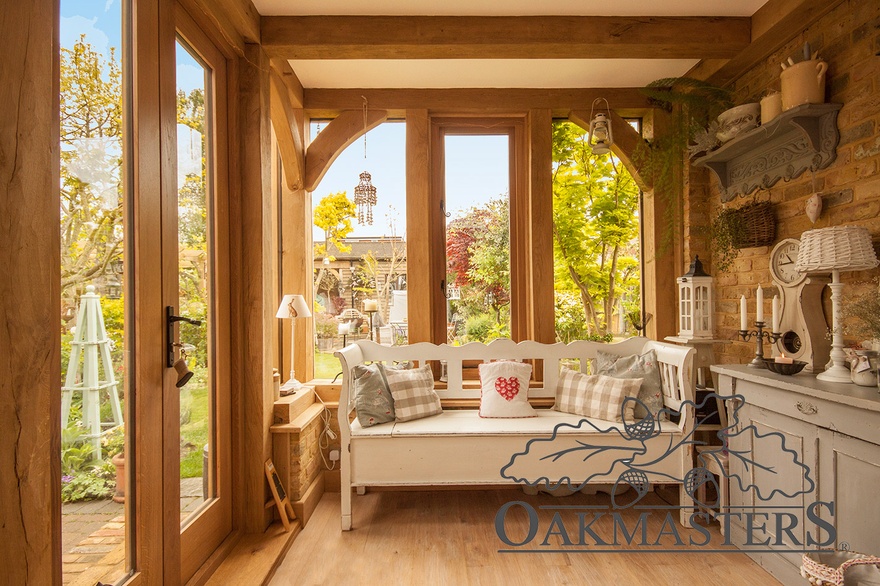 Carol and her husband's property is a wide-fronted semi-detached house on a suburban street in London, dating back to the 1930s. It has a half-timbered upper storey which is influenced by both Tudor and Arts and Crafts styles. The couple decided to create an entrance on the side of the house by adding an oak frame open porch, to create a sense of occasion and style. Thrilled with the result, they then decided to add a single-storey extension to the back of the house, in order to significantly increase their living space and create a warm and welcoming family dining area and snug. The extension would also allow room for Carol to display products for her business www.simplyscandinavian.co.uk - selling Scandinavian and English Country-style home accessories.
It was clear that a glazed extension with a natural, woody interior would perfectly complement the character of this home – and as soon as an oak-framed porch had been built to transform the entrance to the house, Carol was certain she would also like oak to feature prominently in the extension as well.
THE DESIGN PROCESS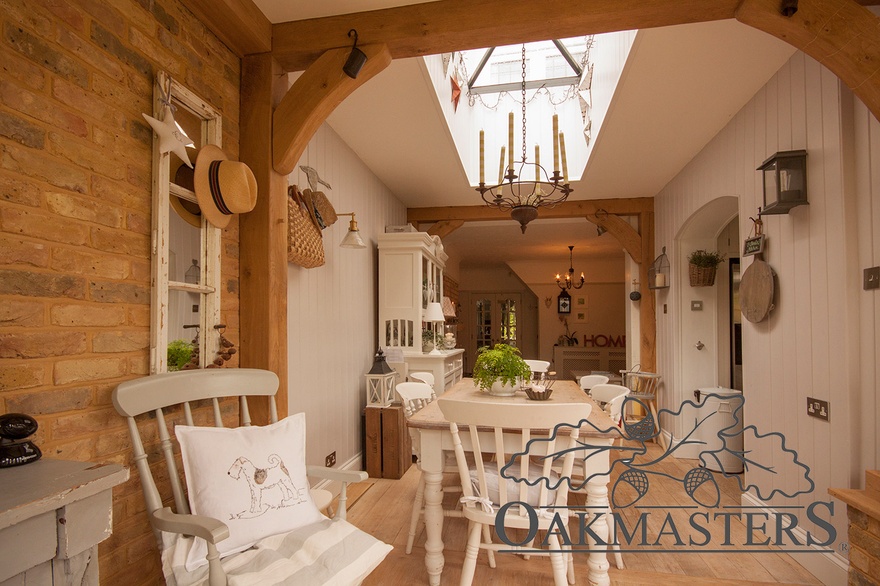 After conducting initial research online, Carol contacted Oakmasters because she was impressed by the high quality of the materials they used and the craftsmanship evident in all of their projects, both large and small. After the completion of the porch, Carol was determined to further enhance her home with oak, and armed with an idea to build an extension to the existing lounge, Carol first approached Oakmasters with a basic sketch. This humble beginning started the process towards a beautiful glazed oak frame extension, proving that such a project can make a big difference to any house without incurring large costs or overwhelming amounts of administration.    
This project's simplicity owed much to the extension's modest size: at 2.32 metres in length and 2.98 metres in width, it didn't require Carol and her husband to seek planning permission, nor did they need to create a 3D visualisation model. Oakmasters took the initial sketch, made expert recommendations, obtained precise site measurements, and – taking account of Local Authority rules and Building Regulations – produced 2D technical drawings for the builders to follow. These same drawings allowed Oakmasters to use the correct dimensions when hand-crafting oak ceiling beams, posts, glazed doors, and windows for the project.     
The design prominently features a roof lantern, placed directly over the dining table to flood the room with natural light. The glazed doors, with windows either side of them, open out onto a patio to the side of the house. Three windows cover the full-width of the extension's rear wall, affording generous views of the main garden.
THE BUILD PROCESS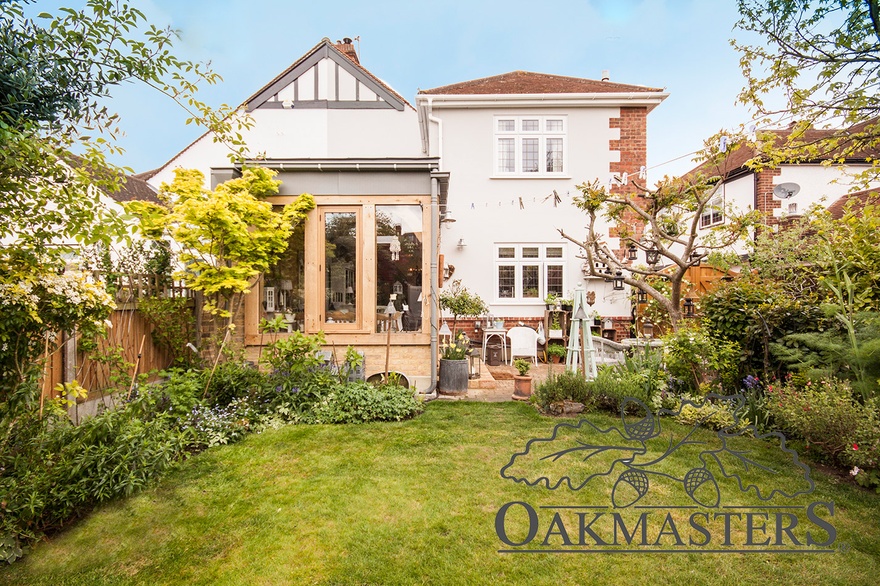 The extension features one full wall on one side, and the frame sits on two half sized walls on two sides. The walls are made from salvaged bricks chosen by Carol, to add to the aesthetic appeal of the extension.
Originally planning to use a carpenter to assemble the oak frame, Carol's husband decided to take the project on himself, despite having no previous self-build experience. He took a week off work and, with help from the couple's son, who is a builder, and occasional phone calls to Oakmasters for guidance and advice, the extension was completed to a beautifully high standard.
A WORD FROM THE CLIENT
Carol was captivated by the oak-framed porch, which inspired her to use more oak throughout the extension. "Everyone who saw the porch was wowed by it," she says, "and when the glazed extension went up, people couldn't believe how beautiful it was. After we'd built it, some of our friends told us they'd been worried it might look a bit narrow and corridor-like, and they were impressed that it didn't.
"The team at Oakmasters was so easy to work with and we're delighted with the end result. We love it! It's unlikely we'd move, but if we ever did, it would be to design and build our own home and we would definitely consult Oakmasters if we ever took that step."         
Visit the gallery for this project and have a look at our galleries of other oak frame extensions and oak porches for further inspiration and ideas. 
Tags:
case studies
garden rooms & conservatories
oak extensions
oak framed houses
oak porches