Three oak frame projects we're proud of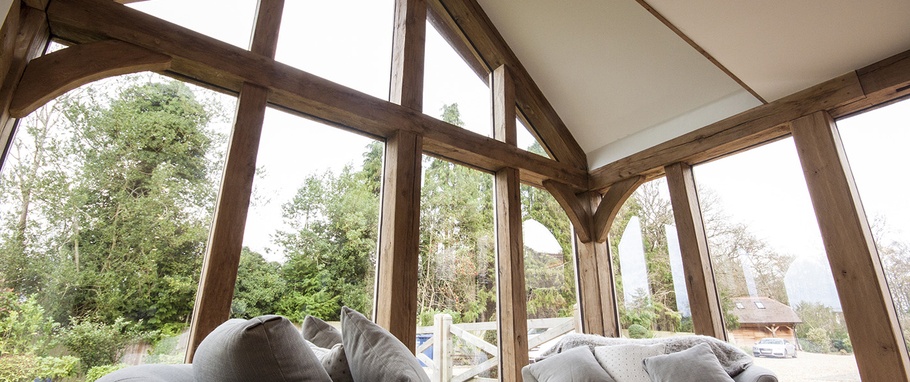 We take huge pride in each of our projects, whether it's providing beautiful oak beams for a new build or renovation, building a stunning oak frame pool house or designing and delivering an oak-clad property entirely from scratch. Here are three standout examples we'd like to share with you.
1. Bijou Oak Frame Retirement Home in Kent
This cosy oak frame retirement home began life as a plot designated for a four-bay garage. Built on the grounds of their son's home in Kent, David and Doreen took the bold decision to obtain an unusual planning consent, then designed and built their dream home with the help of Oakmasters. 
The challenge for Oakmasters was to create an appropriate living space within the constraints of the pre-existing planning agreement. However, David and Doreen's vision and the relationship they forged with the Oakmasters design team paid off when the completed property was shortlisted for a 'Best Oak Frame Home' award by Build It magazine in 2015. You can learn more about this beautiful oak frame property by reading the full case study.
2. Oak Pool House with Vaulted Roof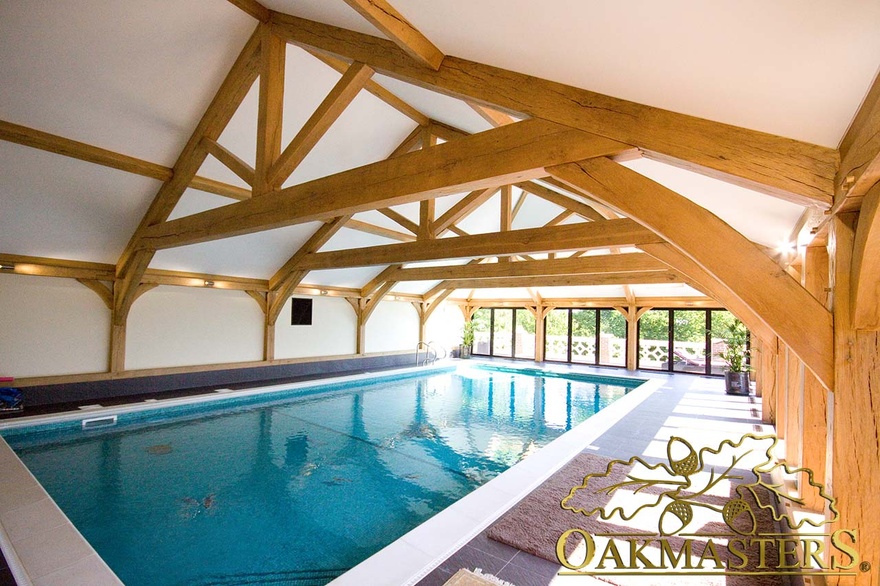 This stunning oak framed pool house was designed and built by Oakmasters as an extension to an Edwardian home in rural Sussex. The brief was to build an oak roof big enough to cover the large indoor pool and still give enough space to allow for additional features such as a changing room, sauna, and a generous seating area. The trusses had a ten-metre span and were made by the Oakmasters team entirely from oak, without the need for steel reinforcements. This was done by raising the tie truss designs to allow for a wider angle, a solution that the Oakmasters team engineered by working closely with the client's architect.
This type of project, featuring a customer-led idea that really pushes the boundaries of oak framing, is the kind of challenge which really excites us at Oakmasters, as it allows us to showcase the considerable talents of our team and demonstrate the stunning results that come from incorporating oak frames and trusses into your building designs. For more information about this impressive pool house, you can read the full case study.
3. Single-Storey Glazed Oak Extension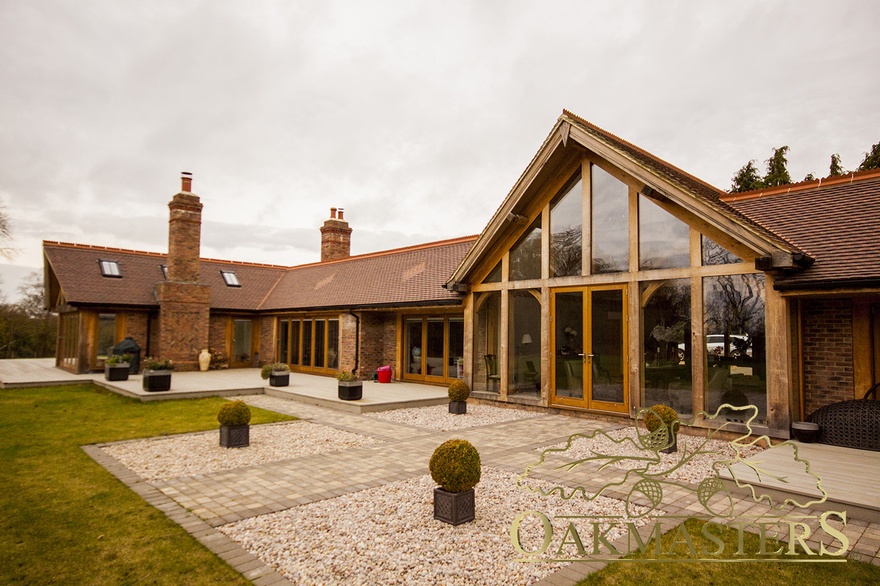 Set in the picturesque Surrey countryside, this one-storey oak frame extension  to a renovated farmhouse combines traditional oak framing with contemporary glazing methods to create a truly beautiful living and entertaining space.
The owners, Penny and Tom, were not initially interested in buying a listed property or building their home. However, they came across a farmland property with derelict buildings and overgrown plot, fell in love with the location and promptly changed their minds!
Penny and Tom decided to keep the old farm building with the surrounding outbuildings and add an extension to create their dream house. Central to the brief they gave their architect was to make sure the extension showcased the breathtaking views surrounding the property, and after consulting with Oakmasters' specialist design team they changed their original plans and opted for a fully glazed oak frame extension.
The result was an extraordinary renovation featuring vast expanses of glazed walls throughout the property as well as a double-height glazed section acting as the home's centrepiece, showing off those stunning countryside views. The glazing was also completely leak-proof, thanks to Oakmasters' encapsulated glazing system, eliminating any leak fears during periods of bad weather.
The owners were thrilled with the extension and love their beautiful home, which you can read more about in this full case study. 
Ready for the next challenge!
These are just some of the incredible projects that we are proud to have played a role in at Oakmasters. We are always looking for new challenges and opportunities to showcase the beautiful potential of oak, and welcome the chance to turn truly exciting and ground-breaking ideas into reality for our customers!
Take a look at our gallery for further inspiration and ideas. Or, if you would like any help or advice, please don't hesitate to get in touch with our friendly team on 01444 455 455.
Tags:
beam casings
glazing system
oak beams & component
oak extensions
oak framed houses
oak pool buildings