Case study: An oak framed annex home in rural Kent
David and Doreen created this beautiful oak framed dwelling within the grounds of an existing plot, belonging to their son. Their desire was to build a place for themselves that would allow them to be close to their family, but at the same time give them full privacy and independence.  Their traditional Kentish, rural oak-clad home took around 10 months to complete. Once they had settled in, we decided to re-visit them to see how they were enjoying their new home.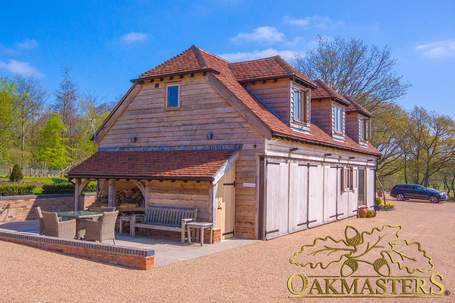 AT A GLANCE
Type of build: Self build
Building type: Detached annex on existing land
Method of construction:Timber frame and timber cladding
Date project commenced: July 2013
Date project completed:April 2014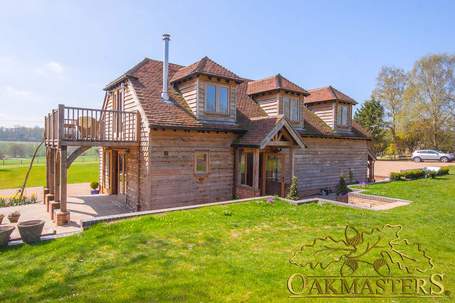 Why did you choose Oakmasters for your project?
We were looking for an oak framed building supplier and came across Oakmasters during a Google search. We were instantly impressed by the company, as their website showed many examples of the work they had previously done. We decided to request some brochures, which we really liked, so we then went to meet with them. We were very impressed during our meeting, particularly with Jenny, Oakmasters'  in-house designer.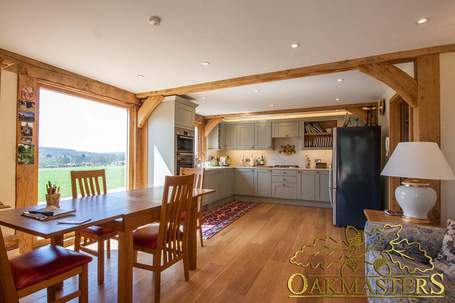 What was the most exciting part of your project?
During the build, we were away in our house in Spain. Our son Mark and his wife Helen therefore ran the project for us. Mark managed the building whilst Helen looked after the finances. Although we saw photographs and had discussions on Skype throughout the process, it wasn't until it was all finished that we saw our actual home for the first time.
Seeing your house for the first time after it has been completed is a risky approach, but having met with Oakmasters before the build started, we felt confident and relaxed. Whenever we spoke with Jenny, she was very understanding, answered our questions and always listened to what we needed.
It was exciting to come back to the UK to find it all completed and we enjoyed being able to walk into our new home. We were very impressed with the finished results and were relieved that we loved it!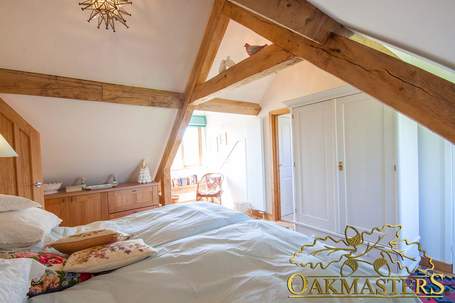 What was it like working with Oakmasters?
It was very easy to work with the team at Oakmasters. Everything ran smoothly and there were no problems during the process. Everything arrived in kit form, which was then erected by our friendly builder, Stuart, from Martin Spencer Builders.
Would you recommend Oakmasters to your friends and family?
After our positive experience and seeing our beautiful home completed, we would definitely recommend Oakmasters to friends and family.
If you are looking to start an oak project of your own, please don't hesitate to get in touch with our team. Call us on 01444 455 455, or download a brochure for more information.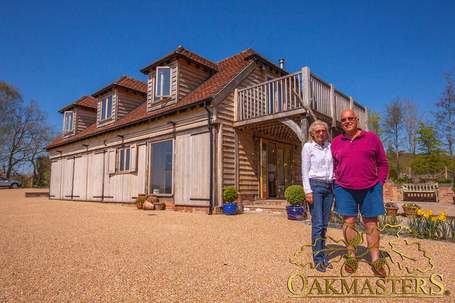 Tags:
case studies
oak framed houses