Case study: Contemporary Glazed Extension in Surrey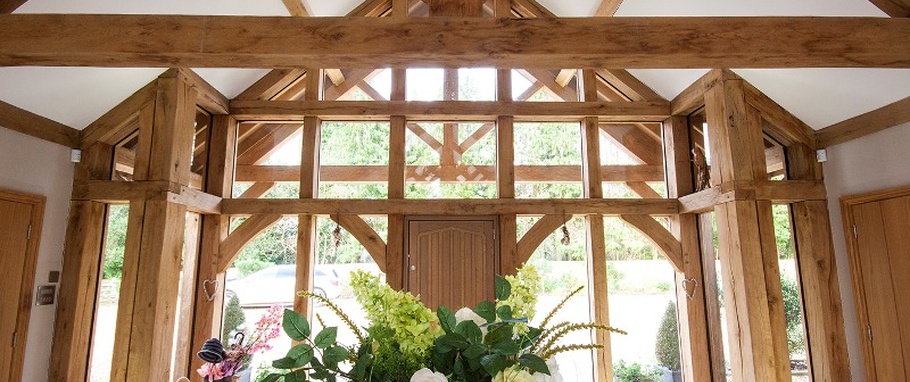 Set in the beautiful Surrey countryside, this extension exemplifies sophisticated design and the way to combine traditional oak framing with modern glazing methods.
Project Basics
Details for the extension:
530 sq m

Single floor with a small loft room

Entrance hall, kitchen diner, snug, games room/office
Key Features
The background
Penny and Tom had been looking for a new family home in Surrey for a while. Their brief to the estate agent was that they did not want a listed building and they did not want to build. But when in January 2012 they stumbled over a farmland property with a derelict farmhouse and overgrown land, they suddenly changed their minds.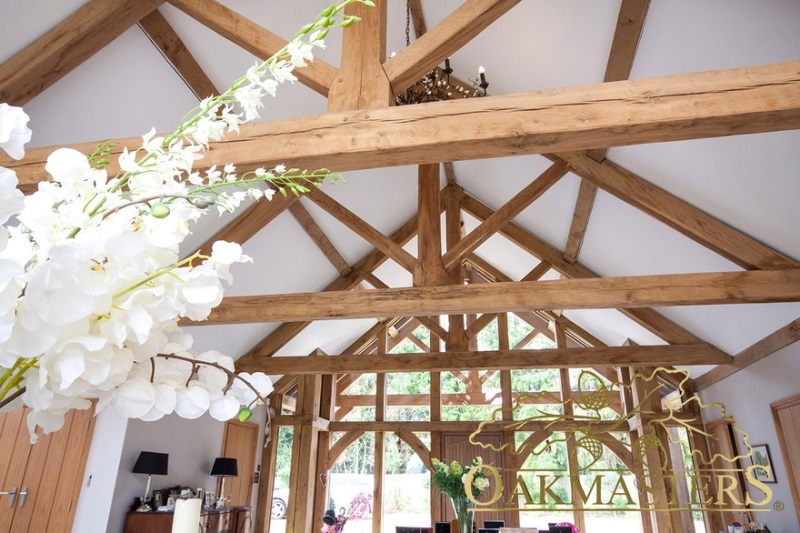 They fell in love with the location, getting stuck into a construction project didn't seem such a high price to pay. But instead of raising it to the ground and starting anew, they decide to keep the old farm building with the surrounding outbuildings and extend it to create the house they wanted.
The design process
The key part of the brief for Penny and Tom's architect was to make the most of the breath-taking views of the surrounding countryside. They originally planned a traditional construction method with feature oak beams and casings. They had already started the renovations when they approached Oakmasters.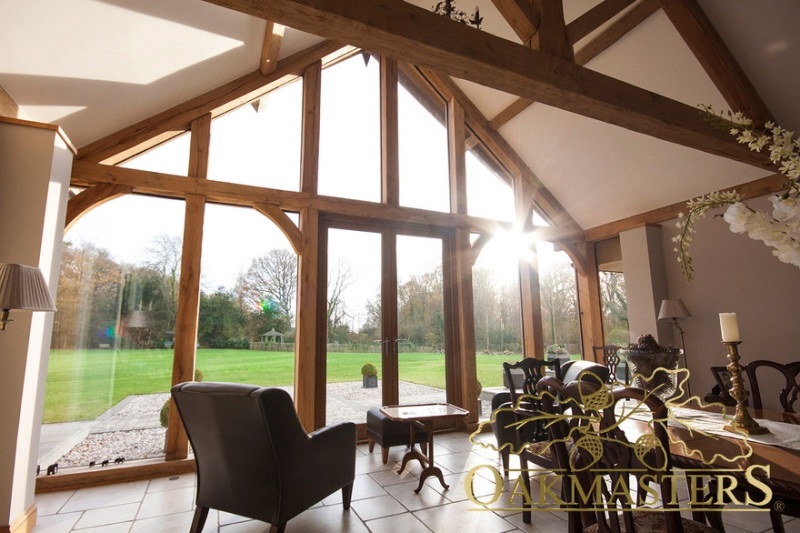 Having received and installed a few pieces of oak, they got the taste for it and decided to change tack completely. They really wanted a green oak frame with glazing.
Unsure if this was at all possible, they consulted Oakmasters directly and our specialist design team worked with the architect's plans to engineer a fully glazed oak frame extension, linked to the existing masonry building.
Throughout the process, the design team was able to present 3D images so Tom and Penny could visualise what it would look like. The resulting design is a stunning structure with impressive vaulted ceilings and glazed gable. It is also fully compliant with the most recent building regulations.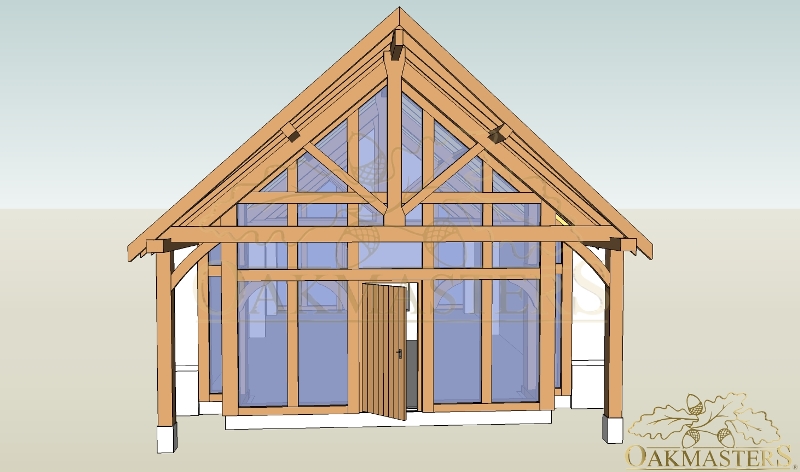 The build process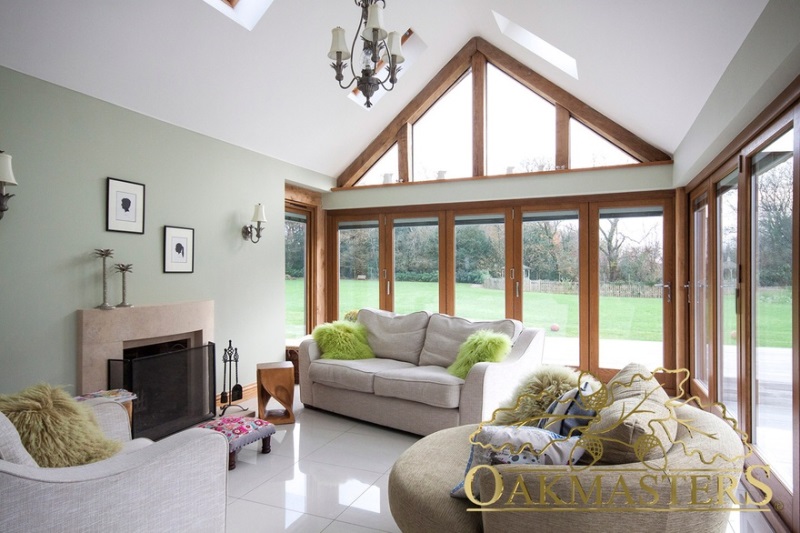 Tom and Penny were already working with a building contractor, K&S Construction, who had the old farmhouse renovations well underway.
Oakmasters pre-constructed the oak frame in their workshops and delivered it to site, where K&S Construction already prepared the ground and laid the footings, ready for the frame to arrive. Oakmasters' specialist assembly team moved in to erect the frame and install the floating glazing. K&S then completed the job with the roof, rendering and all other building work.
Penny and Tom completed the joinery and interiors and finally moved in in November 2013.
A word from the clients
We spoke to many oak people and kept getting the same answers: no you can't glaze a green oak frame. It twists and shrinks and you will end up with a nightmare. When we found Oakmasters and spoke to Simon, our luck had changed. "Of course you can glaze an oak frame," he said. "Come and see us and we'll work on it with you." We never looked back and we are pleased to say there not been a single leak.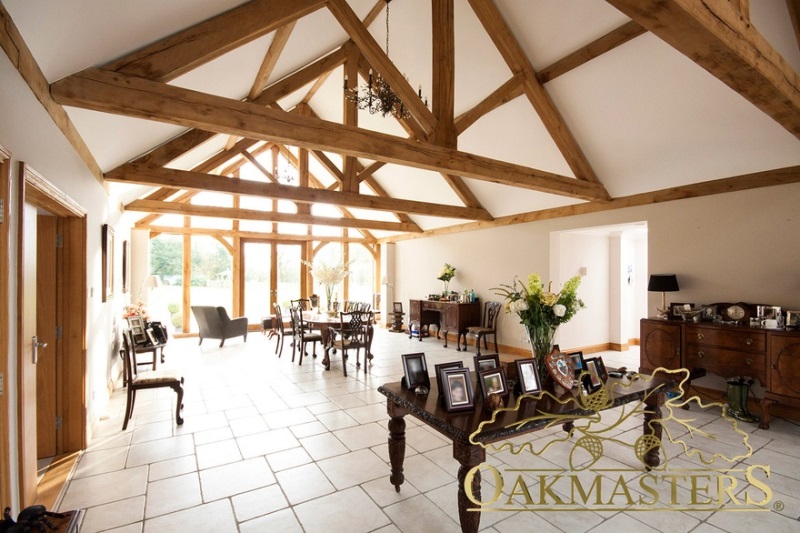 The most exciting thing was to see the oak frame, the glazing and the roof come together. Even before the kitchen went in, we remember thinking: Wow, we have actually created something very different. After months and months of worrying and telling ourselves that it will be worth it in the end, here was our magnificent new home, something quite extraordinary.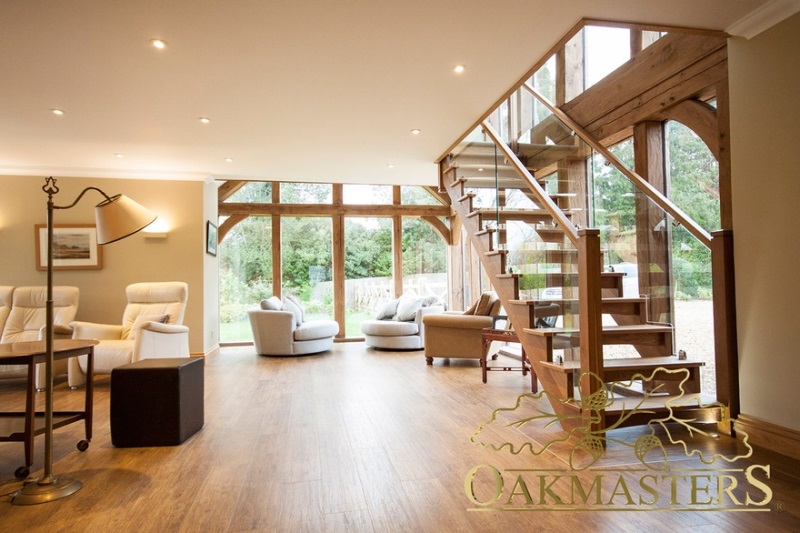 As with all projects, we had our ups and downs. Sometimes, people went sick so there was a delay, other times we got ourselves into trouble and Oakmasters helped us out. The assembly team was phenomenal and the team in the office were amazingly supportive, helping us to make decisions as we went along.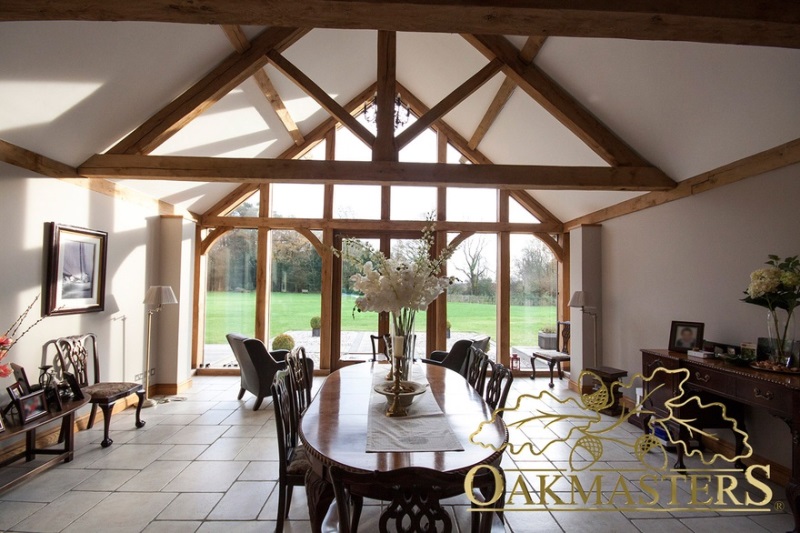 Their knowledge of oak combined with sensible approach meant we only spent money on things that really mattered. We love our new home, have already recommended Oakmasters to our friends and would do it again.
For more images of this stunning single-storey glazed oak extension, take a look at our gallery.  And for further information on constructing your own oak framed house or extension, please download our brochure or call us on 01444 455 455.
Tags:
case studies