Pooling your ideas: what to think about when planning to build an oak framed swimming pool house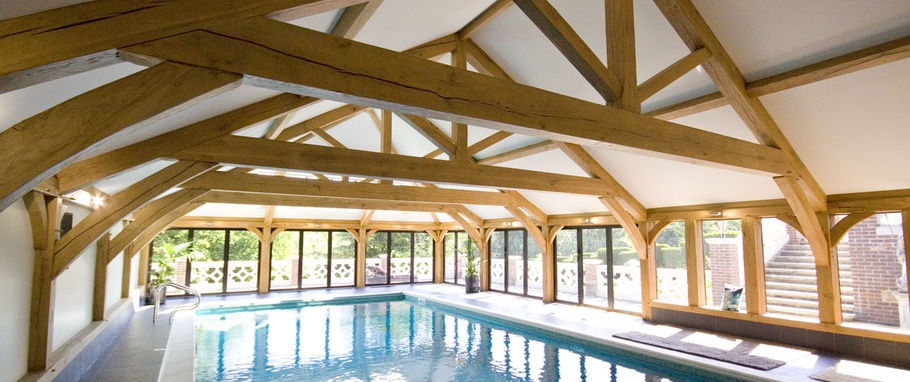 An oak framed swimming pool house is a fantastic mark of luxury: a great way to incorporate leisure, entertainment and extra storage into your property and grounds. Oak opens up a world of opportunities for unique design features, incredible ceiling structures and stunning finishing touches.
Below we take you through the wide array of options available and the things worth considering when creating your perfect oak swimming pool building.
1. More than a pool: Maximising the space with a versatile oak pool building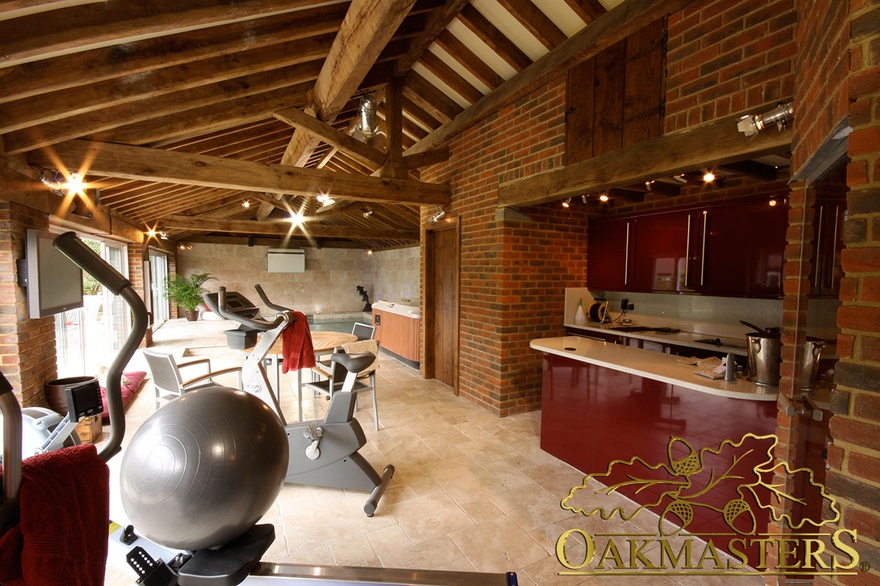 In addition to housing a swimming pool, there's huge opportunity to make your pool house a more versatile space. How you use the facility will significantly impact the style, design and features you incorporate into the building process.
If entertainment is your focus, you could include a kitchenette and dining area. If you want the space to be all about health and fitness, you could add a sauna or gym area. For total convenience, you might also want to think about including a changing area, shower and toilet to further enhance the space.  This stylish oak and stone pool house and gym is a great example of how your oak framed pool building can incorporate all of your interests and make the most of the space.
2. Topping it all off: choosing the best roof style for your oak framed swimming pool house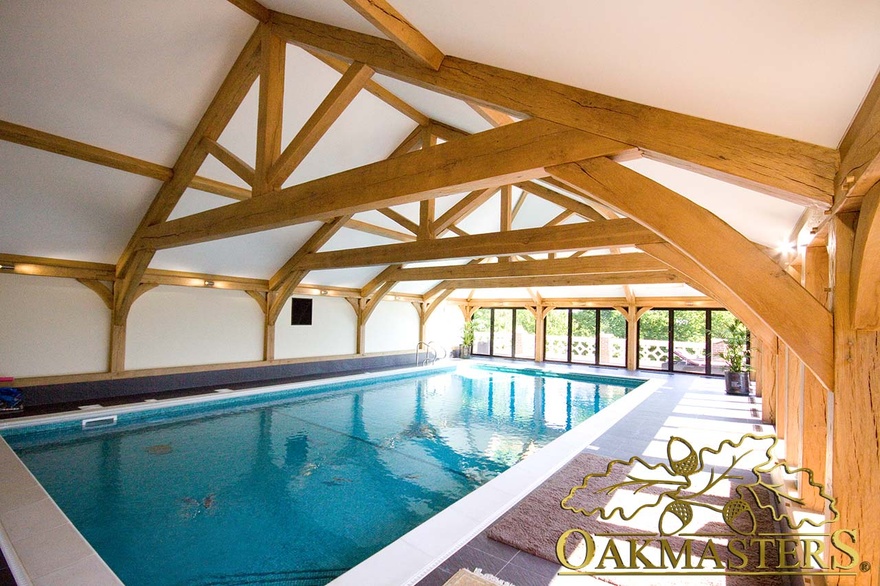 Choosing the right roof for any building is a big decision, but with swimming pool houses there are additional considerations. Some customers opt for a flat roof, but due to the wide spans and warm moist conditions involved, oak beams in flat-roofed pool houses  require more sophisticated engineering solutions to avoid sagging. However, if you do decide to build a pool house with a flat roof, you can embed roof lanterns for a stunning finishing touch.
A preferable option would be to choose a vaulted roof, using oak beams to create extra height and an impressive aesthetic.  You can also add finishing touches to vaulted rooves, such as glazing for special effect and even more of an impact.
There are many styles, sizes and features to choose from, and our designers and experts will help you to ensure you achieve the right balance of structural stability and wow factor for your oak framed pool house. Have a look at some of the swimming pool building projects we've worked on for inspiration.
3. Glazy days by the pool: Enhancing your oak pool house with glazing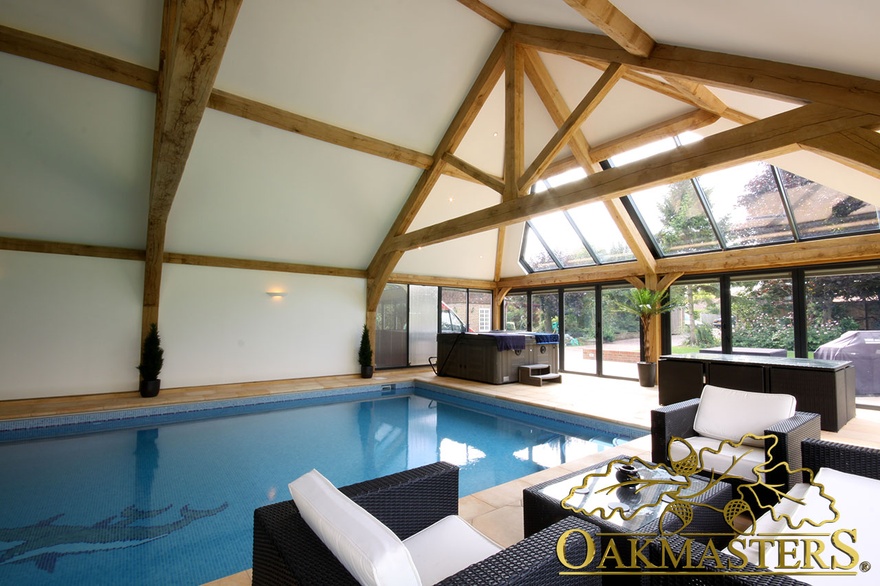 You can let the light in to your pool house via large glazed panels and provide access to the garden or grounds via striking retractable glazed doors.  And our bespoke encapsulated glazing system ensures we deliver a leak proof solution that lets in the views and the light, but nothing else! This large glazed oak frame pool house in Sussex is a fantastic example of what you can achieve.
4. Let there be light: how lighting can transform your oak pool house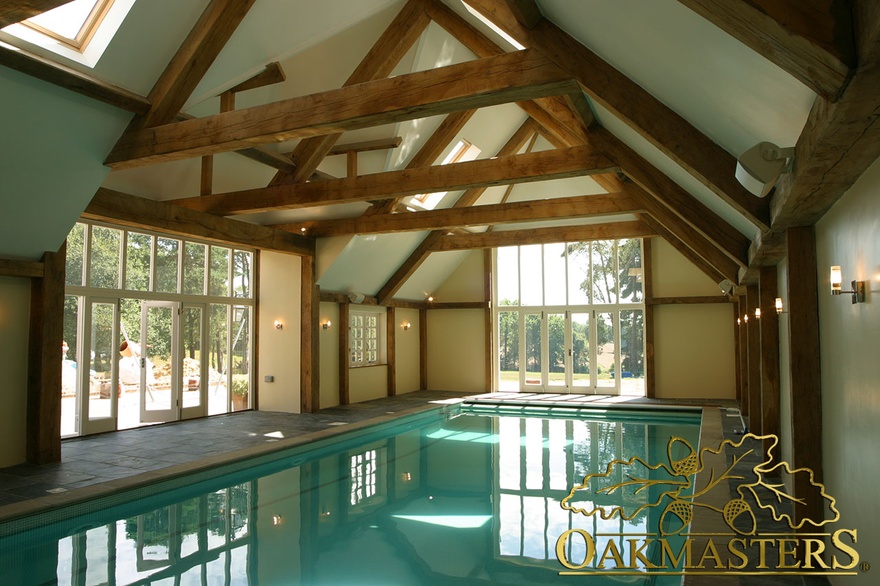 Natural light is not the only option. Whether it's embedding lights into the ceiling, using roof lanterns for a beautiful effect, or lighting up an underground pool room to create an atmospheric feel, the world is your oyster.
This brick and oak pool building in Sussex shows how glazing and indoor lighting can be combined to incredible effect, creating a classy space enhanced by the beautiful vaulted oak ceiling.
5. Rustic or ultra-modern pool house: the choice is yours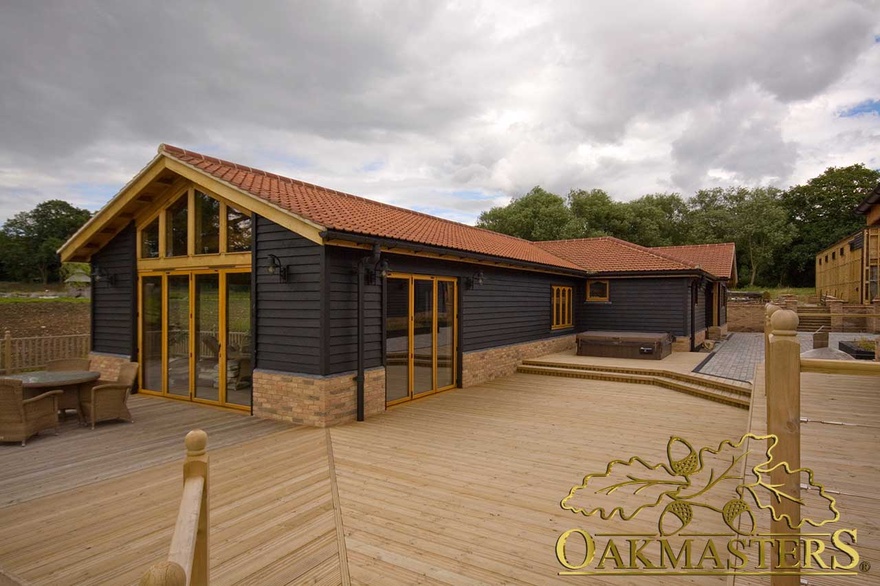 The versatility of oak means that it can be used to create a sleek, contemporary feel or a traditional look.  Whether classic style buildings are your preference, or if you are a fan of modern design, oak cladding can be used to enhance the exterior of your pool house. Here's an example of how cladding is used in a modern swimming pool house. For those wanting the rustic look, traditional beams and ornate roof structures will add a stylish finish to your swimming pool building.
Both of these options and many more are open to you when you create an oak pool house with Oakmasters and our designers are always on hand to help, whatever style you choose.
Visit our main gallery for further ideas on how using oak could transform your current home or your next project. Please feel free to get in touch with our friendly team on 01444 455 455 to discuss your specific needs and start turning your vision into reality.
Tags:
glazing system
oak cladding
oak pool buildings