How to get your self build project off the ground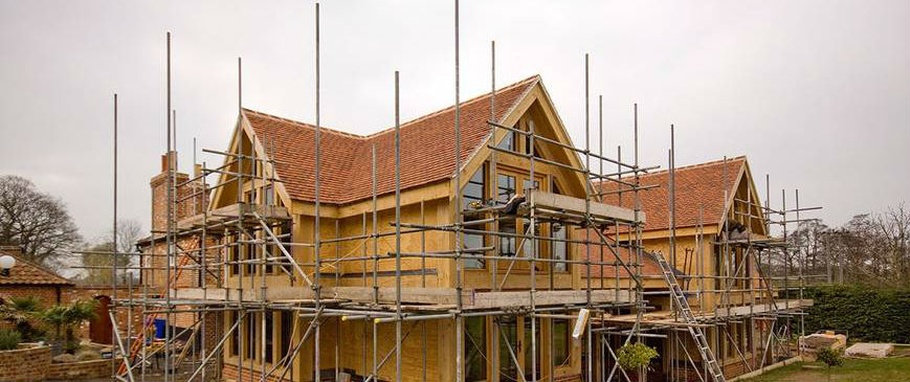 The serious housing shortage across the UK has seen a new generation of self builders emerge, with around 12,000 self build homes constructed each year according to the FT. With new and emerging government schemes and incentives, this figure is set to increase in the future.
Self builders are now taking ownership of the building process, from agreeing the plans, choosing a builder and deciding on all of the fixtures and fittings. Therefore, instead of seeing 100's of identical homes, people have the opportunity to create something that is completely unique to them. Not only can you have the satisfaction that you built your home from the ground up, but you can design your dream home, to your exact specifications.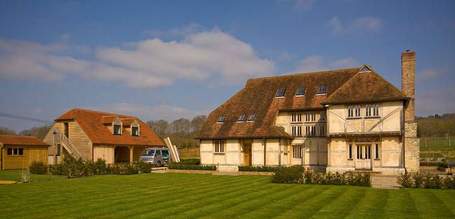 Seeing your home gradually come together, brick by brick, can be exciting. However, it's a huge project to undertake and can therefore be a very daunting experience. For many, building a home is completely new territory and so it is common to feel out of your depth at some stages. However, to help you get started with the process, we've taken a look at two important elements to your self build project; the design of your home and the timings. Take a look at our tips and advice here:
Design
With a completely blank slate, there are many different styles to draw from, whether you're looking for traditional vernacular or chic and contemporary. Take a look around online and in home magazines, or take photographs in your local area for inspiration. It is a great idea to create a mood board, or perhaps a Pinterest board, pulling together everything you like and what inspires you. Focus on features such as shape, wall finishes, tiles, chimney styles, glazing, window types, etc. We've got lots of inspiration on our Oakmasters Pinterest account to get you started.
As well as its appearance, make sure you also consider its function and your current/future needs. What do you want from your house? How big do you want it? What rooms do you need and where? Some other questions to ask yourself about the site include: Where is the sun? What is the land relief? Where are the roads, trees and other features?
Once you have a better idea of what you are looking for, call us at Oakmasters on 01444 455 455 to discuss your ideas. We will then be able to put these thoughts into an inspirational concept sketch and a detailed drawing. Alternatively you could work with a local architect or architectural designer to move your design forward. It is important to involve someone who is highly trained in this area at this stage so your ideas can be reflected effectively in the design. Your designer should also provide guidance as to what you are likely to be able to agree with your local planning authority. However, it is really important that you are happy with your concept before you move any further forward.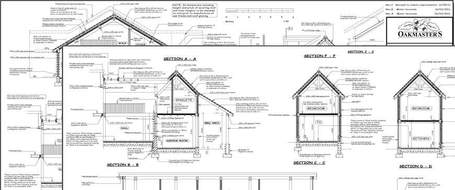 (Oakmasters building plans, with oak detail)
Timings
You've had your plans approved and now you want to get going as quickly as possible. But first, decide whether you will be managing the project yourself, or delegating the responsibility to your builder or a dedicated project manager. Remember that the process can be very time-consuming, complex and stressful. If you manage the project yourself, you will need to live close-by so you can visit the site before work starts and at the end of the day to make all the day-to-day decisions, or at a moment's notice to take deliveries and meet with contractors and building regulators.
Whether you take on the task yourself, or your builder will be managing the project from start to finish, make sure a realistic time scale is set for completion. Also make sure a list of each task that needs doing is set out from the start, with who is doing each task and how long each element will take. By creating smaller milestones and deadlines, your project is broken down into more manageable sections. It's common to create this into the form of a Gantt chart, so you can track developments throughout the process and manage timings effectively. Don't forget to take into account product lead times too, making sure that everything is on-site at the right time, to keep everything flowing smoothly. It's often common to work with 'cushioning' to allow for any possible delays at each step.
Remember that timing of your project is everything. If deadlines are missed, this can have a serious knock on effect for other elements of your project. This can also delay your completion date, which could have a negative impact on your overall costs.
Would you like to build your own home, or have you already started creating your dream house? We'd love to hear about your experiences and tips. 
At Oakmasters, we have helped many homeowners build their dream house and we can even create detailed drawings and submit planning permission applications. If you'd like more information on how we can help you, take a look at our website, or get in touch with us on 01444 455 455.
Tags:
help & advice
self build houses