Summerhouses: what do you need to consider?
An oak summerhouse is an ideal place to escape the hustle and bustle of life indoors, enjoy your garden from a different perspective and provide a functional additional space, which you can use all year round.
Each project is unique, but there are a number of considerations, which are common to all of them.  Here we answer some of the most frequently asked questions from our customers.
Do I need planning permission for a summerhouse?
Most summerhouses do not require planning permission. However, it is necessary if the building covers over half the garden, is not for domestic use or if it is over 3m high with a pent roof (a single sloping surface) or 4m high with an apex roof. Larger summerhouses which are within 2m of a boundary and over 2.5m high or nearer to a public highway than the original dwelling, also require planning permission. Incidentally, for planning purposes, a public highway includes any road or footpath with a public right of way. Also, it is worth noting that if you live in a Conservation Area or in a Listed Building, permission may be required for any garden building over 10 cubic metres.
Do Building Regulations apply for a summerhouse?
Approval is required for any summerhouse with an internal floor area of more than 30m². Generally, most summerhouses are smaller than this, but if you are aiming to construct a more substantial building, such as this fully-fitted garden house (below) then it will be needed.  Take a look at our online guide on planning for more information or contact your local planning department for further advice. The government's Planning Portal provides a full list of conditions for outbuildings and structures too.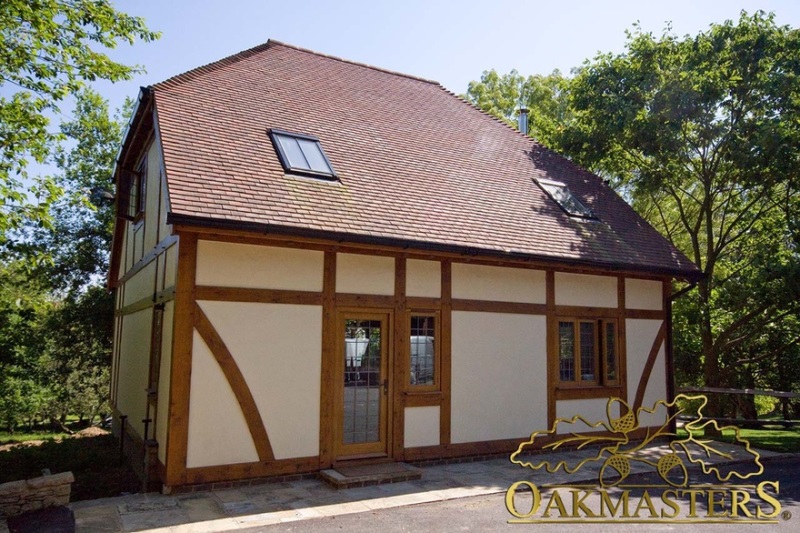 How do I decide on the design of a summerhouse?
This answer to this question depends entirely on how you plan to use your summerhouse. Come and speak to Oakmasters' creative design team and we can create your perfect, bespoke oak summerhouse.
From a circular oak gazebo with a trial timber clad wall and open aspect to surrounding views…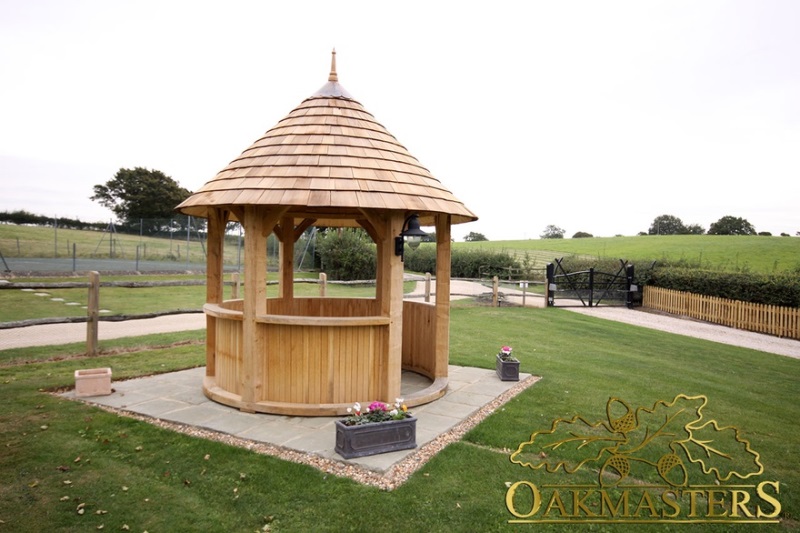 To an oak timber grill house - perfect for family barbeques and summer parties…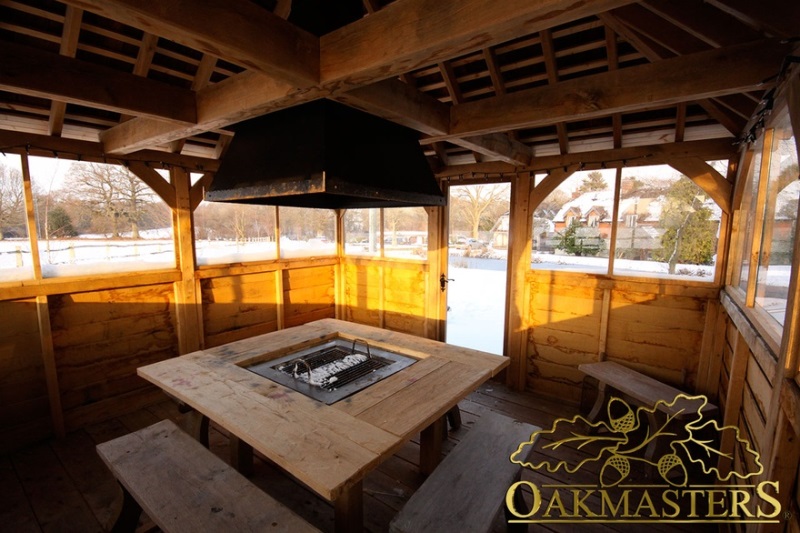 A classic, oak-framed tennis changing room...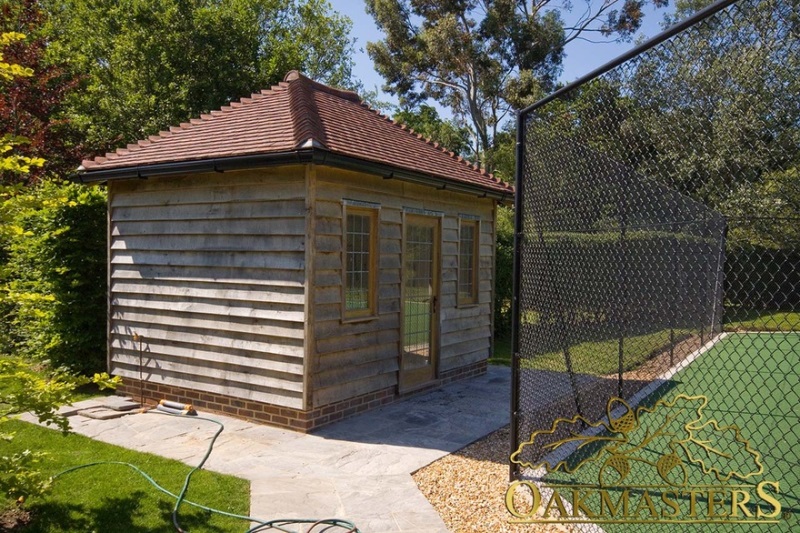 or this superb glazed garden room.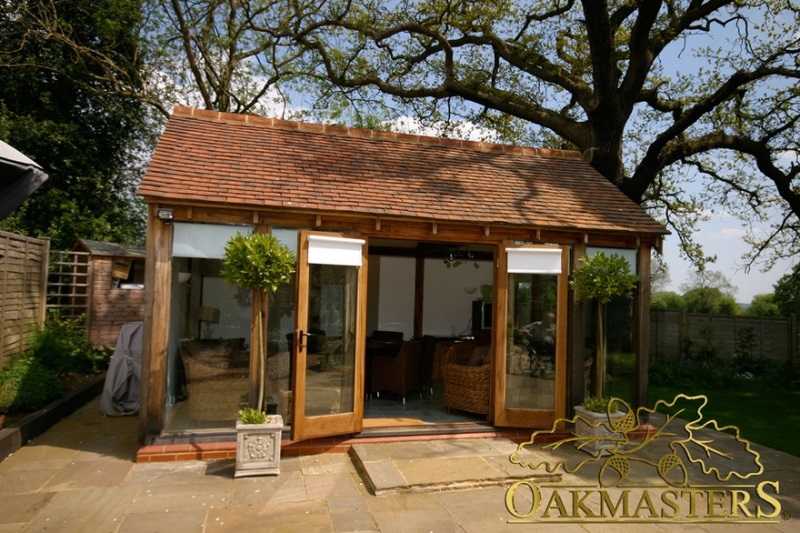 Should I connect the summerhouse to mains water and electricity?
In our experience, no customer has ever regretted installing either, but it is worth considering early on as it may impact on the summerhouse's location.
Also, although providing an electricity supply is fairly straightforward, the work needs to be carried out by an electrician who is approved under the Part P Electrical Competent Person Scheme, plus the work needs to be notified to the local building control department. We can arrange all this for you at Oakmasters.
How to bring in the light and keep out the draughts in a summerhouse
Not only will you want your summerhouse to be a room with a view, it is essential that the building is cosy all year round – otherwise it just won't be used.
In the past, glazing oak buildings caused a bit of a headache for builders and homeowners – green oak is known to move and split as it ages and this doesn't go well with glass and cold wet weather and results in drafts, leaks and broken glass.
Oakmasters wanted a solution, which worked with our high quality, beautifully finished oak frames and we also wanted something we could guarantee for 12 years, so we put our 30 years of experience and technical expertise to good use and developed our own robust system for glazing with green oak. We have called it Oakmasters' Encapsulated Glazing System (EGS). It is a highly sophisticated system that helps eliminate the possibility of leakages either around the glass or through the oak frame itself. Furthermore, the insulation properties of this system are far superior to other systems; greatly reducing cold bridging, thermal resistance and keeping your building warm and dry. Click here to find out more.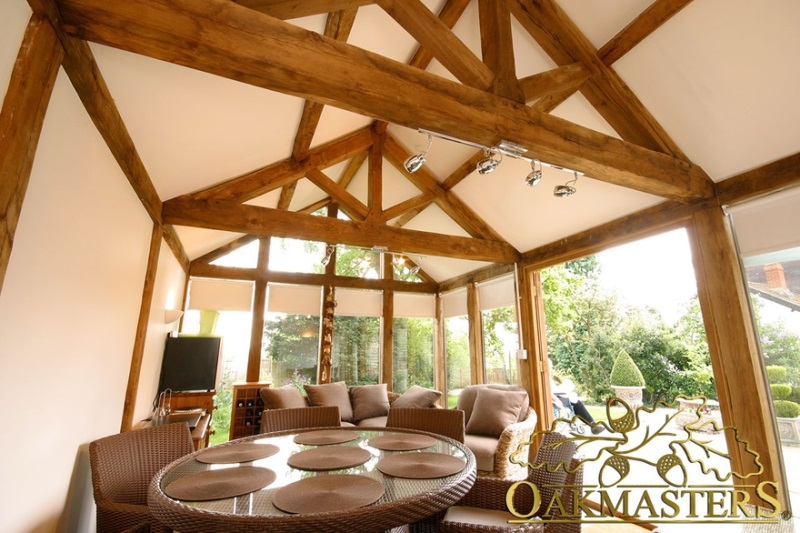 Free-standing or attached to house? How to decide.
By definition, a summerhouse is a free-standing building in a garden. However, you may prefer to link it to your house or even your garage, as the owners of this dual-purpose structure did to create a garden or games room.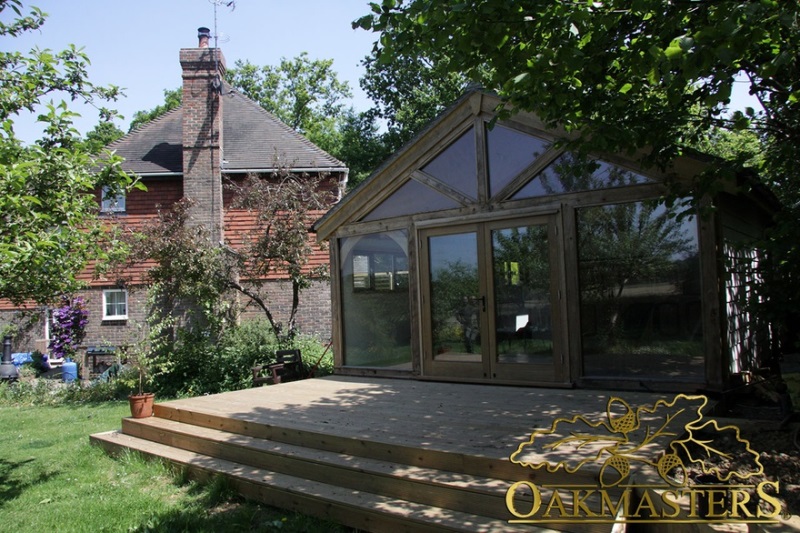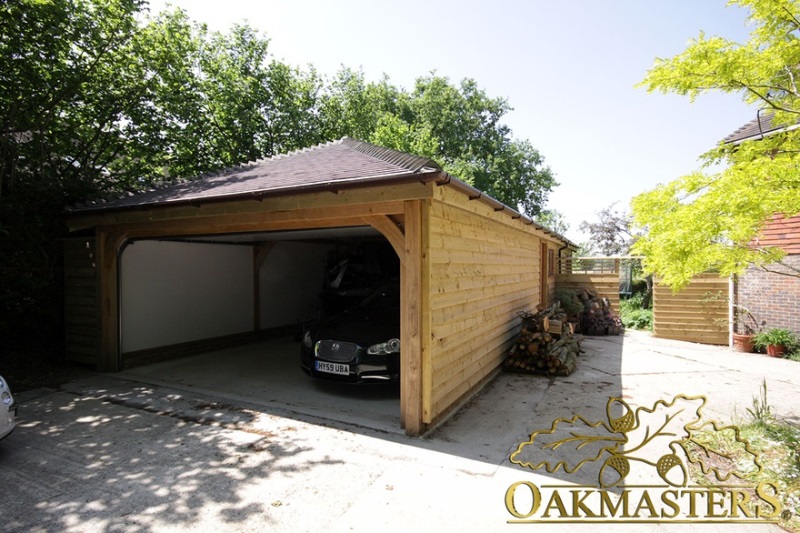 Be inspired!
Whatever your preference is, making the decision to construct an oak summerhouse is one you will never regret. Not only will it enhance your property (adding value too), it is likely to become the favourite chill-out space in your home.
At Oakmasters we have experience in building a wide variety of oak summerhouses. These range from simple but elegant free-standing gazebos to enjoy a leisurely drink on a summers' eve to a fully-equipped tennis court changing room and even a combi garage and summerhouse.
For more inspiration on creating your dream summerhouse, take a look at our gallery for inspiration or download one of our brochures.
Tags:
garages & outbuildings
garden rooms & conservatories
oak extensions