Reminiscing over some of our 2014 projects!
Happy New Year everyone! We hope you all had a lovely Christmas. We certainly did at Oakmasters. However, we've had an incredible year overall. We've seen lots of lovely new and familiar faces and have worked on many beautiful projects, whilst continuing to provide customers with our very high standard of service and finish.
As well as this, towards the end of the year, we also launched our exciting new partner brand, Port Wood Furniture Studio. Port Wood provides a thoughtfully curated collection of furniture and accessories, which are designed to bring luxurious, natural charm to your home.
It has definitely been a busy year and so we thought we'd take this opportunity to look back at some of the projects we've worked on at Oakmasters during 2014. If you're planning on starting your own project in 2015, these will definitely give you some inspiration!
1.      Wallsgrove Project
This year, we were lucky enough to be part of a very exciting project. Weir End is a beautiful colonial style home owned by Jon and Muriel Wallsgrove and located along the banks of the River Thames in Surrey. Oakmasters provided the bespoke oak trusses which are somewhat unique in their style. However, later in the year, we discovered the property had been entered into The Telegraph Homebuilding and Renovating 2014 Awards. The property was shortlisted and we're extremely proud that it won in one of their categories!
To see the oak trusses from Oakmasters more clearly, take a look at this interview with both Jon and Muriel within their new home:
2.     Stock House Project
Another property that comes to mind is the recent completion of Steve Quincey's stunning home. We firstly started work on the swimming pool complex, but then got the go ahead to start work on the house. We interviewed Steve earlier this year, so take a look at what he had to say here, plus see more photos from inside this impressive property.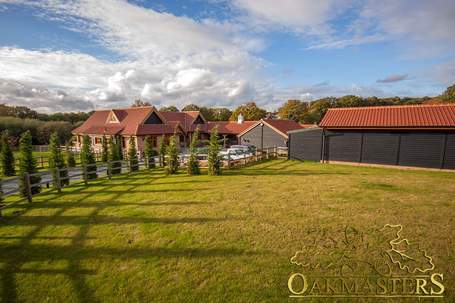 3.     Farm House Project
The Farm House was another exciting project to work on. In fact, when we interviewed our designer Jenny in October, this was her favourite project, as it involved lots of problem solving. The design had a number of tricky features to work around, such as split level flooring and wrap around glazing. However, we were able to open up the space and make the most of the beautiful view. We think the results are spectacular: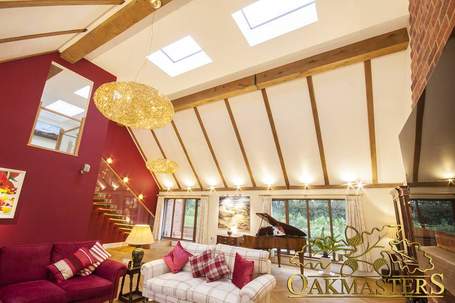 4.     Family Room Extension Project
One of the most recent projects that we've worked on was adding this stunning kitchen, dining and family room extension to a country house. We added two roof lanterns to the flat roof, to allow light to fill the room. It also has two sets of triple bi-fold doors, which allow the owner to open up the whole of the front of the extension into the garden. We love how this oak framed orangery shows beautifully how oak can be used in a contemporary setting.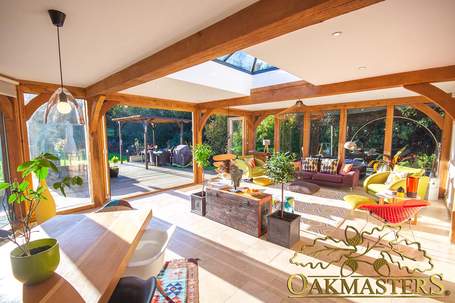 We hope you like these finished projects as much as we do. We're definitely looking forward to another exciting year ahead. If you're planning on starting your own project in 2015, or have any questions, please get in touch with us. Call our friendly team now on 01444 455 455 or visit our website to see even more of our projects.
Tags:
case studies
self build houses