Interviewing our Oakmasters head of design, Jenny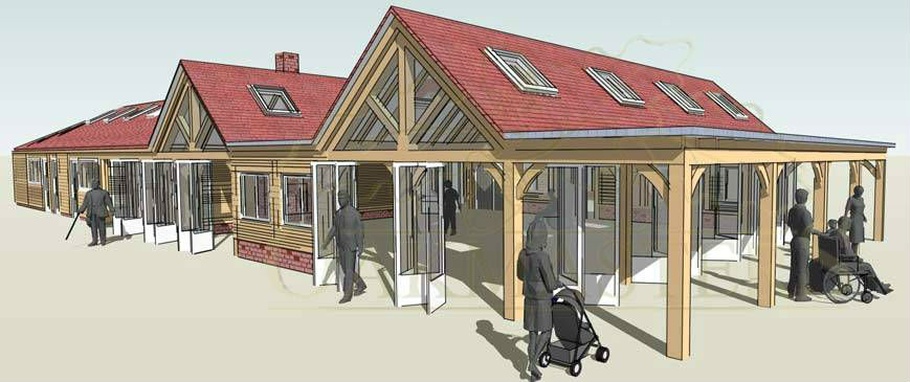 Jenny has been working for us is Sussex for over 3.5 years and is our very talented in-house designer. Before working with us at Oakmasters, she also worked in the timber industry and so she knows oak and oak frames inside out.
Here we get to know Jenny a little better and talk to her about her favourite projects, some of the top things to consider when designing a home and much more:
1. What is it like working for a family business like Oakmasters?
I have always worked within a small, family business, where I enjoy the close knit teams of people. Plus at Oakmasters, we're always aware of how our specific work affects other people within the team and how it fits within the rest of the process. This makes it an exciting company to work for.
2. At what stage in the process will a customer work with you?
My involvement really depends on the project itself. For a smaller project I may get involved a little later in the process, whereas on a larger project, such as building a house from the ground up, I would be involved much earlier on. This allows me to help with the designs and planning process right from the initial concept stage.
3. What does your role consist of on a day-to-day basis?
At Oakmasters, my days are always different. However there are a number of key areas that I work in, from the design of the oak frame, planning applications, building regulations, 3D modelling as well as checking all of the technical details of the build. It's a really varied role and requires a lot of problem solving skills, such as to work out the angles and positioning of the oak joints. This keeps my job really exciting!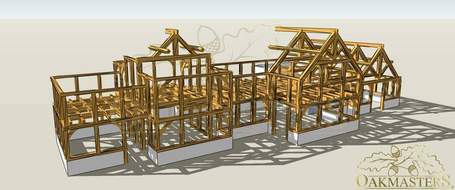 4. What has been your most challenging project?
Working on listed buildings can be quite a challenge, as there are lots of rules and regulations to comply with. It is also important that the extension complements the existing frame, which can be quite complex. The new and the old need to work well together, with lots of problem solving involved, making it quite challenging. However, it's definitely worth it in the end though, to see the completed project.
5. What is the project you are most proud of?
That's a really difficult question to answer… I really enjoy problem solving though and with the Farm House project this year, there was lots of this involved. I worked on the project right from the start, from initial designs, right through to getting planning permission. It had a number of tricky features, from split level flooring, to wrap around glazing, which helped to open up the space and make the most of the beautiful view.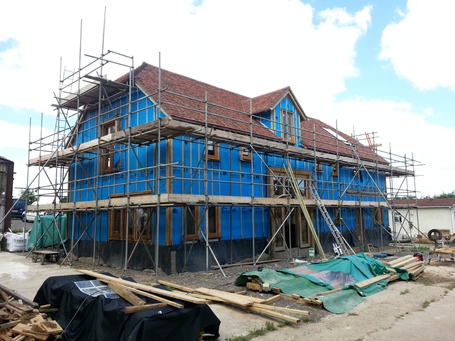 6. What is the best part about working with oak?
I love working with oak because of its functionality. It can be used in so many ways and is not only strong, but it has a great aesthetic appeal, adding character and warmth to a home.
7. What are the most common questions you get asked by clients when designing their oak home?
I get asked a lot about the amount of visibility. Some people want a lot of the oak frame on display for a very traditional look, whereas others may want it more for its strength, only with key features of oak on display for a more modern feel.
Space is another common question I get asked about. With trusses, people may worry about how much head room this will leave for example. However, this is where the 3D modelling comes in, to help customers visualise the space before any work goes ahead.
8. What are the top 3 things to consider when designing your home?
The style of your home is really important to consider, however, I would say 3 key things to think about would be:
1) Consider how you live – You might like open plan in theory, however, some people can often feel quite lost when they actually live in that kind of environment. I would always tell people to be realistic with designs and make sure it fits well with your lifestyle.
2) Think about your room requirements – Many people may plan to have a dining room or a games room, however, it's important to consider whether you will get the use out of them, or whether they will just end up being used as a storage room. I therefore make sure I talk through these areas with customers and provide suggestions before moving forward with designs.
3) Take your time - Building your own home is an emotional process and so therefore I would say that you should take your time to work out exactly what you want. It's easier to change it at design stage than once it has been built, which can then be difficult as well as costly.
Would you love to design your own home? Take a look at our Pinterest page here, where you will find lots of inspiration.
If you would like to find out more about Oakmasters, our products and services, please don't hesitate to get in touch with our friendly team now on 01444 455 455.
Tags:
help & advice