Professional Advice: Lighten Up! Bring More Light into a Home Using Oak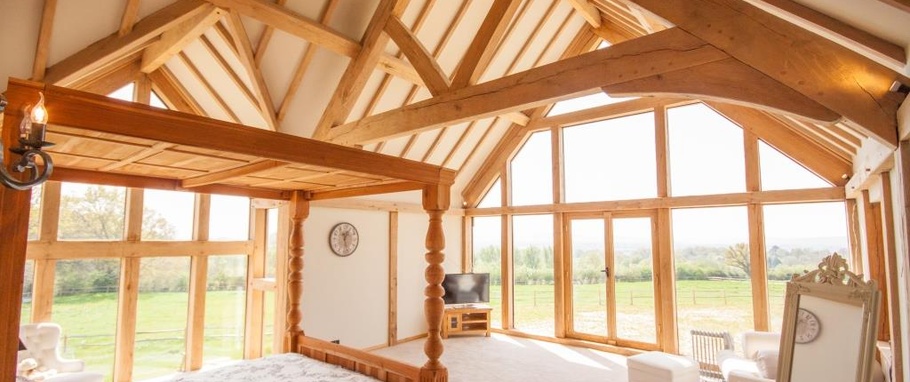 It's a proven fact that humans feel better in a home that has plenty of natural light. Whether you are planning a new build dwelling or an extension, then using an oak framed design is an ideal way to incorporate more light into a home. Here we guide you through the design basics and reveal some inspirational ways to lighten up!
Design Basics
1.      Glazing System
While architecturally magnificent, green oak can move or split as it ages. This is why TRADA (Timber Research and Development Association), the centre of excellence on the specification and use of wood products, recognises that an encapsulated glazing system is the best way to glaze a green oak frame. This system provides the flexibility to accommodate the movement of the frame and eliminates the possibility of leakages, either around the glass or through the oak frame itself.
An encapsulated glazing system in oak buildings reduces the risk of condensation, and allows for fixed glazed units to effectively 'float' on the outside of the frame, while looking as if they are rebated into it. Technical features such as drip profiled, fully air dried oak capping combined with spacers, routered drainage channels, weather strips, high plasticity sealant and flashing work together to eliminate the possibility of leakages on the glass or in the frame.
Oakmasters has developed its own unique and robust Encapsulated Glazing System solution for incorporating glass into our oak frame structures and with 30 years' experience combining oak frames and glass we are so confident  in our system that we provide a 12 year guarantee.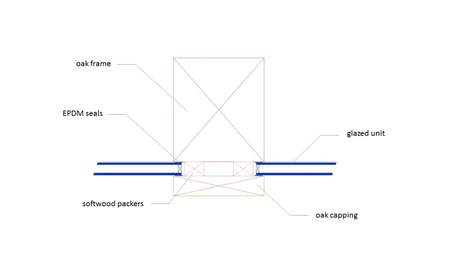 2. Orientation
The positioning of glazed areas is an important consideration. Be aware of solar gain – a great benefit on a sunny winter's day, but uncomfortable on hot summer's evening. Therefore a south-facing orientation may not be suitable for large expanses of glazing.
This is particularly an issue to consider if you are contemplating building a conservatory which will often have a glazed ceiling.  An alternative is to create an oak orangery, which often have flat opaque roofs sometimes with a roof lantern in the centre for natural light. For more information, take a look at our blog Helping You Decide: The Difference Between Garden Rooms, Orangeries and Conservatories.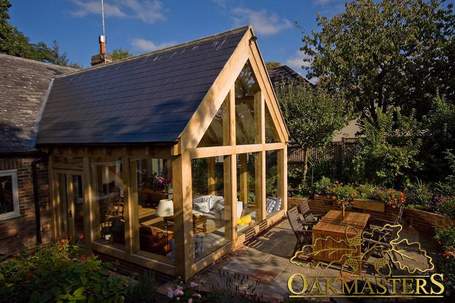 Design Inspiration
Oak provides the perfect framework for a variety of different glazing treatments, from a large feature window to floor-to-ceiling designs, as these examples below illustrate.
 1.      Framing A View
Large glazed oak framed windows will make the most of a picturesque view, whether as a single piece of glazing (above) or multiple windows (below).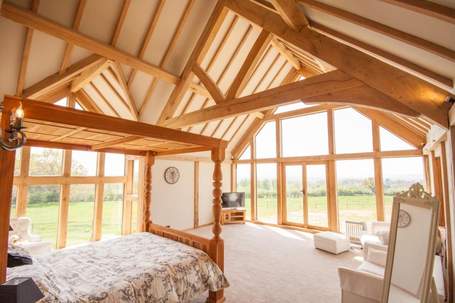 2.  Light and height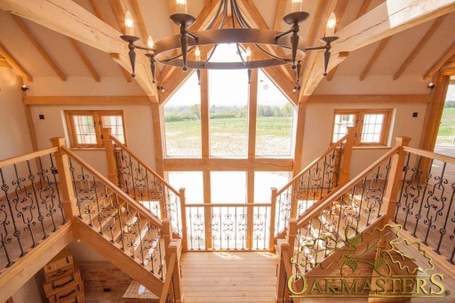 Here, the windows extend up the whole façade of the house, adding a sense of drama and light to this majestic oak staircase and integrating beautifully with the vaulted ceiling.
Similarly, the oak-framed glazed façade of this showroom built for property developers Crest Nicholson for their prestigious Bolnore Village development in Sussex (below) creates a lasting impression with prospective clients.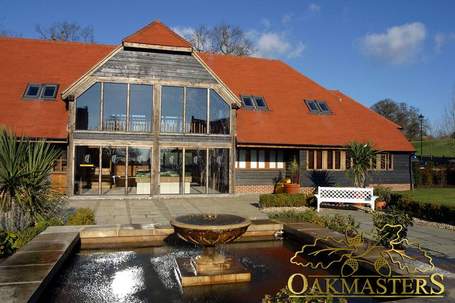 3. Not Just Windows
Let the outside in! Sliding patio doors have become extremely fashionable in recent years and at Oakmasters we are able to supply high-quality oak doors which can be integrated into the overall design of the room. The benefits on a glorious summer's day go without saying and are real showstopper features.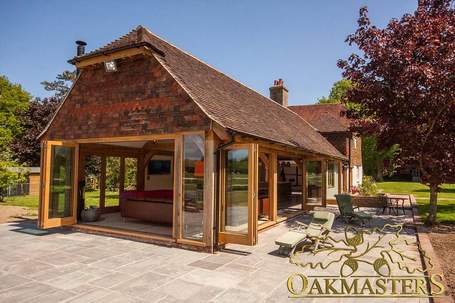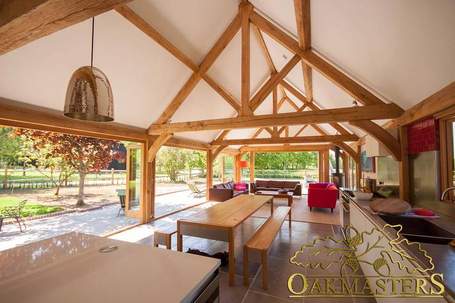 4.  Styles to suit
When designing projects for clients, we tailor the design details of the windows so they blend in well with the overall style of the room or house. Here the use of braces on the windows of the oak-framed garden room add an attractive feature.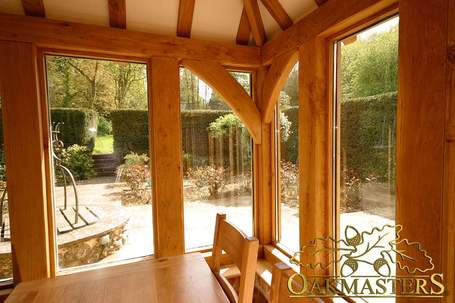 While the simple, clean window design gives this oak clad house (below) a contemporary feel.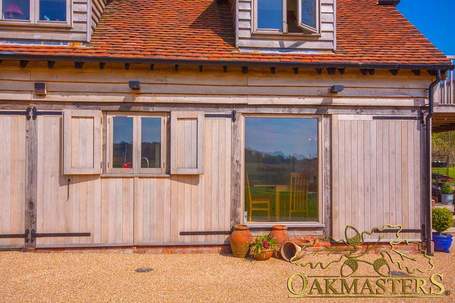 For more inspiration, ideas and information about glazing oak framed buildings, please download our Oak Conservatory, Sunroom, Orangery and Garden Room brochure
Tags:
glazing system
oak framed houses