Helping You Decide: the Difference Between Garden Rooms, Orangeries and Conservatories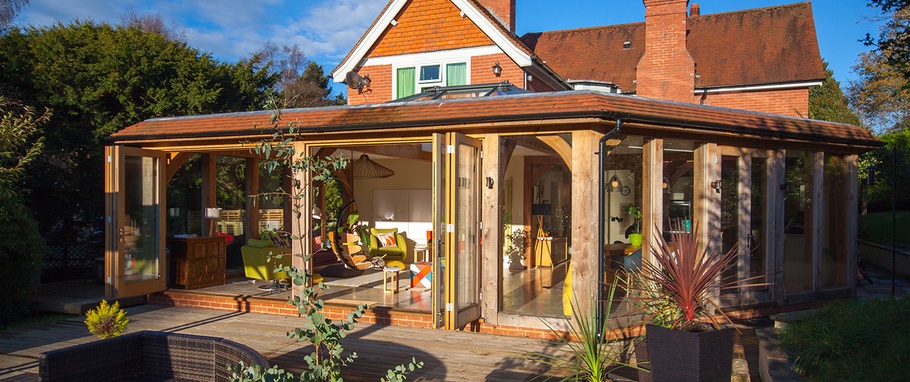 Oak framed garden rooms, orangeries and conservatories offer beautiful living spaces in the outdoors, often with extraordinary views across Great British gardens without the need to suffer the Great British weather. Far from just living rooms, these beautiful oak buildings can be made for different functions; from a kitchen or a game room, to a TV room, dining room or an office. However, deciding on the type of structure you want and understanding the different planning requirements and costs involved can seem a little daunting.  Here we will help you understand how they are different and decide which is right for you.
The Roof
One of the biggest differences between these buildings is the roof, and this is important because different roof types offer different spaces and insulation capabilities, and therefore have different heating requirements. According to FENSA (Fenestration Self-Assessment Scheme), the national body for building regulations concerning double glazing, a conservatory by definition must have ¾ or more of the roof area and ½ or more of the wall area made from translucent material such as glazing. It also needs to be unheated, or be heated by a system with its own separate heating controls, and be separated from your main residence by an external door. Fully glazed roofs like these can make the room hot in the summer, cold in the winter, and generally have increased heating requirements than other roof types – so it is important to think about how you want to use the room, what time of year it will get the most use and whether heating is important.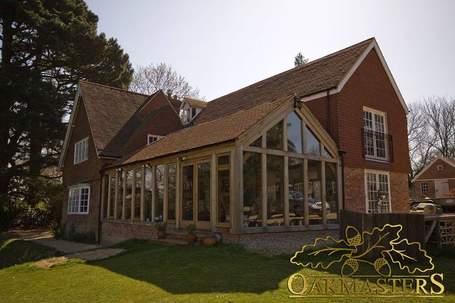 Modern oak orangeries on the other hand often have flat opaque roofs, sometimes with a roof lantern in the centre of the room for natural light, while oak garden rooms often look a lot like small oak houses, with fully vaulted tile or slate roofs which seamlessly blend in with the rest of the building. These vaulted roofs can be more heat efficient, however it is worth noting that they also require more heating than a flat roofed structure due to the volume of the room.
Oak Frames
Different oak frames will be required for different roof types. A conservatory will often have a glazed ceiling, which depending on the design can be a little more fiddly and costly. The frame is also likely to sit on a dwarf wall, which means that the requirement for oak would probably be larger.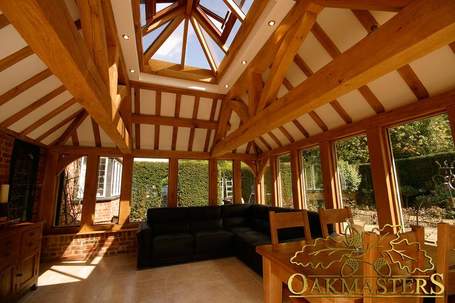 The amount of oak used in the frame of a garden room will be dependent upon how much glazing is required; whether you want floor to ceiling glazing, windows, oak framed encapsulated walls or solid brick walls. Orangeries tend to have a flat roof structure with a lantern which is usually supplied as a whole glazed unit. They also tend to have windows instead of fully glazed walls, which can help you make savings on the cost of oak.
The Glazing
It is also important to note that while architecturally magnificent, green oak can move or split as it ages. This is why TRADA (Timber Research and Development Association), the centre of excellence on the specification and use of wood products, recognises that an encapsulated glazing system is the best way to glaze a green oak frame. This system provides the flexibility to accommodate the movement of the frame and eliminates the possibility of leakages, either around the glass or through the oak frame itself. 
An encapsulated glazing system in oak buildings reduces the risk of condensation, and allows for fixed glazed units to effectively 'float' on the outside of the frame, while looking as if they are rebated into it. Technical features such as drip profiled, fully air dried oak capping combined with spacers, routered drainage channels, weather strips, high plasticity sealant and flashing work together to eliminate the possibility of leakages on the glass or in the frame.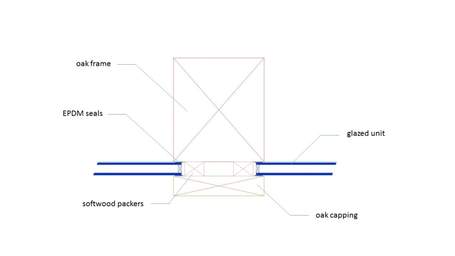 Other types of glazing include aluminium sliding frames (which are suitable for sliding doors, but can appear thinner) or bifold doors and windows which can be used on vertical walls. Opening sashes can also be added with the use of window units.  If you decide to use Oakmaster's encapsulated glazing system it will be guaranteed for 12 years, and can be made using a range of glass,  the standard being toughened 20-4-20 mm glass.
Planning & Building Regulations
It is always wise to speak with your local planning authority, however you may be surprised to find that planning permission is not always necessary. This is because there are quite generous exemptions in England on single-storey rear structures such as conservatories, orangeries and garden rooms.  These exemptions are of course dependent on whether the structure you choose can be considered a conservatory or an extension (and therefore not requiring planning permission), and a number of conditions around the structure, such as its position in relation to your main residence, and how much of the surrounding land on the plot will be occupied by the new structure as well as intended size. 
The government's Planning Portal provides a full list of conditions for both conservatories and other extensions such as garden rooms and orangeries.
Cost Consideration
The end price of your oak frame building will depend on a number of factors. Typically structures with lots of oak will come at a higher price than those made with more bricks or aluminium. Other factors such as the design, the number of windows and doors, and the choice of oak trusses, purlins, or rafters will also determine the cost and the overall amount of oak used. Savings can sometimes be made by replacing some of the structure's components (such as rafters) with softwood and plastering.
If you need any more information on whether a garden room, orangery or conservatory is right for you, then Oakmasters is here to help. To find out more, visit www.oakmasters.co.uk/products/sun-rooms-orangeries
Tags:
garden rooms & conservatories