Professional Advice: How Oakmasters can help Architects and Builders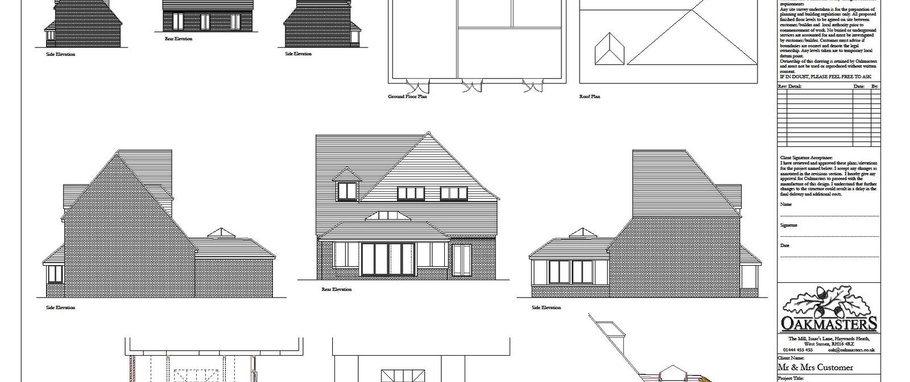 From a single beam to an entire house, oak is a building material that is not only aesthetically attractive but also functional and durable. Some architects and builders, however, are wary of working with oak, which is why Oakmasters offers a specialist consultancy service covering concept design, design for planning applications, structural engineering design and building regulations.
With decades of experience working on oak-framed buildings, we have an intimate understanding of every stage of the development process. Here's a step-by-step outline of how we can help and, at the end of this article, a case study illustrating how we work with architects and builders.
1.      Concept development
Whilst developing the concept designs, architects will find it useful to speak to Oakmasters' team as early on as possible. Our detailed engineering knowledge of oak and what can be achieved using a green oak frame means we can work alongside architects in an advisory role even before the planning application. In our capacity as oak framing consultants, we can often help achieve the perfect balance of what the client wants and what is technically possible.
For builders, we can take on the full concept development. Whether a client wants a complete oak frame, a 'hybrid' house where oak is used alongside other materials such as brick or simply an internal decorative feature, we have the skills to translate a vision into a deliverable reality and would advise that we are involved as early on as possible in the design process. At this stage we can often help visualise the project by providing a free 3D sketch of the concept design.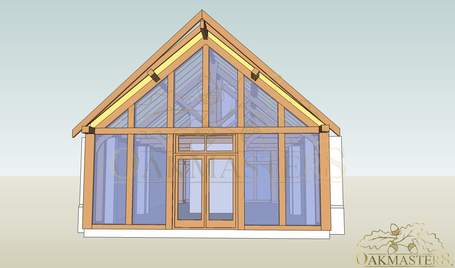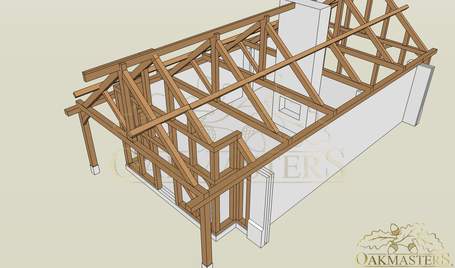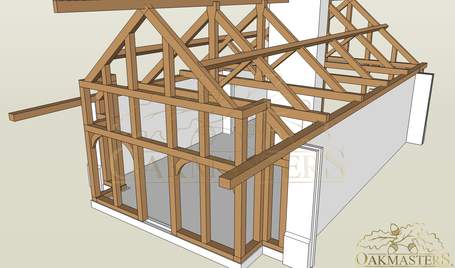 2.      Planning permission stage
As oak frame specialists we are able to work with architects throughout the planning process and answer any questions or advise on any amendments to the designs that may be required.
Most builders know all too well that planning can be fraught with potential pitfalls but with expert guidance these can be smoothly avoided. We can either prepare the drawings and other specifications necessary for a planning application or help ensure that architects' and builders' plans comply with the usual planning requirements, as well as evaluating whether the circumstances meet any of the (sometimes quite generous) exemptions under Permitted Development (PD) rights. Take a look at our Guide to Planning Permission for more information.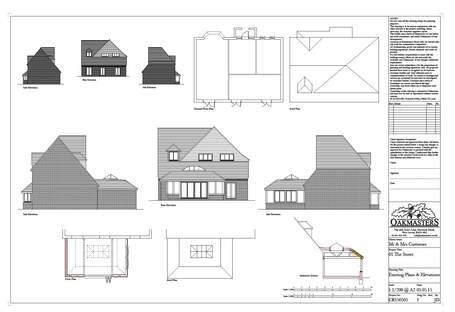 3.      Detailed designs
One misconception that some architects and builders have is that an oak framed construction won't comply with ever-tightening building regulations with regards to insulation, pressure testing etc.  This is incorrect! With the right designs, an oak frame can be a very energy efficient form of construction. Oak framing can be combined with a number of other technologies to form a solution which is both attractive and practical.  
Oakmasters can help with the design details when oak is included in a modern house. Because we have full design capabilities, we can provide bolt-on consultancy and design services to assist our clients' architects, engineers and building firms without treading on any toes.
As an example, oak frames can be designed and built specifically to integrate with structural insulation panels (SIPS) which fit on the outside of the frame and on the roof, creating an  uninterrupted building envelope that's extremely energy efficient.  On the outside of this layer is a waterproof membrane and external cladding of various types, whereas on the inside the oak frame is exposed. A service void is also incorporated into interior wall build-up. The level of insulation is excellent and, if the client wishes, can be adjusted to standards that surpass regulation requirements and can go all the way up to Passive House levels. For more information about oak framed construction, take a look at our blog, Using Oak Structurally: Aesthetics Vs Practicality.
Other design issues with which we can help include the amount and visibility of oak. Some clients like a lot of oak on display for a very traditional look, whereas others want oak more for its strength, with only key features on display for a modern feel. We are able to create 3D models of the frame to help clients visualise the space before any work goes ahead.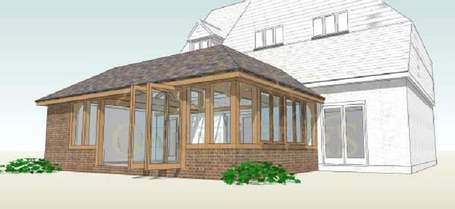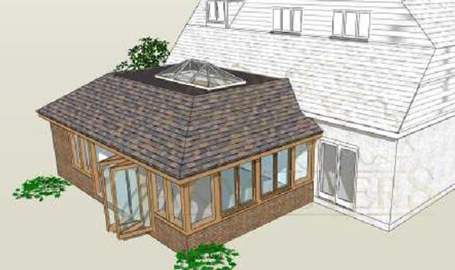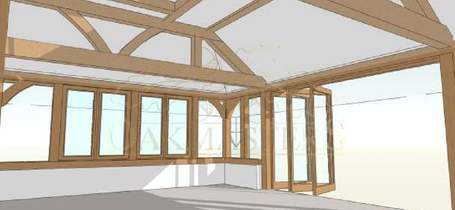 4.      Structural engineering, design and calculation
Engineering with oak is not just about the grade of wood and the section sizes; it must also take into account specialist jointing techniques and styles of frame layout. Because our specialist oak frame engineers are very experienced in this work, architects and builders often find it useful that we take a consultative role in this part of the design and build process to help provide technical solutions.  
 A typical design for a vaulted ceiling would involve steel flitch beams and exposed steel bolts and joints, which may not be to every client's taste. Involving Oakmasters at this stage can facilitate a solution using a traditional oak frame without any need for exposed steel. As an example, Oakmasters engineered a solution for an impressive pool building with a vaulted roof spanning 10 metres without using any steel.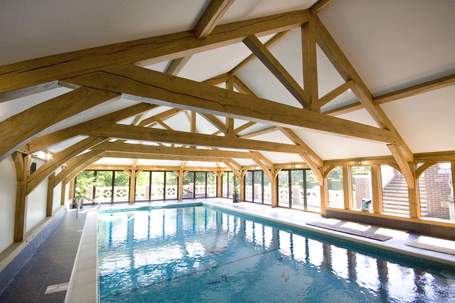 5.      Peace of mind
Working with Oakmasters will ensure peace of mind in two ways: not only can we offer specialist technical advice at the design stage, but we also provide a 12-year guarantee for all our products, which we can also install if required. Whether working as the sole designer on a project or in conjunction with architects or builders, we always strive to make our client's dream a reality.
6.      Design case study: a hybrid design family home
Robinson Waters Architects were approached by Jonathan Wilson to design his dream family home, which would be built in Kent. The brief called for a two-storey house with a footprint of 2,600 square metres. Jonathan wanted a hybrid design incorporating a masonry ground floor with a glazed oak framed sun room and oak framed entrance hall. The structural oak frame would be visible throughout the upper floor and on the ground floor there would be structural oak ceiling beams.  Engineering of the design was challenging, as it called for a jettied upper floor on all four elevations and a vaulted corner entrance hall to give the house its wow factor.  

 Robinson Waters and Jonathan approached Oakmasters early on, during the draft design stage, to request a solution for the structural oak frame and a quote. Oakmasters proposed a modern solution for all the oak sections, incorporating a traditionally produced structural oak frame with a contemporary SIP panel encapsulation system, floating glazing system and external oak cladding. Throughout the process, 2D and 3D drawings really helped Jonathan visualise what his house would look like.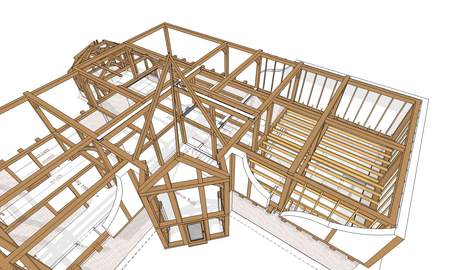 A few meetings with all three parties to discuss details helped the design stage to progress quickly, ready for Oakmasters to help with the structural engineering stage and for the architect to submit for planning.
During the planning process, a requirement arose to reduce the overall height of the building. Oakmasters was  able to revise  the oak structure design to comply with the planning requirements, whilst making sure the structural integrity remained intact and the living space upstairs was unaffected by the reduced height.
The architect's and Oakmasters' design teams worked together to finalise the building envelope and sections. In doing so they thought through how the client would live in the house, for instance ensuring that there is enough room between the head of the windows and the oak beams for curtain tracks, and adjusting the frame to create an open oak screen to the dining room rather than a solid wall.
"Oakmasters were able to respond well to the changing requirements imposed upon us during the planning process, revising their design accordingly. During the detail design stage it was important that a good working relationship was established between ourselves and the Oakmasters design team, enabling us to integrate the oak structure into the overall design drawings."
Robinson Waters Architects  www.robinsonwaters.co.uk