Perfect porches: Add an oak porch to your home for a touch of luxury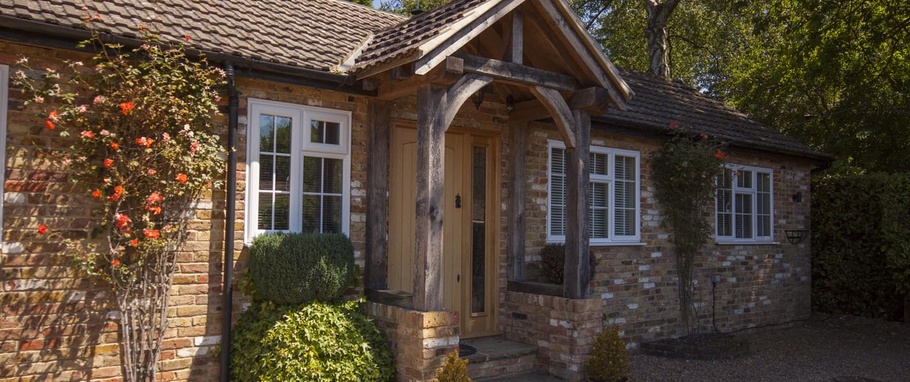 A porch is an example of that very rare combination: style and practicality. It can provide extra storage for items such as bikes, boots, coats and bags that would otherwise clutter a hallway, act as a useful shelter from the rain, or offer the perfect place for couriers to leave those all-important Amazon packages. But as well as being functional, tailor-made oak porches are also majestic and beautiful. Your porch is a metaphorical entrance to your home as well as a literal one, and can say a lot about you and your style.
Oak porches come in many shapes, sizes and styles and as they will be the first place people step into when they visit your home, it's vital that you choose the design and variety that delivers the first impression you want to make. From beautiful bespoke, tailor made oak porches to simple, stress-free oak frame porch kits, there plenty of options available. Here is our guide to how to make a stylish entrance and some examples of pretty oak porches that will be sure to ignite your imagination.
From page to porch: Turning your oak porch dreams into reality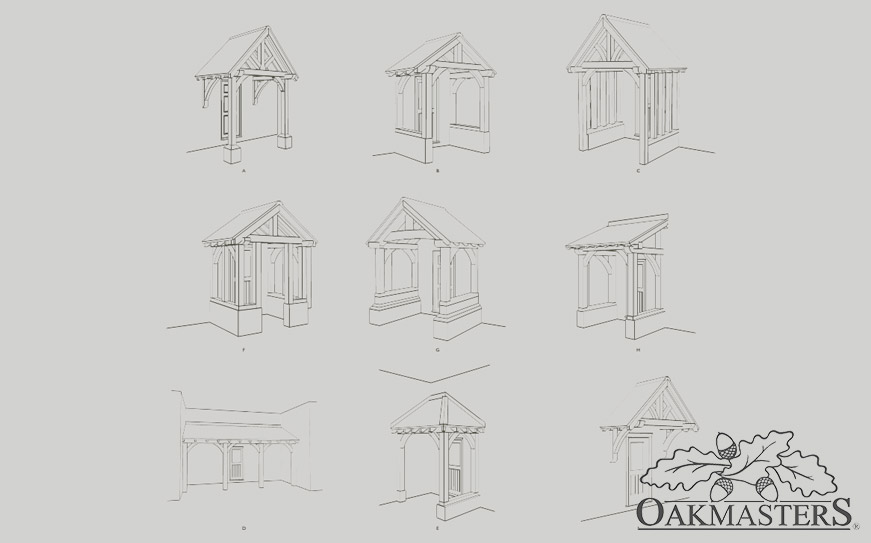 We offer a variety of designs for oak porches, or we can use your own sketches
With over 30 years' experience in designing and building oak porches, we have a huge range of oak porch designs for you to choose from. You can also sketch your own designs, bring us drawings from your architect or come to us with a rough idea and we'll create your dream oak porch together.
Our oak porches are designed and made as kits: we provide the full oak frame which your contractor or builder can then install. We also give you all the pre-cut joints and components, including any bespoke hand-crafted finishes.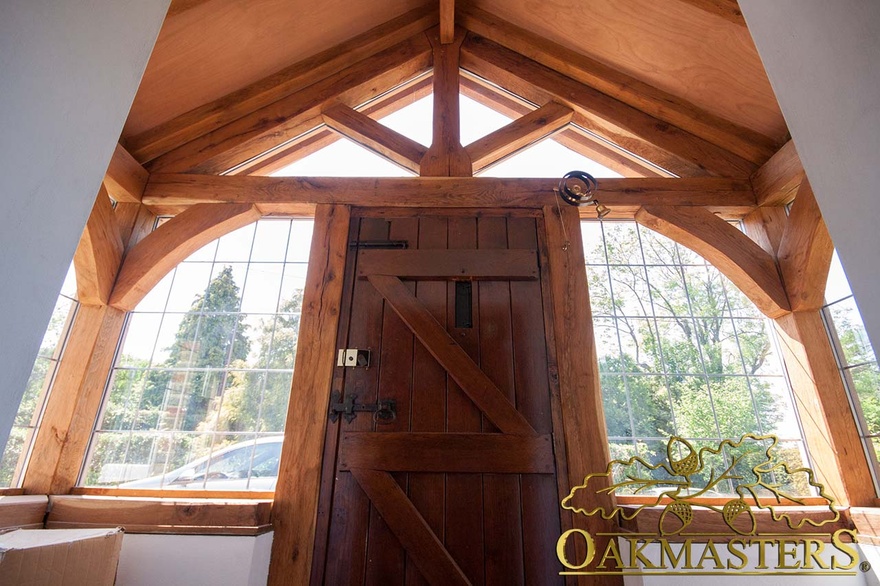 This enclosed oak porch boasts trusses and glazing, creating a grand and impressive entrance
Different oak porch styles: Take your pick!
There is a lot to consider when choosing the best oak porch style for your home. Firstly, do you want an enclosed porch, which is a good option if you'll be storing lots of equipment or items, or an open porch, which still provides shelter but also allows access for deliveries. Open porches are also easier and quicker to install, so can be assembled by DIY lovers rather than needing to hire specialists.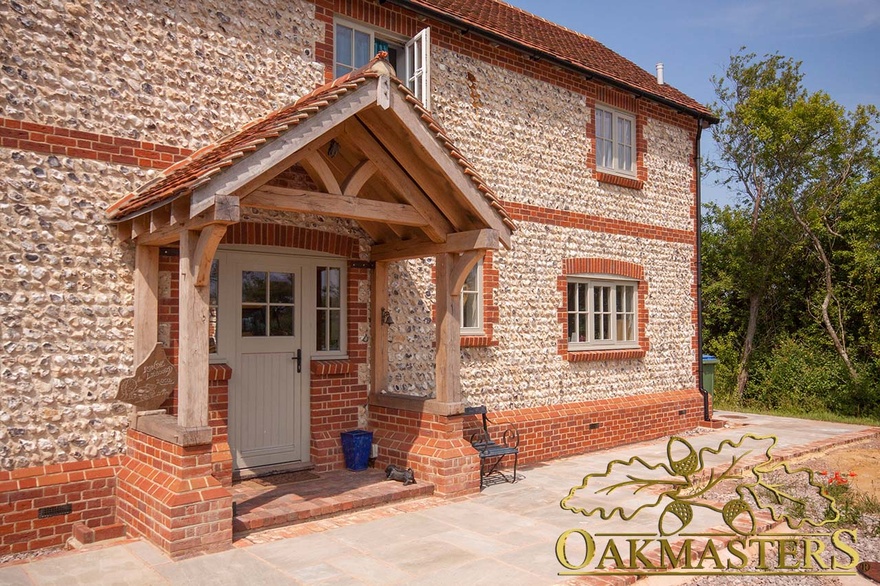 This pretty oak framed porch matches perfectly with the flint stone exterior of the property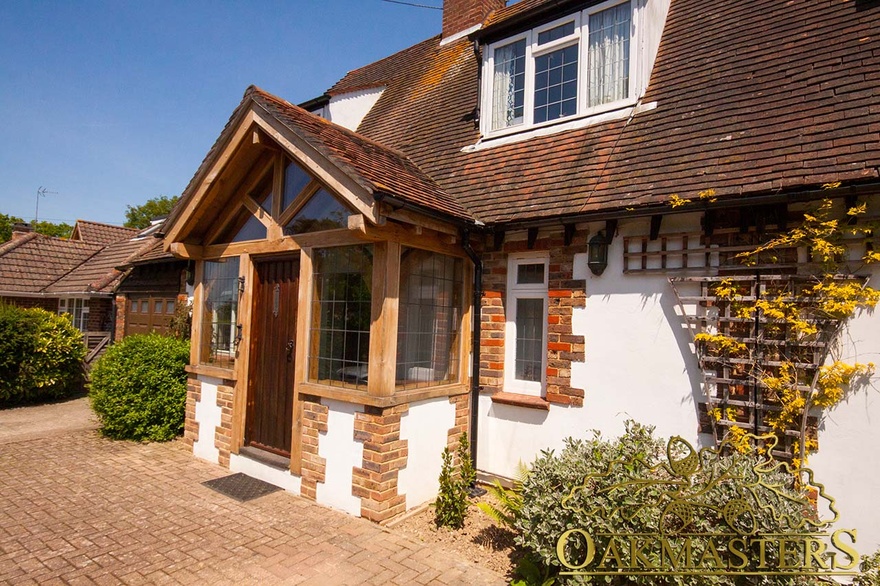 Oak porches make a stunning addition to a classic brick or stone house
You can mix and match materials with an oak frame porch: whether you opt for lots of glazing to let the sunshine in, or brickwork for a more solid look, there are various options available to make sure your porch ticks all your style boxes.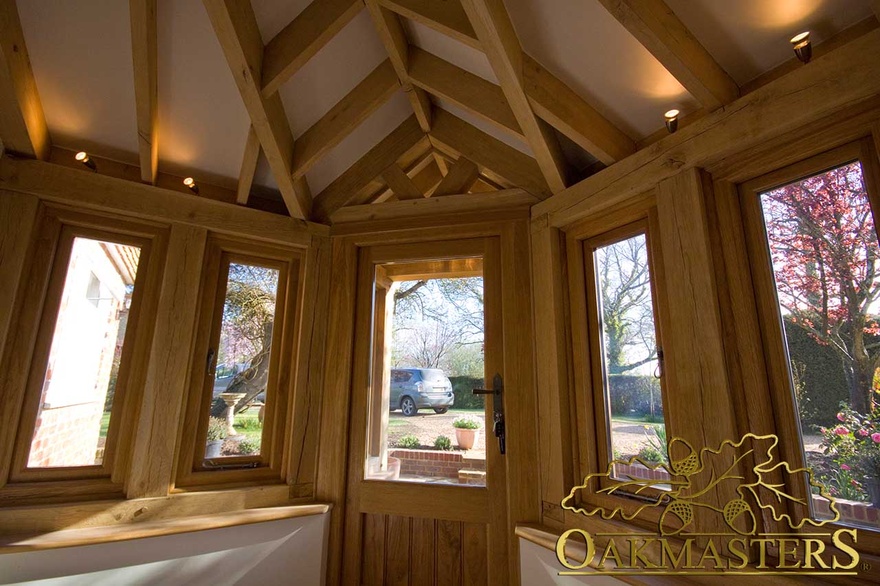 Glazing is a great way of ensuring light can flood into an enclosed oak porch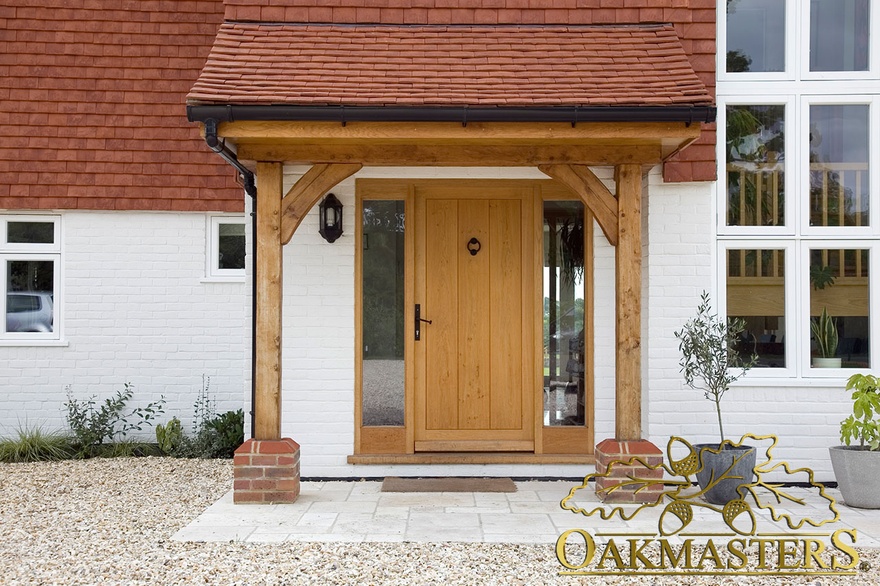 Oak framed porches can be very simple, such as this elegant example with a tiled roof
We can work with you to come up with a design that compliments or even exactly matches the style of your existing house, for a natural and effortless impact. We can design and create oak porches which are narrow, deep, small, large, wide or even built into a corner. The choice is yours!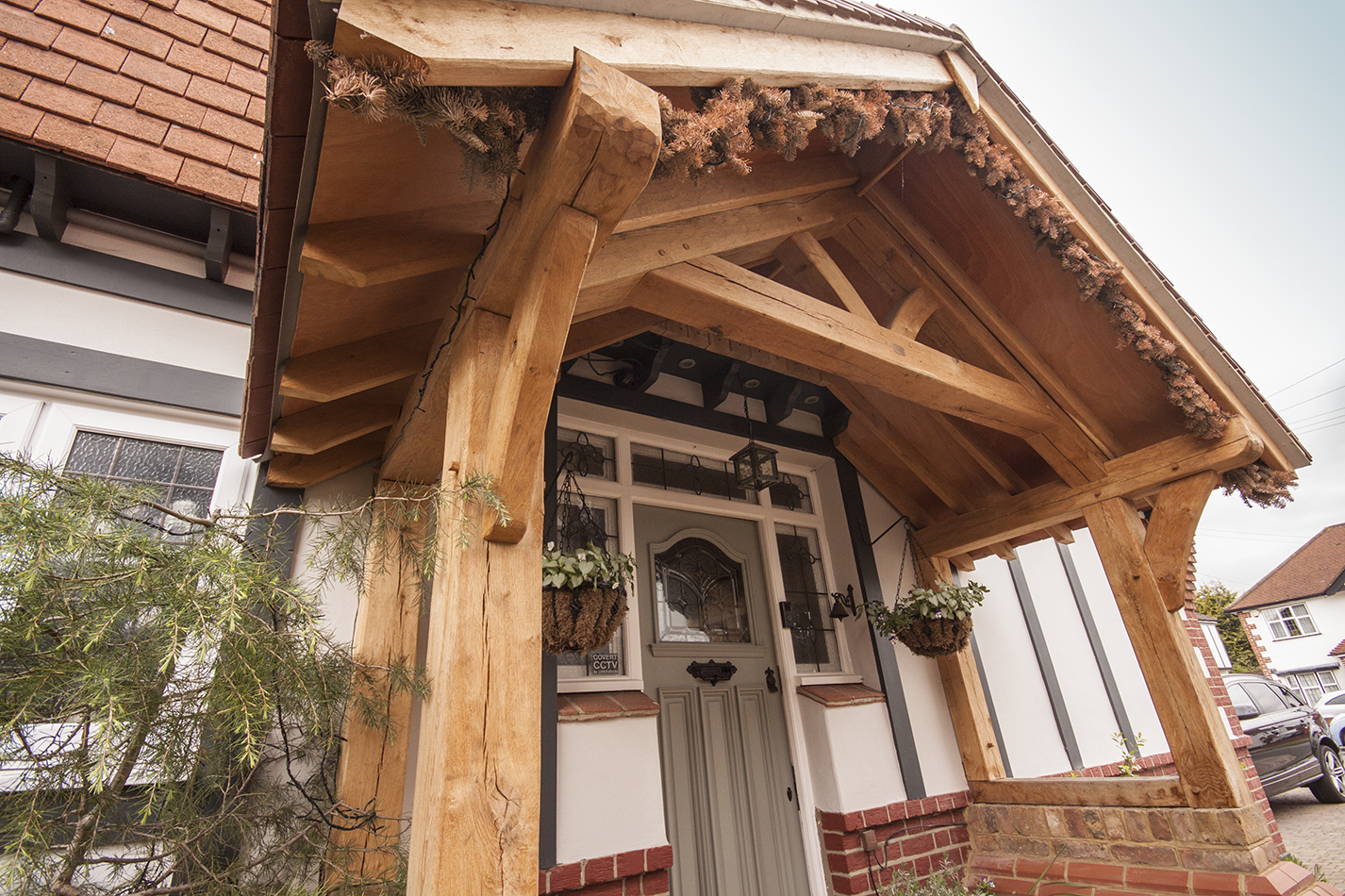 This townhouse's oak framed porch proves you don't need a big country property to have an impressive entrance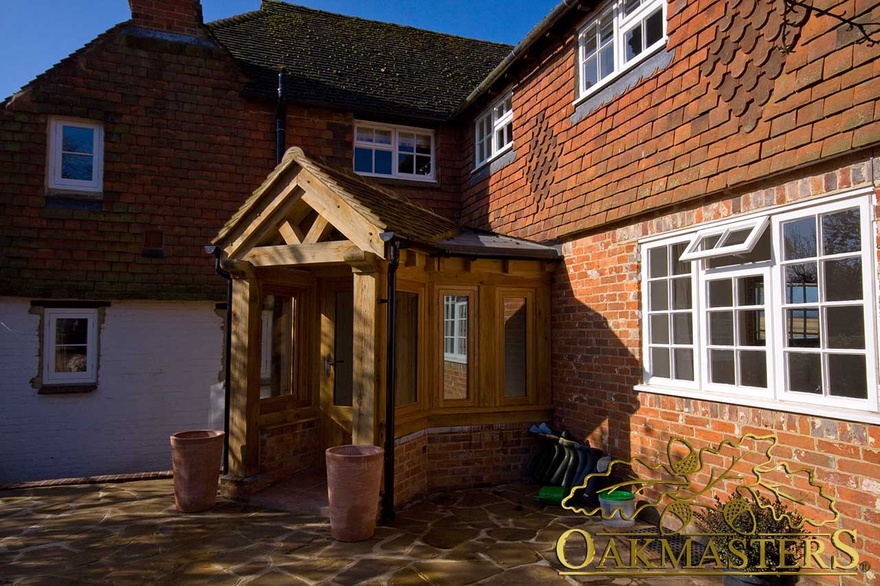 This enclosed oak frame porch was built into the corner of a house
Finish with a flair: Oak porches with a hand-wrought finish
Our oak frame porches are all available with beautiful handcrafted finishes, which can be as simple or intricate as you prefer. Curved braces or mini trusses can add a small touch of class and soften the overall impact.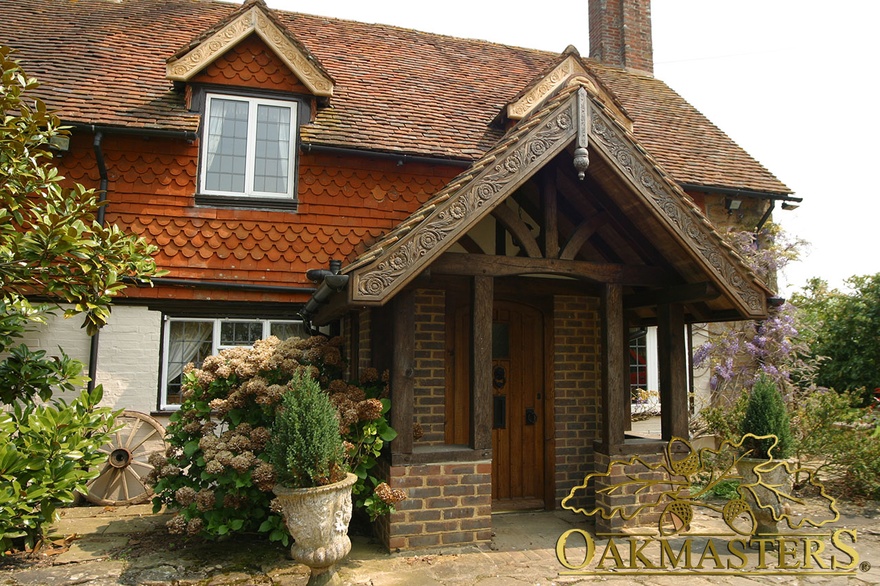 The hand-finished engraving on this open oak porch adds a touch of luxury
Tie trusses give this oak frame porch a sense of grandeur.
 For further inspiration and ideas, take a look at our oak porch gallery.  To find out more or have a chat with our friendly team about what other services we provide, call  us on 01444 455 455.
Tags:
building with oak
help & advice
oak beams & components
oak framed houses
oak porches