Case Study: Three-Bay Garage, Entrance Porch And Home Enhancements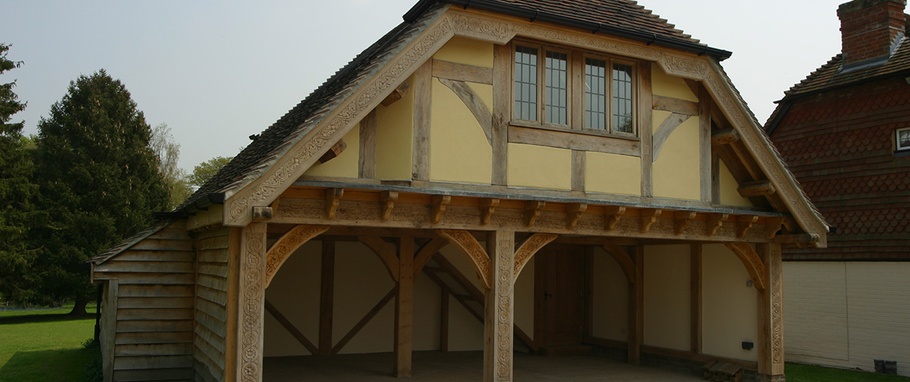 Always a fan of traditional oak-framed buildings, when George bought this beautiful but tired listed property in Sussex, he immediately saw the potential to restore it to its original glory.  By applying oak features to the interior and exterior, adding a stunning garage development and a new porch, the house acquired valuable additional space and looked even more impressive than before.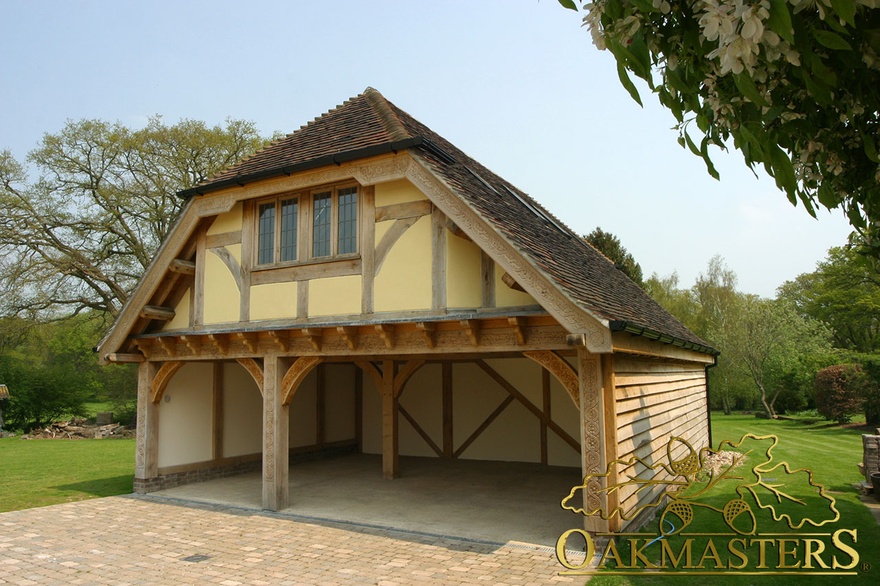 PROJECT BASICS
Design and construction of oak frame garage
Improvements to listed house interior
Addition of entrance porch to house
Construction time: 20 weeks
KEY FEATURES
Garage measuring 142 sq m over two floors with three vehicle bays, upper floor entertainment room and downstairs kitchen and shower
Open porch for house with carved oak posts, barge boards and clay tiles
Ceiling beams
Decorative wall cladding and oak-beam casings
THE BACKGROUND
Homes built in Sussex's rural style are known for their understated charm, but when George and his family moved into this house, they immediately saw its potential to make more of an impression both inside and out. The original part of the house, of stone and oak frame construction, dates back to the 17th century, but over the years many internal features had been covered over and extensions added without much respect for the home's original character. George particularly disliked the bland appearance of some walls and ceilings and the poor first impression the house made with its main entrance, which was through a side door into a utility room.
The garage, which was situated next to the house, was also desperately in need of a makeover, due to its unappealing 1960s look and its leaky interior. George viewed this as an opportunity to overhaul the whole structure and create something impressive and attractive in its place.
THE DESIGN PROCESS
In George's words, he is a 'real fan of country pubs with real atmosphere', so this was the inspiration for this project. In order to achieve the transformation he was looking for, and if planning permission could be obtained, the 1960s garage needed knocking down and replacing with an entirely new oak frame building with an appearance more in keeping with the house. Ideally the new garage would also provide a first floor room to supplement the house with an additional entertaining area.
Aware that the house's listed status might present challenges, George contacted Oakmasters, knowing of the company's excellent reputation not only for design and craftsmanship but also for their expertise in navigating planning processes and modifying designs.  George also appreciated that Oakmasters would offer the wide range of capabilities he was looking for - everything from designing and constructing complete structures such as the large garage through to the smallest cosmetic components such as oak panels and oak beam casings within the house.
Because modifications to the house were to be cosmetic rather than structural, George was able to depend exclusively on Oakmasters' designers to plan the whole project, without any need to appoint an architect. In addition to the oak components for the home's interior, which included substantial ceiling and fireplace beams, Oakmasters designed a handsome and impressive porch to create a sense of occasion when entering the building.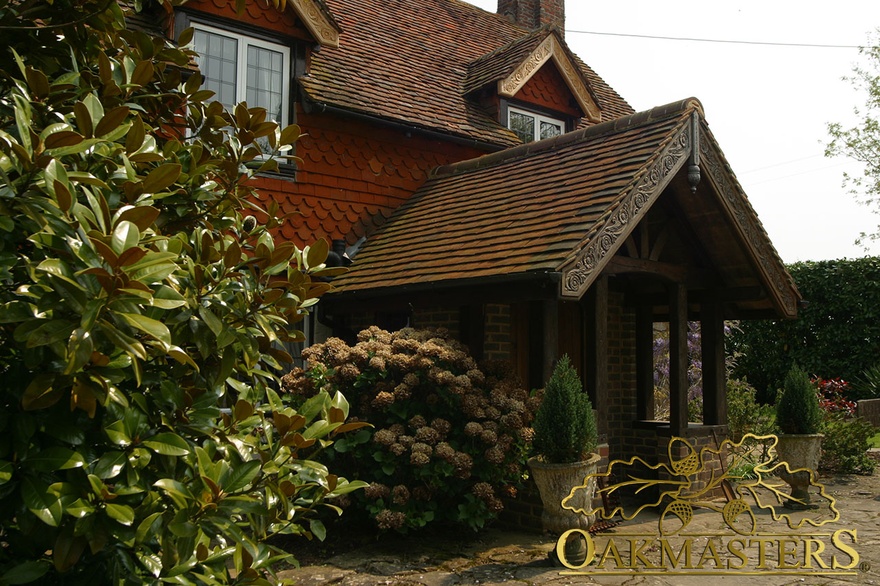 As anticipated, obtaining planning permission for the garage demanded Oakmasters' specialist expertise. After making some alterations to the original design at the request of planning officers, Oakmasters achieved the go-ahead for a two-storey building with three open vehicle bays at ground level and a jettied loft room above. At the rear of the open-fronted ground floor a fully enclosed section houses a small kitchen and shower room. The upper floor features an impressive 71 sq m music and entertainment room.
THE BUILD PROCESS
To match the style of the older part of the house, oak beams were retrospectively fitted in the new wing to the living room's ceiling, which was sagging, and a strong oak post was added to provide additional support to the floor above.
Also in the living room, a large beam was fitted above the stone fireplace. This feature was created in the same style as the stunning walk-in stone-and-oak fireplace George had been delighted to discover when removing render in the older part of the house.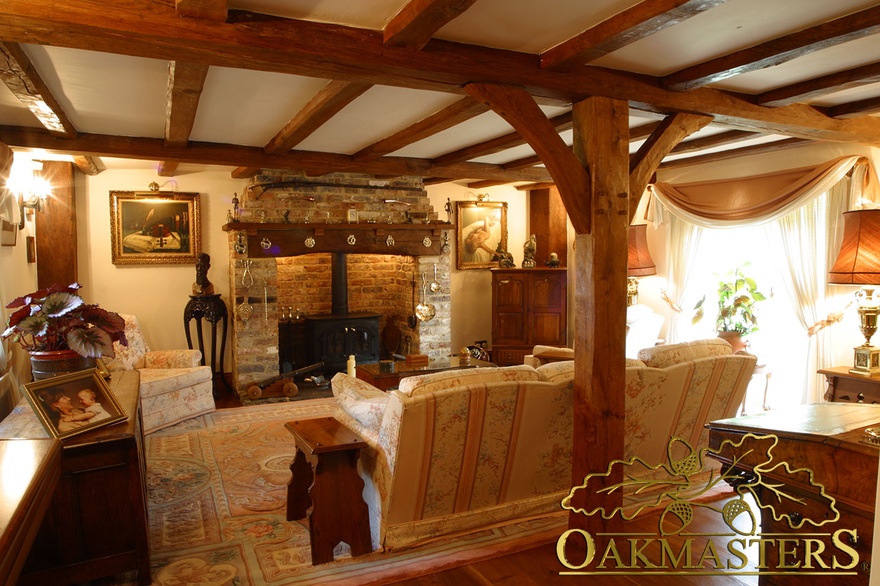 George had the original oak beams sand-blasted, stripping away layers of glossy black paint to reveal the honey-coloured wood in all its natural beauty. Complementing these solid beams, oak beam casings were fitted to mask an assortment of unsightly structures that had blighted rooms throughout the house. To complete the aesthetic tidy-up, Tudor-style wall cladding was introduced to some rooms.
Oakmasters' craftsmanship is clearly on display in the ornately carved details of the oak entrance porch, which emphasises the home's historic character and creates a breath-taking first impression for visitors to the house. Equally impressive is the spacious entertainment room above the garage, with its raised collar trusses and visible oak rafters soaring upwards to a great height.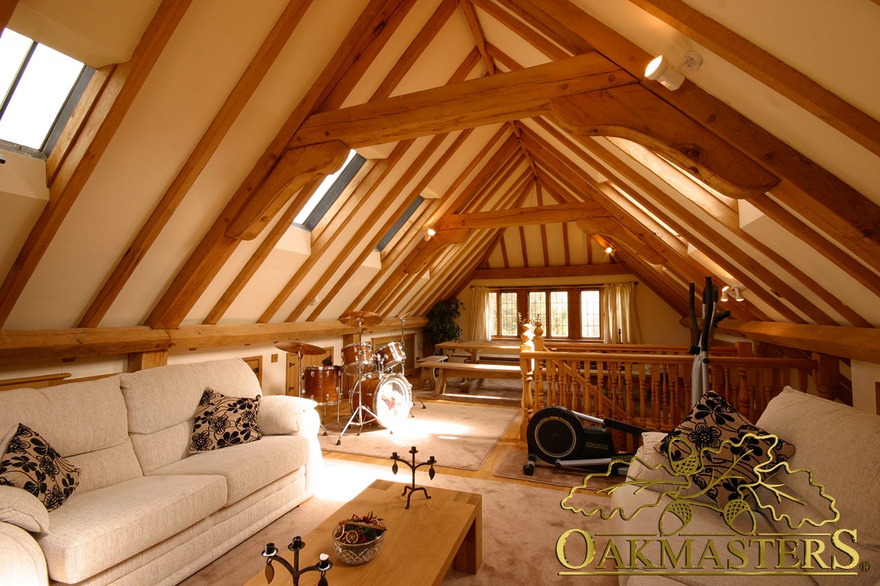 A WORD FROM THE CLIENT
When George talks, it quickly becomes apparent he's a perfectionist, and he talks about his new garage and improved home with enthusiasm. "I love English rural architecture," he says. "This building was crying out to be transformed to its original beauty and stature and I'm delighted that we've really achieved that.
"When I decided we should change the garage as well as making the home improvements, I realised an oak frame building would be the most attractive solution. When I started looking for oak suppliers, Oakmasters offered precisely the flexible service I was looking for: project management, building services, bespoke oak components and a very talented eye for design.
"When the Oakmasters team was working on site, they were a very helpful and flexible bunch and their craftsmen are second to none. You can see that they think everything through; rather than rushing into it and then having to make emergency repairs on site, as I've seen with other builders, they get it absolutely right first time."
Click here to see the gallery for other oak framed garages and here for the gallery of oak porches.
Tags:
beam casings
case studies
garages & outbuildings
oak beams & component
oak porches