Making an Entrance: Complete your home with a beautiful oak framed porch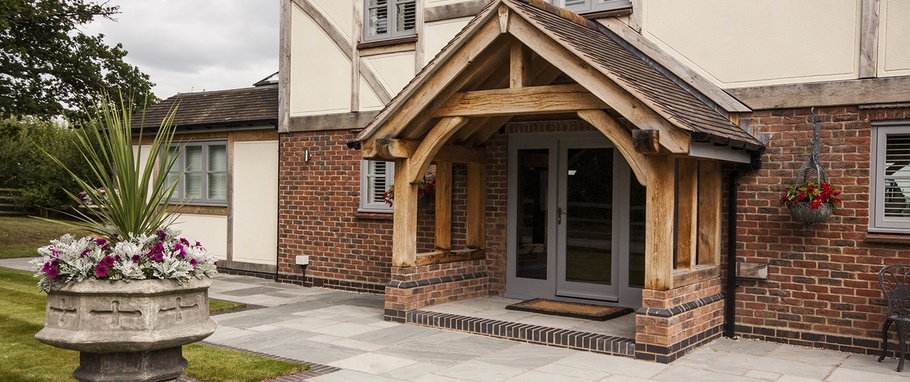 Picture this: you've spent months designing, building or converting your dream home. Inside, everything is perfect, with interior design to die for and rooms full of character and special features. Outside, you may have an ultra modern look or the perfect chocolate box country exterior. So what can make this picture even more appealing?  To ensure your house makes an impact from the very moment your guests approach your property, you should consider the addition of an oak framed porch or entrance feature to your home. Here are a few ideas on how to make the ultimate first impression.
1. Planning your oak porch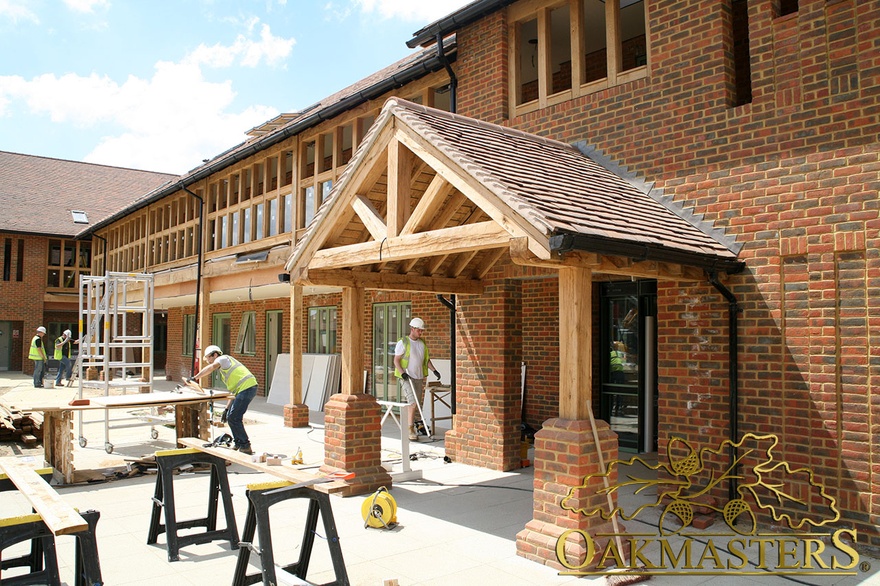 As with any development project, it's vital that you take the time to think through the basics and the logistics before you embark on building an oak framed porch. Do you want a fully enclosed porch, or an open feature around an existing entrance? Will oak be used on its own for the build, to enhance other materials or will it be added to an already established structure? Most porches won't need planning permission but have you checked? All of these questions are vital but can be answered simply and quickly with help from the Oakmasters team and our network of designers, builders, planners and architects. Our oak porches stand out from the crowd because of their expertly handcrafted finish and the loving care and attention that stems from our thirty years' experience of working with oak.
2. Oak – the perfect choice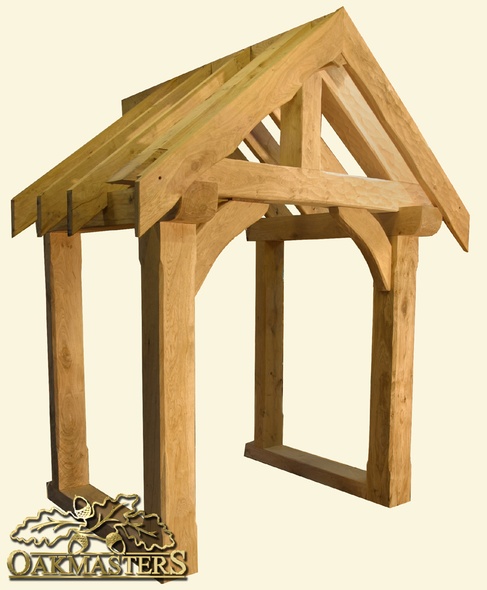 So why does oak work so well for this type of building feature? Firstly, oak is sturdy and long lasting and can withstand outdoor environments, so it's a great choice of material for a porch. Secondly, it looks great. Whether you opt for a rustic cladding look, a simple structure or intricately carved posts or beams, the results are truly stunning. It's important that whatever you choose suits both your personal style and the rest of your property. Your porch is the gateway into your home, and is a great way to say to guests 'this is what you can expect'. An oak framed porch is the perfect way to finish off an impressive property, as it's bold, stands out and makes a real statement. Read our 'why oak' blog to find out more about how oak can increase the appeal and value of your property.
3. Enclosed porches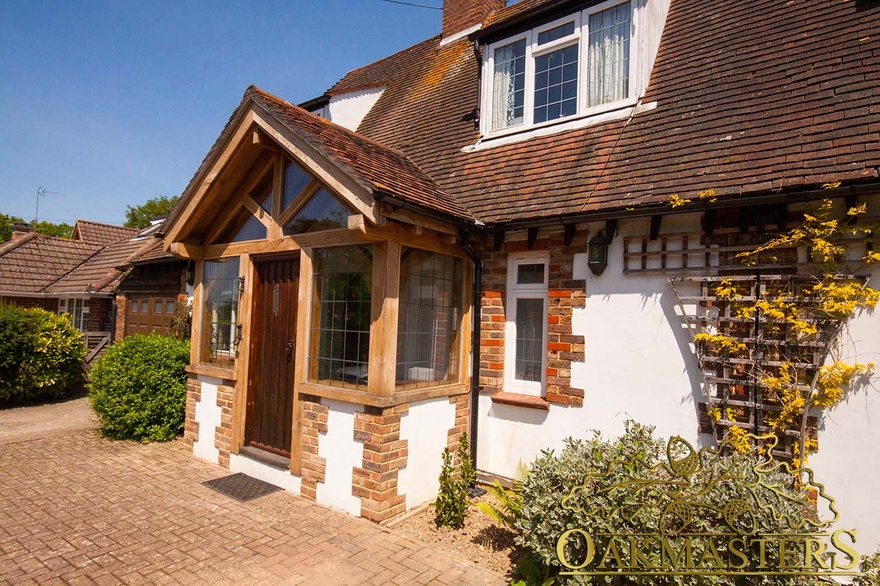 An enclosed oak framed porch is as practical as it is fabulous to look at. An easy way to extend your home and create extra storage, it's an ideal place to keep shoes, coats, umbrellas and of course wipe those muddy boots after a walk in the countryside. Much more than an external entrance, an enclosed porch with an impressive oak frame adds a sense of space and character to any house.
When it comes to the design and style of your porch, the options are endless. King post trusses can be used along with glazed panels to add extra height and let the light in, and brick or flint detail can add a modern aspect to the design. Glazed panels can also be used to add style and character to large porches, ensuring the entrance space is as attractive and light as possible. This option is also a great idea if your porch is being added to a corner or the side of a property instead of the front, making a real feature of your entrance.
Have a look at our enclosed oak framed porch examples to inspire you.
4. Open porches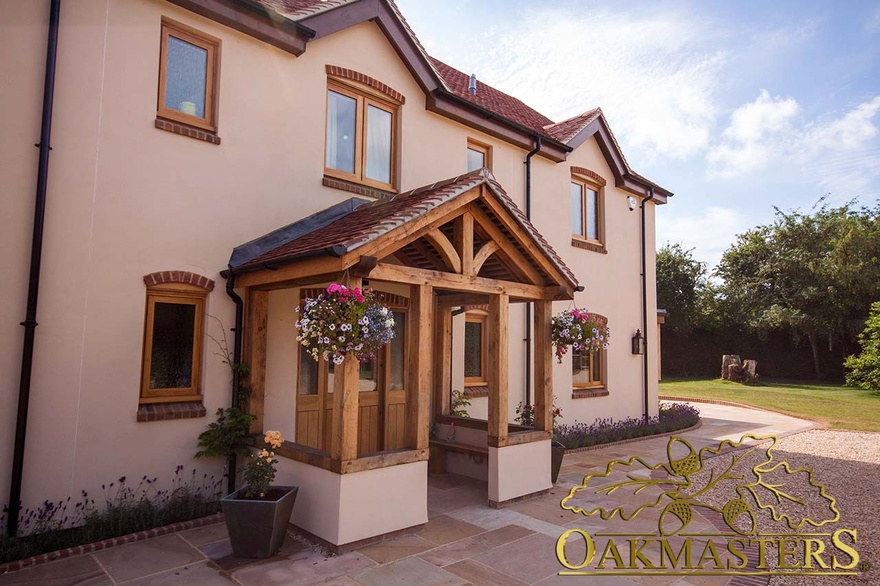 Open oak framed porches add a beautiful sense of grandeur to any property. Although they don't extend the property formally as do the enclosed porches, open structures still ensure that your home has an entrance built to impress. Styles can differ considerably, from large structures with sunken trusses and hand carved detail, to simple frames with brick rooves to extend the original style of your house. Wide beams can be used to complement larger properties, whilst small intricate structures can add character to smaller houses and cottages.
Explore our gallery of open oak framed porches to see what's possible.
Please visit our gallery for further ideas on using oak to build, convert or add character to your home or your next building project. Feel free to contact our friendly team on 01444 455 455 to discuss your ideas and work with us to create something truly spectacular.
Tags:
oak framed houses
oak porches