Great Garages: How to make your oak framed garage as impressive as your property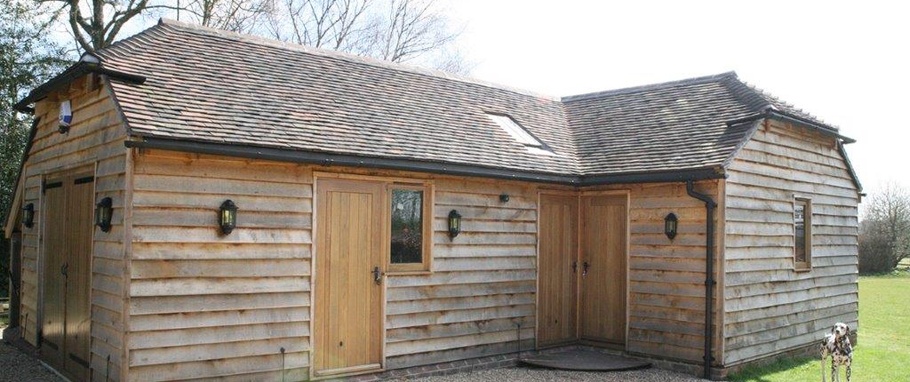 When building your dream home, you want everything to stand out, from the entrance hall to the outbuildings. Instead of simply a space for your car and somewhere to store excess belongings, an oak framed garage can be one of the jewels in your property crown. Whether you keep it as a sturdy home to keep your car dry over the winter months, or develop into an extra entertainment space, there's no reason for your garage to simply be an afterthought. Here are some ideas on how oak can convert your garage from gloomy to glorious.
1. Before you start: things to consider when planning to build or convert an oak framed garage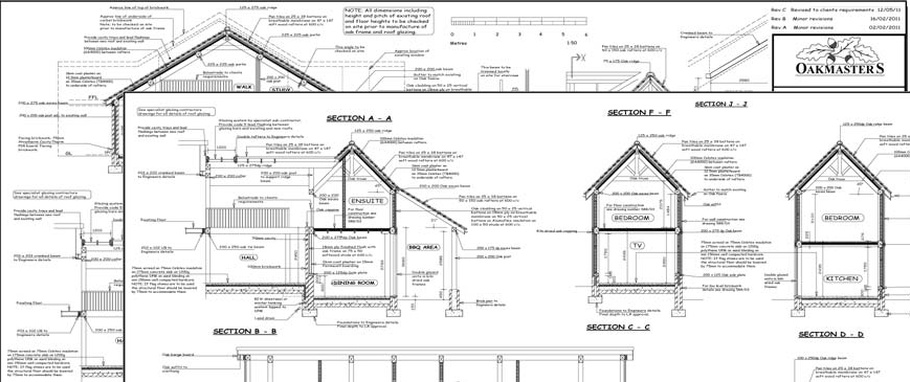 As with any new project, it's important that you take time to consider all your options and potential challenges when planning your oak framed garage. For example, if you would like to spare yourself the trouble of applying for planning permission, consider a building under 4 metres overall height. In many cases of oak outbuildings under 4 metres, full planning permission is not required, but this will depend on your local authority and your individual situation, so it's always advisable to check before you get too far with your plans.
At Oakmasters, our experienced team will be able to help you design your property from scratch, or we can add to your existing plans with details that relate specifically to the use of oak. If planning permission is required, we can assist you with your application, apply on your behalf if needed and help you with any questions and obstacles that arise along the way.  We also work closely with local architects, planners and officials to ensure everything is in order and goes as smoothly as it possibly can for you. Take a look at our information on building regulations and applications to learn more about this process.
 2. Choosing your package: the oak framed garage options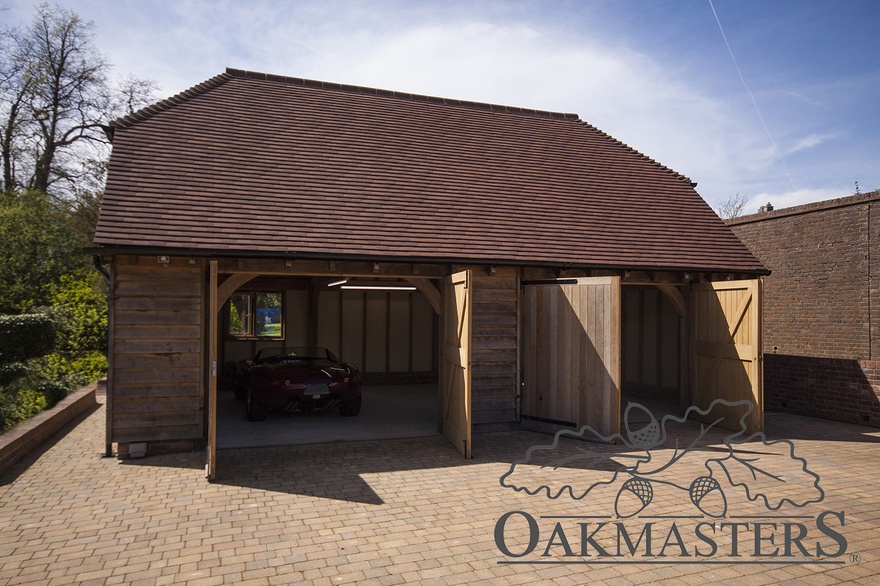 As with all our products and services, we can assist you in designing and building your garage in many different ways. If you have already engaged a building contractor, you may wish to order a pre-constructed kit that we will hand finish at our premises, disassemble and ship to your site for assembly, along with full instructions for your building team. If you're working on a big project or are located near us, we can supply and assemble the garage on site for you, making sure we fit in with your overall project timings.
If you don't have a building contractor in place, we can also help you with the complete build, putting you in touch with our network of trusted and reliable contractors and working with them to design, supply and assemble your garage frame. Our guide to the different types of oak framed garage packages we provide will help you decide what's best for you.
3. Think big: using your oak framed garage for more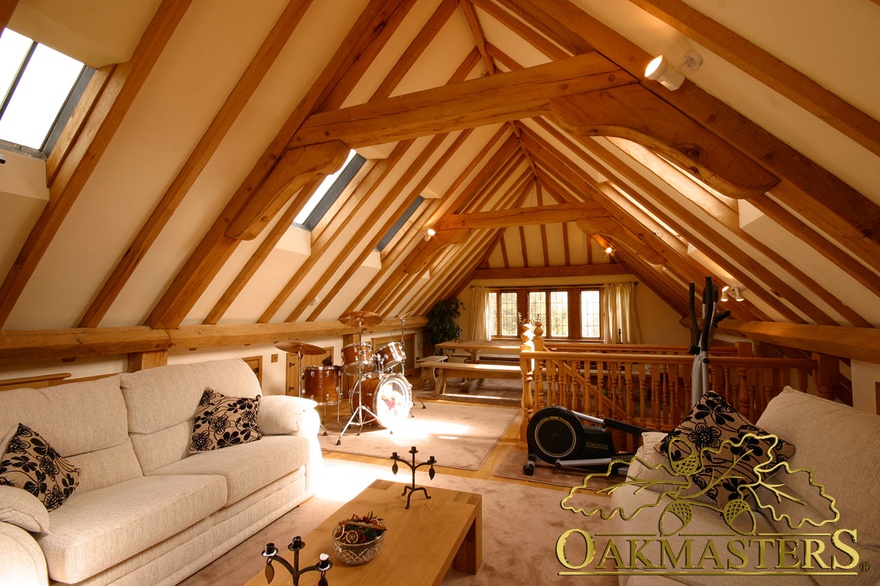 When building or converting an oak framed garage, think about what you want to use the space for. You may purely want a safe, dry and expertly crafted building to house your vehicles. Alternatively, for added wow factor and to maximise the space, you may want to consider adding a mezzanine level, incorporating an office, a B&B, or even creating an extra entertainment space for your family and friends. One of our client's fantastic three bay garage in Sussex was converted into a multifunctional building complete with an upper floor entertainment room and a kitchen with shower room downstairs. Take a look at the case study and be inspired!
4. Match your style: bring your oak framed garage in line with your house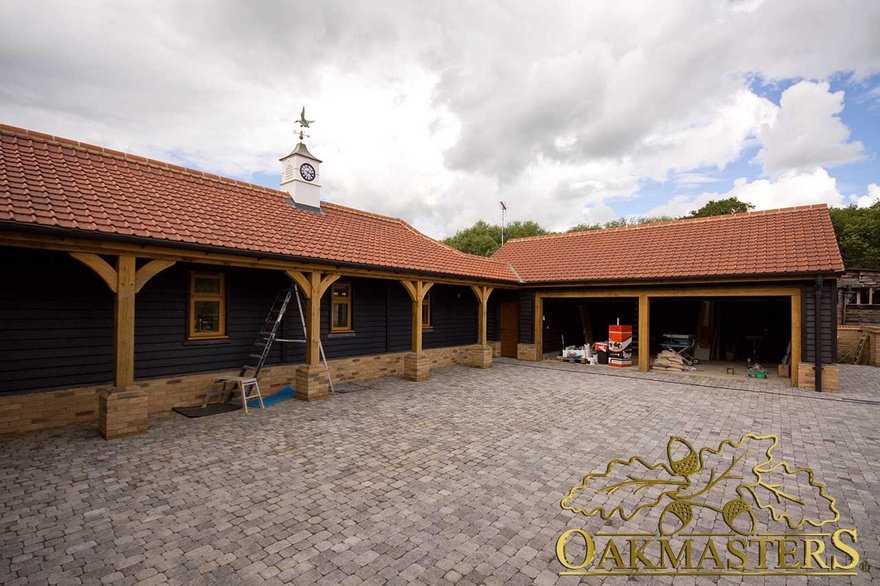 If you have a very stylised property, whether it's traditional and rustic or ultra-modern, consider designing your oak frame garage to be a perfect partner to your main house. We can help you with everything from the initial designs, to choosing materials that match your existing property and adding final flourishes and features that ensure your aesthetic is continued from building to building.  From hand carved details to ornate posts, beams and stunning glazed panels, oak is a fantastically versatile material and can be used to create your own bespoke style throughout your property.
To illustrate this point, here is a perfect example of how we extended a property into a garage complex. Take a look to see how we could help you with a similar project.
Visit our main gallery for further ideas on how oak can be used to enhance your home or your next building project. Don't hesitate to contact our friendly team on 01444 455 455 to discuss your specific needs and start turning your dreams into reality.
Tags:
building with oak
case studies
garages & outbuildings
oak framed houses