Building your dream oak framed house – Part 3: What to expect during assembly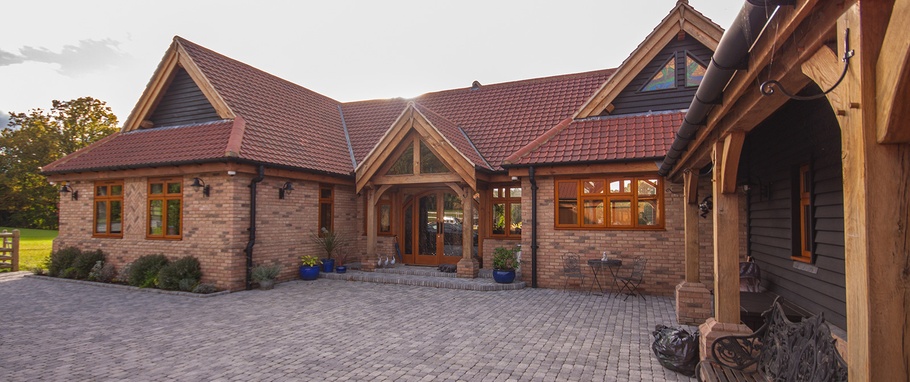 In our previous blogs, we talked about what to expect during design and production stages of an oak framed house. The timber frame kit for your dream home has now been delivered to your site and the genuinely exciting bit is about to start. What happens next?
Structural timber frame assembly
The exciting day of having your house delivered to site finally arrives. We will have been in touch to arrange the best delivery date, consulted with you on access, required lifting equipment and labour for the day, and will have invoiced you for the next part-payment.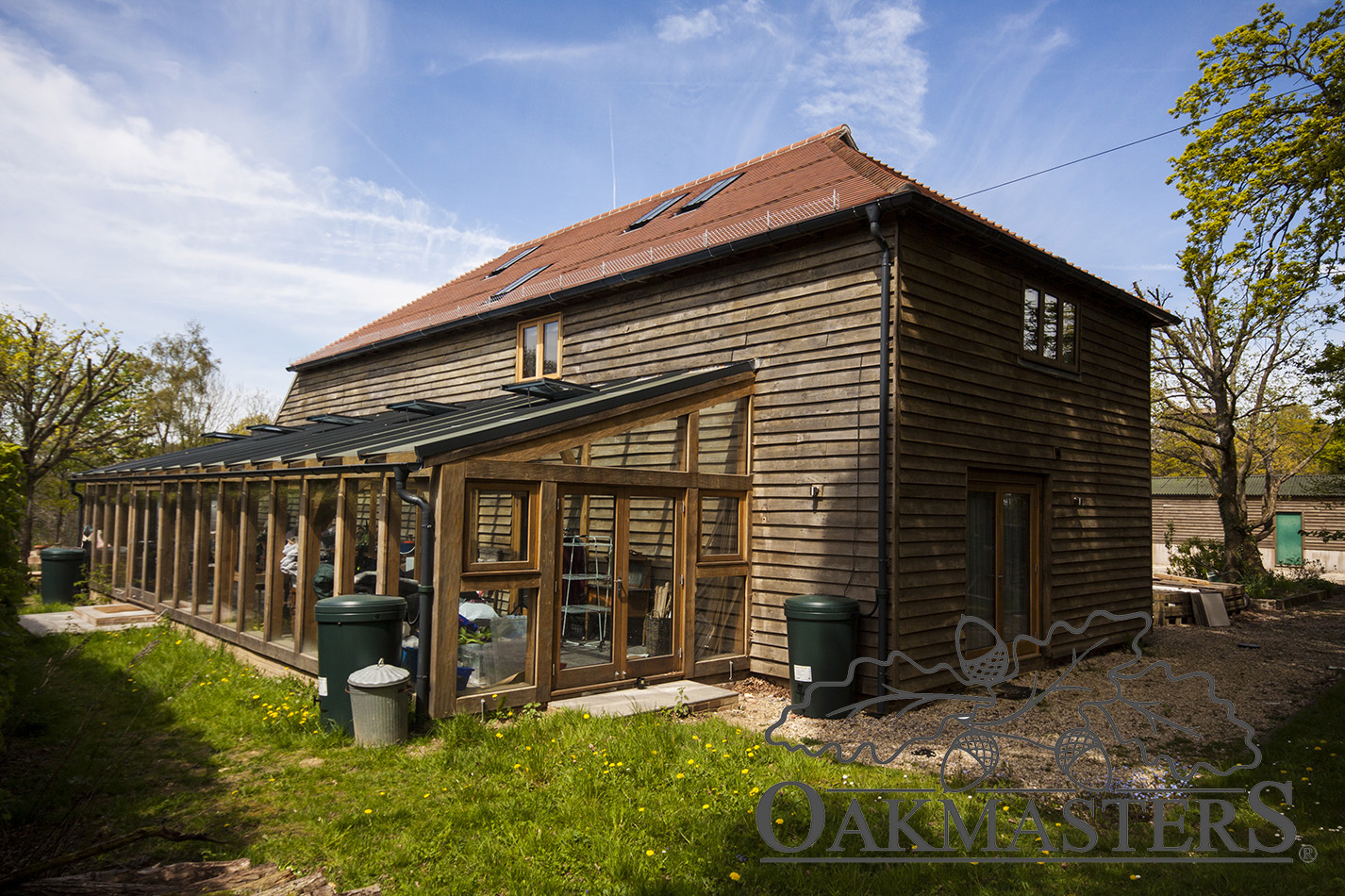 Seeing your house delivered in a kit can seem a little underwhelming, but as soon as our assembly teams put their hands on the seemingly random pieces of oak the magic starts happening. You will be amazed at the speed your house will suddenly start taking shape. This is an exciting stage and you will probably find you want to visit your building site more often now, as every day brings about a huge amount of changes.
Depending on the size and complexity of your house design, it is likely the timber will be delivered in more than one delivery and that cranes and other lifting equipment will be required on site to hoist large oak beams or roof trusses into position.
During this phase, our team will fix and assemble all the oak beams and posts, starting with the ground floor sole plates, working their way upwards and finishing with oak and softwood roof elements. It usually takes about 6 weeks to complete, but may take longer for larger houses, if there are adverse weather conditions or the team have encountered a problem that needs solving. We also invoice for the final payment once the structural frame is up.
Wall build up
The next step is to build up the walls. Many self-builders decide they want their building contractor to do this part, but we are also experienced and well positioned to carry out parts of this step. There are two main types of wall build up: conventional and SIPs (structural insulated panels). Each type has a different process, uses different materials and takes a different amount of time. Costs and speed of build significantly contribute to the decision-making process as to what type of wall and who will build it. This phase takes approximately 6 weeks, but time can be saved in the previous step by choosing SIPs.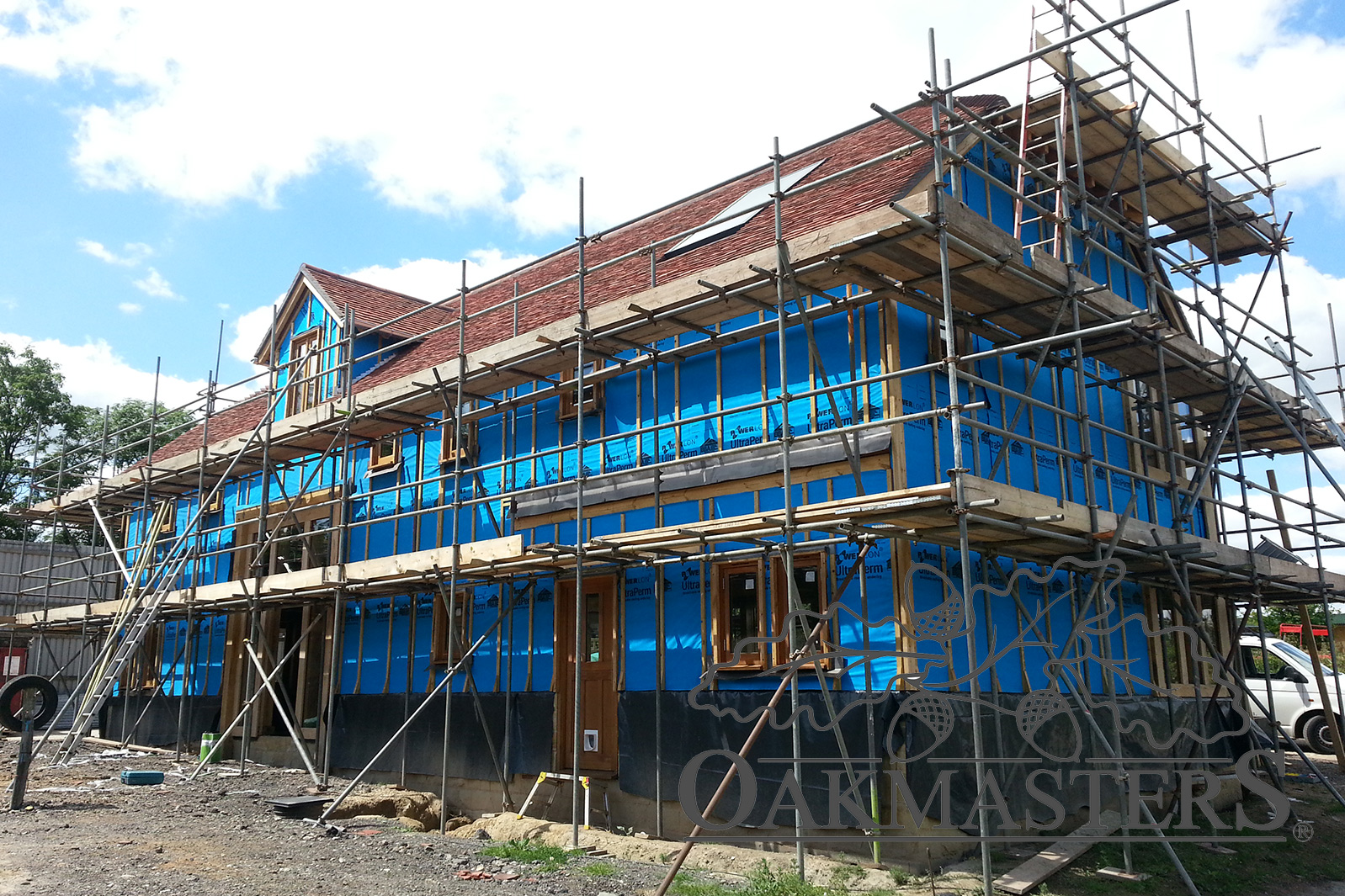 In conventional wall build ups, builders create a softwood studwork system within the main structural frame, then apply ply sheathing, breather membrane, external insulation and batten on the outside of the frame. External elements of the wall, such as render, brick, timber cladding or other materials come after that.
If you have chosen SIPs for your house, these already contain all the elements of a building regs compliant wall within neatly prefabricated panels. These will have been produced off site, while the frame was being assembled. SIP panels will be delivered just in time for installation and installed by an external specialist team. SIPs can also be used for roof build up by the same team, who will simply carry on until your whole house is covered. The benefit of SIPs is mostly in the speed of assembly. SIPs also play a structural function, so you save time spent on building softwood rafters and studwork system.
Roofing
The frame is up, the walls are built, it's time for the roofing contractors to install the roofing materials of your choice. Clay tiles have always been a popular choice for oak framed buildings, slate is also a great match, particularly with more contemporary designs.
Roofing stage takes approximately 3 weeks, but again, the overall timing depends on the size and complexity.
Timber Joinery and glazing
Once the roof is on, the house is considered to be 'dry' and ready for joinery and glazing. To complete this stage, your window and door suppliers will install your windows. Should you order timber joinery through us, our assembly team, will return to site after the roofing contractors to install timber doors, windows and timber stairs, if these are part of the project. Joinery is usually manufactured off site and arrives to your site fully glazed, ready for fitting.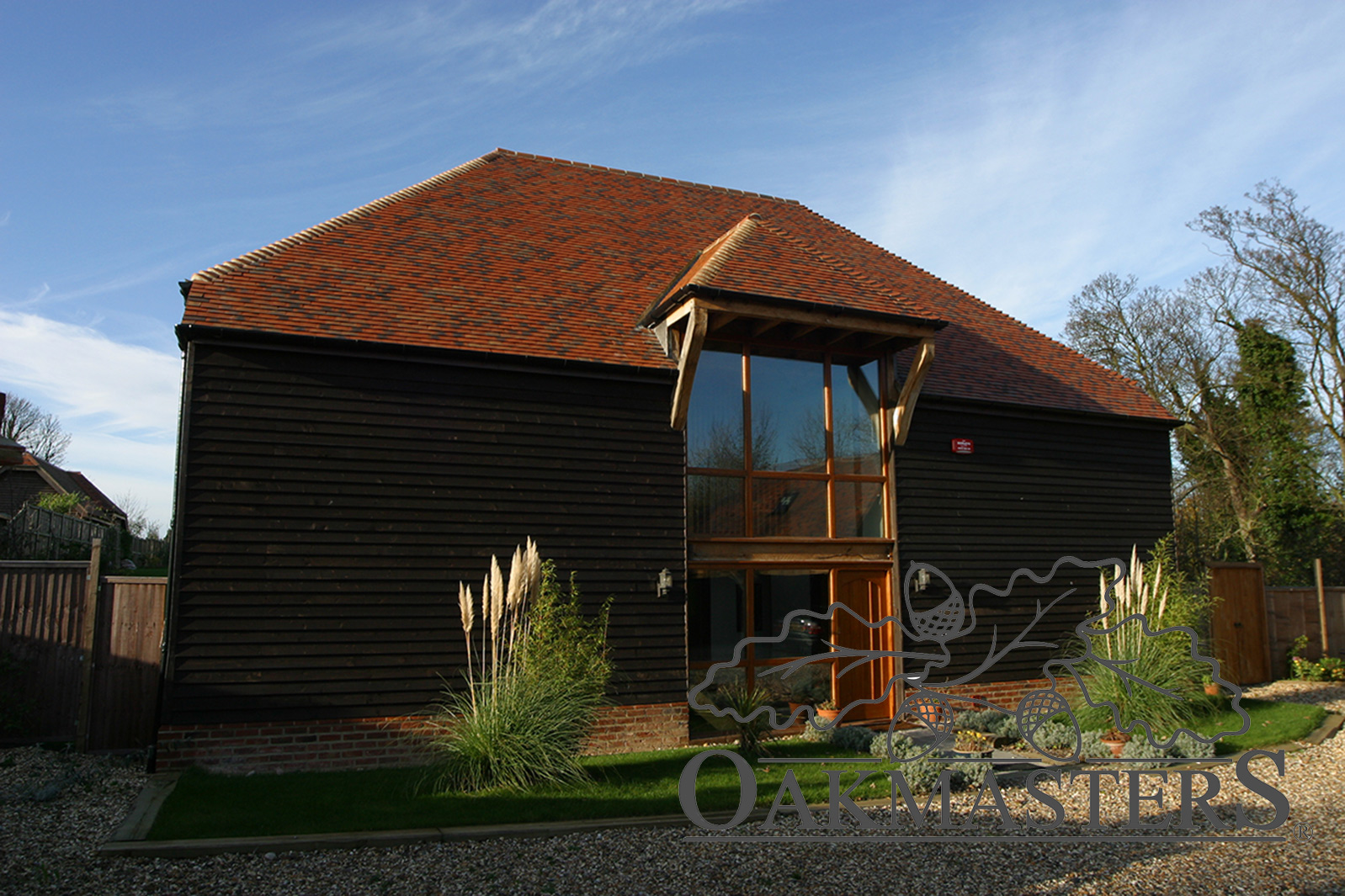 The joinery needs to be fitted as soon after the delivery as possible, and you or your builder will need to coat it in protective coating such as OSMO or similar immediately after installation. Timber joinery is only part-coated and will pick up moisture quickly if stored on site or left uncoated. This can result in swelling and damage. For this reason, it is critically important for the roofing contractor or yourself to be in constant contact with our project management team or window suppliers throughout the roofing stage, to allow us to time the delivery as best as possible.
Our team will also install encapsulated glazing units, if they are part of the project. This is a delicate and time sensitive operation, as large glazing units are easy to damage and need to be installed on the day they are delivered. They also need to be sealed with our encapsulating system and capping at the same time, to ensure the system is water-tight.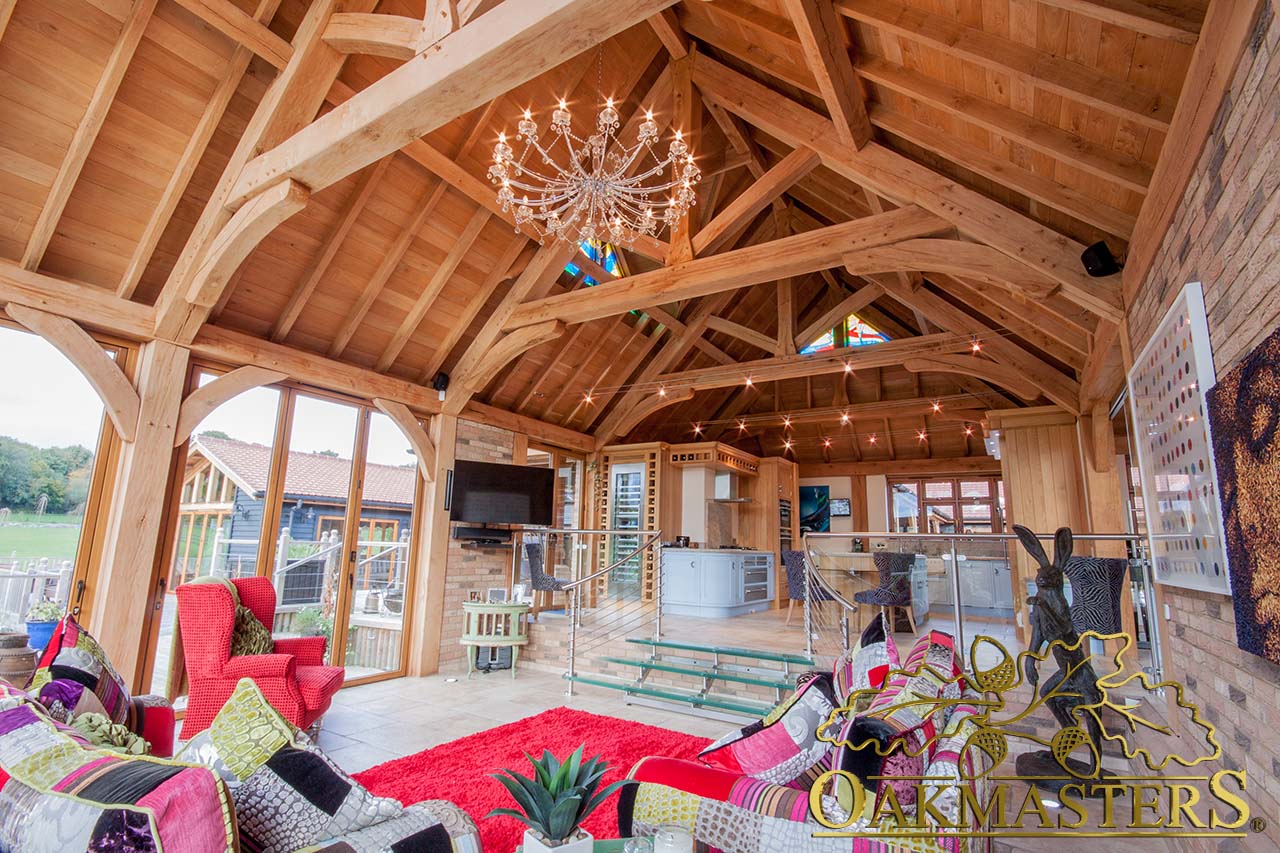 This stage can take up to 3 weeks, depending on complexity of the design and number of units. Once finished the project is considered complete and we will request you to pay the final outstanding amount on the project. Once this final payment clears, we will activate our 12-year guarantee on the frame and encapsulated glazing.
At the same time, we will take a walk through the completed project with you, agreeing a potential snagging list and an approximate time frame, in which we will remedy any snags.
Once this is done, your building contractor will continue with the remaining building work as per your plans.
Snagging
This process describes a set of remedial actions that we will have agreed during the final walk through. It usually involves one or two visits to your site by a member of our team to tighten joinery, fix anything that may have been left off, or make good of any areas that may have been overlooked during the build process. In most cases, this is a quick and simple process, usually finalised within a week.
To find inspiration, why not visit our oak framed houses gallery. If you are thinking about building an oak framed house, do give us a call. We are always happy to have a no obligation chat, give you an idea of ballpark figures and talk you through the process in more detail. Read up on what happens before assembly, during design and production stages of your timber framed house.


Tags:
building sustainably
building with oak
case studies
encapsulated glazing system
help & advice
oak framed houses
oak roofs & trusses
self build houses