Case study: The making of an oak framed home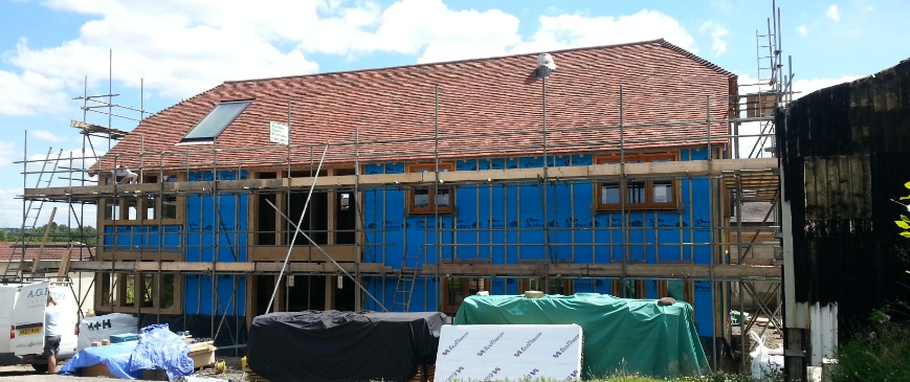 Oakmasters managed this ten month project, right from its initial concept. We created 3D sketches for concept ideas, helped Mr Childs with his pre-application to the planners, submitted a full planning application and then carried out all the detailed design work for construction, including engineering drawings and thermal calculations.
The frame was crafter at our mill in Sussex and shipped to site. Our team then assembled the oak frame, with softwood intermediate timbers. We clad the walls with insulation, structural ply sheathing and oak cladding.
To record the progress of the project, we created a time-lapse video. Take a look to see the project coming together!
We designed a frame that was perfect for Mr Childs' needs, giving spectacular features and definite wow factors. We also knew where that was potential to conserve on budget, whilst providing a quality finish and customer service, from design right through to delivery.
We think it's important to not just give our side of the story, but to hear what our customers have to say, from their perspective. We managed to catch-up with Mr Peter Childs once the project was complete to see what it was like working with Oakmasters. Take a look at what he had to say:
Why did you choose Oakmasters for this project?
I was looking for someone who could build my timber frame. I saw an Oakmasters advert in the newspaper and knew I wanted a local company, which is why I first got in touch. I must have walked in there two years ago, so it was a long process, but Oakmasters have been brilliant throughout - I can't fault them.
I was really made to feel like their best client. I could call them any time, or pop into their offices without any notice, which are only 15 minutes away. I was always made to feel welcome, which was fantastic. That's what you want!
What was it like working with Oakmasters?
They are a relatively small company and there's a great family feel. Everyone takes responsibility and you get to know everyone. They get the right people working together and everyone was interested in the project.
Jenny, the designer, was fantastic. She helped incorporate my ideas into the plans and never got bored. You want a rapport with the company who are building your property and at Oakmasters, they get to know you and you are definitely looked after.
The best part of working with Oakmasters was being able to get involved. I put the effort into going down to the workshop to see the oak being finished. Rod and Martin talked me through the process and it was clear they see it as a beautiful craft rather than just building a property.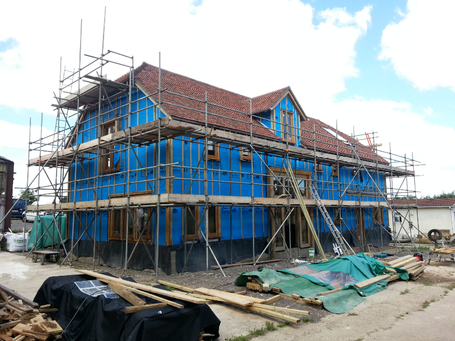 If you're planning to build your own home, why not get in touch with us at Oakmasters? Call us on 01444 455 455, where we have a helpful team who can answer any of your questions. We also have lots of ideas and inspiration via our website.
Tags:
case studies
oak framed houses
self build houses