Top 10 tips for designing your bespoke pool building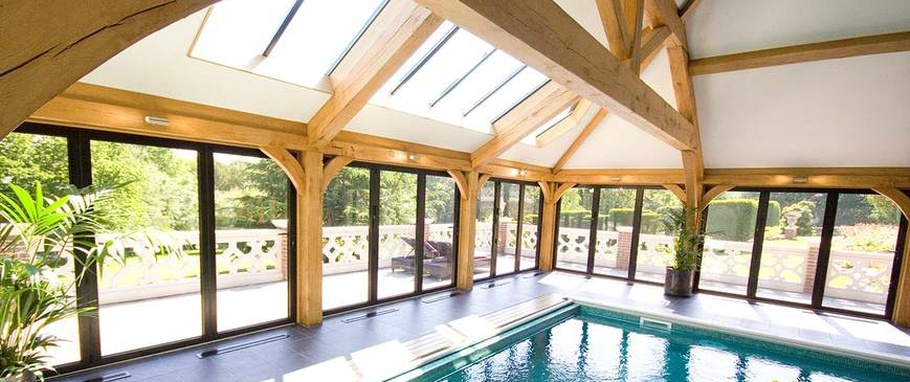 We've been lucky enough to have an amazing few weeks of sunshine across the UK, with hopefully more on its way. With blue skies and hot days, many of us dream of having our very own swimming pool in our back gardens, to relax and cool down in.
But if swimming outside in the freezing cold British winter isn't your cup of tea, then you may want to consider bringing the pool indoors, allowing you to use it all year round. Indoor swimming pools are becoming increasingly popular, not only for their year-round benefits, but they require a lot less maintenance and cleaning compared to an outdoor pool and can be an impressive addition to your home.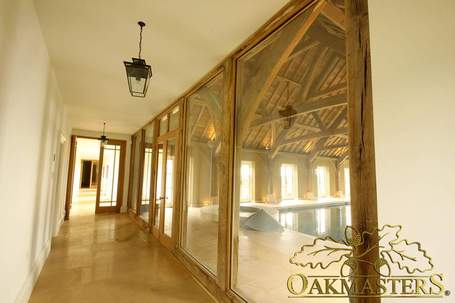 At Oakmasters, with over 30 years of experience, we have worked with many customers to help make this dream a reality, building beautifully bespoke pool buildings that provide functionality as well as elegance and style.
When considering a pool building, there's a lot more to think about than just the pool itself. Jenny, our in-house designer, shares her top 10 things to consider:
1. What size would you like your pool to be? Make sure you take into account the amount of space needed to walk around it.
2. Do you want your pool room to be more than just a pool? Consider moving your swimming pool over slightly, giving it a wider walkway on one side where you could add a seating area.
3. Do you want your pool room to have any other facilities? Consider adding a shower, toilet and some cupboard space for storing towels.
4. Do you want your pool room to have a sauna? This can help to add to the relaxing experience.
5. If you often entertain friends and family, why not add a kitchenette area with a sink and a drinks fridge?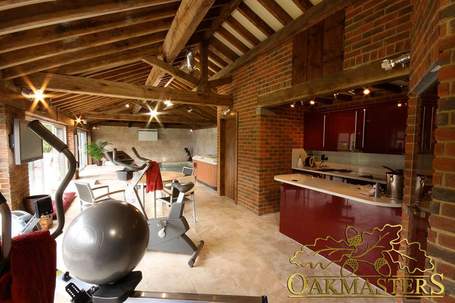 6. Do you want additional seating? Pool buildings are normally quite high and so one option is to plan in a mezzanine over the changing rooms.
7. Consider adding sliding or folding doors at one end of your pool room. These can be opened up onto your patio on a hot sunny day, blurring the lines between inside and outside, whilst making it a much more versatile space.
8. To allow natural light to flood into your pool room, consider adding roof lanterns.
9. Do you want to be able to access your pool from within your home, or do you want it to be built as a separate entity?
10. Consider the style of your pool room, from rustic and traditional to sleek and contemporary. Alternatively, you may want it to feel like it is a natural extension of your existing home and the surrounding space.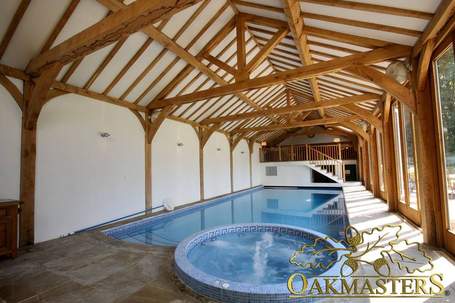 As you can see, there is a lot to consider. However, whether you're looking to create a pool for part of a healthy regime, or just as a place to relax and unwind after a hard day at work, at Oakmasters, we can help design and build a space that is right for you and your lifestyle.
If you would like more ideas and inspiration, take a look at our project gallery, browse through our Pinterest board, or discover this beautiful pool room case study from rural Sussex.
If you have any questions about building a pool room, or building with oak, please get in touch. We'd be happy to help! Call us on 01444 455 455. 
Tags:
help & advice
oak pool buildings