Professional Advice: Myths about Using Green Oak in Construction - Busted! Part 2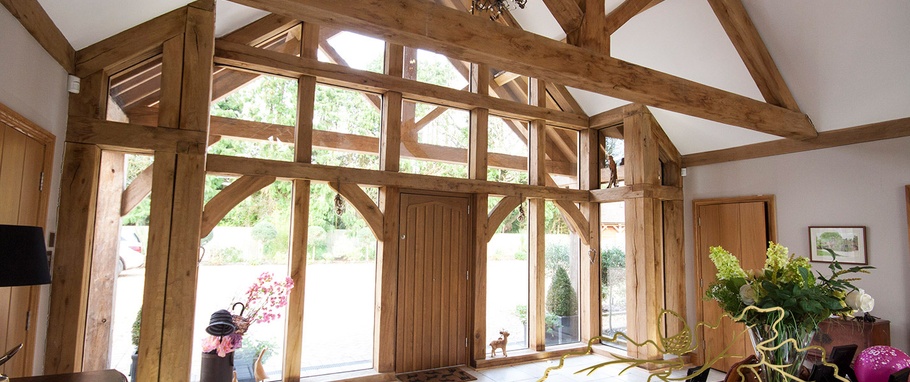 In a previous blog we looked at myths surrounding the use of oak as a building material. Here we examine misplaced concerns about oak in construction, design and maintenance – and see how wood is good!
Myth 1: Oak-framed buildings aren't affordable
If you like the idea of an oak-framed building but are doubtful about affordability, we provide bespoke solutions for widely differing requirements, tastes and budgets. Our free, no-obligation consultancy service will help you establish what's affordable, what's necessary and what's simply nice-to-have.
An oak frame will typically account for about one-third of the total build cost, depending on the building's style. It's true that oak-framed homes cost more than the standard buildings turned out en masse by developers, but it's worth remembering that you get what you pay for in individual style, superior beauty and craftsmanship – and, when the time comes, in the property's resale value.
You can reduce costs if you have to by not using oak exclusively. Because oak can be used attractively in conjunction with other building materials, you can be selective about where and how the oak is used and yet still achieve the wow factor.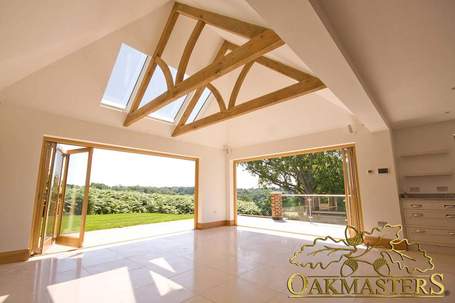 Myth 2: Oak frames are only suitable for old buildings
On the contrary, oak frames can easily be incorporated into contemporary homes and are increasingly popular with new builds. Because the oak frame provides such a strong exterior shell, interior walls don't have to be load-bearing, meaning they can be located within the building for aesthetic effect rather than structural reasons. This allows the creation of large open spaces for modern open-plan living, uninterrupted vistas through the building, stylish mezzanine decks, and impressive double-height spaces. The strong frame also allows generous use of windows to fill the house with natural light.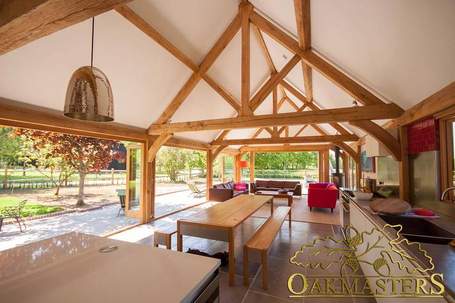 Myth 3: Oak is difficult to integrate with other materials
Again not true. Oak framing can be combined with other building materials and technologies to form a solution which is attractive and practical. That's why, as well as seeing oak-frame extensions to conventional buildings, you'll also see oak combined with bricks, concrete, steel, and great swathes of glazing.  
To give another example of this most traditional building material being compatible with the most modern, oak frames can be designed and built specifically to integrate with structural insulation panels (SIPS). The oak frame provides the primary structural strength and the SIPS fit on the outside of the frame and the roof to create an energy-efficient building envelope.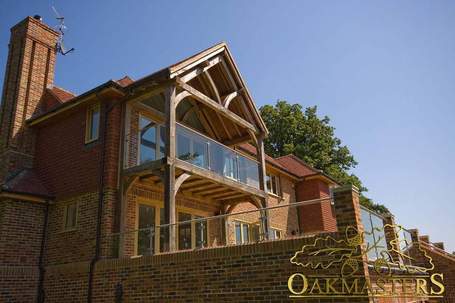 Myth 4: Oak frames need more maintenance than hidden frames
As wood's natural habitat is the great outdoors, it is naturally weather resistant. Oak is highly resistant to insect and fungal attack because of its high tannin content and because it is a naturally breathable material, which allows moisture and humidity to pass freely through it. It's for this reason that oak mustn't be covered in cement (rather than lime-based) render or synthetic paints.
Insect attack is extremely unlikely in the British Isles and if wood is to rot it must have moisture content as high as 30 to 60 percent. (There is, despite the term, no such thing as dry rot.) Where exposed to sun and rain, the moisture content of the wood's outer layers will fluctuate from 12 to 20 per cent. The moisture content of green oak will eventually stabilise at 12 to 14 percent in an unheated, protected environment and at seven to 10 percent and in an internal, heated environment.
This means the maintenance requirements are no different to any other building. The primary need is to keep gutters and downpipes unblocked to prevent water or dampness from penetrating the building's envelope. Also like any other building, it's inadvisable to make modifications that introduce inappropriate external cement renders or high ground levels to the building.  
Oak frames don't need the application or maintenance of a surface finish, though you might choose to oil or wax the frame to alter or maintain its hue. Over time, sunlight will turn the external timbers an attractive silvery grey while oxidisation makes the internal wood more honeyed.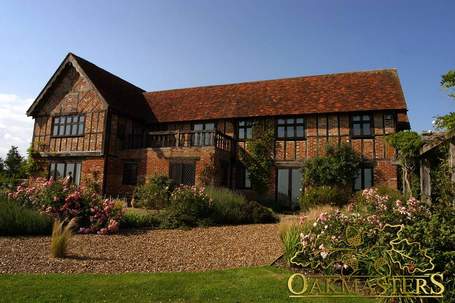 Myth 5: There are no guarantees oak will last
Our answer about maintenance should have shot down the myth that oak frames don't last. (Not to mention all those centuries-old churches and manor houses still standing throughout the United Kingdom!) As to guarantees – at Oakmasters, where our frames are independently certified by structural engineers, we guarantee all of our products structurally for 12 years.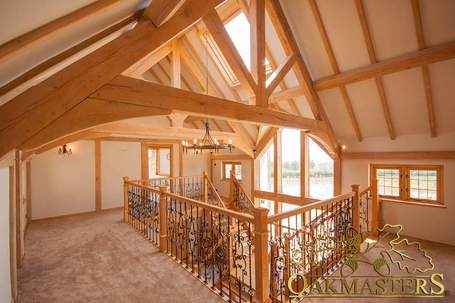 For more information, call us today on 01444 455455 or download one of our brochures. 
Tags:
help & advice
oak framed houses