Case Studies - posts tagged "case-study"
Case study: Oak framed orangery with dual aspect timber glazing
Posted 31st Jul 2017
A rejected planning application turned into an opportunity for the owners of an 80-year-old cottage to make the most of its stunning South Downs location. They opted for an oak framed orangery which has added more than fifty percent to the cottage's floorplan, while timber bi-fold doors open the generous family living space out into the countryside. Natural oak beams bring these two worlds together, while adding warmth and definition to the remodelled interior.
Read more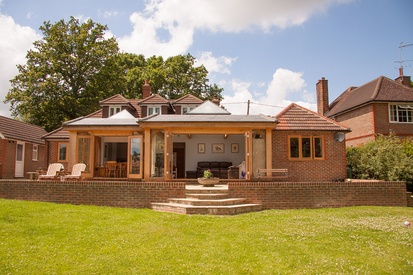 Case Study: Oak porch and glazed oak frame extension on a townhouse
Posted 27th Jun 2017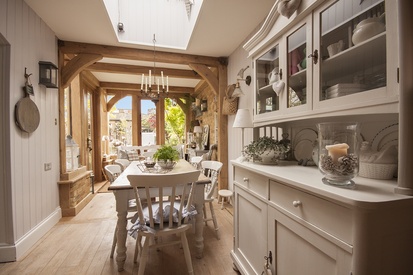 London couple add an oak porch and opt to build a dining/garden room oak extension on their townhouse, which would let in plenty of light and make generous use of oak for a warm and natural feel.
Read more
Case Study: Three-Bay Garage, Entrance Porch And Home Enhancements
Posted 22nd Feb 2017
Always a fan of traditional oak-framed buildings, when George bought this beautiful but tired listed property in Sussex, he immediately saw the potential to restore it to its original glory. By applying oak features to the interior and exterior, adding a stunning garage development and a new porch, the house acquired valuable additional space and looked even more impressive than before.
Read more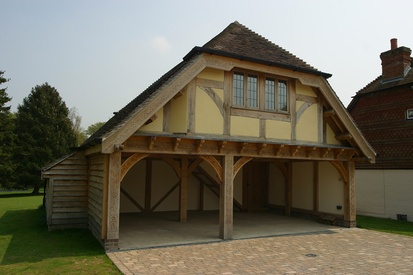 Contemporary oak barn conversion case study
Posted 18th Nov 2016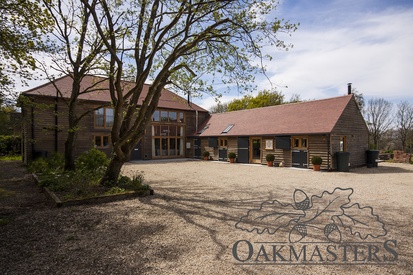 Rob and Jo built an agricultural oak barn some years ago, in the hope that one day they might gain permission to convert it into a house. Their patience paid off and now they live in a stunning oak framed home. Being a traditional oak barn design, the house is full of character, but at the same time features all modern creature comforts to the highest spec.
Read more
Organic Oak Barn in Sussex
Posted 30th Aug 2016
Having bought a plot on the edge of a national park with derelict farm buildings, Peter approached Oakmasters to design his dream oak framed home, help him secure the planning permission and supply and assemble the oak frame.
Read more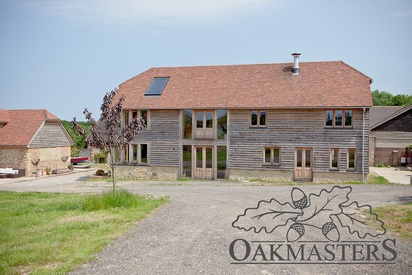 Case study: Contemporary Glazed Extension in Surrey
Posted 15th Jun 2016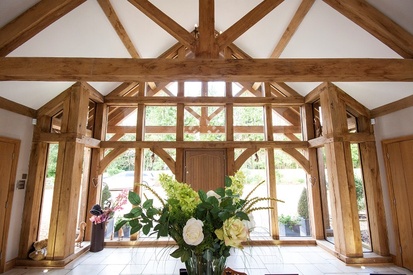 Set in the beautiful Surrey countryside, this extension exemplifies sophisticated design and the way to combine traditional oak framing with modern glazing methods.
Read more
Case study: Modern country manor house in Sussex
Posted 18th May 2016
Set in 20 acres of beautiful Sussex countryside, Peter's modern manor house is the oak framed home he always dreamt of. Built to Oakmasters' design following Peter's specifications, it is a fine example of modern oak framing techniques.
Read more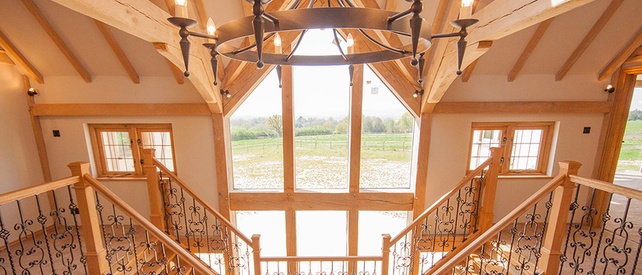 Case study: Oak Frame dining room extension
Posted 25th Nov 2015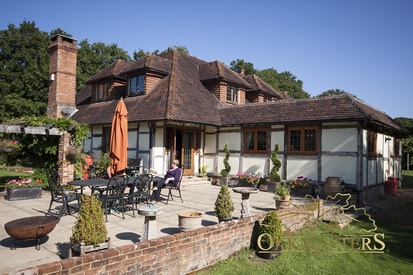 When Susie and Paul decided to add a dining room extension to their period style country home, they were looking for an inspired idea. They knew they wanted an oak frame and they knew they wanted the extension to match the reclaimed oak cladding on the existing house. They were just looking for that image that would make them go: 'This is the one we want.' They found that inspiration in Oakmasters gallery and now, we caught up with them to see how they are enjoying their completed new dining room.
Read more