New Year: New Ways to Add Value to Your House Using Green Oak
If you are thinking of putting your property on the market in 2016 or would just like to improve it for the long term, using green oak will prove a worthwhile investment. From building an oak frame extension and replacing a roof to simply adding an oak beam to your fireplace, the warm, natural tones of wood will enhance any home - be it period or modern.
Large-scale projects


 1.      Invest in a new oak roof
Oak trusses carry the weight of the upper floor or ceiling, transferring the stress to the wall. Exposed beams and supporting trusses can divide a room up and add to its depth, while a king post truss (a central vertical post working in tension to support a beam below from a truss apex above) and vaulted ceilings create a dramatic visual effect and a sense of height, space and luxury. 
At Oakmasters we can guide you through various bespoke oak trusses, wall plates, purlins and ridge beams and advise you on which would best suit your home.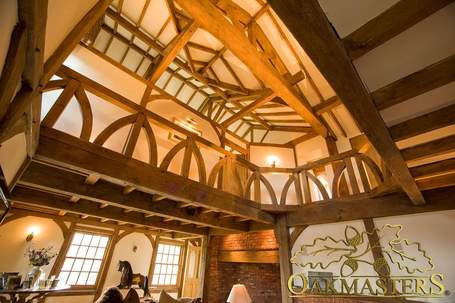 Image: A grand oak framed building with exposed oak ceiling beams and stunning mezzanine gallery 


 2.      Extend your home
Extending the square footage of your home almost always adds value and oak is the ideal choice of material to use as it works well with both traditional and modern properties. An oak framed extension will provide a useful additional living space and can allow you to remodel your home. It is also useful to know that when building oak framed buildings and extensions there are some generous exceptions under your Permitted Development (PD) rights, so you may be pleasantly surprised to find that planning permission may not be needed. 
The key to a successful extension lies in a clever, inspirational design. Oakmasters is fully equipped to offer a competitive design service, which you may find useful; we have a wealth of technical knowledge and experience to draw from and use the latest in 2D and 3D CAD systems. We also have close affiliations with a number of architects who work with us to provide solutions for projects or we can work with your own design team. 
Be bold! Oak is a beautiful and versatile material that lends itself to a myriad of design options which enhance both period and modern homes.  For example, the double height vaulted and glazed oak frame extension below definitely adds a 'wow' factor to this new build house.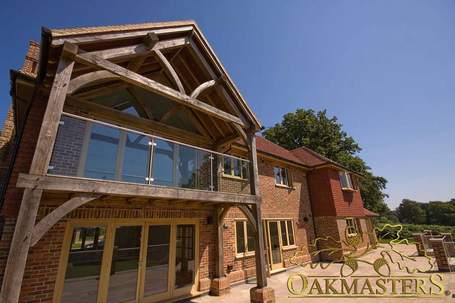 Image: A beautifully crafted and unique oak frame extension 


3.      Build a conservatory or garden room
A conservatory is a popular way of adding extra living space and can potentially increase the value of your home by up to 5%, according to the Royal Institute of Chartered Surveyors (RICS).  However, it is essential that the conservatory is well-designed and constructed so it is a room that can be used all year round - otherwise it might actually reduce the value of your property. Oak is a premium product that can really add value to a conservatory, as it will 'break up' the glazing, create a more solid structure and bring a feeling of warmth to the room too. 
Alternatively, you could opt for an oak garden room, which when completed and fitted with electricity and heating can make the ideal home office or space for a teenager. Oak garden rooms often look like small oak houses, with fully vaulted tile or slate roofs, which seamlessly blend in with the rest of the building. Installations such as these cause little disruption and, according to leading property expert and TV presenter Sarah Beeney, they can add up to 5% to the value of your home. 
Again, planning permission is not always necessary for a conservatory or garden room, but always check with your local planning authority before commencing any project.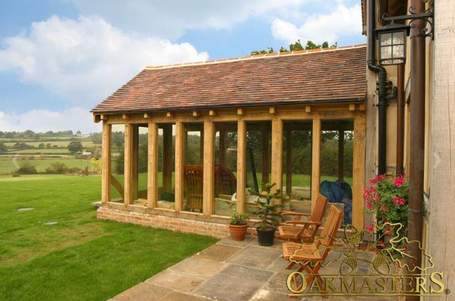 Image: An oak framed garden room with an amazing view!


 4.      Invest in an oak framed garage
If you have the space, you might want to consider investing in an oak framed garage. Multi-purpose, a garage often has additional space above it so it can serve as guest accommodation or an office/games room whilst still housing your cars and gardening equipment downstairs. 
Oakmasters create stunning, bespoke oak framed garages with an exceptionally high quality surface finish. Each garage frame is manufactured to individual specification and design.  For even greater impact, go one step further and add accessories such as a clock tower, dovecote and windows.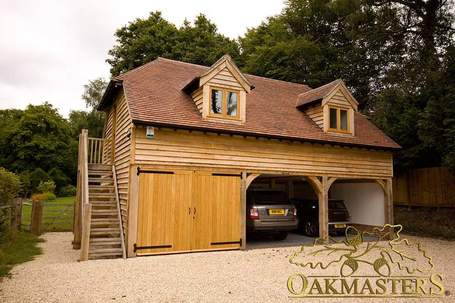 Image: A bespoke oak framed garage with two open bays and one closed bay


 5.      Build an oak porch
From a simple, glazed sheltered entrance way into the house to a grand foyer, nothing says welcome more warmly than a well-appointed porch. Oakmasters supplies a range of porch styles to suit houses old and new.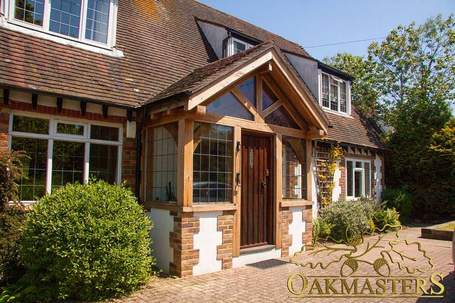 Image: A beautifully crafted oak framed porch creates a unique look


Smaller-scale projects 


 1.      Invest in oak cladding
Oak cladding adds character and impact but is less expensive than solid beams, so is an ideal way to add value and a distinctive period feel to your home for less cost.  Reliable and durable, oak cladding looks beautiful and can be quickly and easily fitted with minimal fuss. 
The craftsmen at Oakmasters can produce oak cladding kits from plans or photographs, which can be bought as a supply only item. Another benefit of using oak is that it is very robust and long lasting and requires virtually no maintenance.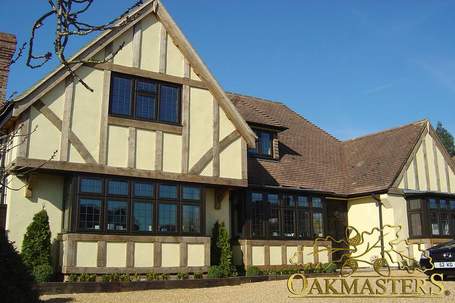 Image: Add a quality and period finish to your home exterior with oak cladding


 2.      Add an oak beam fireplace to the living room
Give your living room a focal point by adding an oak beam over the fireplace.  Whether you have a large inglenook open fireplace or a small fireplace with a wood-burning stove, oak will instantly make the room more inviting to potential buyers and provide character year after year.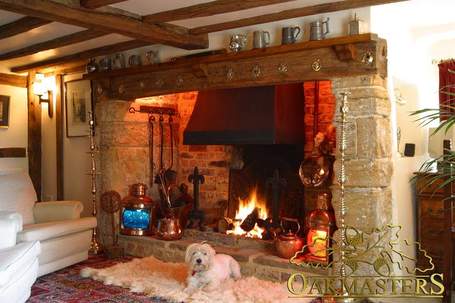 Image: This impressive bespoke oak fireplace adds grandeur and period charm to the room


 3.      Use oak beam covers to spruce up a room
Add value and give a room more character by adding oak beam covers, or oak casings, to unsightly existing beams and structures, such as RSJs (steel joists) or pipework. Using selected kiln dried timber, with small knots and splits, cover beams integrate well with other real oak beams, or can be used as standalone decorative features.
Oakmasters' covers are skilfully joined and finished to a high standard in order to appear solid. They are also the ideal location to insert light fittings.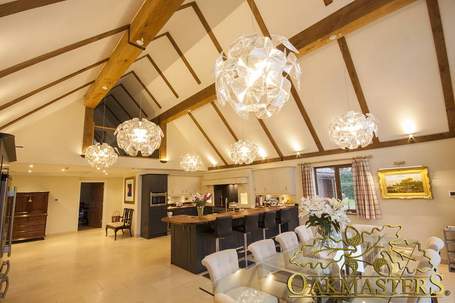 Image: Oak beam covers contrast well with white ceilings and walls, giving a smart and sophisticated look

 
From design and planning regulation to supply, construction and after-sales support, at Oakmasters we are delighted to offer any assistance we can to help you add value to your home using green oak. 
Call us today on 01444 455455 or download one of our brochures for more information.