Case study: Beam Casings crafted for a stunning open plan home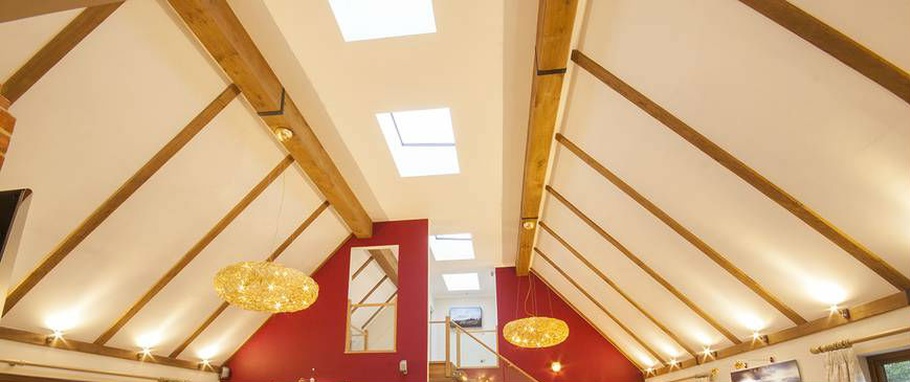 As you will see from the pictures within this blog, open plan homes can have a very impressive effect. However, with no internal walls, it's important to think about your structural support. Jenny Turner approached Oakmasters with this problem in 2014 and we were happy to provide a solution.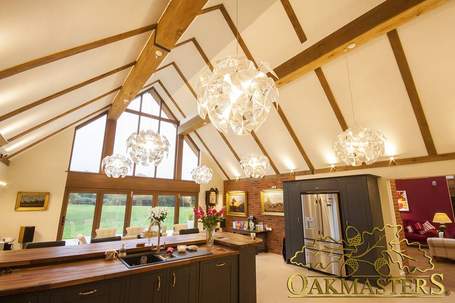 Because there would be no internal walls within her home, this meant there would be limited support for the roof. A metal structure had to be used to create the vaulted ceiling, however this isn't something that many people want to have on display.
Our team visited the site, took some measurements and came back to Jenny with a plan to provide beam casings. This would not only cover the steel work required by the structural engineer for the massive unsupported spans involved, but also create an impressive finish to her home. With the addition of oak rafters too, the space is filled with lots of extra character. If you take a look at the casings, you would never know that they weren't solid oak.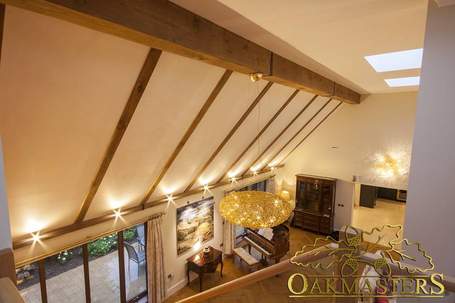 We're always interested to speak with customers after the work has been carried out, to see what it was like working with us. We had some lovely feedback and thought we would share it here, on our blog:
Why did you choose Oakmasters for this project?
We chose Oakmasters as they were local to us. We had initially started conversations with another company, based in the North of England, which had been recommended to us through our builder's merchants. As discussions progressed, I started to feel uneasy as they were trying to interpret our needs over the phone and by email. Although they did one site visit, I just didn't have the confidence they were listening, or interpreting what we were trying to achieve. I approached Oakmasters knowing they were local, and within a day, their representative Simon, came to visit the site. He listened to what we were trying to achieve and offered advice. He showed us various samples and different finishes that were available, which made a big impact, building trust and confidence.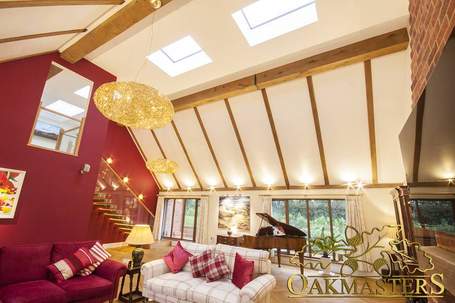 What was it like working with Oakmasters on this project?
At every stage, Oakmasters were responsive and easy to deal with. They went out of their way to be flexible to meet our timescales. When the rafters arrived on site, we thought they may be too short, but Oakmasters immediately took ownership, checked everything over and didn't delay our build schedule.
My builders had never fitted oak casings before and so they were somewhat nervous about doing this. Again, Oakmasters were happy to offer guidance and worked well communicating with my team.
The end result exceeded our expectations. The quality and look of the casings and rafters is excellent. They certainly create an impact and are looking good a year on, with no obvious splitting, twisting or undue movement. They were an excellent solution for hiding massive steels and no one when they visit, realise they are not solid oak. The ironwork around the joints finishes the look. We couldn't have been more delighted!
Would you recommend Oakmasters to friends and family?
We would certainly recommend them as a company. Great product, great team and great result!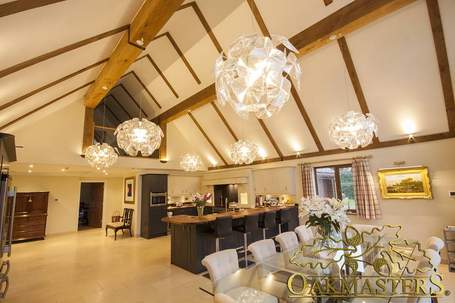 What do you think of the finished project? Could beam casings work in your home? Take a look at some more examples via our website.
If you would like to talk through a project, or ask our team any questions, please don't hesitate to get in touch on 01444 455 455.
Tags:
beam casings
case studies