Case study: An impressive 3 bay oak garage in Sussex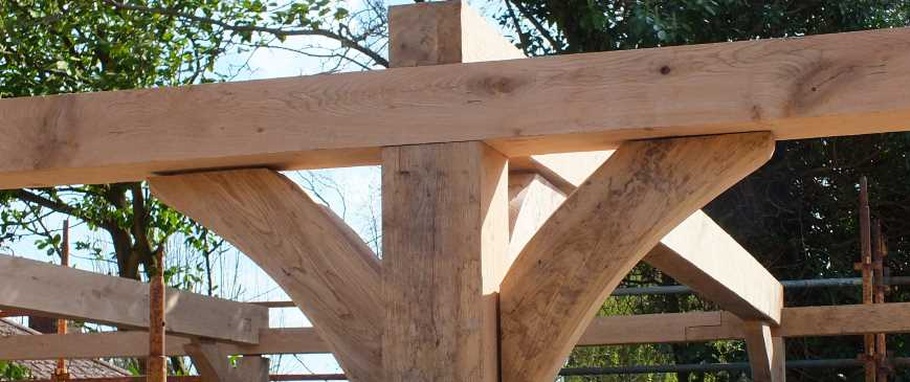 At Oakmasters, we can provide various levels of assistance to aid in your project. Whether you're looking for straightforward manufacture, or full and complete installation services, we can be flexible to your requirements.
When Gary approached us to supply his oak framed garage, he was experienced in the building trade and so was just looking for us to supply the oak frame to plate level. Our specialist carpenters therefore cut the beams in our workshop to the customer's exact requirements and added our special adzing finish for extra character. We then supplied the frame and detailed drawings to Gary, who took over the project on site, putting the oak frame together, as well as supplying and fitting the softwood rafters, studs etc.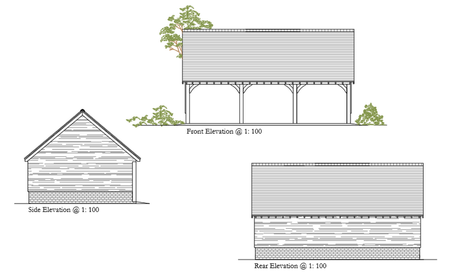 We caught up with Gary once the project was completed to get his feedback on the process and to see what it was like working with our specialist team at Oakmasters:
1. Why did you choose Oakmasters for your project?
After getting several quotes and visiting a few companies, we found and visited Oakmasters, which turned out to be local to us. On our first visit, we sat down with the team to discuss our requirements for a 3 bay garage and were made to feel very welcome. After receiving their quote, we reviewed all the quotes we had received and although it was not the cheapest we had, it was nowhere near the most expensive and we decided the quality and finish of the oak from Oakmasters was by far the best.
2. What was it like working with Oakmasters?
The customer service throughout the process of design, manufacture and delivery was outstanding. Oakmasters were also on hand and very happy and willing to assist with any technical questions as we erected the frame ourselves.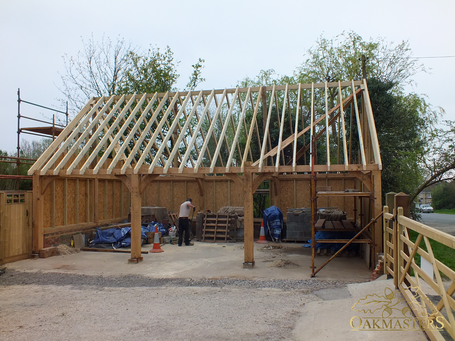 3. What was the most exciting part of your project?
The most exciting part was when the oak was delivered. When it arrived, it looked fantastic and the adzing finish looked stunning. This was a bit of a double edged sword though as once it had arrived, this then meant we had some work ahead of us. 
4. Would you recommend Oakmasters to your friends and family?
The oak looks fantastic now the building is complete. We are so pleased with it and are glad we found your company. We would and have already recommended Oakmasters to friends and family. Also, during construction, we have had many people driving past that have stopped to ask about the oak frame and where it's from!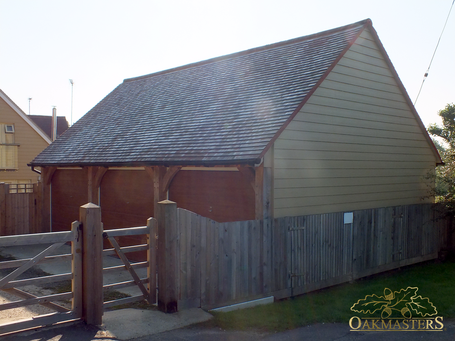 As we move into autumn, a garage is the perfect way to keep your car safe and dry. Take a look at our gallery here for further projects that we've worked on. If you have any questions, please don't hesitate to get in touch with our friendly team on 01444 455 455.
Tags:
case studies
garages & outbuildings
oak framed houses