Supply Only vs Installation Options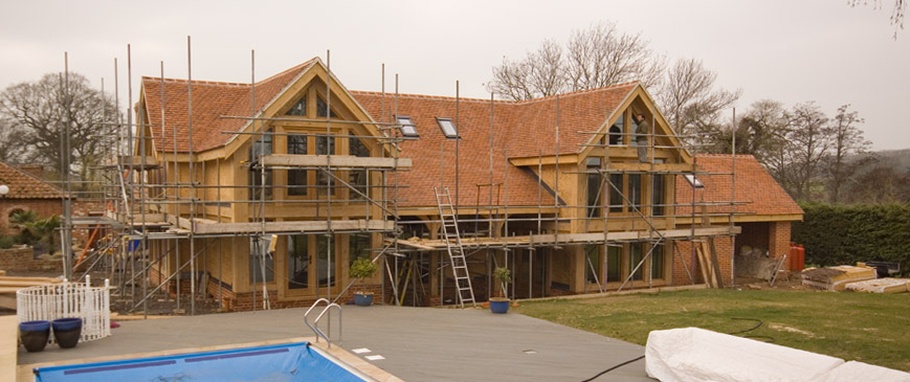 Oakmasters can provide various levels of assistance to aid your project, from straightforward manufacture through to full and complete installation services.
Supply only
If you require an oak building or oak components but have your own building capabilities or contractors, we can simply supply our products in kit form.The oak building will be pre-constructed and finished on our premises, then dismantled. The components will be numbered, with an assembly plan and delivered to you as a kit with the appropriate quantity of dowel supplied and any other relevant components included.
Supply and erect oak frame
More often than not our clients will use their own contractors to carry out groundworks, tiling and other parts of a project that require general building work. In this case Oakmasters will manufacture the oak components exactly to the agreed design specification (often designed by us) and will usually deliver them to your site just after your groundworks have been completed.  We will then erect oak frame building on this pre-built base.

In general we find it works best for Oakmasters to handle the assembly of all the specialist oak items and anything directly related to them. All other non-specialist areas are best and most cost effectively handled by your local building contractor.
Other building services
We also operate via a network of long standing and trusted building partners around the country. This system enables us to provide flexible and local solutions to our clients in most UK regions, and in this way we can arrange other aspects of the building work or even turn key solutions if required.

Our partners can usually provide a full range of services, in any combination to aid your project which may include:


Find out more...
There are various different stages of development or involvement at which you might want to approach us and we are always happy to offer areas of our services as and when they are required. To keep things simple we can break our services down into the following areas:
To arrange a free consultation meeting or to discuss your project please talk to our team.