How to save money when building an oak framed house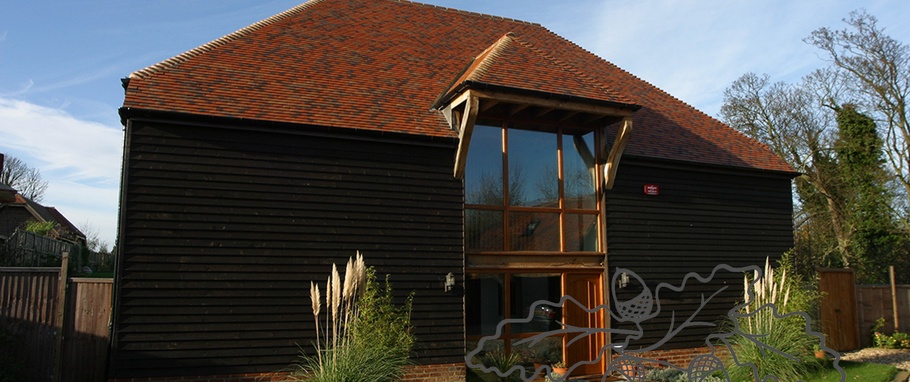 One of the misconceptions associated with building an oak framed house is that it must be extraordinarily expensive.  Newly built oak framed houses invariably look stunning and the assumption is that therefore they must be far more expensive than a conventional house of the same scale.  In fact, the opposite is true, a well-planned, well executed, oak framed new build will cost considerably less than buying an existing property of similar quality.  We are all familiar with the Grand Designs scene, which has become almost a staple ingredient of the genre, where the client holds their head in hands and says, 'We're already x thousand over budget'.  But it doesn't have to be that way.  If you want to keep a tight rein on your budget, you have to be prepared to modify your vision in order to economise.  That does not mean that you must settle for a bland box, no oak framed building will ever be that. Here are some suggestions to help you keep within your budget when you build your dream home.
Don't make your design too complicated
The simpler your design, the cheaper it will be.  Complicated roofscapes and elaborate staircases will substantially increase the costs for labour and materials.  Square or rectangular rooms will be much cheaper to build than rooms with curves or odd shapes.  If you think that this sounds severely limiting, then take a look at our house galleries to see examples of the wonderful houses that have been designed in this way.
Design for energy efficiency
Sometimes you need to spend money in the short term in order to save money in the long term. Designing with maximum energy efficiency in mind is good for the planet and good for reducing your running costs.  Consider the orientation of the building in order to maximise the benefit of natural light and heat.  Explore your options for using solar, thermal or wind power.
Compare home insurance
Timber framed buildings are classed as non-standard construction so it's well worth shopping around to ensure that you are getting the best deal by comparing quotes.
Invest in good insulation
The type of insulation that you use is particularly important with an oak framed construction.  The minimum amount of insulation you need will be dictated by building control but it's worth considering the range of materials available.  Sheep's wool insulation is an expensive option, but its long-term benefits make it well worth serious consideration.  It's 100% natural so there are no toxic chemicals or dangerous dust, in fact it actually absorbs pollutants such as formaldehyde which can be emitted by flooring and carpets.  It's naturally fire resistant and it helps control humidity levels and reduce condensation.  It's another example of where initial outlay will result in long term savings.
Use materials efficiently
Design your house to utilize the standard sizes in which materials are produced.  By doing so you will reduce off cut wastage and reduce the labour requires to cut materials to size.  Remember that it is cheaper to build up rather than out and reduce your plumbing costs by designing to ensure that areas that need plumbing are in proximity.
Tags:
building sustainably
building with oak
case studies
encapsulated glazing system
help and advice
oak extensions
oak framed houses
self build houses