Getting cosy: fabulous oak features to warm up your home for the winter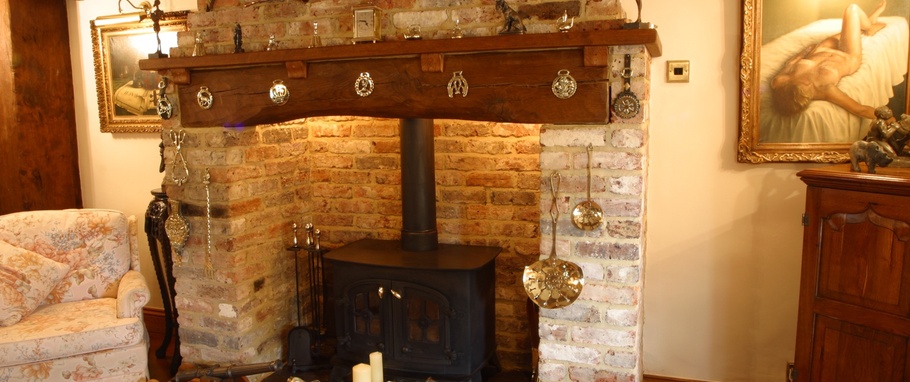 As autumn sets in and the days get darker, our thoughts are already beginning to turn to ways to warm up our homes and ourselves as the winter creeps closer. From stunning fireplace beams to bespoke living room extensions, oak can be used in copious ways to create a comfortable and stylish home that's well equipped for the colder months. Here is our run down of the best ways to enjoy oak this winter.
1. How oak fireplaces can warm up any room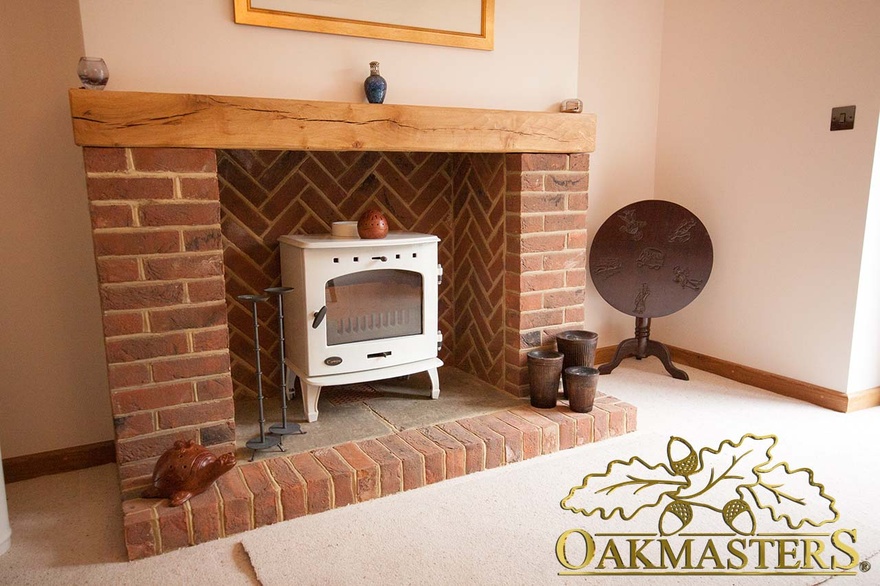 An oak fireplace can turn any room in any house into a haven of comfort and warmth, creating the ideal space for relaxation for you and your family. Whether you're after a traditional fireplace incorporating brick, oak and old-fashioned mantels, or a sleek contemporary feature, oak fireplaces can be designed to suit any room or style. Modern settings can incorporate sharp edges and minimalist elegance, whilst traditional styles will evoke a sense of history, authenticity and warmth that cannot be beaten.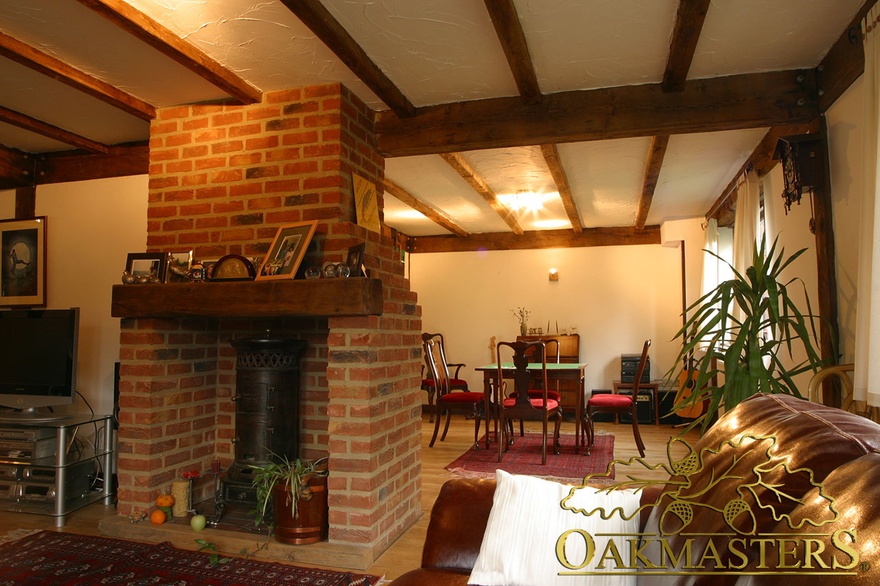 Whether rustic or modern, all of our fireplaces are designed to create a stunning focal point for your living apace, and our beams are finished to a beautiful high standard, as with all of our oak beams and features. We use various processes and techniques to achieve the perfect tones and textures to match your existing style, and we also offer matching mantels and corbels to complete the look.
Explore our gallery of contemporary and traditional fireplace features to spark your imagination this winter.
2. Oak framed extensions
Entertaining friends and family almost always moves inside during the winter months, so it's important that your living and dining rooms are warm and welcoming, whatever the design. An oak framed extension is the perfect way to ensure you have the space, the style and the ambience you need for those cosy winter evenings.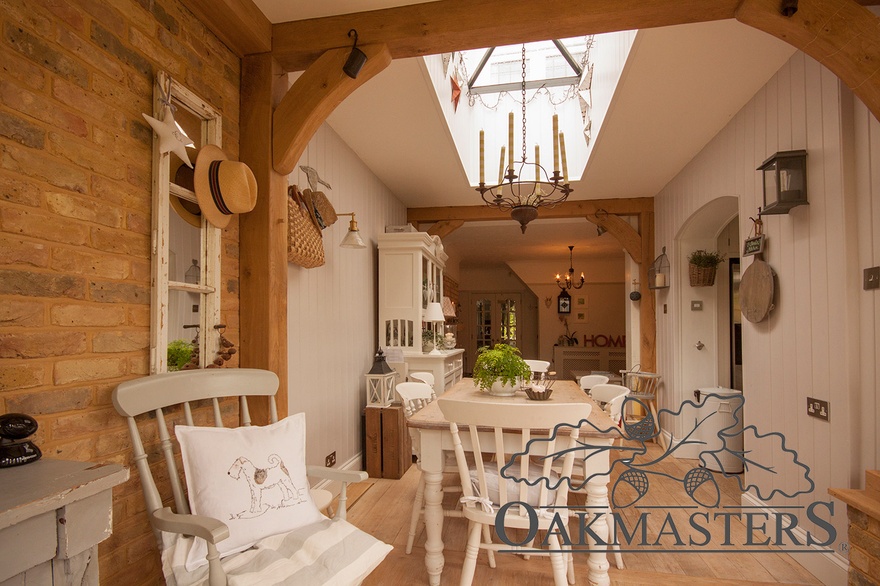 An extension built with oak not only gives off warmth, but also a sense of stability and authenticity, which is comforting and relaxing. Oak extensions have lasted through the ages as a popular addition to any house because of their potential, their sturdy nature and their sustainability. This oak framed dining room extension shows how elegance and warmth can be combined to create a homely, attractive space which is ideal for relaxing and entertaining.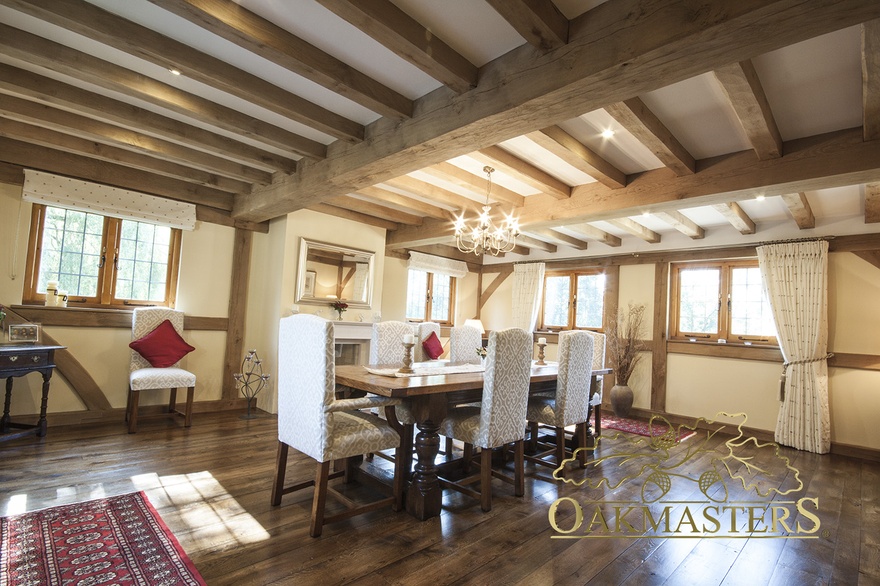 3. Oak trusses
For an added touch of warmth and style, an oak roof truss is a fantastic way to transform any room in your home. From king and queen post trusses to raised tie trusses, there is a variety of styles, shapes and sizes to suit your design preferences, with all guaranteed to provide you with a stunning finish. Read our blog on oak trusses  and look at our gallery to see what design and style would suit your home.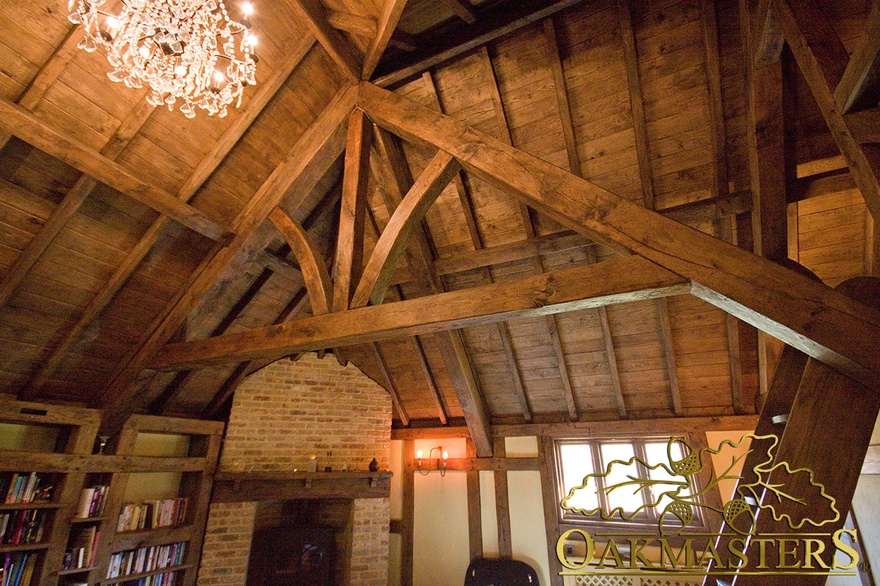 For more ideas on how to warm your home up for the winter with oak features, take a look at our gallery for inspiration. Get in touch with our knowledgeable and friendly team on 01444 455 455 to discuss your ideas, your requirements and start planning your project.
Tags:
beam casings
fireplaces
oak beams & component
oak extensions
oak framed houses
oak roofs & trusses