Enjoy the UK's woodlands all year round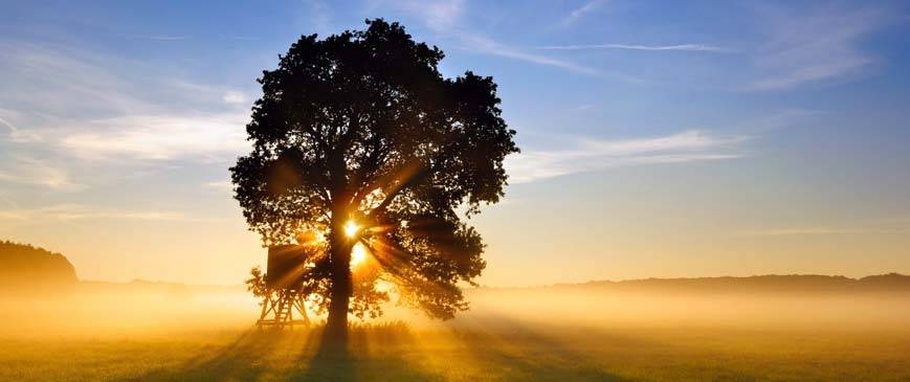 What's not to love about woodlands? At Oakmasters, what we look forward to the most is being able to explore the many different woodlands across the UK. Each season brings a different experience and a breathtaking palette of colours.
Wherever you are in the UK, there are plenty of woodland areas to enjoy. Take a look at the Woodland Trust's interactive map, helping you find somewhere near you. Plus, all their woods are free to visit so they're perfect for a walk, whether you're going alone or with all the family.
If you can't decide where to visit first, here are some of our most favourite woodlands to explore:
Priestley Wood, Barking (Suffolk)
This is one of Woodland Trust's most popular woods and is considered to be one of the finest woodlands in Suffolk.


Coed Felinrhyd, Maentwrog (Gwynedd)
This magical Welsh wood is thought to have been a wood for thousands of years, ever since the last ice age!


Blackbush & Twenty Acre Shaw Woods, Cudham (London)
These two ancient woodland are lovely places to explore on the outskirts of London and are also important wildlife habitats.


Lumb Brook Valley, Warrington (Cheshire)
This is a series of interconnected woodlands, with many different species of tree and simple pathways, making it perfect for exploring.


Forest of Dean (Gloucestershire): This is a huge forest which is filled with many species of tree. However, it is most famous for its population of wild boar, so keep a look out!


Lyndford Gorge (Devon)
Visit the deepest gorge in the south-west, with native woodland along its banks. It's also a great place to spot many different wild birds.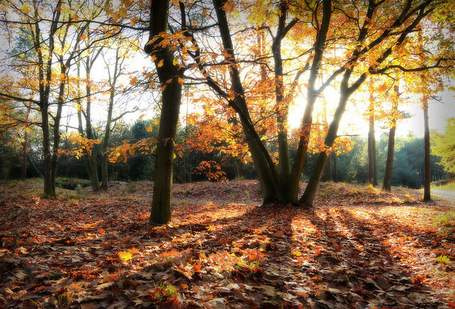 Eric Huybrechts "Oak trees in autumn glow". Photo. Attribution 2.0 Generic
Visiting woodlands with children? Here are some of the brilliant things you can all enjoy:
Falling leaves – Who doesn't love to play in newly fallen leaves, especially when they're a rainbow of colours, from bright yellows to rusty oranges and dark browns? They're great for children who want to use them for craft projects, or even just for collecting!


Wildlife – Squirrels spend the autumn making sure their nut stores are well stocked up for winter and can often be seen climbing trees and running across the woodland floor. And of course, there's always the possibility of seeing a deer. Or, if you're out later in the day, you might be lucky enough to see some nocturnal animals.


Fungi – Remember to be careful if you plan to collect fungi, as many can be poisonous. Those that are safe to pick can add an amazing flavour to your autumnal meals. Look at the base of trees, on dead logs or on the ground and see which ones you can identify! For more information, take a look here.


Animal noises - Listen quietly and see which animals you can hear. Often a quiet wood is the best place to hear the animals whose sounds are normally drowned out by other noises.


Finding acorns - Children love to discover fallen acorns on the woodland floor. If you want to do your bit to help our British woodlands, there are many planting schemes you can take part in across the UK. Or, why not have a go at planting your own, with these instructions from The National Forest.


Ancient folklore and customs - Forests and woods that have been around for a long time tend to have lots of folklore and ghost stories associated with them. Ask local residents or check in the local library to see if your favourite wood has a resident ghost or an interesting custom. One of the most famous is of course, the Major Oak in Nottingham Forest, where Robin Hood and his merry men are believed to have hid.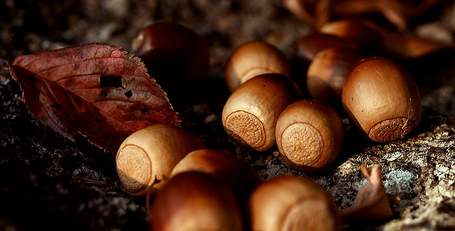 Christoph Rupprecht "Acorn autumn". Photo. Attribution 2.0 Generic
We hope you enjoy getting outside and making the most of our beautiful woodlands, whether you're going for a relaxing stroll, or something a little more energetic. If you have any more tips for enjoying the woodlands with children, why not tweet us, or share your favourite woods with us @Oakmasters!
Tags:
help & advice