A beginner's guide to self building
With a serious housing shortage across the UK, where 320,000 new homes are needed to be built every year, a generation of self builders has been created.
Self building is where the owner is involved in the building process, from deciding on the plans, choosing a builder and all of the fixtures and fittings.
This is an increasingly popular option and it gives you the ability to build your dream home from the ground up, to your exact specifications. It can also be completely unique to you, instead of the same as 100's of other homes within a housing estate.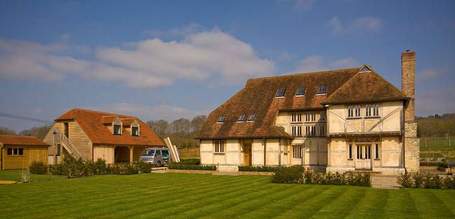 Seeing your home gradually come together can be exciting, however, it may also be a daunting experience starting from scratch. It can be common to feel out of your depth, as it is a big project and very new territory, however, it is possible! To help guide you through the process, we've put together some of our top tips and advice:
1. Design – Would you like to build a traditional cottage, or a completely contemporary design? Take a look around online or in your local area for some inspiration. Once you have a better idea of what you want, visit an architect who will be able to put these thoughts into a detailed house plan. They will also make sure the plans comply with building regulations. These are the instructions for your builder and so the more detailed they are, the better. However, it is really important that you are happy with them before any work is carried out.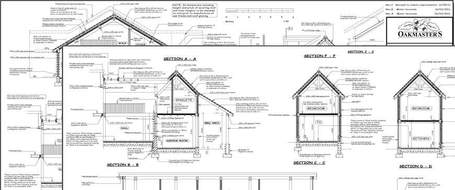 (Oakmasters building plans, with oak detail)
2. Timings – Now you have a set of plans, work with your architect and builder to set realistic time scales. Take into account delivery times too, as this will allow you to make sure everything is on site at the right time.
3. Budget – The cost of building your own home can vary enormously. Make sure you set a budget and stay on top of your finances throughout the process. Get a detailed quote from your builder so you know what will be going out of your bank account. Look around at fixtures and fittings too, so you can get a rough price. By looking at these early, you may have the time to shop around and find a better price elsewhere.
4. Sub-contractors – Make sure you use sub-contractors that are properly registered and come recommended by others. Always ask to see examples of previous projects before accepting to work with them.
5. Check the progress – Although the plans may be finalised and the builder has been hired, make sure you give yourself enough time to go to the property on a regular basis. Building a home is a huge task and one that you want to go smoothly. Being on-site allows you to see the progress and make any decisions that need to be made.
At Oakmasters, we have helped many home-owners build their dream house. We can even help with drawings relevant to your oak frame and planning permission too. If you'd like more information on how we can help, take a look at our website, or get in touch on 01444 455 455.
Tags:
help & advice
self build houses