Add appeal to your project with a vaulted oak roof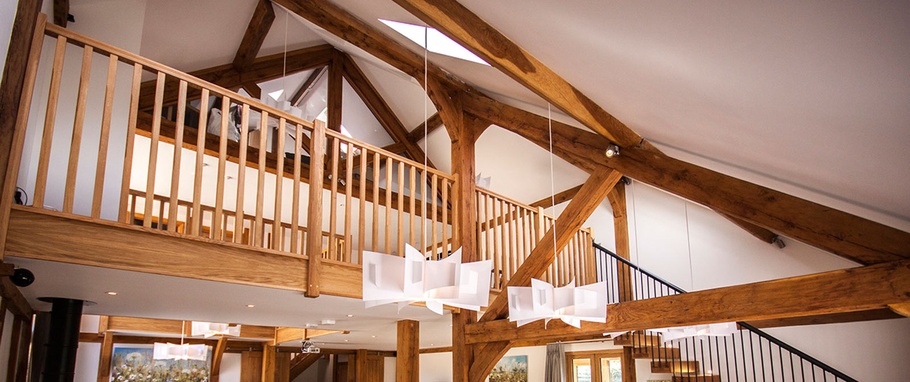 High ceilings and vertical spaces feel luxurious and one would struggle to find those opposed to vaulted roofs and feature oak trusses. There is simply something that draws us towards the vast expanse of space and the warmth of timber. Whilst the full oak frame building in not always an option, a full oak roof, or a couple of feature oak trusses create that luxurious feel and can be easily combined with traditional construction methods or added later.
Full oak roof or just feature oak trusses?
There are a few factors that will influence your decision on whether you will go the whole way, or just part of it.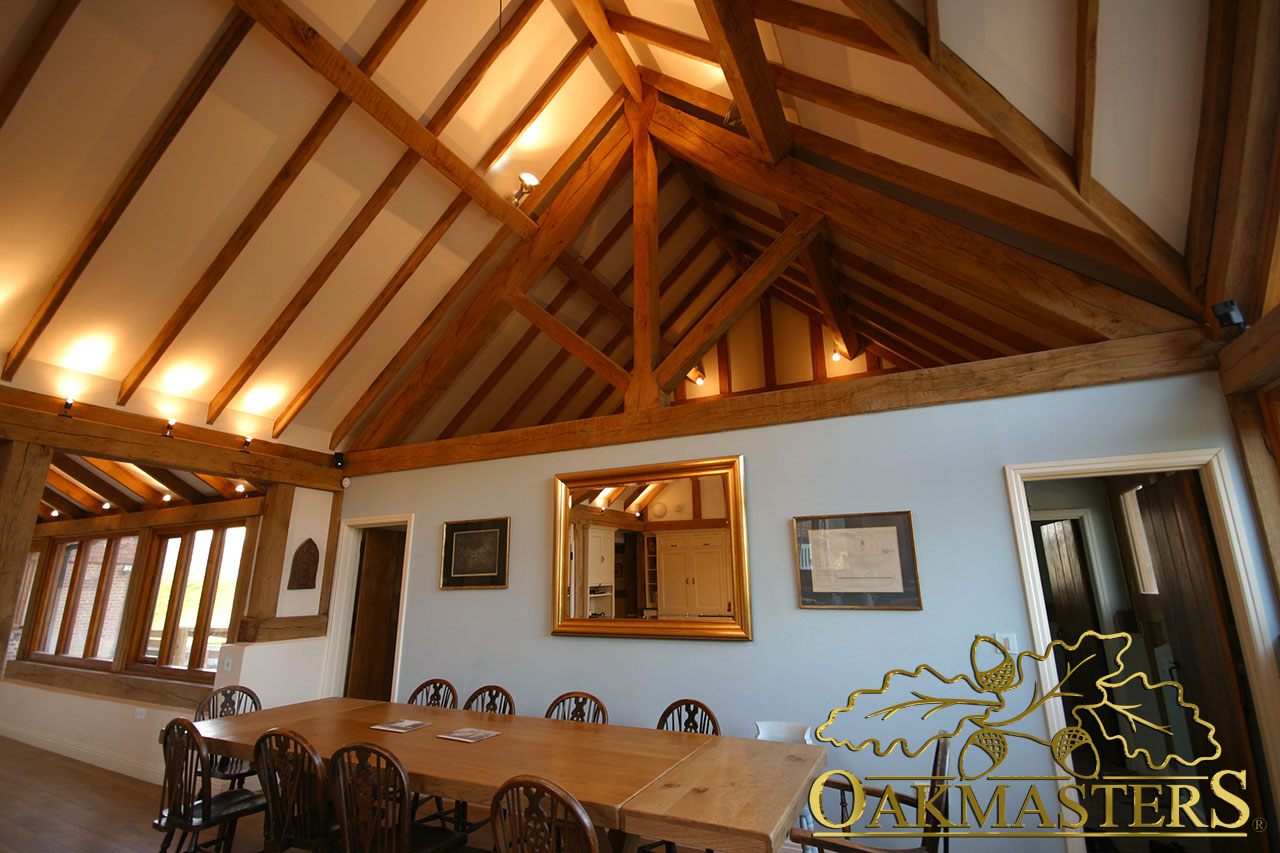 Stage of build. If you are building from scratch, or have decided to replace an existing roof, the opportunities are endless. A full oak roof comprises of oak trusses, roof rafters, purlins and ridges and we can help you design the roof most suitable for the look or use you are trying to achieve. If you already have a vaulted ceiling and are looking to add character to the interior, you might want to consider one or two cosmetic roof trusses, which can be fitted retrospectively.
Build style. Is your existing property more traditional, or contemporary? Whilst traditional style calls for more exposed wood and heavier timber sections, contemporary houses look best with lighter queen post trusses, or feature purlins.
Cost. There are several ways of managing the overall cost of the roof. We always like to get an idea of your budget, so we can recommend a solution that will make the most of it, but we can also start with a price estimate and work with you from there.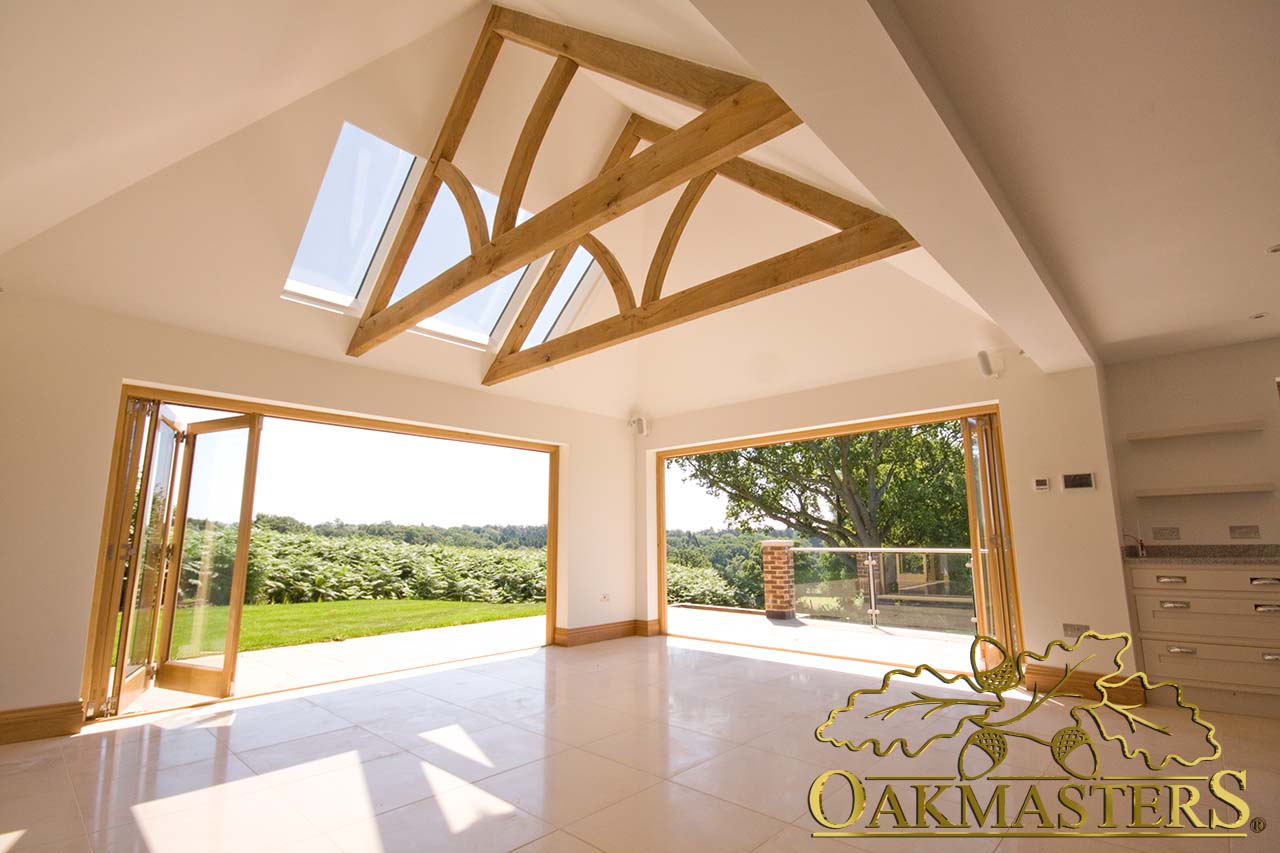 Can I get help with roof design?
Getting the vaulted roof design right is best left to specialists. Architects and structural engineers have great knowledge and will help, but the best place to start is the oak roof supplier who often offer design consultancy service.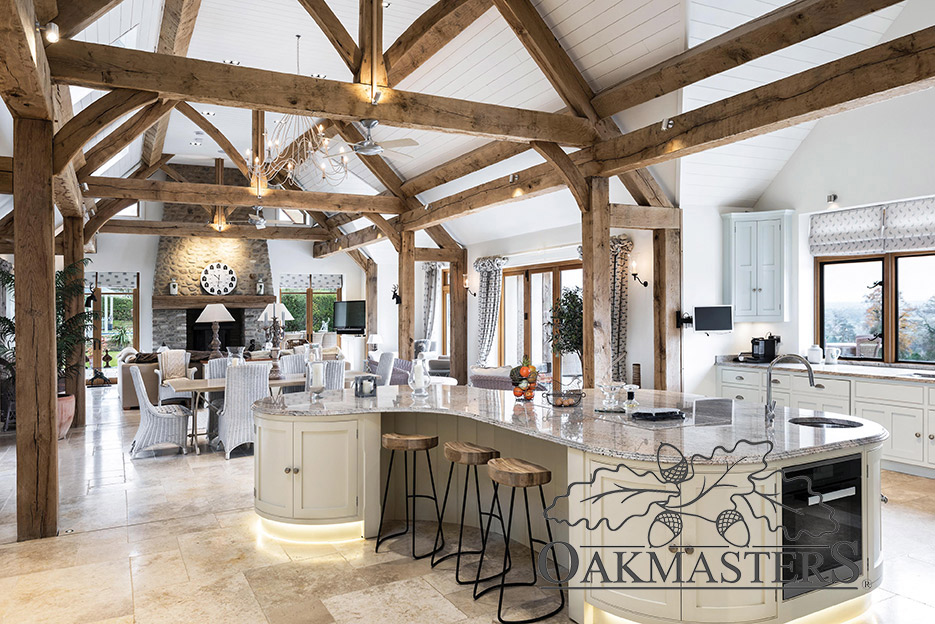 Roofs and trusses are our staple and we have designed, supplied and installed many over the years. There are many details of your build that need to be taken into consideration when designing a vaulted roof, so we always recommend this process is trusted to a specialist. We offer this complimentary service as part of the process. All oak trusses must be checked and approved by an independent structural engineer and we can take care of this for you for a nominal fee, if you have not already selected a consultancy yourself.
Are vaulted oak roofs expensive?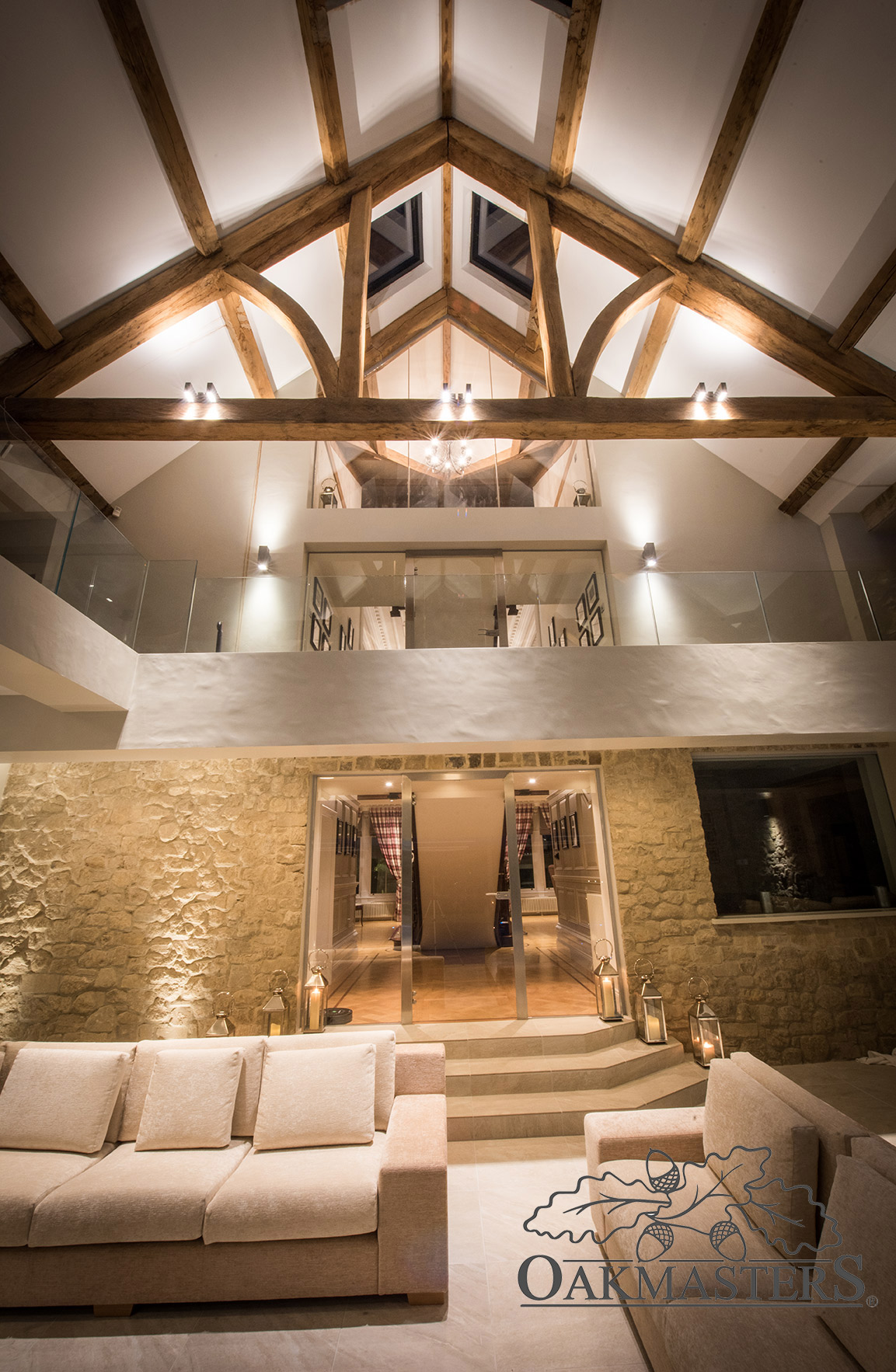 Many of our clients are surprised to find that quotations for bespoke oak roofs come well within their budgets. The cost of the roof is entirely in your hands. An oak roof will be heavy on timber content and the general rule is more wood, higher cost. However, while timber section sizes are given by structural calculations, the overall roof cost can always be adjusted to your budget:
Oak to softwood ratio. Oak is dearer than softwood, so the overall cost can be adjusted by designing the roof with softwood rafters, ridges and purlins and making the most of the feature trusses in oak.
Wide vs narrow spans. Longer oak timbers are rarer and therefore more expensive per cubic foot. Whilst we can craft oak trusses up to 11 metres in span, spans up to 6 metres work best in terms of size to cost ratio. They still look impressive.
Number of trusses. Oak trusses are beautiful, graceful structures, which require a lot of timber and hand crafting to finish. We can advise you how to make the most of your budget by recommending the optimum number of trusses and achieving the best visual effect, without compromising the structural integrity of your roof.
Curved elements. We love curves. They are elegant and impressive, particularly on large roof trusses. Curves are cut out of extra-large sections of timber, so adding curved elements to your trusses adds to the cost. They're worth it though.
Who will install my vaulted roof?
Oak trusses are engineered and assembled with great precision, so if possible, we always deliver them pre-assembled. As a general rule, most builders are perfectly positioned to install pre-assembled trusses and build the roof.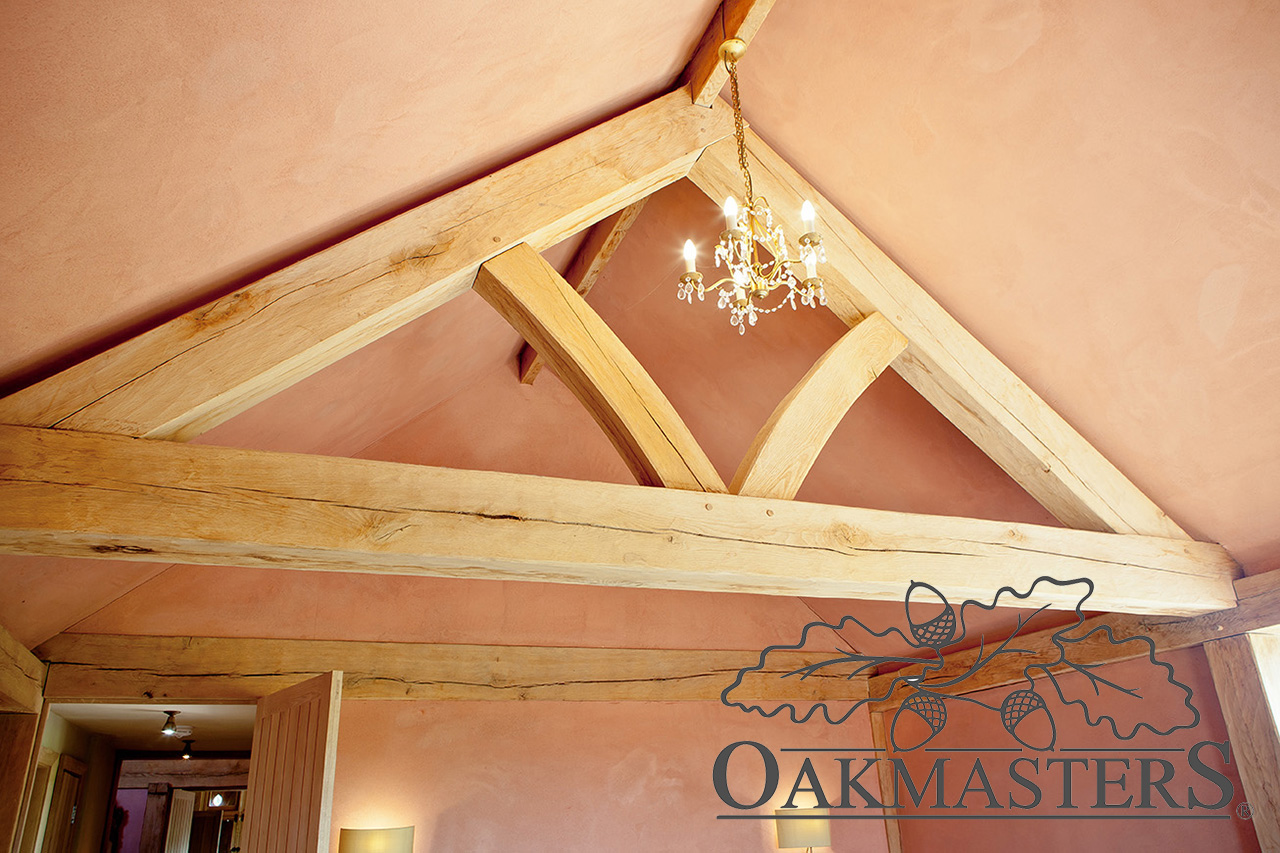 To lift the trusses into place, you will require lifting equipment – a crane or a smaller lift, depending on the size of the trusses. We will be able to advise you on suitable equipment for your roof elements, but it will be up to you or your builders to book it. In rare cases, where there are issues with access for the crane or delivery vehicle, we can supply oak trusses in kit form, to be assembled on site.
Need more information, or would you like a chat? See our roof trusses gallery for more inspiration.


Tags:
building with oak
case studies
garages & outbuildings
help and advice
oak beams & components
oak roofs & trusses
self build