Top Five Benefits of Using Green Oak in Commercial Building Design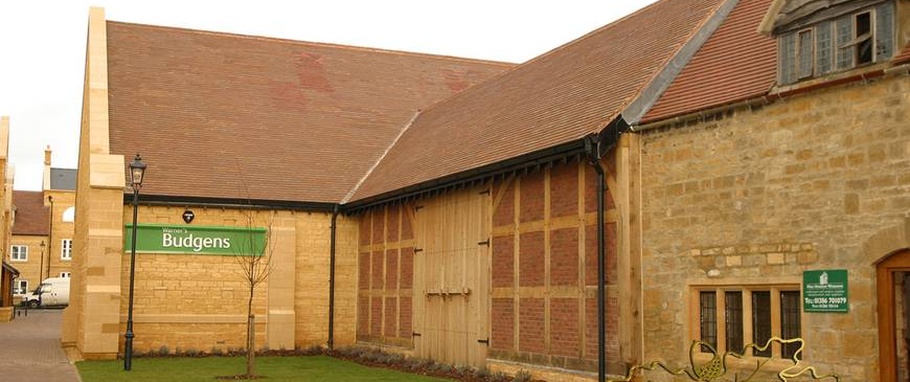 Oak has been a favoured home-building material in Britain for centuries, but in recent years it has also become more widely adopted by architects for use in non-residential buildings.  Any space, from an office or client showroom to a school or supermarket, can be transformed using green oak to create a unique, yet functional environment. Here, we explore some of the key benefits of working with green oak in new build commercial schemes with examples from our own recent projects at Oakmasters.
1. Character
Using green oak will add instant character to a structure.  It will also incorporate well into the environment in which it is being built. When a new Budgens supermarket was planned for a beautiful Cotswold village, using an oak frame and oak barn doors enabled the shop to blend in with the vernacular architecture.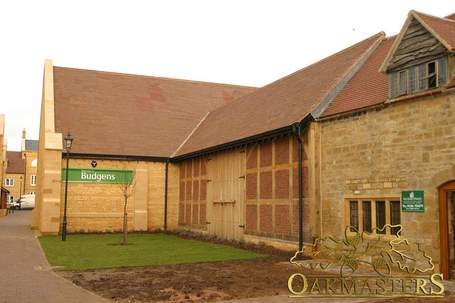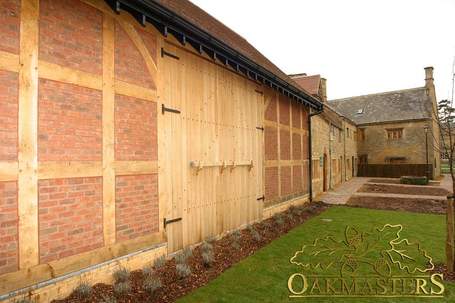 By contrast, when property developers Crest Nicholson wanted a showroom for their prestigious Bolnore Village development in West Sussex, they were after a distinctive building that would create a lasting impression with prospective clients.  With its large open-plan vaulted reception area and imposing oak-covered steel beams that really enhance the front façade, the end result fitted the criteria perfectly.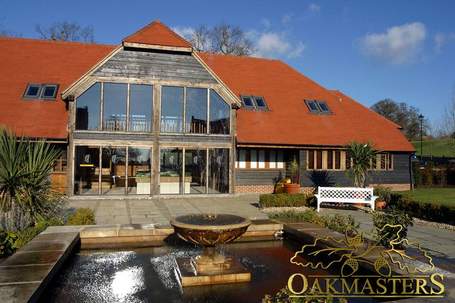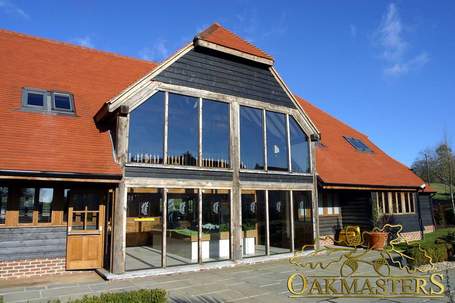 2.      Durability
Unlike many other timbers, green oak is strong, hard and very resistant to moisture and the elements. This makes it an ideal, hard-wearing and naturally long-lasting material for buildings – witness the countless barns and houses that have been standing for centuries.  And, furthermore, it is particularly suitable for public buildings, such as these elegant park shelters.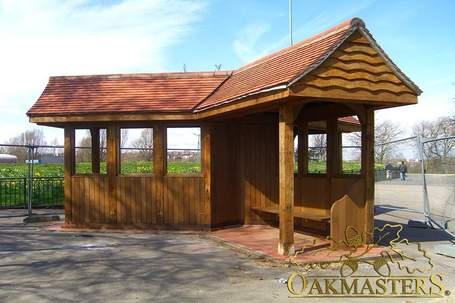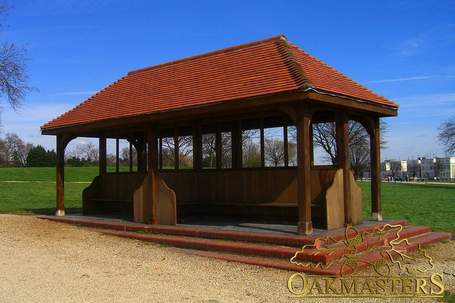 Another related advantage of using green oak is that it is low-maintenance and does not need to be treated with preservatives or fire retardants, which can be toxic.
3.   Eco Credentials
Oak is a great building material for the eco conscious, especially if it comes from a well-managed sustainable source, as ours at Oakmasters does.  Wood's main environmental plus is its natural absorption of CO².  If burnt as fuel, timber will release the CO² it absorbed in its lifetime. But if the timber is put to long-term use in a building, a significant amount of carbon is removed from the atmosphere. The oak trees used in our timber framing are on average at least 80 years old. If a property is looked after properly it could last hundreds of years, making the timber used in its construction a completely carbon neutral building material. Also, compared to other construction materials, oak has low levels of embodied energy (the amount of energy used to source, manufacture and transport it).
This factor was particularly important to our client Clayton Wood Natural Burial Ground, whom we worked with to transform a visitor shelter into something special which adhered to the principles of the burial ground's ethos of sustainability. We created a building which features a full oak frame with oak clad walls and a glazed gable that overlooks the Sussex Downs, offering its visitors a peaceful environment for reflection.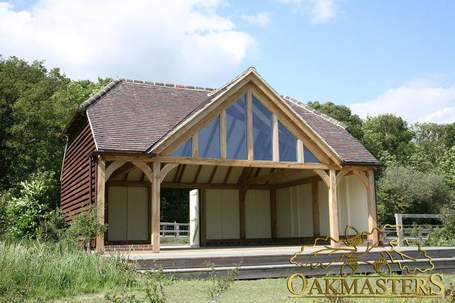 4.  Sense of Space
The beauty, strength and integrity of an oak frame can be fully exploited in open-plan spaces without the need for internal structural walls, while vaulted ceilings, galleries and atriums all add to the sense of drama. Below is an ideal example of how green oak can really transform an office and make the most of every inch of space. Working with a glass design firm in Sussex, we produced a glazed oak frame structure with a large open-plan area and a vaulted oak ceiling, which works perfectly with bullet-proof glass panelling to provide a window onto the stunning surrounding countryside.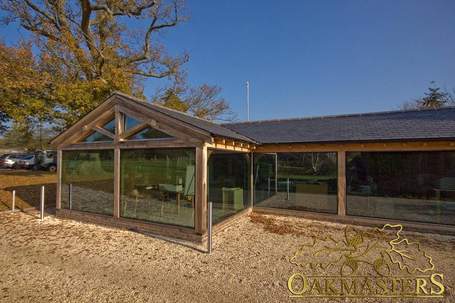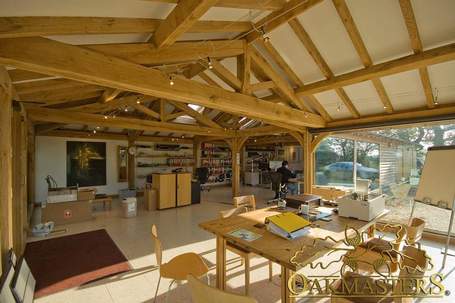 5. Versatility
As a building material, green oak is incredibly versatile and can either be used throughout a structure, such as the oak-framed pub outdoor dining area and hospitality suite in the top two photos below, or in combination with other materials such as steel or glass, as with the retirement home's covered walkway in the lower two photos below.  It is an ideal material to cover steel structures and to bring warmth and character to buildings when specifications call for the use of standard prefab building methods.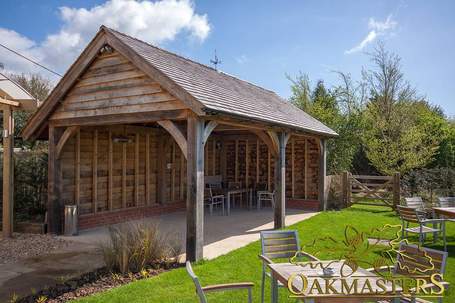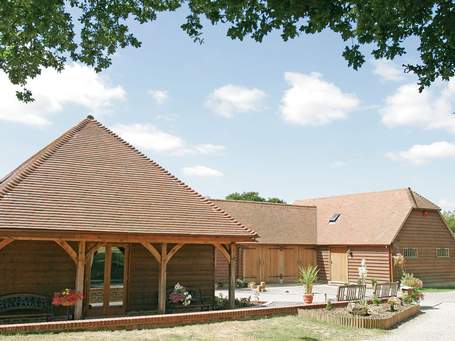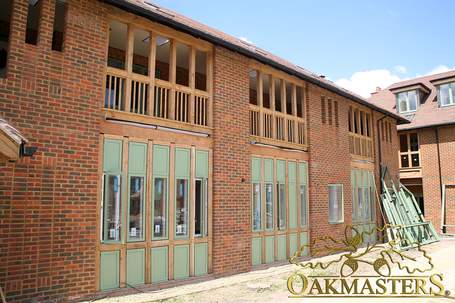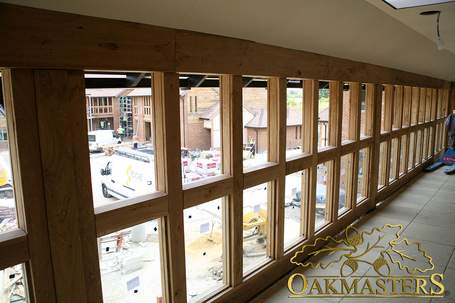 Another huge advantage is speed of construction – using green oak will reduce the build time and associated labour cost considerably.
Architects are increasingly recognising the benefits of using green oak to enhance residential and commercial buildings – using either traditional or more contemporary designs – and we hope these examples inspire you. 
For more information on designing with green oak, please download one of our brochures.