Green Oak Maintenance: splits and cracks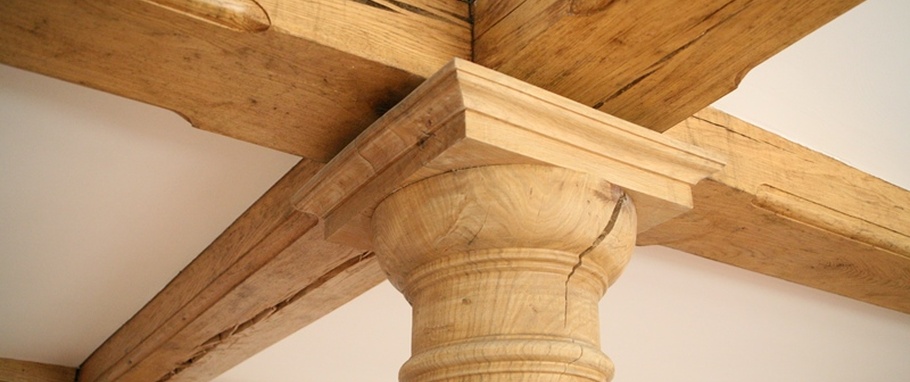 One of the many advantages of using green oak as a building material is that it is essentially maintenance-free. Here we look at some of the reasons this is the case and also why, in Oakmasters' opinion, oak-framed buildings should be left to age graciously!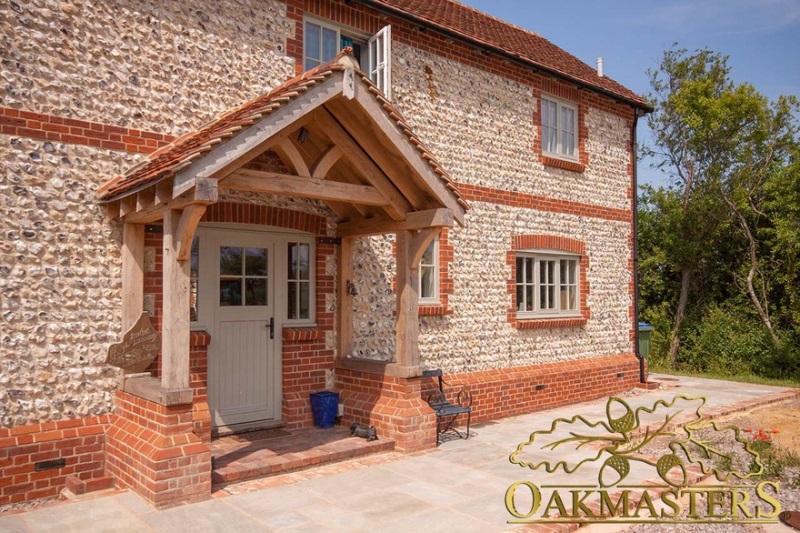 Splits and Cracks
We are frequently asked about splits and cracks in oak. Why does it happen? And will it damage the oak structure? The simple answer is they are totally natural and nothing to worry about! As oak dries out it shrinks across the grain and develops splits and cracks, sometimes also called 'shakes'. As the grading system limits the angle at which the grain runs along any one piece of oak, the splits and cracks which open up as the fibres dry and separate do not traverse the beams' grain and thus do not weaken it. Furthermore, a good design will allow for shrinkage, ensuring that joints and pegs in the frame become stronger during this process and give the oak its unique, natural character.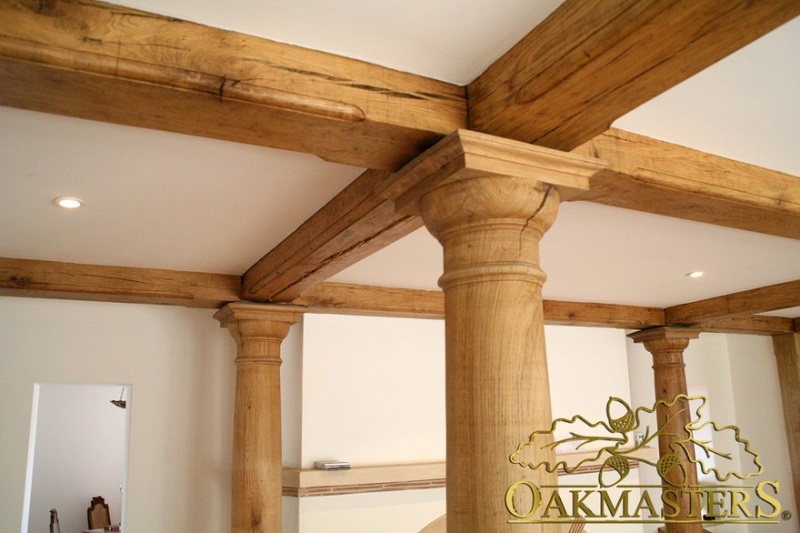 GREEN OAK Maintenance requirements
External
As wood's natural habitat is the great outdoors, it is naturally weather resistant. Left untreated the oak will weather to a silver colour in around a year. If required, a lighter colour can be retained if the wood is treated or sealed before it is exposed to the elements. Remember though, that if you do this, you are signing up to a lifetime of repeat coats as the weather erodes the treatment off. We also recommend that you check the colour on an off-cut of the same timber if you do intend to treat it so you can get exactly what you want.
Areas of water forming on the surface of the beams during construction are often unavoidable when building outside and will affect the colour and leave watermarks. If staining occurs it can be cleaned with oxalic acid after the structure is weather tight and the staining removed.
Due to its high tannin content and because it is a breathable material, which allows moisture and humidity to pass freely through it, oak is also highly resistant to insect and fungal attack.
This means the maintenance requirements for an oak-framed building are no different to any other building. The primary need is to keep gutters and downpipes unblocked to prevent water or dampness from penetrating the building's envelope.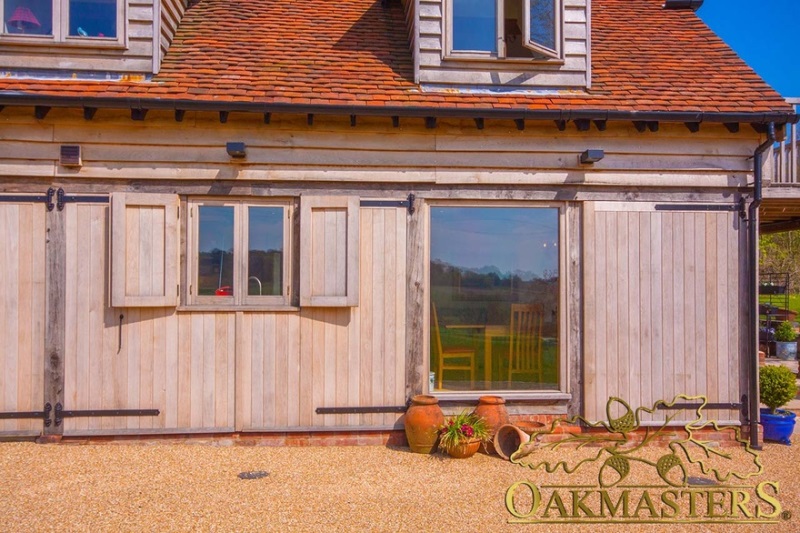 In order to preserve oak's hue and prevent it from sun bleaching, a liquid wax with UV protection can be applied. The wax simply sinks into the oak and is not visible to the naked eye. This treatment can also be applied to oak used internally. Osmo has an excellent range which we would recommend. Follow the manufacturer's instructions.
Internal
Not much maintenance is needed for oak used internally, apart from a good dust with a top-quality feather duster! The oak will simply mellow slightly as it is naturally faded by sunlight  and will look better every year.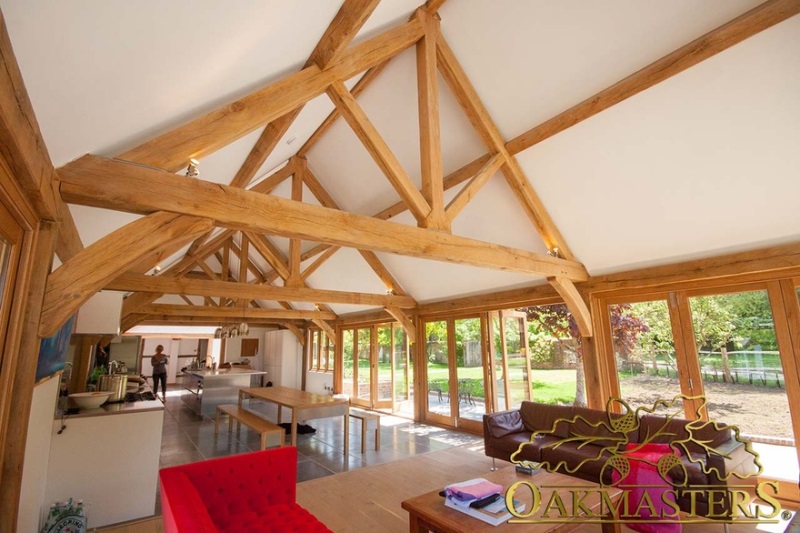 It's all about the finish
At Oakmasters, we take pride in ensuring the oak we supply for your home is of the highest quality and finish. So unless otherwise requested, all of our green oak products are given a light hand surface finish to remove any imperfections. This way, the oak is smooth to touch and devoid of ugly saw marks, ready to start ageing and developing its own character with small splits and cracks over the coming years.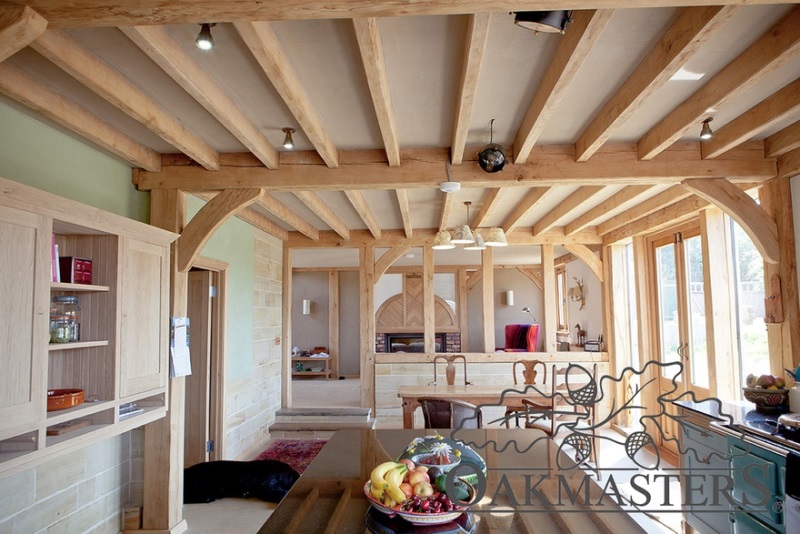 For more information about Oakmaster's products, call us on +44 (0)1444 455455 or download one of our brochures.