Case study: Oak Frame dining room extension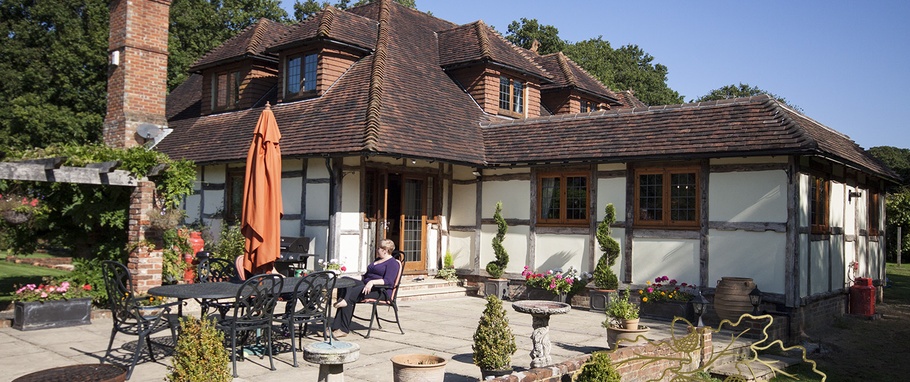 When Susie and Paul decided to add a dining room extension to their period style country home, they were looking for an inspired idea. They knew they wanted an oak frame and they knew they wanted the extension to match the reclaimed oak cladding on the existing house. They were just looking for that image that would make them go: 'This is the one we want.' They found that inspiration in Oakmasters gallery and now, we caught up with them to see how they are enjoying their completed new dining room. See more images of this dining room extension in our oak extensions gallery.
At a glance:
Type of build: self-build
Method of construction: exposed oak frame with brick walls and reclaimed Tudor-style cladding
Time to complete: 4-5 months
Original house: period style new build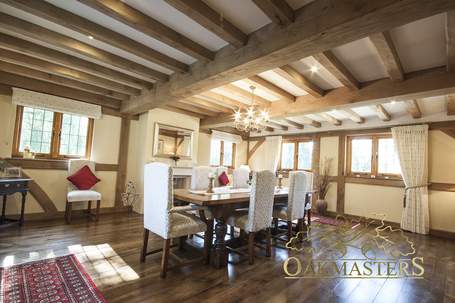 Why did you choose Oakmasters for your project?
We found Oakmasters after a search on Google. They have a great picture gallery and we just loved the rooms we kept finding there, they looked right up our street. Looking at the image gallery we fell in love with one particular room and we wanted to mirror that particular room. We got quotes from two or three different companies and Oakmasters were the only ones who actually came back with a design we really wanted. We received various suggestions and designs from various suppliers, but we found few listened to what we actually wanted. One of the important things was to have the extension's exterior matching the existing reclaimed cladding on the house. We didn't want to bolt on something shiny and new; instead we wanted it to blend seamlessly with the existing house. We wanted the oak beams to be very obvious in the room and we didn't like the idea of a vaulted ceiling. Oakmasters indeed ticked all the boxes. Now we have exactly what we wanted and we are very happy.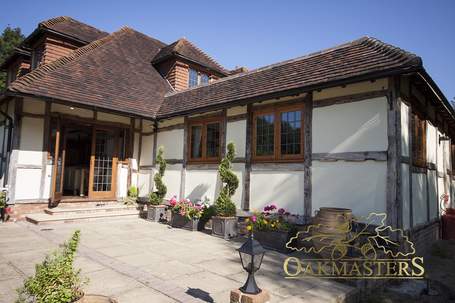 What was it like working with Oakmasters?
It was very easy. Everything happened exactly as we were told it would. If we had any queries, we would just phone up and someone would come back to us with an answer on the same day. We worked with Ed, Jenny and Stephanie, who were great. It all fell into place remarkably well. We had a delay at the beginning of the project due to the planning permission, but once the groundworks started it all went up really quickly.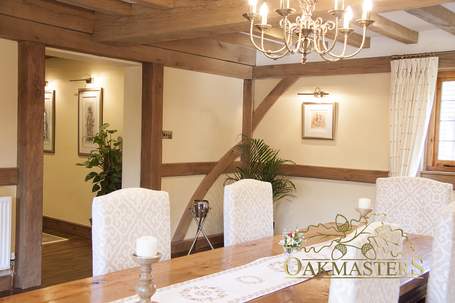 What was the most exciting part of your project?
It has to be seeing the main ceiling beams being lifted over the top of the house with a crane. We knew they were going to be big beams, but never considered quite how big. We took loads of photos, it was incredible. We never realised that the crane operator would not see on the other side of the house and that they would have someone at the back of the house with a walkie talkie saying 'left, back, down!' The main frame structure was already there and the beams just slotted into place, into the slots that were made in the walls for them. These two beams were about a ton a piece, so it was incredible to watch how carefully the boys worked, adjusting the position by a millimetre to get it right.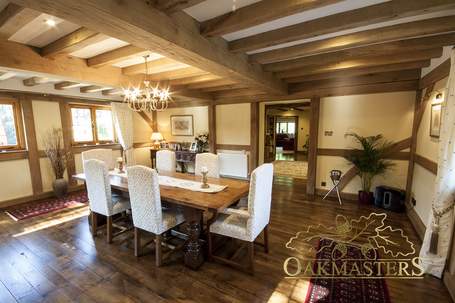 Would you recommend Oakmasters to your friends and family?
Absolutely, they were so easy to work with. Definitely the right people for the project and we have already recommended Oakmasters to a neighbour. We are so pleased with our new dining room. It has become the real heart of the family. Kids love having dinner around the table and it's wonderful to have the family around to enjoy it.
See more photos of the project in our gallery.
Tags:
beam casings
case studies
oak beams & component
oak cladding
oak extensions
oak framed houses