History of the Oak Frame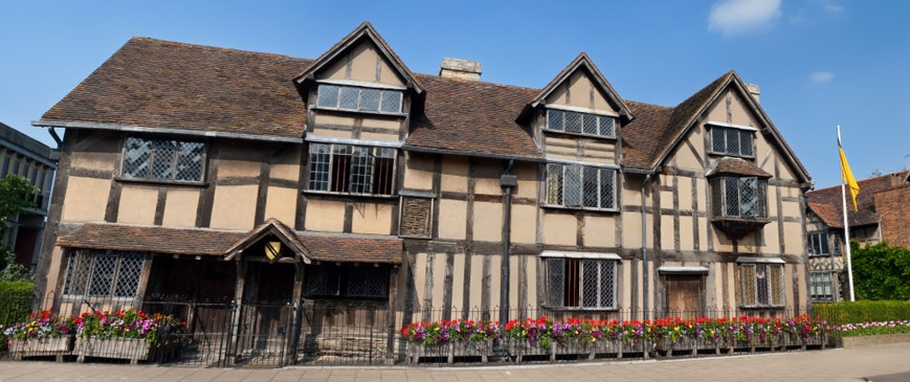 Timber framing has been a native British tradition since at least the thirteenth century - its hallmarks are clearly visible in the familiar black and white facade of Tudor oak framed houses and buildings up and down the country.
The buildings that survive today are mainly products of the sixteenth, seventeenth and eighteenth centuries, when oak frame construction was most common. They are the work of skilled carpenters, who had served long apprenticeships and are all unique in character.
Today, developments have allowed the oak frame and timber building industry to move on, combining traditional frames with new materials and making it possible to build more unusual, modern shapes, with curves and contours.
Components and techniques
The skills and practices involved in producing an oak frame today are time-honoured and have changed surprisingly little since mediaeval times.
Oakmasters manufactures buildings in the form of oak frame kits. It is easy to transport these kits to remote locations as they are generally fairly light can be flat packed. In prefabrication the building is treated as a series of modules that must be fitted perfectly on the ground before erection.
The mortise and tenon joints we use are formed by hand, using traditional techniques. The components – posts, beams, rails, braces, places and rafters – are manufactured and assembled and then dis-assembled on our premises and then transported to you to be erected. Once on site, sections of the frame are lifted into place by hand or with a raising device and the joints are secured tightly with tapered pegs.
These efficient and economical techniques mean oak and timber frames are generally regarded in the trade as extremely fast and convenient methods of construction.
Innovation
Timber frames can be implemented in flexible and exciting ways. The brick, stone, render or timber that surround the outer walls of a modern oak framed house are essential to keep the building weatherproof, but they are of little significance in structural terms. The load is spread across the internal skeleton of large timbers and the outer wall panels are simply cladding. Often from the outside you would not be able to tell an oak frame building from a masonry one.
This is useful for architects looking to create interesting spaces within the building since the bays can be assembled in more or less any permutation, making for interesting and varied overall plan forms. They can be designed to meet all sorts of specifications and hybrid ideas and are used in bridges, houses, outbuildings, conservatories, garages and all sorts of contemporary buildings in many different variations.
Tags:
help & advice
oak framed houses