Green Oak or Air-Dried Oak?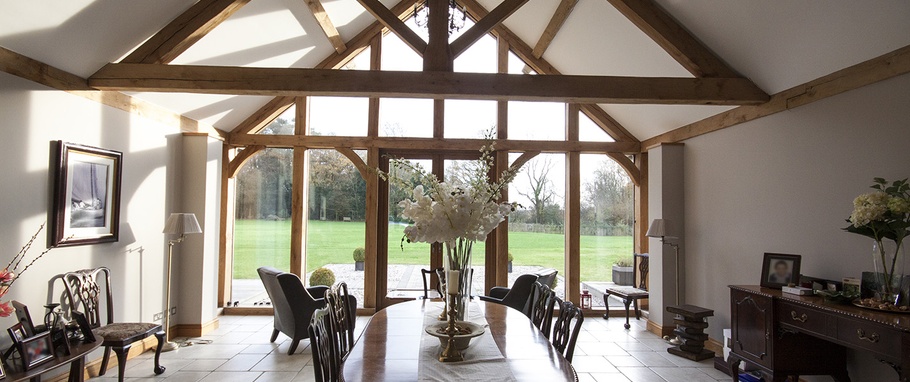 Architects and builders commissioned to produce oak-framed buildings, along with ourselves, will often be asked by clients why 'green oak' is preferable to 'air dried' oak. There are very good reasons why green oak is usually better and we'll look at those here – but first it's necessary to clear up those descriptions 'green' and 'dried' because they are misleading. In short: green oak doesn't even have a hint of green in its colouring and dried oak is almost never really dry.
What does 'green' and 'air-dried' really mean?
'Green oak' is oak that was felled in the last 18 months. As such the wood has relatively high moisture content: typically 60-80%. In other words, it will still be drying.
'Air-dried oak' is oak that has been dried since it was felled, either by spending some considerable time exposed to air or by accelerated drying inside a kiln – but this oak, too, could have a moisture content of 30% or more and still be drying. Despite the oak being subjected to a natural or forced 'drying' process, its inherent moisture is never completely eliminated. Thorough and even drying is difficult to achieve.
So the crux is this. Air-dried oak is partially-dried to a moisture level that green oak will eventually reach naturally. Air-dried oak goes through more drying than green oak before it is used in building (at some expense), but this is rarely necessary. Indeed, the way in which green oak continues to dry for a year or two after it has been installed in a building will enhance its character and the strength of its joints.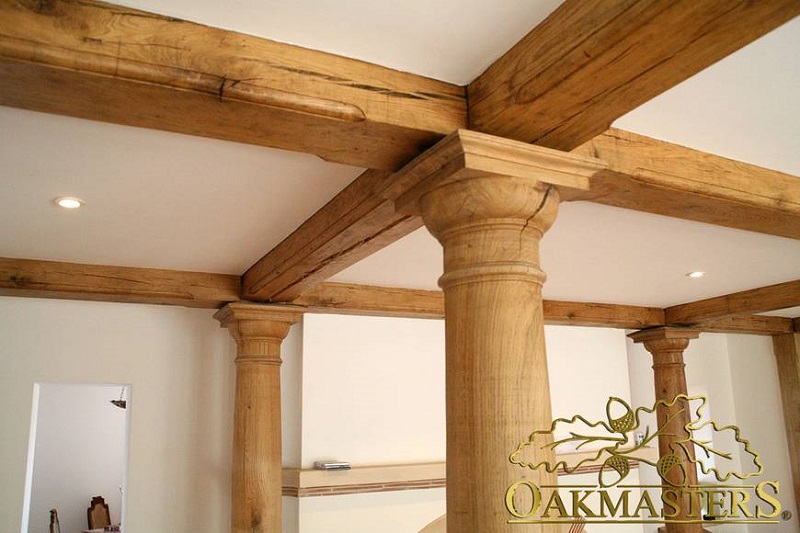 Where can you use air-dried oak?
1. Air-dried oak is best used for joinery such as windows, doors, furniture, floors, and panelling, where thicknesses of less than 75mm are viable. For buildings, however, most oak frame sections are in excess of 150mm² and often considerably larger.
2. Using air-dried or kiln-dried oak for a building's entire timber frame, however, just doesn't make sense – practically, environmentally or economically, as we explain below.
What are the disadvantages of dried oak?
1. Large-section oak beams sold as 'seasoned' or 'air-dried' are far from being dry inside because the process is so time-consuming. For every 25mm of thickness in the oak, drying will require 12 months. That's a long time to keep on incurring storage costs – and even when the wood is ready to use, it's likely that much of it will be wasted because it's unlikely there will be an order for wood timbers of exactly the same size. This adds considerable expense which is avoidable with green oak.

2. Accelerating the drying process artificially with a kiln can reduce the time required for every 25mm of wood thickness from 12 months to one week – but larger sections of timber are difficult to dry without the surface of the wood drying before the middle has time to catch up, forming stresses in the wood and damaging the wood's structure. This can result in pronounced twisting and bowing of the wood. Furthermore, modern kiln drying cannot economically reduce the core moisture content of any section thicker than 100mm.
As most houses and extensions built across the oak framing industry require timbers thicker than 100mm, it would not be possible to build them from kiln-dried oak without lamination. Furthermore, most oak frame sections are in excess of 150mm² and often considerably more. Kiln-dried at these thicknesses do not exist.
3. It is very difficult to source dependable kiln-dried oak in lengths of about four metres, which also makes it unusable for many structural applications.
So, dried oak has costs in time, in storage, and in the labour and heat required by the drying process. This is why seasoned or dried oak can be anything from three to five times the price of green oak – and it simply doesn't deliver any advantages that are worth it.
What are the advantages of green oak?
1. Green oak is used for oak framed buildings because it is strong, durable and easier than dried oak to work with, as well as less expensive.
2. Green oak is much easier than seasoned oak to cut and shape precisely, even when power tools are taken to seasoned oak.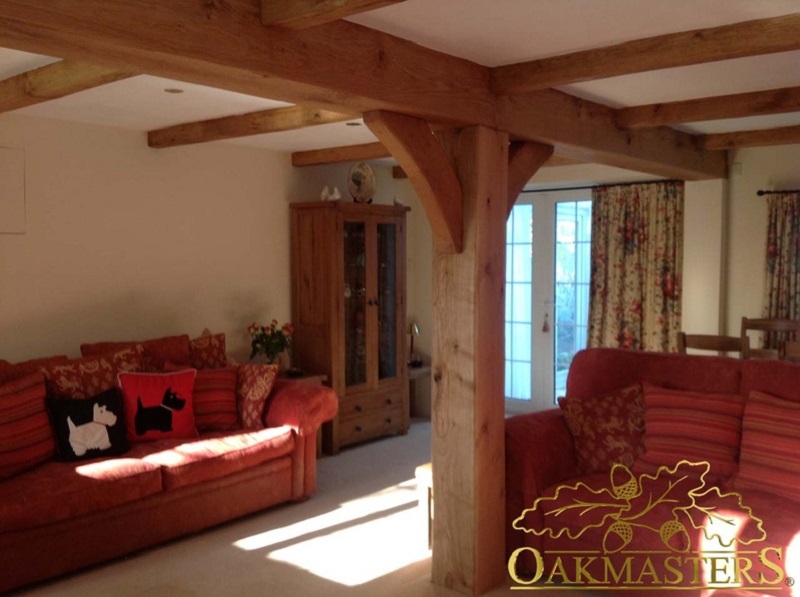 3. Seasoned oak has a marked tendency to fissure. Fissures complicate the cutting of joints and make edge moulding particularly difficult. Members would require a second cut, after drying, to true-up the faces and make the joints. With green oak, by contrast, only one cut is required.
4. Green oak shrinks radially or in sections (across the grain) by about 4.5% but it is its length (along the grain) that matters for structural integrity and joints, and in this direction it will shrink as it dries naturally only by about 0.15%. Our designers take this shrinkage into account when detailing the joints, connecting posts and beams. The pegs fixing joints are tapered and the holes between the timber offset so that over time shrinkage gradually draws them even more tightly into alignment. This craft dates back many centuries but is assisted in its precision today by our designers using modern CAD (Computer Aided Design) techniques.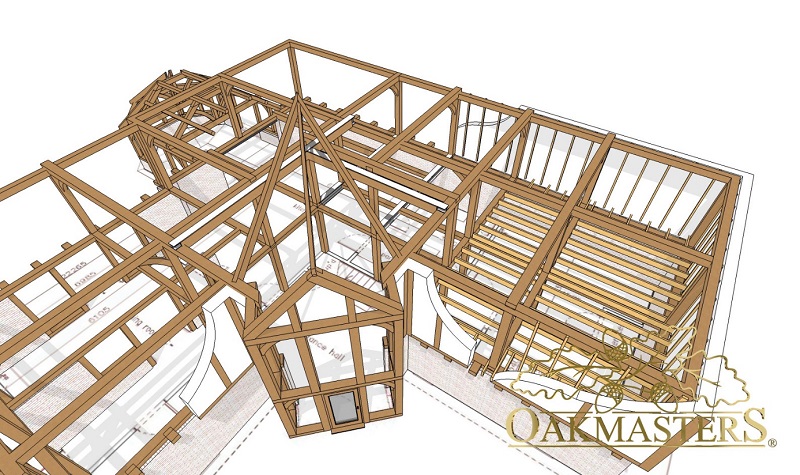 5. The ageing of the green oak increases the strength of the frame at the same time as adding that much-loved character to the wood's appearance.
From our experience at Oakmasters, it is much better to work with green oak and that is why we always choose it for our projects.  Check out our blog on using green oak in construction for more information. We also recommend the TRADA website, where you will find some excellent specialist publications on using green oak in construction. And take a look at the stunning green oak builds in our brochures for inspiration or give us a call on 01444 455 455 to find out more.
Tags:
building with oak
help & advice