Glulam timber frames – Oakmasters embraces a new material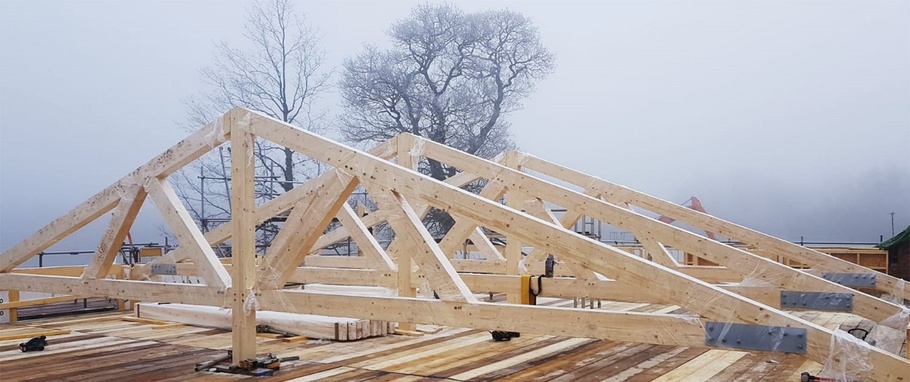 Having specialised in designing and manufacturing oak frame buildings for well over 30 years, we like to think we know a thing or two about timber framing. We also like a challenge, so having recently invested in a CNC machine, which completely revolutionised the way we do things, we can now proudly say that our capabilities have now expanded to include timber frame buildings using glulam as well as traditional oak framing. Here, we introduce glulam, discuss its benefits and provide some inspiration in the form of projects from around the world.
What is glulam timber and what is it used for?
Glued laminated timber (also called glulam) is an engineered timber product, made from layers of timber glued together with durable, moisture-resistant structural adhesive. Using this technique of layering smaller pieces of wood, it is possible to engineer large and strong beams, which can be used for structural timber framing. The final product can be used for vertical posts, horizontal beams as well as unusually shaped forms such as curves.
Glulam can be produced from smaller trees with considerably less waste than solid timber products, as the final beam is built up rather than cut down to size. Most commonly used species for glulam manufacture are softwoods such as spruce, fir, pine and larch.
Watch a video of one of our glulam projects being installed by Kestrel Timber Buildings.
Glulam has been successfully used in the construction of timber frames for swimming pools, large manufacturing halls, houses of multiple occupancy, libraries, galleries and other public buildings, but more and more people are being seduced by this amazing new material that harmoniously combines the natural and the man made with minimum impact on the environment.
What are the benefits of glulam timber?
Appearance
There are strict guidelines concerning the number and size of knots and imperfections in structural glulam timber, in order to satisfy strength requirements. As a result, these engineered timbers have modern, sleek appearance, more suited for contemporary structures, perfect for those who lean towards the modern, minimalist look, but love the warmth of wood.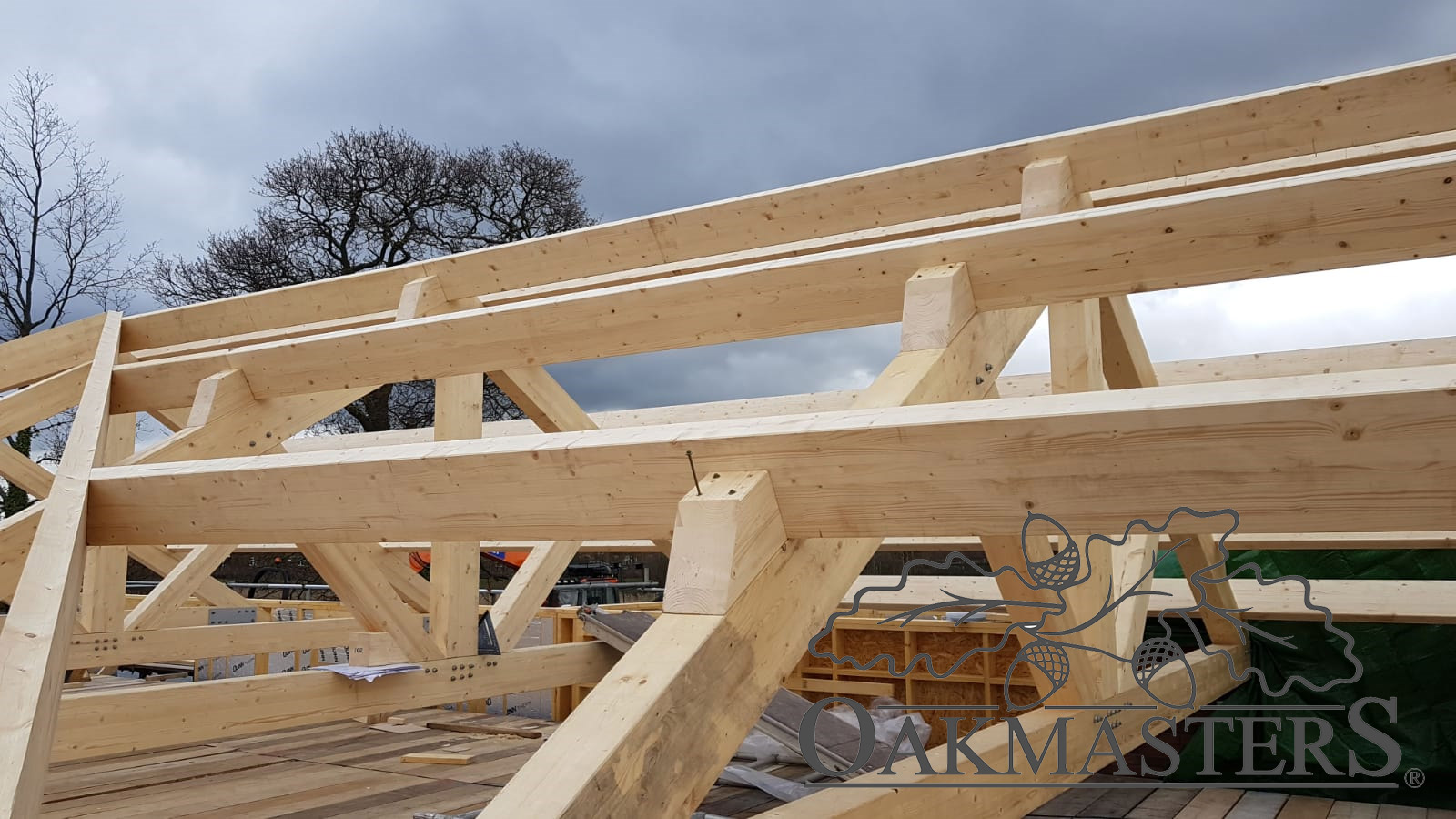 The surfaces of glulam timber are smooth, modern and crack-free
The jointing between individual beams and posts can be done using a variety of steel plate and bolt designs, ensuring strength, but also versatility in terms of how the structure fits together. Compared to oak frames, glulam timber won't shrink or crack after installation, so if you are a perfectionist with a penchant for sleek lines and even colour tone, who also happens to like wood, glulam is the answer to your prayers. However, if the unpredictable character of wood with knots, splits and natural cracks are your thing, then traditional green oak buildings may be more suitable for you.
Eco credentials
Whilst the embodied energy (the sum of all energies required to produce any material) of glulam is greater than that of solid timber, it is considerably lower than that of steel or reinforced concrete (some sources cite six times lower than that of comparable strength steel). As already mentioned, glulam timber is produced from smaller and usually faster growing trees, with less waste. We also find that whilst manufacturing glulam timber frames, we produce less waste than during oak frame manufacture, as the beams are completely straight, don't require much planing, sanding or surface finishing.
Flexibility in shape and size
The laminating process allows for the manufacture of longer, thicker and stronger beams than any other solid timber, so it can be used for longer spans, heavier loads and more complex shapes than solid timber. This allows architects the freedom to design more daring timber structures, without the need to compromise on their artistic vision due to engineering limitations.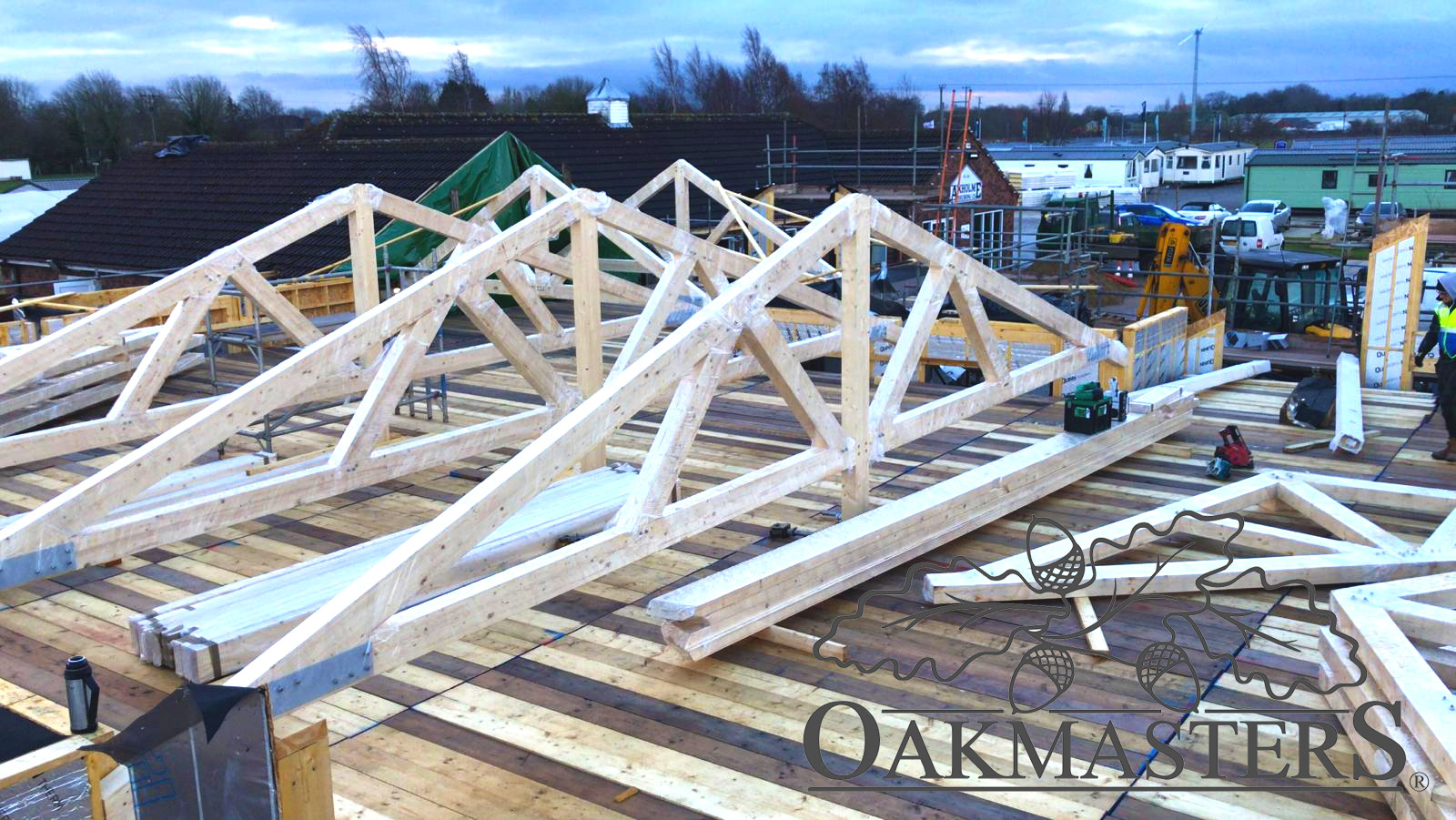 Glulam roof trusses mid-installation on one of our projects
Strength to weight ratio
Comparatively, a glulam beam will be considerably lighter than equivalent size steel beam. This has positive implications on site logistics, such as lifting equipment and man power, as well as the specifications for the depth of foundations and other elements of design.
Consistency
As an engineered product, glulam timber is far more consistent in terms of performance than solid sawn timber. The variations are eliminated through manufacture of the timber following criteria that meet a specific purpose. The process is then repeated to achieve the same result over and over again.
Inspiration for glulam timber frame buildings from around the world
These independent projects designed and built by architects and glulam specialists around the world are not our own, but are included in this blog to inspire you and to show you what can be achieved with glulam timber.
Big Valley View by Prentiss Balance Wickline Architects - USA
Photo by Prentiss Balance Wickline Architects - Discover kitchen design inspiration
Schuswap by Splyce Design - Canada
Photo by splyce design - Browse exterior photos
Woodlark House by Roman Leonidov - Russia
Photo by Roman Leonidov - Discover living room design ideas
Summit by Ascent Custom Home - USA
Photo by Ascent Custom Homes - Search patio pictures
Gulf Islands Residence by RUF Project - Canada
Photo by RUFproject - More exterior photos
If you or your architect have an ambitious timber frame project in mind, call 01444 455 455 or get in touch with us for a no obligation chat.

Tags:
building sustainably
case studies
garages & outbuildings
glulam timber buildings
help and advice
oak extensions
oak framed houses
oak pool buildings
self build houses