Five fabulous reasons to have an oak-framed building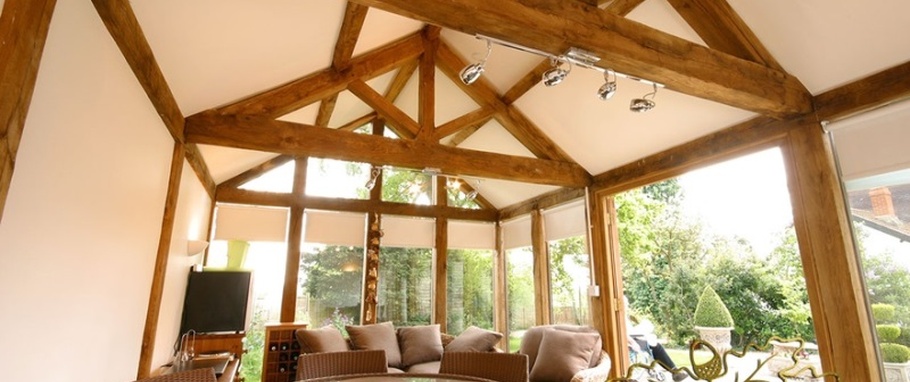 Good to look at and lovely to live with, oak-framed buildings can take so many different forms. It's possible to build almost anything in beautifully crafted oak, from a modest porch to a grand manor house. Here we look not at the building of entire houses (which is something we also do), but at five other popular types of oak buildings and extensions.
Oak Summerhouses
Summertime and the livin' is easy, according to the famous song – and if composer George Gershwin had seen Oakmasters' summerhouses, he might have waxed lyrical about those too. There's no better way to enjoy the soothing sights and sounds of your garden than in one of these delightful little standalone buildings.
So-called summerhouses don't have to be strictly seasonal, either. We've designed and built larger summerhouses with power and heating, so if the weather should turn cool in that oh-so-British way, you can stay comfortably seated exactly where you are. This is a great way to gain living space without having to extend your home.
Oak Orangeries and sunrooms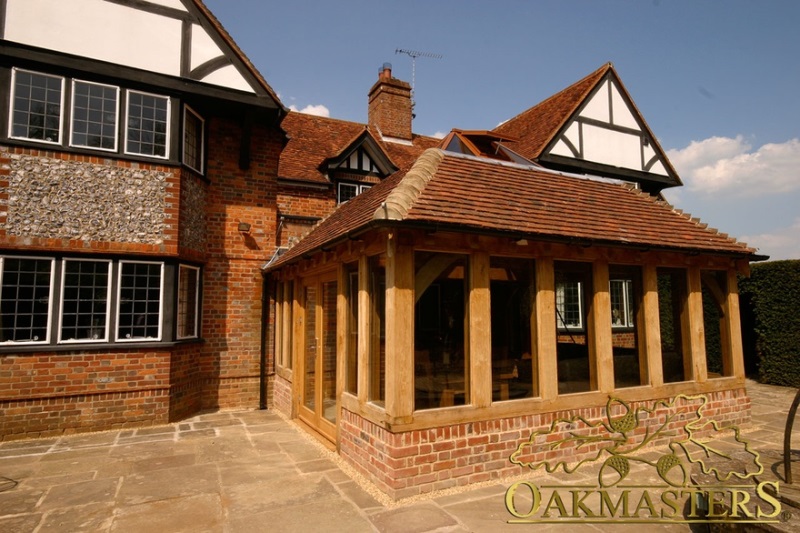 Once found only in the country estates of wealthy aristocrats, who wanted their tropical plants to flourish even during the northern European winter, orangeries are back in fashion. Now, though, these are places for people. Orangeries are generous at letting in sunlight and natural warmth, and give splendid views of the great outdoors.
Modern-day orangeries are quite often added to houses where the height of an extension is restricted. Glass-walled sunrooms (also called garden rooms) can bring similar pleasures. And unlike the old aristos, you'll enjoy excellent draught-proof weather-protection thanks to Oakmasters' thoroughly modern Encapsulated Glazing System. Recognised as the best way to glaze a green oak frame, the System comes with a 12-year guarantee.    
Oak Dining room extensions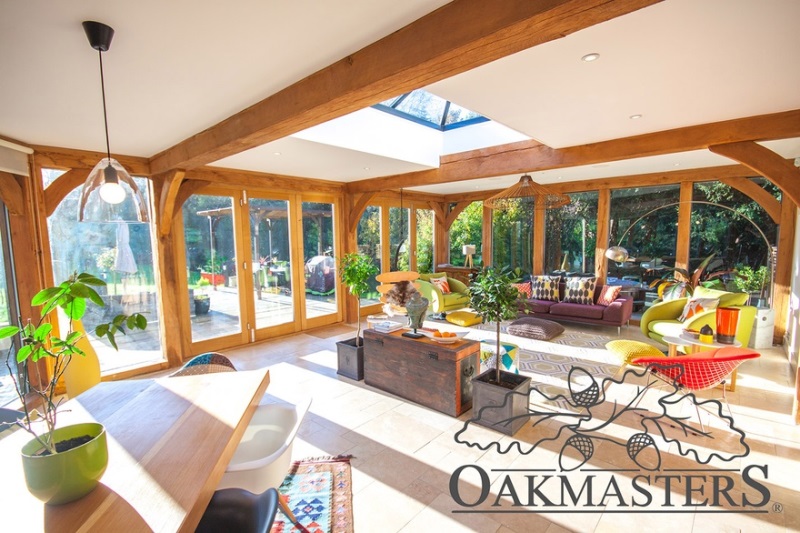 There is no sincerer love, goes the saying, than the love of food. Even with a rumbling tum, though, you'd have to question whether feasting is more lovable than family and friends. So what's better than to bring them all together? Such are the delights made possible by dining rooms, and some of the most delightful of all are to be found in buildings or building-extensions crafted from oak.
Oak-framed extensions can serve other purposes too. Perhaps you'd like a gym, or an impressive home office, or a charming living area? However you'd like to use the room, Oakmasters can help you can gain this extra space at the same time as adding style and value to your home.  
Oak Porches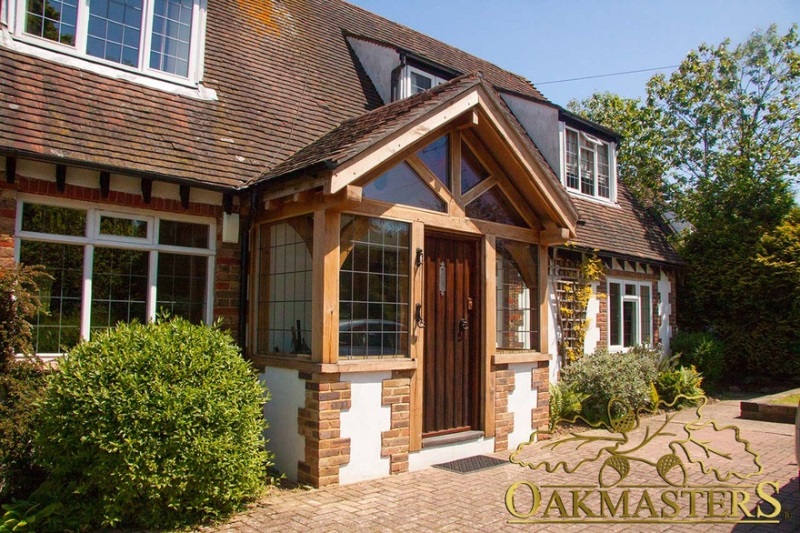 First impressions count, and no more so than when looking at a house. This means that the humblest of building additions, the porch, can have an important positive or negative affect. This matters not only when the time comes to sell and move on, but also every day the home is yours. An open porch is ideal for protection from the rain and keeping wellies dry, an enclosed porch provides a buffer zone between the differing temperatures outside the house and inside.
 At Oakmasters we design and construct everything from simple, open or glazed sheltered entrance ways to grand welcome foyers. You can bring us a design of your own or you might prefer to take inspiration from our most popular designs and ask us to adapt them to your needs. Traditional or contemporary, it will look good and work well.
Oak Garages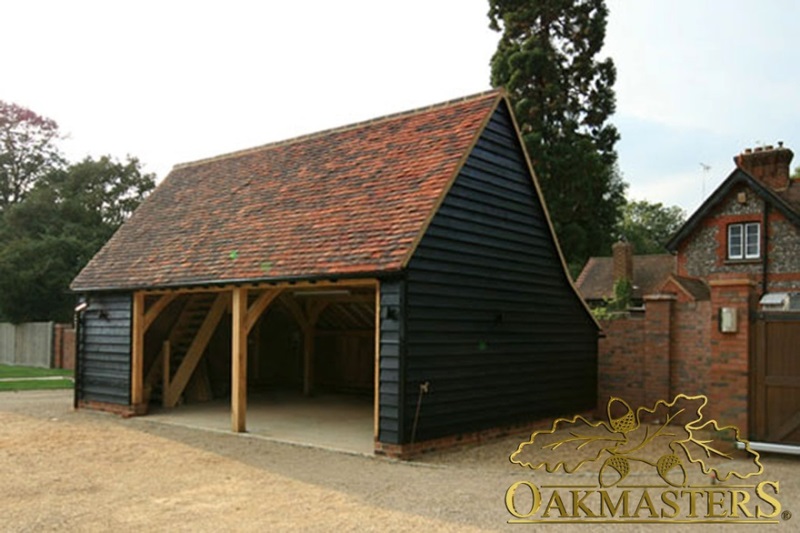 Cars and motorcycles are beautiful, characterful, and collectible to some, no more than functional transportation devices to others. Whatever you feel about your family's vehicles, however, you won't want them parked near your house in a building that's an eye-sore. Yet most garages are ugly architectural afterthoughts.
 Let's banish these blots on the landscape! With thoughtful design and skilful craftsmanship, garages can be pleasing on the eye, complementing the style and character of the house they serve. At Oakmasters we'll design and build exactly the kind of oak-framed garage you'd like, whether it's simply for parking vehicles undercover, for keeping valuable machinery weathertight and secure, or also for maintaining, polishing, and admiring your pride and joy.
For more information, please download one of our brochures 
Tags:
beam casings
building with oak
garden rooms & conservatories
oak beams & component
oak extensions
oak framed houses
oak porches