Case Study: Farnham Garden Pool House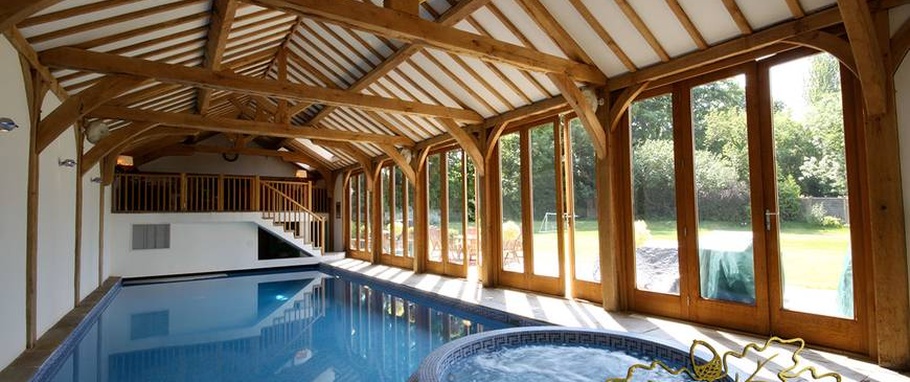 This garden-room style pool house works well as a neat addition to a 19th C property situated just outside Farnham, Surrey, an old English market town with an interesting array of traditional architecture.
More images of this pool building and many others.
From the planning drawings provided, our design consultants worked on bringing the oak pool enclosure to life using CAD software. In this way every detail of the frame can be mapped out ahead of production, ensuring accuracy in each step. The customer also required that we carry out building regulations for the project – taking the approved planning design and adding the relevant details that are specific to an oak frame, as well as producing all necessary structural calculations.
From the exterior the cladding and solar panels give the impression of an oak frame pool enclosure that is a little more understated and conservative than others in its league.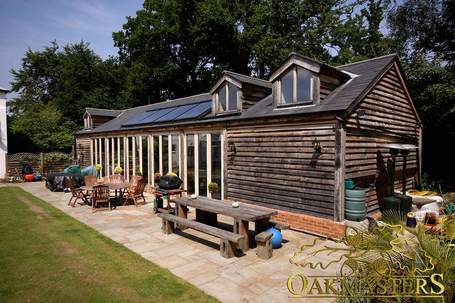 However inside, the story is somewhat more luxurious, with a rich vaulted ceiling and a traditional, warm, cosy feel.

Perhaps the biggest asset this design has to offer comes down to clever use of space. The swimming pool building is only single story, yet with its yawning rafters and mezzanine gallery it feels far grander than that.

The mezzanine gallery is a particular point of interest and works both as a covering for the boiler room at one end of the pool house and also a smart design flourish. Stone steps take the bather up to a comfortable sitting area where a feature raised collar truss with bold curved braces gives a sense of still more height and makes a real event of the space.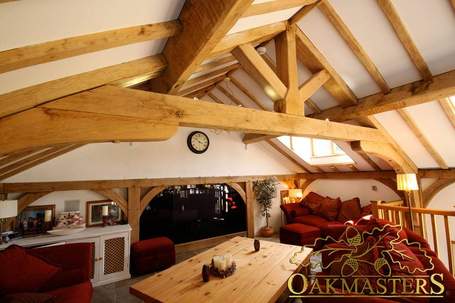 As is often the case with oak swimming pool buildings – getting the maximum natural light into the space was a priority in this design. Here this has been done with oak bi-fold doors and the sensitive addition of dormer windows in the roof. These extra windows at mezzanine level allow plenty of light to spill into the gallery and what might otherwise be a darker area of the building.
Those with a sharp eye will also notice that a truss has not been included at the centre of the building, instead opting for the more economical use of a simple tie beam. This is a clever cost-saving measure, allowing for greater embellishments in other more striking areas of the pool house.
Here is another example of a pool building adjoining a £7m new build in the Cotswolds.  An extravagant glazed oak passage links end of the pool to the house not only flooding light into the area but providing an interesting feature.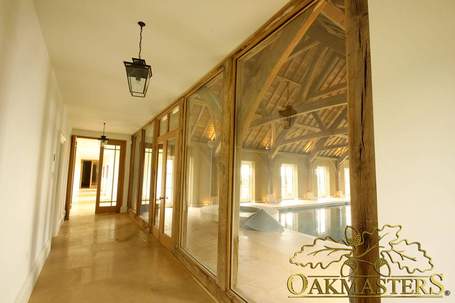 More about Pool Buildings
Tags:
case studies
oak framed houses
oak pool buildings