Case study: Modern country manor house in Sussex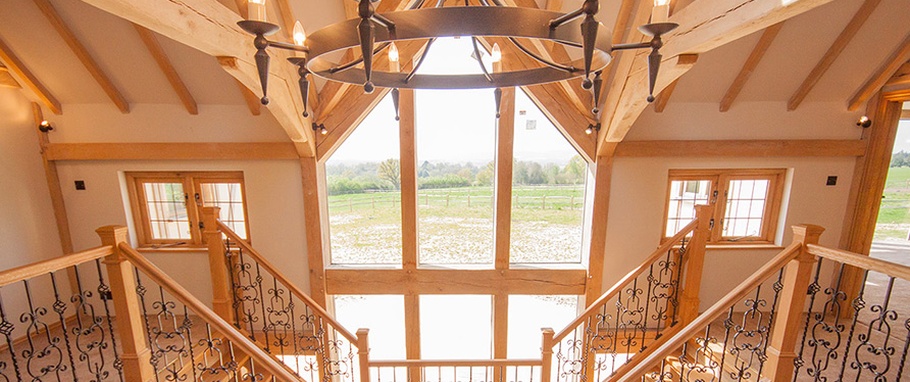 Building the dream home in oak
Set in 20 acres of beautiful Sussex countryside, Peter's modern manor house is the oak framed home he always dreamt of. Built to Oakmasters' design following Peter's specifications, it is a fine example of modern oak framing techniques.
Oak Manor House Project Basics 
Size: 410 sq m  *  Two-storey oak framed house  *  6 bedrooms, 5 reception rooms and 4 bathrooms
Oak Manor House Key Features

Double height glazed gables  *  Vaulted ceilings  *  Fully visible structural oak frame  *  Built using Oakmasters encapsulated glazing system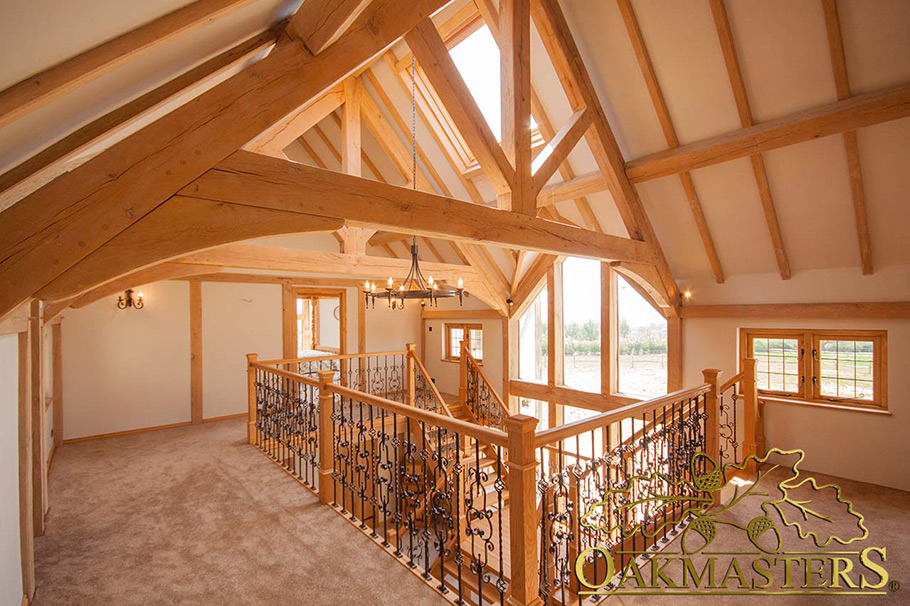 The background

Peter had a very specific idea of what he wanted his dream home to look like. "I always had a manor house in mind and found a design I really liked, which I wanted to adapt to maximise the views over the countryside."
He approached Oakmasters in 2012 with photographs of a house he had seen in a magazine, which he wanted to adapt to his own taste. Oakmasters' design team worked with Peter until he was completely happy with the drawings. 
The design process

Peter's brief to Oakmasters was to make the most of the views over the beautiful rolling hills. "Getting the windows and glazing in the right positions at the back of the house was quite tricky." A number of iterations of the drawings were done until Peter was completely happy he would get the best views and the wow factor.
In terms of style, Peter wanted a timeless look, with a lot of visible oak on the inside as well as the outside. Oakmasters' design incorporated exposed roof rafters and roof trusses, creating fabulous vaulted ceilings on the upper floor of the house,
and creating an enviable master suite Peter is very proud of. Downstairs, open plan living space showcases exposed ceiling beams throughout the house. 
The property also features a number of double storey glazed gables, designed with Oakmasters'
encapsulated glazing system, which allows glass to essentially float on top of the structural frame, making for a watertight envelope, resistant to the shrinking and twisting of the green oak.
The build process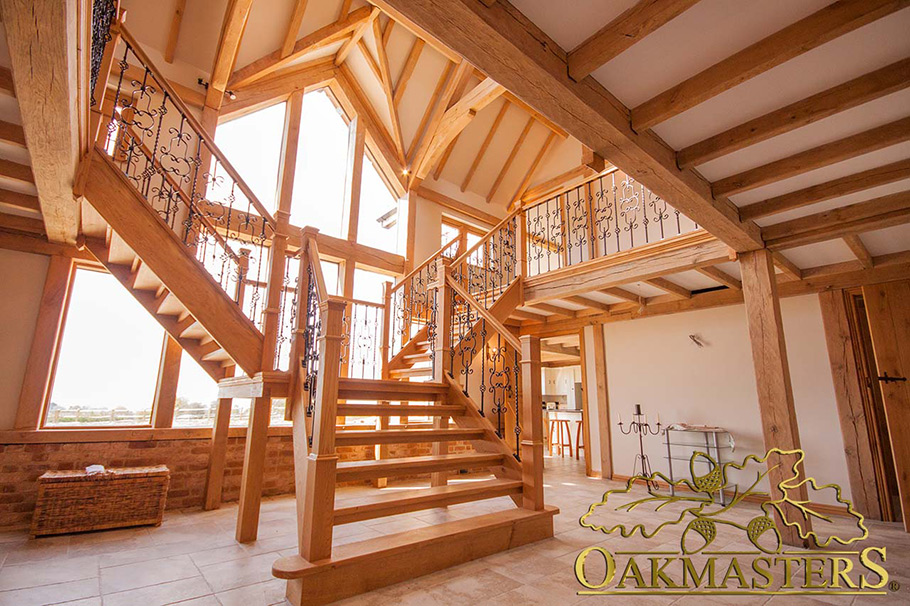 Oakmasters manufactured the frame in their workshops in approximately four months. During this time, the entire frame sections were pre-constructed at Oakmasters premises to make sure everything fitted perfectly, before being numbered, then disassembled and given the trademark hand wrought finish. The frame was then carefully packaged and shipped to the building site, where Oakmasters assembly team checked it all arrived safely. Peter had his own building contractor in place, who had already laid foundations and built the footings on site when the oak frame kit arrived, so the assembly team could start erecting the frame straight away.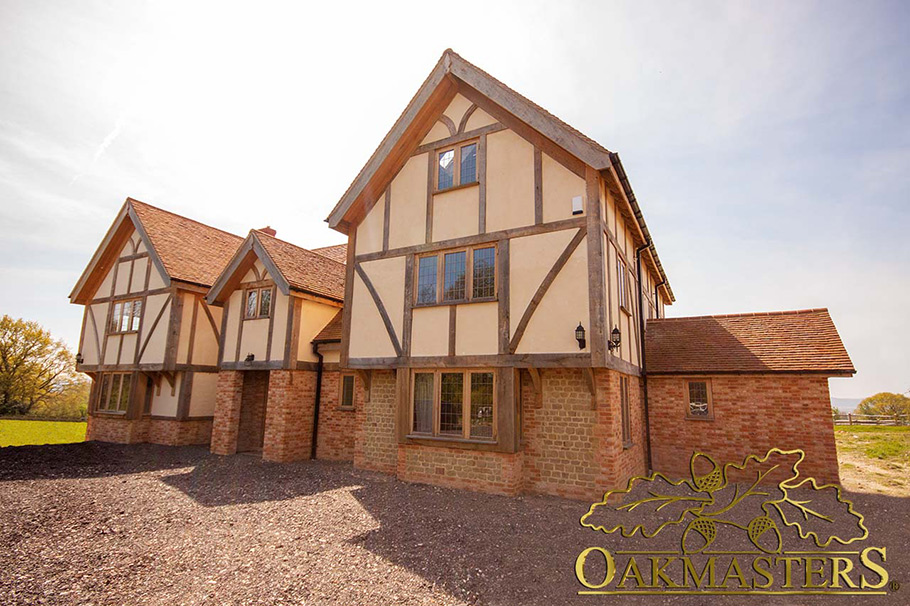 It took approximately eight weeks to complete the frame assembly, to fit the encapsulated glazing system as well as joinery such as windows and doors. Peter's building contractor then took care of all other building work, such as roofing, solid wall encapsulation, rendering and services.
A word from the client

"I went to Oakmasters because I had worked with them in the past and was happy with their service. From design to completion, there was good communication and when I made changes the team was happy to re-design to meet my needs. It was very exciting to finally move in and live the dream. The master suite is my favourite room. It really has the best views. I'm very happy and would recommend the company any time."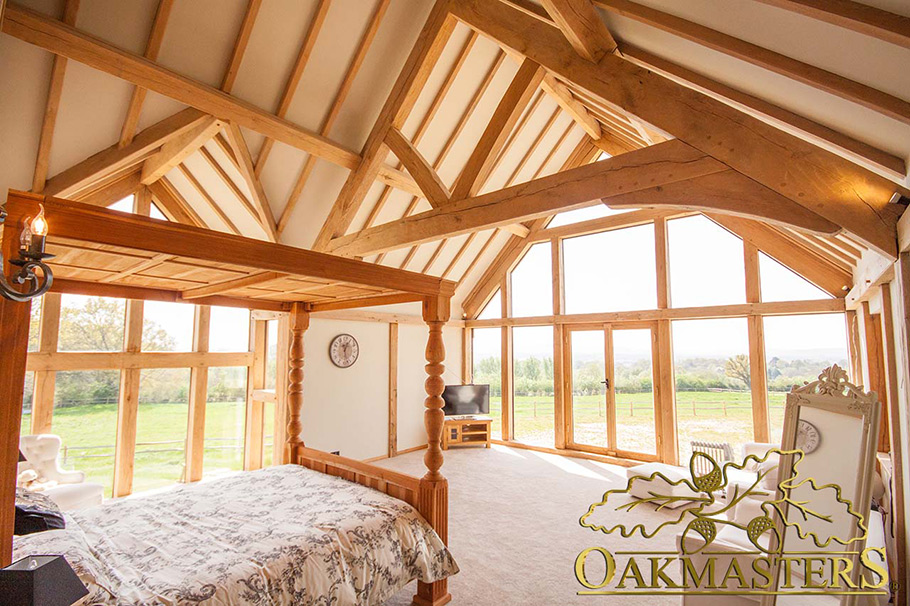 Tags:
case studies
glazing system
oak framed houses